Executive summary:
Re-establishing Soviet-era borders sans East Germany as a prelude to the formation of a Eurasian Union is Russia's strategic goal.
Such an endeavor cannot succeed without Ukrainian infrastructure, natural resources and access to the sea.
An independent Ukraine represents a viable competitor to Russia, and therefore, a threat.
NATO's most likely response to a Russian invasion of Ukraine is economic retaliation against Russia's Natgas industry.
_________________________________
In December 2012, US Secretary of State, Hillary Clinton criticized Russia's post-Soviet integration initiative, in an address to the OSCE.
There is a move to re-Sovietise the region. It's not going to be called that. It's going to be called a customs union, it will be called Eurasian Union and all of that.
Putin was unamused, dismissing Clinton's statements as "utter nonsense."
In the strictly literal sense, Mr. Putin is correct. Any attempt to dial the clock back to 1949 or even 1989 would be doomed from the start. The old Soviet Union was a global paper tiger kept afloat by creative accounting, token allegiance to the Marxist-Leninist class analysis, mass paranoia, omnicensorship, historical revisionism, Soviet Army tanks and nuclear weapons.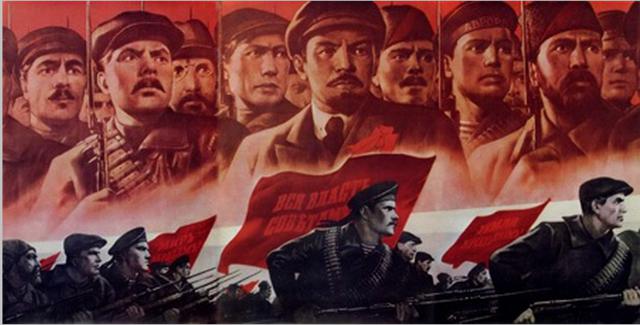 (Source: communisme-bolchevisme.net)
In the sense that Vladimir Putin and his associates lack either nuclear parity with the U.S., the full strength of the Soviet Army, client states or an ideology that anyone really believes in any more, re-Sovietization is neither a practical or a desirable option. However, in the sense that Putin seeks to reconquer Ukraine as a prelude to re-establishing most of the old Soviet Union's borders sans East Germany, Mrs. Clinton is almost certainly correct.
The Crown Jewel
Putin has made no secret of his desire to reconstruct the ring-fence around Russia. The resulting Eurasian Union would be an immense trading bloc extending from the borders of China to the doorstep of the EU. For this objective to succeed, however, Ukraine must first be brought back into the fold.
At the height of the Soviet era, Ukraine accounted for 40% of Russia's steel and 35% of its coal production, as well as 25% of Russia's armaments manufacturing capacity. Sevastopol was the key naval base of the former Soviet Black Sea Fleet. The Black Sea and Azov Sea ports in Odessa, Il'ichovsk, Nickolaev and Mariupol are likewise of critical strategic importance to Russia, as are Trans-European gas pipelines Bratstvo and Soyuz, and the Druzhba oil pipeline.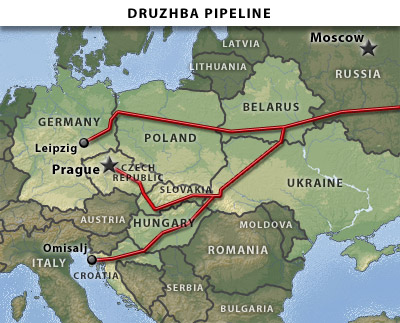 (Source: The Energy SCEE)
In short, a truly independent Ukraine is to Moscow what a declaration of succession by every state west of the Mississippi River would be to Washington - a dangerous competitor. Russia claims that Ukraine joining the EU would weaken the Eurasian Union project by flooding Russia's back yard with low-tariff goods. The reality is that the adoption of Ukraine within the EU would eliminate Ukraine's strategic value to Moscow, as the former would be required by treaty to abide by European rather than Eurasian trade agreements.
With Ukraine in his pocket, Putin will have both the material and infrastructure assets he needs to reassert Russia as a global power. Without Ukraine, Russia will effectively be reduced to its 17th century borders, with some access to the sea.
Reaction
In terms of a response, Washington's path of least resistance is an economic attack on Gazprom's (OTCPK:OGZPY, OTC:OGZRY) LNG hegemony over much of Eastern and Central Europe. Sweetheart discounts will undoubtedly blunt much (though not all) of the economic damage to Russia's interests. It's likely that Putin has already reviewed the options available to the West and is willing to trade short-term sanctions for long-term strategic gains.
Russia's scorecard on this front is formidable, indeed: LNG terminal build-out has stalled in the region, and shale gas development is a wreck in Europe due to Moscow's lobbying efforts.
Conclusion
While Washington may counter Moscow by slashing red tape and expediting approval of export licenses for liquefied natural gas terminals in the US, the impact of any sanctions will ultimately depend upon the solidarity of the NATO member states. As the situation is still very fluid, investors resist the urge to game the crisis in favor of a straight long bet on iPath S&P Crude Oil Total Return Index ETN (NYSEARCA:OIL), as oil prices are fairly predictable during cycles of fear and war.
Disclosure: I have no positions in any stocks mentioned, and no plans to initiate any positions within the next 72 hours. I wrote this article myself, and it expresses my own opinions. I am not receiving compensation for it (other than from Seeking Alpha). I have no business relationship with any company whose stock is mentioned in this article.