SodaStream (NASDAQ:SODA) reported its Q4 2013 earnings results which came in slightly ahead of its previously released preliminary results to a mixed reception as the stock was highly volatile on February 26th. In a previous article, I articulated some of the expected headwinds the company would possibly have faced in the quarter such as a disruption in the Japanese business segment and wide scale machine discounting that possibly affected the quarterly results.
Q4 2013 Results and Drivers
SodaStream announced it had earned $.03 a share on $167.2mm in revenues, slightly ahead of the previously announced preliminary expectation of $.01 a share in earnings, but roughly in-line with expected revenues. This earnings release was a far cry worse than originally projected by the company and the analyst community at the onset of Q4 2013. As stated quite appropriately by the CEO, Daniel Birnbaum, the weaker than expected holiday shopping in the United States brought with it a tougher selling and replenishment cycle for SodaStream and its retail partners in the region. Birnbaum highlighted some of the specific issues in the quarter which resulted in a record setting sales quarter, but limited earnings achievement.
Lower sell-in prices on soda maker kits by roughly $5 (not inclusive of labor costs of roughly $2.77 by Capital Ladder estimates). Accounted for roughly $8mm in profit erosion.
Distribution and holiday promotional event on HSN sold roughly 40,000 bundle packages which was not scheduled during the quarter and product sold through this channel is sold at near cost.
Higher product costs from new SodaCap production and reconfiguration of finished goods resulted in some $6mm worth of profit erosion during the quarter. Already packaged soda maker kits were opened and reconfigured to produce a Mega Pack soda maker kit which added costs of labor, shipping and materials.
Most of the remaining shortfall in gross margin, approximately $2 million, is attributable to product mix, as gas refills, was below forecast due to a combination of inventory reductions by U.S. retailers as they sought to counteract the effects of their overall soft holiday season, as well as lower sales of spare carbonators, which were not featured together with starter kits as part of our holiday displays.
Lastly, in Q4, the firm planned approximately 3.58 shekels to the dollar, which was the average from the third quarter. However, the shekel strengthened in the fourth quarter to an average of approximately 3.5.
Let's summarize the noted bullet points at this time and put them into the most appropriate context for investors. The biggest problems in the quarter which resulted in the majority of the profit erosion were definitively the weak U.S. consumer and addressing the consumer in this environment. Growing the household penetration and the user base in the U.S., as well as all markets, is Job #1 at SodaStream. In order to accomplish this objective during the quarter, SodaStream discounted soda maker kits and repurposed other soda maker kits. The cost of doing so resulted in $14mm of profit erosion during the quarter, but as NPD data (subscription needed) suggests, the company was able to increase its sell-out rate considerably on a year-over-year basis. United States Q4 sell-out from NPD was up 24% for soda makers, 17% for flavors and 124% for CO2. There are three things to keep in mind as it pertains to the NPD data.
Nearly 75% of NPD data comes out of Wal-Mart (NYSE:WMT) and if one backs out the Wal-Mart data, all three sell-out figures would have been up even more than outlined by NPD.
Secondly, these results were achieved with fewer than 50% of Wal-Mart stores having SODA products on an end cap during the 4th quarter of 2013 versus all Wal-Marts having SODA on end caps during the 4th quarter of 2012.
Lastly, during the month of October (inclusive of Q4 2013), SodaStream's product inventory levels were at a yearly-low for Wal-Mart stores, with flavor units and CO2 spare cylinders showing widespread critical lows and stock-outs at the retailer.
I know what you're thinking; if the sell-out/sell-through data was so strong, then why would the replenishment be forecasted on the lower end of the guidance for Q1 2014. Well, look at the numbers. The United States represents over 33% of the SodaStream business. In the fourth quarter the company saw growth of 39% in soda maker units, 25% growth in CO2 refill units and 32% growth in syrup flavor unit sales. The increase in soda maker unit sales is staggering and much of that category growth came from the Americas, namely the United States market. SodaStream hasn't had a year-over-year increase in soda maker unit sales of this magnitude in a few years which shows that the retailers took advantage of the lower sell-in prices instituted by the firm during the quarter and will have inventory sufficient to get through most of Q1 2014. The average increase in soda maker unit sales is roughly 20% YOY so the company nearly doubled this average increase in the quarter at the benefit of its retail partners. This anomaly in the ordering cycle will need to be rectified. This will likely result in a much lower soda maker unit sales quarter for Q1 this year as retailers work off existing inventory. Capital Ladder Advisory Group now expects high single digit growth in soda maker shipments for Q1 2014 given this dynamic in the ordering cycle and as inventories normalize. The same dynamic occurred in the 3rd quarter of 2013 as syrup sales and inventory were normalized and then accelerated into the 4th quarter.
As indicated in an article published early in the 4th quarter of 2013, I reported that syrup sales would reaccelerate in Q4 through our well-researched work with retail partners. We identified that Wal-Mart, SodaStream's largest retail partner was adding a host of new syrup flavor units during the quarter through the following plan-o-gram outline: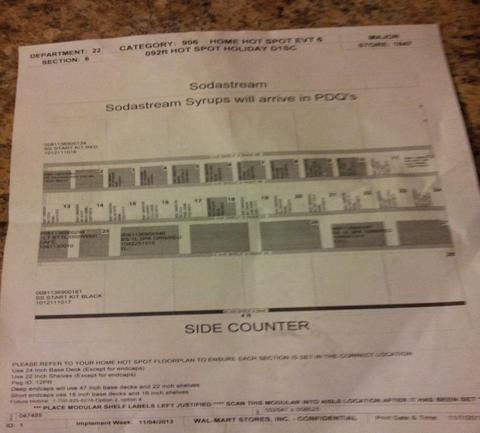 The plan-o-gram outlined the addition of roughly 8 new syrup flavor offerings by the mass-market retailer. The addition of Happy Hour flavors and Ocean Spray were well-received by the consumer during the 4th quarter as indicated by syrup sell-through data via NPD weekly data results. As it pertains to CO2 refill sales during the 4th quarter, SodaStream witnessed record sales in the Americas as indicated from the increase in CO2 sales below from one of SodaStream's biggest U.S. retailers.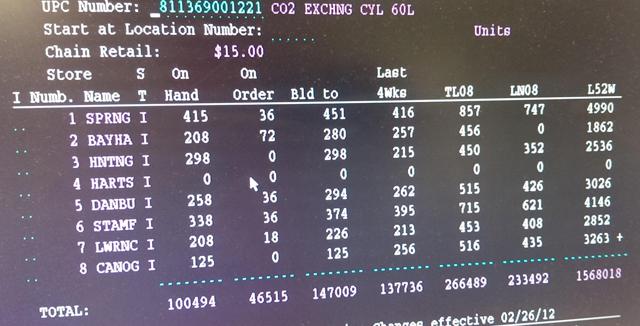 Naturally, SodaStream is taking the appropriate steps to reduce the impact on the profitability of the business in a weakened consumer environment. I don't wish to bore readers with the numerous details for the sake of relevance so I will outline what is most relevant as it pertains to its scale of business in the United States and some other key markets.
SodaStream is looking to reduce its cost structure as we already understand. The biggest steps toward accomplishing these goals are implementing SKU rationalization processes, design to cost initiatives, implementing a new global procurement department and a West Coast filling station and distribution center for the Americas business, which will begin operating later this year and which will reduce transportation costs. The West Coast Filling station will be located in Utah to the best of my knowledge. The Japanese market will likely also have a refilling station in the coming quarters which could serve the Asia-Pacific regions.
SodaStream's business remains healthy and vibrant around the globe as indicated in its regional sales breakdown. Each of SodaStream's regions increased revenue double digits, led by Western Europe, which grew 38%, driven by strong growth in France, Italy, and Germany. France is a SodaStream business which is growing at a staggering rate and could rival the company's German and even Swedish business in the coming years based on results over the last couple of years. "With 650,000 machines sold in 2013 and six million bottles of concentrated passed in France, the concept Soda Stream attracted an ever wider target consumer. 8% of French households now have a machine for aerating home. OPM estimates that France, which markets the brand, each household consumed an average of 90 liters of drinks produced by this system last year. To continue this momentum, Soda Stream will multiply animations during the movie Rio 2 on April 9. From February 15, limited series bearing the likeness of characters from animated film will appear in stores. For summer, the brand will also rely on the launch of a range of concentrated baptized "Free". Without natural flavors or preservatives, they have the particularity of not contain sweetener. Sweetness will only be provided by the juices come in their composition."
(Google translation applied)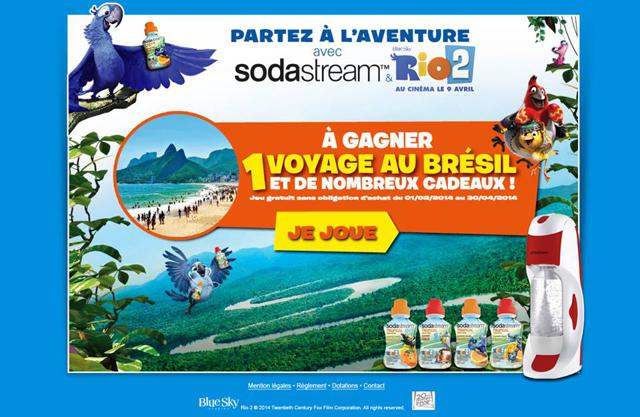 The Americas fourth quarter revenue increased 16%, which was slightly below forecast. Asia Pacific had its strongest quarter of the year as revenue increased 28% to $15 million. The strong gain came primarily from Australia, which was offset by continued struggles in Japan. SodaStream's results in Australia were boosted, in part, by YOY distribution gains as the firm signed deals with the likes of Spotlight and Matchbox stores in the back half of 2013. This distribution expansion has continued in 2014 with the recent addition of JB-Hi-Fi Home stores in the region. Additional distribution gains in Taiwan and Singapore also helped to boost sales in Q4 2013 for SodaStream.
CEMEA revenue increased 36% to $9 million, with Israel and Czech Republic responsible for the increase. Strong consumables demand drove the improvement in the Czech Republic. The CEMEA and Western Europe portions of SodaStream's business are among the oldest regions and show the profitable longevity of its business. SodaStream's market manager for the Czech Republic recently had this to say about SodaStream's business in the region: "For the leader of the global market, manufacturers SodaStream home soda Czech is one of the most attractive countries. The current penetration soda in domestic households is about 15 percent, the Czech market in Europe is one of the most exciting. We expect that within five years could our tanks have twenty-five percent of households, he adds."
During 2013, SodaStream held back shipments to Japan as the company determined its distributor had been in breach of the distributorship contract. In turn, and as I had previously projected, SodaStream will take over control of the region and purchase roughly $5mm worth of inventory from the distributor. Distribution rights will fully transfer to SodaStream in April of 2014. Japanese retail sales rose 4.4 percent in January from a year earlier, government data showed recently, marking a sixth straight month of gains as consumers rushed to buy cars and other goods before a sales tax increase in April. SodaStream believes the Japanese market represents a sizeable opportunity for the company.
2014 Guidance
Now let's take a look at SodaStream's guidance for 2014.
2014 revenue increase of approximately 15% over 2013 revenue of $563 million. This outlook is based on a mid-teens growth rate for Western Europe, CEMEA, and the Americas, and a slightly higher growth rate for Asia Pacific, driven in part by our transition to a direct subsidiary in Japan.
For the full year, gross margin is projected to be approximately 50%, similar to 2013 levels. While the majority of Q4 issues have been rectified, the company faces additional headwinds in 2014, namely unfavorable movements in foreign exchange rates and higher depreciation.
For the full year, SodaStream expects EBITDA to increase approximately 11% over 2013 levels, and net income on an IFRS basis to increase approximately 3% over 2013 levels.
On the company's conference call with investors, Daniel Birnbaum had this to say regarding the 1st quarter which should prove to be equally as difficult as the 4th quarter of 2013:
"With respect to the first quarter, many retailers came out of 2013 with elevated inventory levels due to the challenging holiday season, and have reported continued struggles with consumer traffic thus far in the first quarter. Given the uncertainty particularly around the U.S. retail environment, we believe it's prudent to take a cautious approach to sell-in the near term, and this is contemplated in our guidance. We expect the first quarter to be challenging from both a top and bottom line standpoint, due to the combination of soft sales, FX headwinds, and higher A&P expenses from the Super Bowl ad and Scarlett Johansson ambassadorship, as well as increased marketing investments in Europe."
While revenues are expected to continue to grow at a healthy pace in 2014, net income and earnings growth are expected to grow rather modestly.
Analysts Price Targets
Naturally, there is always room for an upside surprise with such a fast growing company and the laws which play a role in small numbers exhibited in a company achieving less than $1bn a year in sales. But keep in mind that these same laws are just as effective to the downside as displayed in SodaStream's 4th quarter results last year. Given the remedies SodaStream is putting in place and the learning curve for which they acknowledged during 2013, the company could exceed its offered guidance in a number of ways. In my next article, I will offer areas where the company could exceed its guidance beyond its initial reporting of expectations for FY14.
Analysts have already weighed in on SodaStream's Q4 2013 and FY14 guidance with most standing in place with regards to their respective ratings on the stock, while some took the recent quarterly report as an opportunity to lower their price targets. Citigroup is the only firm with a Buy or Overweight rating on shares of SODA; most other analyst firms rate the stock a Hold, Market Perform or Neutral. Stifel Nicolaus has the only sell rating currently with no defined price target. Oppenheimer currently has no price target assigned to shares of SODA as well, but recently reduced Q1 2014 estimates. Based on the compilation of analysts' reports, the median multiple assigned to shares of SODA is roughly 18.7 times forward looking earnings. Below is a table from Capital IQ representing the high, low and median price targets on shares of SODA.
| | |
| --- | --- |
| Mean Target: | 47.33 |
| Median Target: | 49.00 |
| High Target: | 55.00 |
| Low Target: | 37.00 |
It might be a prudent measure to utilize analysts' rating with current positions in shares of SODA while looking for opportunities to cost-average lower over the near term. The SodaStream story will take years to play out as the company looks to continue its disruptive ways in the beverage industry. In my next article, I will weigh out the possible negative and positive catalysts for profitability in 2014.
Disclosure: I am long SODA. I wrote this article myself, and it expresses my own opinions. I am not receiving compensation for it (other than from Seeking Alpha). I have no business relationship with any company whose stock is mentioned in this article.