Target Corp. (NYSE:TGT) had failed to meet analysts' estimates in several of its most recent quarterly reports as the company faced a challenging retailing environment and the 4th quarter of 2013 proved to be equally as difficult for the retailing giant. Some of these challenges were magnified by its recent data breach, which affected roughly 70 million consumers which shopped at the retailers more than 1,800 stores during the fourth quarter and beyond. So let's take a look at what the company reported in Q4 2013.
In total, fourth quarter comparable sales decreased 2.5% consistent with updated guidance in January. This sales performance reflects a 5.5% decline in transactions partially offset by an increase in average ticket.
In the U.S. segment, full year comparable sales declined 0.4%.
On U.S. sales, Target earned a gross margin rate of 29.8% in 2013, up about 10 basis points from 2012.
U.S. operations generated fourth quarter adjusted earnings per share of $1.30 at the high-end of the updated guidance the firm provided in January.
Canadian segment EPS dilution was $0.40 in the quarter, $0.05 better than the updated guidance provided in January.
Fourth quarter GAAP EPS of $0.81 reflects U.S. and Canadian segment performance along with costs related to recent restructuring in data breach along with small accounting and tax matters.
Fourth quarter sales penetration on our REDcards was 20.9%, up 5.4 percentage points from a year ago.
For full year 2013, U.S. REDcard penetration grew nearly 6 percentage points to 19.3% of sales.
In Canada in 2013, Target generated just over $1.3 billion in sales on 124 stores which were opened on average for a little more than half the year. These sales were well below plan going into the year leading to greater than expected markdowns on a meaningful amount of excess inventory.
Full year net earnings for the firm were $3.07.
Clearly, Target experienced some extraordinary headwinds during FY14 which were capped by an operational underperformance in the 4th quarter. With a plethora of initiatives having taken place during the course of the year, the company continued to fail to meet Wall Street estimates and saw a decline in earnings and revenues on a YOY basis. For the full year, revenues declined by .9% in the U.S. reporting segment.
Target launched Cartwheel earlier in 2013 which they defined as a unique mobile savings tool which has far exceeded expectations in both adoption and engagement and which accelerated investments in flexible fulfillment. As a result, throughout the year, growth in digital traffic and sales outpaced industry averages. Target also launched in-store pick up chain-wide at the beginning of November, and with very little marketing, this new offering became a meaningful driver of digital traffic and sales. Given the early success with these programs and initiatives, Target fully intends to continue to invest in systems, data and processes to enhance flexible fulfillment capabilities in 2014 and beyond.
Given the increased competitive landscape in the retail industry and the initial success of the CityTarget, smaller concept stores, the company has plans to expand upon this successful format. Target has witnessed high single digit comparable sales with the CityTarget format in 2013 and has plans for a wider universe of potential sites in dense urban areas. While the work on CityTarget continues, the company has also developed a separate smaller format called Target Express at about 15% of the size of one of general merchandise stores.
While Target officials believe this design provides them with an opportunity to expand into new trade areas providing a convenient solution to guests who can't easily visit one of our other formats, the model has not worked so well in the past for other retailers who have implemented the same strategy. In general, if the merchandise isn't different in the sub-store set formats than in the general merchandise store formats, some degree of cannibalization is bound to occur.
If we take a look at what these Target Express format stores will offer in the way of merchandise, we come to find this is the identifiable issue. Target expects to offer a carefully created assortment in frequency categories like food, healthcare, beauty and other household essentials. Additionally, Target Express will also offer discretionary categories including home, electronics and seasonal items. Throughout the store, Target will feature private label brands. The first Target Express will open in Minnesota in July, so the company can carefully study both operational and financial results before determining plans to expand this format to other markets.
I have outlined in other articles before how the size of Target's business and the product mix is not appropriate given the shift in economic demographics, coupled with the competitive retail environment. The company has recognized this analysis as accurate with its shift in new store formats, but this will likely not prove beneficial as, stated previously, many other retailers are experimenting with similar measures. The shift in store size and store formatting is usually a foreshadowing or admission of market saturation while offered as a proposed new revenue channel. While I believe in the short term revenue boost that can be provided by new, smaller store formats, I also believe it could be detrimental to the brand and even influence shopper trends to assimilate shopping trips to other small store formats.
With SG&A rising some 20% in 2013, Target has taken on cost-cutting measures not seen since 2008. The biggest expense line item any retailer can impact is undoubtedly payroll. As stated by the company on its recent conference call:
In 2013 our teams saved approximately $200 million by re-prioritizing their activities and finding more efficient ways to get things done. Our expense optimization efforts are not a short-term project but a complete overhaul of the way we work and the team continues to find new opportunities. As a result, we expect the benefit of our expense optimization efforts to reach $1 billion in annualized savings by 2015. I'm proud that our entire team has embraced this effort to transform how we work.
In an attempt to explain the juxtaposition of cost cutting and revenue growth, I will offer the following insight: Cutting costs related to payroll, as a retailer of considerable size and scale, is the #1 item a company can manage on the expense side, and it is also the most leveraged operational tool from members of management. More often than not, this measured objective does result in lowering expenses; however, the bi-product of such an operation is either stunted growth in revenues or an actual decline in revenues.
To put things into laymen's terms, it really is just the art of cutting payroll, cutting hours and cutting staff size in most cases. We see this precise analysis proven most accurately with Target's mid-January announced layoff of 475 employees and the elimination of 750 open positions over the last six months. Target wouldn't disclose how many cuts were made at its Minneapolis headquarters, but unofficial word from employees indicated that Target Technology Services bore the deepest cuts. An additional 45 marketing employees reportedly were dismissed and other layoffs were reported in finance. These layoffs are not just coming at a time when the company is seeing declines in earnings and revenues, but during a time when it is diving deeper into technology and mobile connectivity for the sake of growing sales. It's difficult to see where these two operational aspects of cost cutting and technology build outs meet to provide for greater long-term profitability, but Target has managed to grow a lucrative business for several decades now.
Speaking of technology and connecting with the consumer through technology, Thanksgiving was Target's biggest digital sale's day ever, with mobile devices accounting for a full 25% of those sales. Additionally, the retailer was recognized as having the most browsed app by a smartphone and tablet in 2013 and "Mobile Commerce Daily" just named Target Mobile Retailer and Commerce Website of the Year. An important factor in the retailer's digital success was the 4th quarter rollout of the opportunity to buy online and pick up in-store. In-store pick up requests represented about 10% of 4th quarter digital orders, but they peaked at a much higher rate before Christmas, as guests relied on the service as a solution for last-minute gift shopping. About 30% of store visits to pick up an online order evoked an in-store shopping activity by the customer on that same trip, and the size of that store transaction was much larger than an average store trip.
The Cartwheel app has also been a successful digital tool for Target, which launched earlier in 2013 and proved to gain momentum through the back half of the year. Cartwheel ended 2013 with over 5 million users who have saved more than $43 million on deals downloaded from the app daily and weekly. Target launched a host of pre-Black Friday deals on Cartwheel which resulted in one of the biggest days ever for Cartwheel as they drove one-third of active users into Target stores on the Wednesday before Thanksgiving. In attempts to increase Cartwheel's user frequency and ease of use, the company recently added the ability to scan bar codes to find out if there's a Cartwheel deal on an item and added the capability to sign up for Cartwheel directly through a Target account and email while continuing to provide access to the app through Facebook.
Target prides itself on separating its product line through the support of designers and brands. In support of Sports Illustrated's 50th anniversary this year, the company will once again be sponsoring this event. Target is the exclusive mass retail advertiser and official marketing partner for the issue. This year's partnership includes the new 20 page flip cover that celebrates swimsuit style over the past 50 years and features Target's limited edition swimwear collection. The collection launched at Target stores and on target.com February 17, in advance of the issues on stand date and includes 10 black, gold and ivory swimsuits priced from $15 to $30.
Earlier this month, Target began offering AMBAR, a new apparel collection designed with the Latina guest in mind. AMBAR is set in 50 U.S. stores this month and is also available on target.com. This collection has items ranging from $17 to $40. This spring, Target will introduce an assortment of premium skincare featuring seven notable brands, four of which will be exclusively sold at Target. 29 by Lydia Mondavi, Borghese, Laneige and MD Complete by Dr. Zelickson along side industry favorite Vichy, La Roche Posay and Own Skin Health.
Target makes efforts to right size its business and stores every year through remodels, technology use and in-store services. This year the company looks to increase its sales in the ever-growing infant/toddler/baby category. The company began a baby department pilot program in November last year, and by its own account, the company sees great results from the pilot program. The new department layout, a completely redesigned shopping experience that offers guests inspiring insightful solutions combined with the great value they've come to expect from Target, has sped up the company's desire to further enhance features for the department in favor of the guest's experience. This new layout features a dedicated service desk with a knowledgeable baby advisor to help guests navigate the area and provide unbiased product information. Digital screens and iPads feature inspiration and interactive comparison tools, and BabyCenter content such as buying guides and product reviews.
This summer, Target plans to grow from 30 stores to more than 200 locations, featuring this enhanced baby experience. This all sounds great, but I remember the company launching its enhanced jewelry counter features and benefits which wound up being little more than a dedicated jewelry department associate who if he/she was not at the counter, the guest pressed a call-button and waited for he/she to arrive. Hopefully, the baby department upgraded features and dedicated personnel will be more successful than what has been witnessed from the jewelry counter roll-out programs and not impact cost cutting efforts negatively.
Guidance
As indicated earlier, 2013 ended with some extraordinary events which resulted in the company showing negative earnings and revenues on a YOY basis. The company's current view is that U.S. comparable sales will grow in the range of 0% to 2% in 2014. On those sales, Target expects a U.S. segment EBITDA rate of 10.1% to 10.3%, meaning EBITDA dollar should grow between 5% and 8% this year. Among the drivers of EBITDA margin, Target expects gross margin will improve 30 or 40 basis points from our 2013 rate of 29.8%, reflecting improved clearance markdown rates and more significantly the gross margin benefit of expense optimization efforts. Target expects U.S. capital expenditures of $2.1 billion -- $2.3 billion, up slightly from actual 2013 spending.
In Canada, the company expects total sales will be approximately double those achieved in 2013. On those sales, the company expects to earn a much higher gross margin rate in a range approaching 30%. In Canada, Target expects 2014 capital expenditures in the $300 million to $400 million range, down more than $1 billion from peak spending in 2013.
Altogether, these expectations would lead to full-year adjusted EPS representing results from operations in the U.S. and Canada of $3.85 to $4.15. This estimate excludes approximately $0.07 of dilution related to the continued reduction in the beneficial interest asset. These 2014 expectations represent an improvement of more than 20% from combined U.S. and Canadian segment results in 2013.
As it pertains to the 1st quarter in the U.S., Target expects 1st quarter comparable sales in the range of flat to down 2%. In Canada, the company expects to generate first quarter sales in a range of $400 million to $450 million
Altogether, these expectations lead to 1st quarter adjusted EPS reflecting operating results in the U.S and Canada in the range of $0.60 to $0.75, excluding $0.02 relating to the reduction in the beneficial interest asset and any potential costs related to the data breach.
If I was asked to "bottom line" it for investors with regards to Target I would offer the following: The company has a strong balance sheet, a strong dividend and a strong buy-back program; all of which are expected to grow in 2014. It doesn't really matter what Target does operationally to cut costs, reformat stores and how they connect with the consumer through digital channels. Why?
Every retailer in Target's business segment is doing the exact same thing. This basically means that the competitive environment is still the same, and differentiating itself will cost more than ever before. What it all comes down to are products and guests' experience. In order to succeed and grow revenues and sales for the foreseeable future, the company needs to score key victories in the guests' experience and the desire for a guest to want to buy products from Target. The company has always differentiated its merchandise from that of the competition, but hard goods and apparel sales have floundered over the last 2 years in-spite of this differentiation, and yet the company is still having difficulties course correcting. What do I mean by stating this? Take a look at the following picture.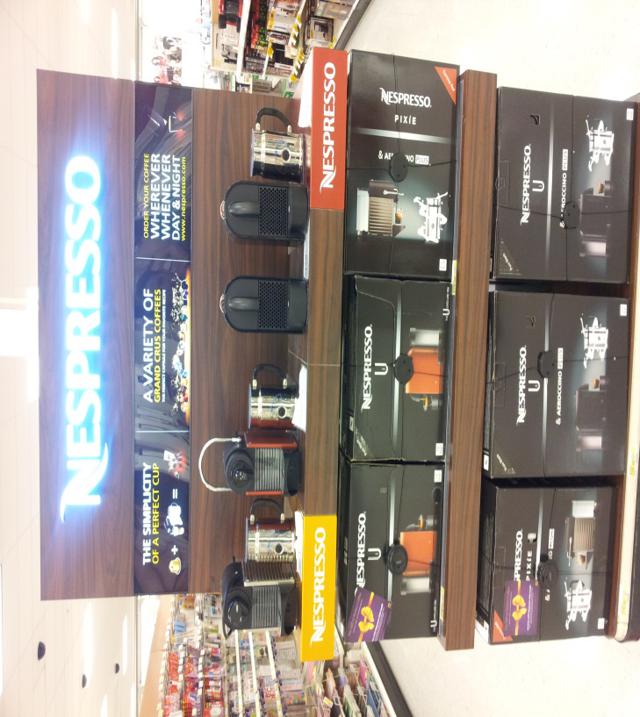 The Nespresso end-cap display is from a Target location in South Florida. While this region is a heavily populated espresso drinking region, it is also not the appropriate price point for the consumer demographic in the region and Target's demographic shopper as a whole. This attempt to bring products to its store that the consumer identifies more closely with has generally failed to deliver results over the last several years for Target. The trend in same store sales growth more accurately displays this as well. Last year, the company offered a line of Frigidaire Professional products which failed to generate sales.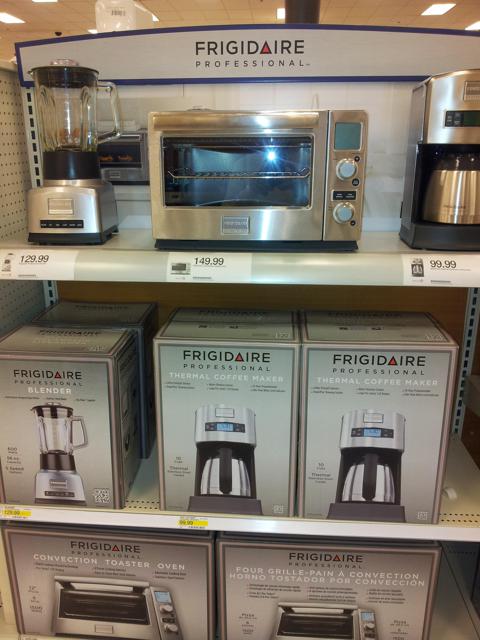 By no means would I suggest that investors should take part in short speculation on TGT shares, as the company's share repurchase program and dividend yield are simply too alluring for many investors, which has benefited the share price performance over recent years. However, the trend is painfully clear in what is occurring at Target if one analyzes same-store-sales results and listens closely to what the company is doing to meet its projections. In closing, the chart below identifies same-store-sales results dating back to 2012 and how the trend in same-store-sales has fared over this time period.
| | | | |
| --- | --- | --- | --- |
| | SSS Change | | Y-O-Y SSS Trend Change |
| July 2012 | Up 3.1% | | -1% |
| August 2012 | Up 4.2% | | +.1% |
| September 2012 | Up 2.1% | | -3.2% |
| October 2012 | Up 2.4% | | -.9% |
| November 2012 | Down 1% | | -2.8% |
| December 2012 | No Change | | -1.8% |
| January 2013 | Up 3.1% | | -1.2% |
| Q1 2013 | Down .6% | | -1.8% |
| Q2 2013 | Up 1.2% | | -1.4% |
| Q3 2013 | Up .9% | | -2.23% |
| Q4 2013 | Down 2.5% | | -5.5% |
Disclosure: I have no positions in any stocks mentioned, and no plans to initiate any positions within the next 72 hours. I wrote this article myself, and it expresses my own opinions. I am not receiving compensation for it (other than from Seeking Alpha). I have no business relationship with any company whose stock is mentioned in this article.