Meet ME Inc. (NASDAQ:MEET), a leading social network for meeting new people in the US and the public market leader for social discovery, pre-announced in January 9, 2014 that it expects 4Q 2013 revenues of approximately $13 million, up approximately 12% on a year-over-year basis and 29% sequentially. This is a significant improvement over the previous revenue guidance of $11.25 to $11.75 million for the quarter. MEET will report its 4Q 2013 financial results on Friday, March 14, 2014.
The primary reason for the significant revenue inflection, starting during 4Q 2913, is the growth in mobile revenues achieved in 4Q 2014. Specifically, 4Q 2013 mobile revenues grew to $5.1 million from $2.2 million in 4Q 2012 - a 128% growth rate!! Meanwhile FY 2013 mobile revenues grew from $6.1 million to $12.5 million, a 105% growth rate. The 2013 quarterly revenue trend and their respective mobile contributions can be seen in the following charts that were presented at the Needham Growth Conference held on January 16, 2014: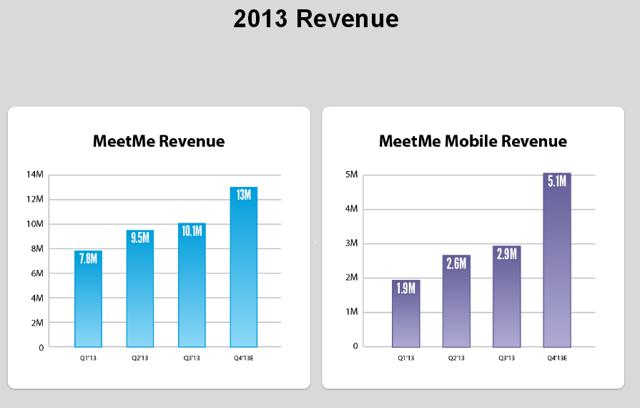 The significant jump in 4Q 2013 mobile revenues is the result of a successful execution of the company's mobile strategy. On November 6, 2013, Geoff Cook, CEO of MeetME Inc. stated the following regarding the current growth strategy:
"At my company, we divide our product pipeline in two and we are equally focused on both: launching new standalone applications to accelerate the growth of our overall user base - and enhancing our 'core' app to drive engagement and viral growth ... That app happens to be MeetME. Along with our website, our Meet ME app has more than one million daily active users and more than $30 million in LTM revenues."
Two highly-ranked recently launched standalone apps are Choosy and Charm. The core MeetMe app ranks 16th overall social app in Google Play Store according to App Annie, ahead of better-known Zoosk, Badoo, Google (NASDAQ:GOOG), and Match.com.
The company will provide an update to institutional investors today, March 4, 2014 at the JMP Securities Technology Conference (Ritz-Carlton in San Francisco).
I expect mobile growth rate to continue to accelerate as a result of recent upgrades to the company's core MeetMe mobile application and other upgrades and product launches the company expects to announce in the near future. According to the company, the most recent upgrade to the MeetME app on Android mirrored the successful improvements recently implemented on the iOS app and has had measurable improvements in daily views. On February 3, 2013, Geoff Cook, CEO of Meet ME Inc., stated:
"In the three weeks following the launch of the Chat upgrades on iOS, we saw a 14 percent increase in daily views of the message conversation screen and an eight percent increase in screen views per session compared to averages of the month prior to launch," Mr. Cook continued, "We believe bringing these upgrades to the Android version of the Meet ME app will yield similar increases in user traffic and conversations between users. We look forward to an even more transformative upgrade to our Chat system in the coming months."
Regarding product improvements and new standalone apps, on February 6, 2014, Inflection Point Investing, stated in an excellent and comprehensive article on MEET:
"We believe that Meet ME's introduction of these new standalone apps will spur user engagement and drive viral growth. Meet ME has a strong track record of driving dramatic increases in traffic as a direct result of new product launches. We are therefore bullish on what effect these new standalone apps could have for the company's mobile growth rates in 2014."

"Looking ahead to March, Meet ME will be launching its biggest update ever to the Meet ME app. A new address book feature could incentivize its existing user base via virtual currencies to recruit their contacts. If this strategy works out, this could be an important catalyst for its mobile growth rate and, in turn, for MeetMe's stock."
Since the January 8 pre-release, MEET's stock has moved up strongly. But I expect higher valuations going forward before and after the 4Q and FY 2013 earnings release and conference call to be held in the morning of Friday, March 14, 2013. A recent catalyst for MEET's expected rally in the coming months will be the recent announcement that Facebook (NASDAQ:FB) has acquired the mobile Whatsapp at a pretty nice valuation. MEET is currently significantly undervalued compared to its peers. I expect a significant rally going forward that will likely send the stock to over $5 territory where more institutions would likely want to participate on the "MEET opportunity."
I also expect that the next growth phase for MEET will be to expand and monetize its potentially large global opportunity. One only has to look at the company history to see this connection. MEET was born of a merger between myYearbook and QuePasa in 2011. QuePasa was a company with a big international user base and MEET doubled its international Daily Active User base after the merger. But the company has not yet verbalized its international strategy. The company operates MeetMe.com and MeetMe apps on iPhone, iPad, and Android in multiple languages including English, Spanish, Portuguese, French, Italian, German, Chinese (Traditional and Simplified), Russian, Japanese, Dutch, Turkish and Korean.
In summary, MEET is starting to generate significant revenue growth as a result of the successful implementation of its mobile strategy and the stabilization of its web-derived revenues. This growth, coupled with the sector's heated M&A activity will inevitably generate interest in value investors looking to participate on a ground-floor opportunities with significant upside. I expect that the stock will be trading North of $5 by the summer of 2014. But as with any investment in the stock market, there are risks associated with investing in MEET. Investors should evaluate these risks which are clearly stated in the company filings with the SEC.
Disclosure: I am long MEET. I wrote this article myself, and it expresses my own opinions. I am not receiving compensation for it (other than from Seeking Alpha). I have no business relationship with any company whose stock is mentioned in this article.