Executive summary:
Ritchie Bros. (NYSE:RBA) continues to grow its global scale.
Competition remains fragmented, RBA focused on growing sales and expanding globally.
EquipmentOne, a web based sales platform, remains a growth initiative and a natural adjacency to the core auction business.
Tough weather conditions in Q1 delayed some revenue to Q2, and could provide some revenue timing issues in terms of comparable analysis.
_________________
Sometimes the market doesn't react the way you think it will. That is true of the price action in shares of Ritchie Bros. ("RBA") after it reported what appeared like solid earnings. RBA achieved record auction proceeds, $1.1 billion, which translated into record Q4 earnings of $30.3 million, 36% higher than the prior year. But for two non recurring items, net earnings would have been $33.7 million.
Sounds like a pretty solid report.
Apparently it wasn't enough to impress analysts. Shares sold off on the earnings report, ending the day down 4%.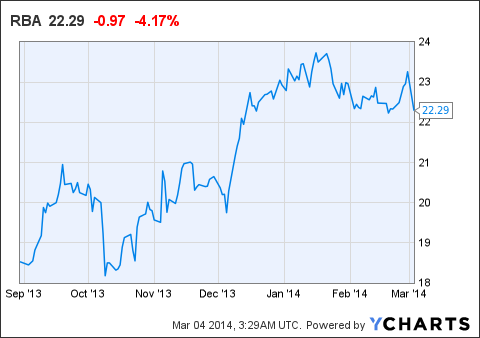 Management did give investors a slight reason to be bearish, indicating on the conference call that a slow down in mining activity in Australia and construction activity are putting a damper on auctions in those markets. Those fears are overblown. RBA remains a global business, and the company's core auction business held strong auctions in Q1 2014 with 7 events held in 3 countries for a total so far.
The strategy for RBA continues to be leveraging its global scale, driving revenue growth which should asymmetrically benefit cash flows and profits due to the inherent operating leverage in the business model.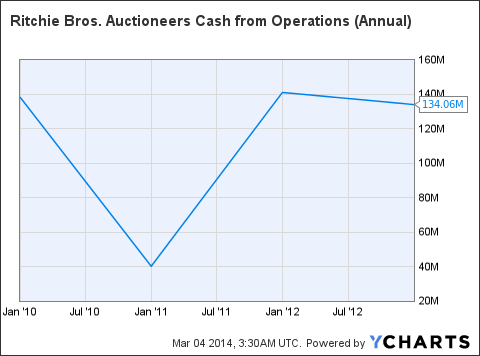 RBA Cash from Operations (Annual) data by YCharts
To further drive growth, RBA continues to invest in its web-based resale platform, EquipmentOne, which appears to be gaining steam. I understand that RBA generated $100 million sales, primarily in the second half of 2013 (EquipmentOne was acquired in April 2013). This is a natural adjacency to the core auction business, and allows RBA to capture additional market share, particularly by connecting buyers, sellers and equipment at all corners of the globe via its digital platform. While there is a risk of cannibalizing sales in the core business, I think EquipmentOne provides an avenue for small business owners to sell high value equipment on their own terms for pre-determined prices rather than through the auction format.
Competition Remains, Industry Fragmented
As I noted in my prior column, there are a confluence of factors that impact the heavy machinery resale market. First, the market is highly fragmented. Ritchie Bros. estimates that it is the market share leader at 3%. Not only does RBA compete with OEM dealers and, therefore, new machinery sales (rather than used machinery resales), RBA competes in various markets with local used machinery dealers. Moreover, machinery rental outfits such as United Rentals (NYSE:URI) continue to operate at historically high utilization rates, putting pressure on RBA. That said, there is significant room to expand RBA's footprint through a roll up strategy and/or industry and geographic penetration with more sales managers.
Given that sales growth continues (although gross auction proceeds per auction were slightly down), I think the threat of competition is reduced as the world economy rebounds and the demand for used machinery remains robust. To that end, Ritchie Bros. remains a good way to play the world infrastructure build out theme, although that view remains decidedly contrarian as over 18 million shares are held short, representing nearly 17% of the float.
Conclusion
No matter what the market says, RBA remains a quality business. RBA just happens to be selling for a slight discount to what it was priced at yesterday.
In my view, the bear case -- competition, slowing global demand for used machinery -- appears largely over blown at the current $2 billion valuation. RBA has global scale and significant operating leverage (but manageable financial debt). Of course, revenue growth remains key for the RBA value proposition. While there are some negative indicators, including lower gross auction proceeds ("GAP") per auction and transitory weather issues in Q1, I think the growing global scale of RBA makes up for this. The revenue model is derived by (1) number of auctions held and (2) GAP multiplied by a 12% commission. So a growing number of auctions also impacts RBA's revenue growth rate, and makes up for the lower GAP per auction.
Because of the operating leverage in the model, incremental dollars (dollars earned or dollars lost) disproportionately affect profitability.
While I don't see any reason to bearish on these shares, I also don't see an immediate near-term catalyst to drive price higher. Valuation alone can become a reason to own a company if the valuation gets particularly enticing. I'm putting RBA shares on my watch list to see if they get taken to the woodshed after the Q2 report, since we know some of the revenue that is normally earned in Q1 was deferred to Q2 on account of weather conditions.
Disclosure: I have no positions in any stocks mentioned, and no plans to initiate any positions within the next 72 hours. I wrote this article myself, and it expresses my own opinions. I am not receiving compensation for it (other than from Seeking Alpha). I have no business relationship with any company whose stock is mentioned in this article.