Orders for newbuild deepwater rigs have slowed over the past few months, leading investors to question if an end to the rig build cycle is near. This has led to lower share prices across the sector, creating a few high-dividend yield opportunities, despite the industry's still supportive long-term outlook. Rig demand is still sound, and industry preference is shifting toward new generation rigs making newbuilds more attractive, hence excess supply should not be a problem over the next few years. Previously, I've covered Transocean (NYSE:RIG) as a good way to play this sector, and another interesting income investment may be Ensco (NYSE:ESV), another leading offshore drilling company that operates worldwide.
Ensco is the second largest publicly traded offshore driller by fleet size, with a fleet of 9 drillships, 13 dynamically-positioned semisubmersibles, 6 moored semisubmersibles and 46 jackups. The company's high-spec newbuild program has successfully transitioned it to a driller with significant exposure to the deep/ultra deepwater markets where supply and demand fundamentals are tighter. The company has around 9,000 employees and operates in nearly every major offshore oil and gas region worldwide. Ensco was founded in 1975 and is currently based in the U.K., following its redomestication in 2009. The company has a market capitalization of about $12 billion and trades on the New York Stock Exchange.
The offshore drilling industry is highly competitive and fragmented, including several large companies that compete on a global scale, and numerous smaller companies that compete on a local basis. Ensco's major competitors include Seadrill, Transocean, Diamond Offshore (NYSE:DO), and Noble (NYSE:NE), beyond others. Its five largest customers account for close to 50% of the company's sales; Petrobras (NYSE:PBR) is its largest customer, accounting for 24% of Ensco's revenues. Other large customers are BP (NYSE:BP) and Total (NYSE:TOT). More than 70% of Ensco's revenues are generated outside the U.S., with Brazil being the company's second-largest market, accounting for 21% of its revenues. Currently, about 64% of its revenues come from floaters, while jackups are responsible for the remaining revenues.
Ensco has significant leverage to modern high-specification rigs and should be a key beneficiary of growing deepwater development and exploration demand in the coming years. Following the Macondo accident, new generation floaters are clearly in demand as older generation rigs are falling out of favor with oil and gas companies. Therefore, the players with younger fleets are better positioned to benefit of growing demand, which includes companies like Ensco, Seadrill (NYSE:SDRL), and Noble.
Ensco has the second youngest deepwater fleet in the industry, with an average age below four years. The company has grown its rig fleet through acquisitions, such as Pride International in 2011, rig acquisitions, and new rig construction.
Operating results in the offshore contract drilling industry are cyclical and directly related to the demand for drilling rigs and the available supply of drilling rigs. The offshore drilling industry has experienced strong fundamentals over the past few years, with customer demand driving upward pricing for dayrates in all rig classes. Oil prices have remained at a level that supports activity across all water depths, and in particular, growth in the ultra-deepwater market. A significant number of Ensco's drilling contracts are of a long-term nature, thus an increase or decline in demand for contract drilling services generally affects its operating results and cash flows gradually over future periods.
Ensco expects demand in the jack-up markets to remain strong for the next several years, driven by regions like Mexico, the North Sea and the U.S. Gulf of Mexico. Regarding floaters, investors have been concerned about the uncontracted supply of ultra-deepwater newbuilds arriving in 2014, which may lead to lower dayrates and negatively impact the industry's operating results going forward. Ensco has four floater newbuilds, two floater upgrades, and four high-spec jackup newbuilds scheduled for delivery through 2015, so the company is clearly exposed to this theme. The sentiment around offshore drilling stocks is likely to remain weak until the floating rig markets stabilize, something that should happen in the next few months as less rigs will be available for contract. The company does not expect the downturn in the floater market to be a long-term phenomenon, and believes that stable commodity prices, paired with global growth and robust exploration and production spending from oil and gas companies will result in a relatively quick demand rebound in the floating rig market.
Regarding its recent financial performance, Ensco has reported record revenues and earnings in 2013. Ensco's revenues amounted to $4.9 billion, an increase of 14.4% due to the addition of three rigs to the active fleet. The company's fleet should continue to increase as it completes the construction of six additional rigs, scheduled for delivery through 2016. According to analyst estimates, its revenues should increase to more than $6 billion in 2016, showing how good the company's growth prospects are in the medium-term. This growth is also supported by its current contract backlog that amounts to more than $11 billion, providing coverage for around two years of revenues. Ensco's profitability is among the top of its industry, achieving an EBITDA near $2.7 billion or an EBITDA margin of 48%. Its net income was $1.4 billion, or $6.07 per diluted share. Ensco's profit margin was close to 29%, which is the best margin within its closest peers.
Ensco has paid a quarterly dividend of $0.025 per share in the third quarter of 1997, a dividend that was maintained until 2010. Since then, Ensco has increased its quarterly dividend four times, and currently pays $0.75 per share quarterly. During 2013, Ensco doubled its dividend to $3.00 per share annually, which is quite impressive. This also shows the company's commitment to deliver strong returns for its shareholders. At its current share price, Ensco offers a high-dividend yield of 5.7%. This dividend yield is among the highest within its industry, even though it is below some of its peers like Seadrill or Diamond Offshore. Ensco also has a large authorization to repurchase shares, but its focus for 2014 is the completion of its newbuild program and to pay its dividend so share buybacks should remain on hold.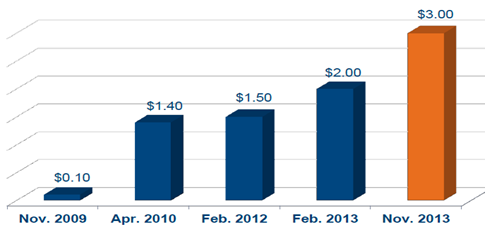 Despite its impressive growth, Ensco's dividend remains relatively safe given that it only represents 46% of 2014 estimated earnings. Based on cash flows, the dividend coverage is not as great. The company is currently investing heavily to expand its fleet which results on low or even negative free cash flow for the next couple of years, but its free cash flow should improve markedly in the medium-term, because its capex is expected to go lower significantly after 2016.
Moreover, Ensco has one of the lowest leverage ratios within the offshore drilling industry, which also supports its dividend. Ensco is trading at slightly higher than 8x its estimated earnings, which is above its long-term average of 7.5x. Thus, the stock appears to be fairly valued, but it is offering a much higher-dividend yield than its historical average, so for income investors, the company presents an attractive investment proposition.
Disclosure: I have no positions in any stocks mentioned, but may initiate a long position in ESV over the next 72 hours. I wrote this article myself, and it expresses my own opinions. I am not receiving compensation for it (other than from Seeking Alpha). I have no business relationship with any company whose stock is mentioned in this article.