A couple of weeks ago, I detailed how it was make or break time for biotech Dendreon (NASDAQ:DNDN). The company that brings you the prostate cancer treatment Provenge had an upcoming earnings report that would be the start of a critical year for the company. On Monday, the company announced results and gave some guidance for the future, including the launch of Provenge in Europe. Unfortunately, the Europe opportunity is still a ways off, and the company's weak guidance and lack of transparency was not good. Dendreon has a tremendous opportunity ahead of it, but the latest news shows how this struggling company will get much worse before it can get better.
Q4 results:
Dendreon did pre-announce results in January. Q4 results were mostly known going into this report, so I won't spend too much time going over them again. Revenues did come in at $74.8 million, which beat analyst estimates for $73.59 million, and was about $2 million ahead of estimates at the pre-announcement. Dendreon lost nearly $89 million on a GAAP basis, or $0.58 per share in the quarter. This was mostly due to a bad inventory write-off, which I had detailed in the past couple of months and will dive into later. Excluding the charge and other items, the non-GAAP loss was a little more than $25 million, or $0.17 per share. Analysts were looking for a $0.38 loss, so Dendreon's Q4 loss was basically in between the GAAP and non-GAAP numbers.
Launching in Europe:
One item that the bulls have been holding on to for several months now is Dendreon getting Provenge into Europe. Along with Monday's earnings report, the company announced it would be launching Provenge in Europe. Here's the main detail of the announcement, taken from the press release:
Dendreon Corporation today announced that it plans to make PROVENGE® (autologous peripheral blood mononuclear cells activated with PAP-GM-CSF or sipuleucel-T) available in Europe, beginning with Germany and the United Kingdom.

Dendreon will make PROVENGE commercially available to patients within the approved label through Centers of Excellence using its Contract Manufacturing Organization, PharmaCell. Centers of Excellence are institutions where a high volume of prostate cancer patients are treated by leading prostate cancer experts. These centers will be located in larger cities, which will allow for convenient patient access. In some cases, a Center of Excellence may be a co-op group of institutions. Following the implementation of automation, which will enable Dendreon to manufacture more cost effectively, the Company will explore opportunities to make PROVENGE more broadly available in Europe and other world markets.
This is the news bulls were waiting for, and probably is why the stock jumped so much on Monday. However, the devil is truly in the details, so investors do need to be cautious here. Dendreon stated on the conference call that Provenge wouldn't make it into Europe until Q4 of this year most likely, and automation will follow that at an undetermined date. Dendreon bulls out there were really looking for Provenge to launch in Q4 of 2013 originally, but when approval was delayed during 2013, the hope then became early 2014. Now that this process is still a long way off, it's going to make the next couple of months very challenging for the firm. Additionally, automation being further off pushes back the profitability picture for Europe, and this is a company that is still losing tons of money. While the news about Europe is a positive in the long term, the time frame is extremely disappointing.
Q1 guidance weak again:
Dendreon's guidance for Q1 was not good. For those that thought this company was on a turnaround path, that process took another big hit. Here's the quote about Q1 from the earnings release above:
We expect our first quarter 2014 revenues to be consistent with our first quarter 2013 results. We continue to be on track on our restructuring and cost reduction plan to accelerate the path to profitability. We are focused on becoming cash flow breakeven as soon as possible.
Dendreon's Q1 last year was an absolute train wreck with just $67.6 million in revenues. Also, Q4 was at nearly $75 million, so you are talking about another large sequential drop. Dendreon tried to spin this on the call as Q1 2014 being the first quarter post-competition that year over year revenues would rise. But when competitors are showing large gains in year over year revenues, just having flat revenues is not good enough. Remember, back in June 2013, analysts were looking for $430 million in 2014 revenues for Dendreon. Going into Monday's report, that number was down to just $309 million. I'm not sure if the late 2014 Europe opportunity will be enough to help estimates rise, as they are likely to take a hit from this poor Q1 guidance.
It seems that every time Dendreon has a good quarter, the next one is bad. This happened in Q2-Q3 last year, and is now happening again with Q4-Q1. Analysts were expecting $72.64 million, so Dendreon is guiding to revenues that will be $5 million lower than expectations. With Q1 getting the year off to a poor start, it will also make investors and analysts question how the rest of the year will shake out. Additionally, the lack of Europe revenues for a few more quarters will definitely hurt. Finally, the company stated that Q1 cash burn would be roughly equal to Q4 cash burn. That's a bad sign for a company with a limited cash base, upcoming debt payment, and trying to get to cash flow breakeven.
Inventory problem update:
Let me now discuss the inventory issue relating to antigen. This is what the company disclosed in the third quarter 10-Q filing:
In the third quarter of 2013, we recorded a charge of $6.3 million related to antigen inventory which was determined to fall out of quality specification and was not usable for commercial production. This charge is included in "Cost of product revenue" on our consolidated statement of operations for the three and nine months ended September 30, 2013. We have filed an insurance claim to seek recovery of the $6.3 million loss; however, at this time we are uncertain if this loss will be reimbursed by our insurance carriers.

We have also identified an additional $38.0 million of antigen inventory at risk of being out of quality specification. We have initiated an investigation to determine the usability of this remaining antigen inventory. If we determine that this inventory is not usable for commercial production, we will seek reimbursement for the loss from our insurance carriers; however, at this time we are uncertain if the loss, if any, will be reimbursed by our insurance carriers.
Dendreon took a roughly $40 million loss on inventory in Q4, which gave 2013 a total loss of more than $46 million. Additionally, due to the write-off, the company ended the year with just over $54 million of inventory. That was down from the more than $96 million in inventory on the balance sheet at the end of Q3. The apparent problem as discussed on the call was improper storage at a third party facility. Dendreon does not expect any more write-offs.
So there are two issues here. First, will the company get money back from insurance? On the conference call, Dendreon provided the following statement:
For the year ended December 31, 2013, we recorded a charge of approximately $46 million related to antigen inventory, which did not meet product specifications. We have insurance coverage for up to $30 million for antigen losses of this type to have filed an insurance claim to seek recovery for these losses. We are awaiting further information and ultimately reimbursement from our insurance carrier.

In addition, we are continuing to investigate remaining loss and our exploring all available options for additional recoverability.
Hopefully, the company will get that $30 million back, but when is anyone's guess. Additionally, while the company is investigating the rest of the loss, it seems as if that $16 million is as good as gone for now. The good news here potentially is that $30 million could potentially be recovered, but that will probably go right back to purchasing inventory needed to make up for what was lost.
For now, Dendreon might need to go out and purchase more inventory, and this will be a hit to cash flow for the next couple of quarters (if the company doesn't get the $30 million back soon). There could be an additional problem here if the lack of inventory loses the company some much needed revenues. For a company that is struggling financially, this inventory problem did not come at a good time.
Balance sheet update:
Since Dendreon released its 10-K filing on Monday, we can now look at how much worse the balance sheet got during Q4. The following table shows some key financial ratios and other important items. Dollar values are in thousands.

Dendreon is supposed to be improving its cash burn, but the company stated that Q1 2014 cash burn would be roughly equal to Q4 2013 cash burn when excluding the semi-annual $9 million interest payment. That's not a step in the right direction.
It's not a shock that the balance sheet is getting worse, but Dendreon at some point has to address these concerns. In the next section, I'll discuss the company's pathetic statements on the conference call related to the balance sheet. Working capital was under $180 million at the end of Q4, and is most likely a bit below that now since we are more than two months into 2014. If Dendreon burns through a similar amount of cash in Q1 as it did in Q4, the cash pile would be down to about $165 million. The company had an equity deficit of $247 million plus at the end of Q4. That means that for every dollar of assets, the company had $1.57 of liabilities. That number is getting worse by the day, and you can see how bad things have gotten in the chart below.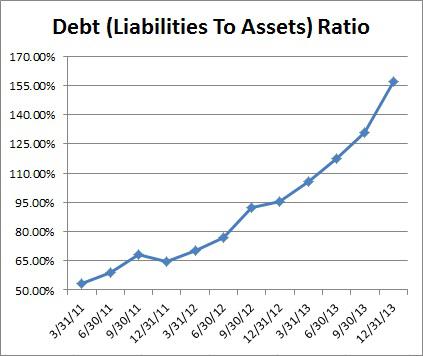 Finally, the 2014 notes that are due in June were up to nearly 14% of the company's cash balance, from just 6.44% a year ago. That number will continue to increase as the company burns through money. I've tried to avoid using the term bankruptcy in the past, but Dendreon needs to do something here. With Europe revenues now several months off, and no clear picture of profitability or cash flow breakeven from the company, the financial picture of this company is getting much, much worse.
If Dendreon does need to do a secondary offering, it would be better to do it while shares are elevated. During 2013, I thought it was a good idea when shares were around or above $5, but I guess Dendreon thought its financial condition was okay then. Shares closed Monday at $3.31, with a market cap of just $521 million. Additionally, the outstanding share count is on the rise each year without any additional secondaries. Dendreon ended 2013 with 157.27 million shares outstanding, up from 154.41 million the year before. Go back even further, and you'll see even more dilution. Shareholders are already being diluted, and more dilution is coming even without an offering. Should the company need to raise funds, equity holders could be looking at dilution of 10-20% or more. Remember, the big debt due is in January 2016, which is now less than two years away. Given how Dendreon hasn't even gotten to cash flow breakeven yet, it's hard to see how it will be able to repay this large amount in just over 22 months.
Other important conference call quotes:
There were some items on the conference call that really should get investors upset with management, in relation to what I have already discussed above. Let me first remind you of what Dendreon said on the Q3 conference call:
CEO John Johnson (in opening remarks):

I would now like to address our convertible debt. First, you should know we are discussing our options and are well advised. We have many different options that we are exploring, and we are working to pursue the best option for the company. We expect to provide more detail on our steps to address our debt during our fourth quarter call, which is typically held in February.

Analyst question later on:

Regarding the debt due in 2016, do you have any strategic alternatives or creative plans to refinance this?

CEO John Johnson:

As we've said relative to converts, we're looking at all of our options. We feel that we're well advised. We have given this a lot of thought. It is top of mind, and we look forward to discussing more with you guys in February.
This debt issue is a critical one for the company, with the nearly $28 million payment due in just over three months now, and several hundred million due in 2016. This is especially true given the continued weakening of the balance sheet. Perhaps the second most critical piece of information on this call (behind Europe) was an answer on this, and this is what Dendreon gave:
On our third quarter call, we indicated that we would provide an update regarding our convertible debt. Over the last quarter, we have spent considerable time exploring our options with our advisors and have made significant progress in our thinking. As you would expect, we are not going to provide details at this point in time except to say that addressing our convertible debt remains a top priority and we are well advised.
So thanks for nothing! "We have made significant progress in our thinking" is not really an update. Saying that we shouldn't expect details is completely ridiculous when you said last quarter you were looking forward to discussing it with us. Where's the discussion? In my opinion, management should be really embarrassed here. Don't say you are looking forward to discussing something, then hide behind a wall. Transparency has been an issue with this name in the past, and this statement on the call does not improve the situation. With Dendreon getting closer towards the edge, this makes it seem like a massive secondary is even closer, unless a buyout comes.
Here's another important quote regarding competition from Zytiga, which is a product from Johnson & Johnson (NYSE:JNJ), and Xtandi, which is from Medivation (NASDAQ:MDVN):
So in regards to the competitive question, the competitive landscape remains largely unchanged in the fourth quarter. But both Zytiga and Xtandi have increased their share in the post-chemo setting and we've seen some of that of Xtandi in the pre-chemo setting specifically on oncology. And we continue to see the greatest effect of the competition in the small and low volume accounts across our market segments, but we've seen significant impact in our large accounts.
Obviously, for investors looking for lower risk in this space, Johnson & Johnson is an industry giant with a $250 billion plus market cap and near 3% dividend yield. Medivation saw its shares recently drop thanks to poor guidance, but Medivation is still expected to show a lot more growth in 2014 than Dendreon. Dendreon is also working to see which of these three products can be used at the same time. I provided more color on that in my previous article.
Final thoughts:
Dendreon shares spiked on Monday as investors saw the European launch of Provenge as a clear positive. However, the company may have even more questions now than it did last week. First, the European opportunity appears to be at least 6-9 months off, and automation may not come into play at that point. Also, the company was supposed to give an update on the convertible debt, and really didn't. A nearly $28 million bond is coming due in June, and Dendreon has not addressed any concerns with its ever weakening balance sheet. Q1 revenue guidance was lackluster, and the company expects to burn through the same amount of cash as it did in Q4. The company did not provide a timeline for either profitability or cash flow breakeven points. Additionally, a huge inventory write off was taken, and it is unclear how much money will be recouped and when.
When Dendreon pre-announced Q4 results, it looked like the company was starting to turn things around. However, this earnings report dashed a lot of the optimism I had. Unless Dendreon is bought out, it looks like this stock will go lower as the next couple of quarters will be painful. A massive secondary may be coming to repay these notes and keep the company in business. Until Dendreon can get its act together, and that includes being honest with investors and not hiding critical information, this name remains a short candidate for all reasons listed above. I don't see how this name stays above $3 when revenues are not improving and the balance sheet continues to get worse. However, due to the roller coaster name of this stock, I would advise some sort of hedged short position just in case we get some news out of left field. You don't want to be caught off guard (the idea of being hedged goes for those that wish to be long as well).
Dendreon shares closed at $3.31 on Monday, just a few pennies ahead of where they closed on the day of the pre-announcement in January. The high on that day was $3.48, and Monday's high was $3.46. This looks like a double top. After that day, shares plunged to the mid $2s, as you can see from the chart below. With no reason to anticipate any good news in the next couple of months, I could easily see a repeat of the post pre-announcement fall.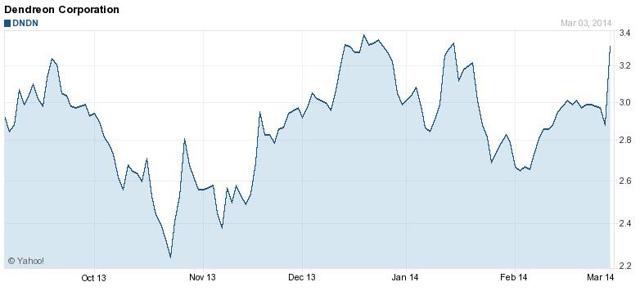 (Source: Yahoo! Finance)
Disclosure: I have no positions in any stocks mentioned, but may initiate a short position in DNDN over the next 72 hours. I wrote this article myself, and it expresses my own opinions. I am not receiving compensation for it (other than from Seeking Alpha). I have no business relationship with any company whose stock is mentioned in this article.
Additional disclosure: Investors are always reminded that before making any investment, you should do your own proper due diligence on any name directly or indirectly mentioned in this article. Investors should also consider seeking advice from a broker or financial adviser before making any investment decisions. Any material in this article should be considered general information, and not relied on as a formal investment recommendation.