J.C. Penney (JCP) is on a roll. After the company caused some serious cognitive dissonance (remember Q4 2013 results, anyone?) for investors who were largely upholding a negative view of the company, further catalysts are now at work driving J.C. Penney's shares seriously higher. The latest news comes from Standard & Poor's (S&P) which materially changed its outlook with respect to J.C. Penney. The ratings agency upgraded its view on the department store chain from "negative" to "stable". As the Streetinsider reported yesterday:
Standard & Poor's Ratings Services revised its outlook on J.C. Penney Co. Inc. (NYSE: JCP) to stable from negative. At the same time, we affirmed all other ratings, including the 'CCC+' corporate credit rating, on the company.

"The outlook revision reflects our view that performance has begun to stabilize and we forecast further modest gains over the next year," said credit analyst David Kuntz. "As a result, we are revising our liquidity assessment to "adequate" from "less than adequate". However, in our view, the capital structure is unsustainable, but the company does not have any meaningful maturities over the next 12 months."

The stable outlook reflects our view that liquidity will be "adequate" over the next year and that sources of cash will exceed uses by at least 1.2x. However, we believe the company's capital structure is unsustainable in the longer term, but it does not have any meaningful maturities over the next 12 months and so we do not see a clear path to default. It incorporates our
opinion that the company will also realize modest, sequential performance gains because of the recent strategy changes, which include merchandise repositioning and the reintroduction of sales and promotions.

Downside scenario

We could consider lowering our rating if the company experienced a reversal of its performance gains because of merchandise missteps or an erosion of consumer spending. At that time, we believe the company could likely default within the next 12 months. In such a scenario, the company is unable to stabilize operations, leading to a cash burn that is meaningfully higher than our forecast of around $750 million. Under this scenario, vendors would tighten turns leading to a substantial decline in cash on hand.

Upside scenario

Although we consider the possibility for an upgrade to be remote because EBITDA would have to be around $1 billion versus our forecast of about $400 million, key positives would include performance recovery much earlier than we currently expect as the company implements its revised strategy. Another important component would be sustained cash flow from operations that covers ongoing working capital needs and capital expenditures. Additionally, we would look for indications that the company has taken steps to reduce its funded debt, which, in our opinion, result in a sustainable capital structure. Any consideration for an upgrade would require sustained leverage below 7.0x and interest coverage above 1.5x.
In my earlier article about J.C. Penney I argued that investor perceptions about the retailer are now changing and it clearly is a good sign that S&P's credit rating upgrade confirmed my view. It is also noteworthy, that S&P specifically took the "liquidity issue" off the table arguing that J.C. Penney's liquidity is "adequate". Negative liquidity scenarios were the favorite attack point of Bears over the last couple of month (even after the company conducted a successful secondary equity offering in the amount of $800 million). I have long defended the position that the department store chain is not a bankruptcy case specifically because the company had access to $2 billion in liquidity and issued a positive liquidity guidance when it released results at the end of February.
From a technical standpoint, the increased volume is a good thing for existing shareholders and pretty much confirms that investors only buy when results are on the table. The relative strength index suggests that J.C. Penney might be overbought at the moment which isn't surprising given the 70% increase in J.C. Penney's share value since February 24, 2014.
(Source: StockCharts.com,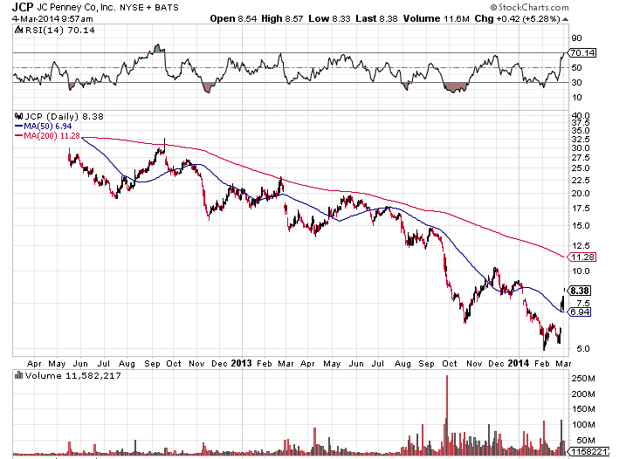 Conclusion
While J.C. Penney's shares clearly had a good run after the company released fourth quarter 2013 results, investors need to expect some sort of profit taking that could drive the share price substantially lower in the short-term. The current rally is most certainly driven by a short-squeeze that caught many Bears off guard.
Strong q-o-q improvements in comps (as well as margin surprises) and potential upgrades by Wall Street are likely to be further catalysts for the stock of J.C. Penney. Long-term investors shouldn't care about the wild swings in daily stock quotes, but clearly should welcome the slowly changing investor attitudes toward J.C. Penney. The condemned live longer. Long-term BUY.
Disclosure: I am long JCP. I wrote this article myself, and it expresses my own opinions. I am not receiving compensation for it (other than from Seeking Alpha). I have no business relationship with any company whose stock is mentioned in this article.