Talent management provider Hudson Global (NASDAQ:HSON) reported Q4 earnings results. Fiscal 2013 was a challenging year to say the least. While several growth initiatives were most encouraging, the multiyear turnaround plan has yet to deliver. The following note will outline key developments and revisit the September 2013 Investment thesis Make Up Or Breakup: Unlocking Value At Hudson Global.
Context is Key
As a quick recap, Hudson Global is a rollup of more than 67 acquisitions in the human resource and professional staffing industry. Since inception as a public company in 2003, Hudson has struggled to consolidate this diverse portfolio of businesses. In 2011 after a dilutive capital raise, the Board hired CEO Manuel Marquez to tackle these challenges-unify Hudson while repositioning the business for long-term growth. Since then, Marquez hired a new CFO and replaced key leaders in the Americas, Europe and Asia Pacific regions.
Fast Forward to Q4
Hudson's advancement in recruitment process outsourcing (RPO) was dwarfed by double-digit YOY declines from permanent recruitment and contract staffing. Consolidated Q4 revenue of $159 million fell 12% in constant currency-roughly flat on a sequential basis. Gross margin dollars, a key profit metric for HSON, fell 14% vs. 2012. Though management reduced SG&A, some of the savings were reinvested in new fee-earning recruiters. This translated into another Q4 loss on both EBITDA and net income.
While Hudson demonstrated modest progress in select end markets throughout the back half 2014, long-term holders have yet to benefit from the multiyear turnaround effort. To this end, key shareholders are seeking to expedite a long overdue realization of shareholder value.
In response to a question from Bill Nasgovitz, Hudson's CEO Manuel Marquez stated the following:
I get your point, and I think my answer to you is that we will review all the strategic options that would enhance shareholder value. Nothing will be off the table, and what we will be doing is ensure that our portfolio is healthy and nothing is off the table.
Heartland Advisors, filed their 13D in December stating:
[They] have engaged, and/or will engage, in communications with one or more stockholders of the Company, one or more officers of the Company and/or one or more members of the board of directors of the Company and/or one or more representatives of the Company regarding the Company, including but not limited to, ways in which the Company can improve governance and maximize shareholder value.
Lone Star Value Management, a recent 5% holder, filed their 13D in January. Lone Star proposed two board members. Though Sagard Capital Partners remains quiet, they obtained a non-voting board seat last year. It is worth noting the above-mentioned shareholder groups hold substantial interests in HSON with a cost bases at or above the 2/28/14 closing price.
Make Up or Break Up Revisited
Given the absence of material financial improvements and the underwhelming Q1 guidance, HSON is now one step closer to a break up (rather than the make up) as outlined in Make Up or Break Up: Unlocking Value at Hudson Global. In light of these events, significant restructuring, divestitures, and or an outright sale are likely to unlock considerable value.
Updated Valuation Considerations
As a quick refresher, HSON operates a diverse portfolio of human resource and talent management services. To understand the business, we have to peel back the onion and look beneath the surface of SG&A and the complex multinational conglomerate structure.
The quarterly IR slides posted on the HSON website recast revenue across five segments as identified by management. They include: talent management, RPO, eDiscovery, contract and permanent placement. Though these five platforms are not distinct divisions within HSON, this data is nevertheless instructive to value disaggregation.
Given the quarterly IR slides, we can estimate the sources of Hudson's $660 million 2013 revenue. As seen in the reconstructed chart below, contract dwarfs other segments such as talent management and RPO.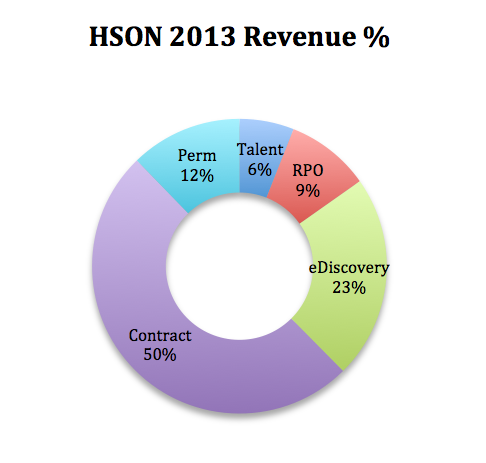 The usefulness of simple peer-group cross comparisons, DCF, or PEG valuations are hampered by the inherent complexities-the idiosyncratic weighting to certain end markets and the turnaround dynamics of Hudson.
As discussed in the September 2013 write-up, EV/revenue on recent M&A transactions are a reasonable, though imperfect starting point. We can begin with revenue (which we know) and work our way back to profitability (e.g. is the asset structurally impaired or just trapped under conglomerate cross currents?).
| | | | |
| --- | --- | --- | --- |
|   | 2013 Sales | EV/Sales Multiple | Valuation |
| Talent | $39,571,000 | 2x | $79,142,000 |
| RPO | $60,951,000 | 1.5x | $91,426,500 |
| eDiscovery | $147,729,500 | 1x | $147,729,500 |
| Contract | $331,197,200 | 0.2x | $66,239,440 |
| Perm | $80,917,000 | 0.3x | $24,275,100 |
|   | $660,365,700 |   | $408,812,540 |
Under rational financial stewardship, and assuming the current M&A environment, HSON's constituent parts could be valued in the range of $400 million. This compares favorably to the recent EV of approximately $90 million. The $300 million U.S. federal NOL offers additional opportunity under various scenarios.
It may be instructive to recast this data onto an EV/revenue valuation chart below. Often the assets that grab our attention, the big shiney things that appear to move, are not the assets that count from a shareholder NAV perspective. The quality of assets matters more than the quantity of assets.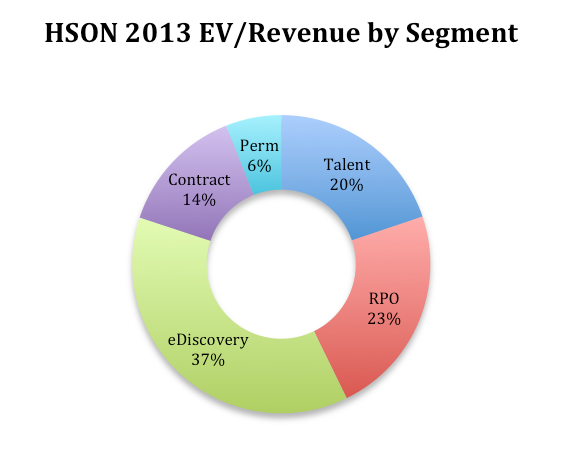 While the long suffering contract and perm businesses generate 60% of revenue, they only account for 20% of the Hudson portfolio value. Given the M&A market, eDiscovery, RPO and Talent management are far more important to HSON shareholders.
This subtle but important point is worth reiterating: the most important businesses from a NAV/break up perspective are NOT the biggest in terms of absolute revenue or gross margin dollars. This means that the change in value within the HSON portfolio can be more significant than the change in data flow on the P&L.
Value Erosion?
As shown in the M&A transaction table above, not all revenue dollars are created equal. For example, one RPO or talent management dollar might be worth $2 in the market today. In contrast, one dollar from perm or contracting maybe worth 20 to 30 cents.
Looking back at 2013, the revenue trajectory was ugly: double-digit declines in perm and contract, sluggish growth in eDiscovery and minimal absolute dollar contribution from RPO. From a P&L and flow data perspective, HSON looks like the walking dead. HSON shares are priced as such.
However, things are not always as they seem. Though eDiscovery declined YOY, it began to stabilize in 2H 2013. RPO grew in double digits while talent management bounced around $10 million per quarter.
Netting the implied NAV loss at perm placement and contract against the NAV accretion of mid teens RPO growth, we are roughly breakeven on the recent runrate. This is important to note. From a strategic M&A, breakup or divestiture scenario (which is increasingly likely with HSON), the core NAV is holding up pretty well-far better than the ugly optics of negative EPS, and double-digit revenue declines might imply. Should they gain any traction on eDiscovery or the Americas region, there may be material upside to these estimates.
No Make Up, Now Breakup
In light of recent events highlighted above, Hudson remains deeply undervalued. Substantive strategic actions are in the works. With the annual shareholder meeting this spring, let us hope that in the course of deliberations, the Board remains cognizant of all owners-not just the ones with the loudest voices who might otherwise hijack this 25-cent dollar for a quickie 10-cent joyride.
Disclosure: I am long HSON. I wrote this article myself, and it expresses my own opinions. I am not receiving compensation for it (other than from Seeking Alpha). I have no business relationship with any company whose stock is mentioned in this article.
Additional disclosure: This article is for general informational purposes only and should not be construed as a solicitation or recommendation to buy or sell securities.