Executive summary
Energy Transfer Equity units may offer investors a combination of the right security, in the right sector, at the right time.
The units have excellent potential to grow cash distributions and underlying unit prices.
A unique contractual arrangement augments the upside and limits the downside risk.
Despite strong recent price appreciation, this investment remains fairly valued.
_______________________________________________________
Shortly after the New Year, Seeking Alpha editors published Part 1 of this series. At that time, I suggested three 2014 general equity investment strategies:
Understand the current phase of the business cycle and overweight stock sectors that historically outperform.
Identify and seek contrarian stock values; "the most hated names of 2013."
Maintain discipline when evaluating securities in a market that has run up 30%; don't chase hot tickets.
In addition, I offered eight specific stocks that I believed were aligned with these strategies: Eaton Corp, PLC (NYSE:ETN), Union Pacific Corp (NYSE:UNP), International Paper (NYSE:IP), Apple Inc (NASDAQ:AAPL), Energy Transfer Equity (NYSE:ETE), Intel Corp (NASDAQ:INTC), Caterpillar (NYSE:CAT) and Annaly Capital Management (NYSE:NLY).
In subsequent installments, I covered the aforementioned securities:
In Part 8, we will review my favorite Master Limited Partnership, Energy Transfer Equity.
Energy Transfer Equity owns the General Partner for MLP sister company Energy Transfer Partners (NYSE:ETP), which owns midstream and downstream oil and gas assets. ETE also owns a 50% interest in the General Partner of Sunoco Logistics (NYSE:SXL), another MLP focused upon upstream and downstream hydrocarbon transportation / storage via pipeline, terminal and related marketing assets. Energy Transfer Equity is likewise aligned with Regency Energy Partners (NYSE:RGP) through joint ventures, and ETE's ownership of the RGP General Partner. Regency is engaged in the gathering, processing, contract compression, treating and transportation of natural gas and the transportation, fractionation and storage of natural gas liquids (NGLS).
In addition, Energy Transfer Equity directly owns common units of ETP and RGP, as well as IDR (Incentive Distribution Rights) interests in all three partnership companies.
While a bit complicated, this structure is particularly advantageous to ETE unit holders.
Investment Thesis
Energy Transfer Equity units appear to offer investors a rare combination of the right security, in the right sector, at the right time. During periods of economic expansion, energy sector stocks often outperform the market: business growth generally increases energy demand. ETE is a pure US energy play. Energy Transfer has interests in 3 separate energy concerns. In aggregate, these three partnerships are focused on U.S.-hydrocarbon transportation and storage, concentrated within many of the richest oil and gas regions in the nation.
These units have the potential for superior cash distribution and underlying unit price growth. What's more, a unique contractual arrangement augments the upside and limits the downside risk. As stated earlier, Energy Transfer Equity owns IDR interests in ETP, SXL and RGP. If these entities grow and generate more cash, the IDR payments to ETE increase with leverage.
For the particular case for Energy Transfer Equity, there's a double-whammy: as consideration for acquiring assets / equity in several recent business transactions, ETE agreed to relinquish certain IDRs temporarily.
Beginning about mid-year 2015, these previously-relinquished IDRs will be reinstated at full value, thereby creating a windfall for the partnership. As contained in the 4Q 2013 earnings release, Energy Transfer Equity relinquished IDRs totaling $199 million. Even if nothing changes between now and mid-2015, over $120 million a year in additional distributable cash is coming, and ETE needs to do nothing to get it.
Furthermore, Energy Transfer Equity owns about 15% of ETP and RGP units outstanding, respectively.
ETE units have appreciated by some 60% over the past 12 months. Nonetheless, one may make a plausible case the security remains a good value. There are multiple upside catalysts.
Energy Transfer Equity by the Numbers
In Part 1 of this series, a number of financial metrics were offered to help identify whether or not a company is fairly valued.
Permit me to begin by stating that the numbers tell a story, but the numbers are not THE story. I point this out because it can become easy to get somewhat dogmatic about "the numbers." Let's review the metrics openly, but pragmatically, in light of the underlying corporate narrative and the aforementioned investment thesis:
Price/Cash Flow: The trailing 12-month P/CF ratio is 10x. This is my nominal target of 10x. However, forward cash flow forecasts have the likelihood to improve significantly, along with the growth of cousins ETP, SXL and RGP. The "kicker" is when previously-relinquished IDRs wash back in the beginning in 2015. Here's a chart from the 2013 Investor Day presentation materials that provide some insight. Please note the yellow highlights: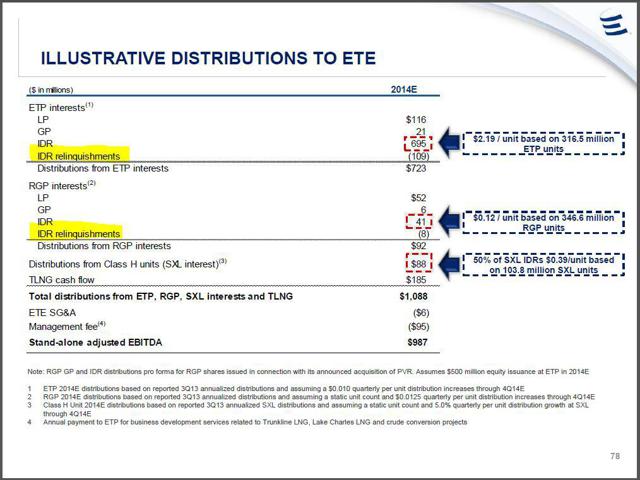 Two-Year PEG ratio: For MLPs in general, earnings is an inadequate performance benchmark. Limited partners are better served by focusing upon cash flow or distributable cash flow, non-GAAP measures that indicate how much money is likely to be available for unit holder distributions. Therefore, the PEG ratio is not useful.
Return-on-Equity: Since earnings aren't a key metric for Energy Transfer Equity, RoE isn't useful, either. However, we can look at a derivative metric: operating income / equity. Here we see year-over-year improvement from 8.3% to 9.5%. In addition, I ran a modified return-on-invested capital calculation by using operating cash flow as the numerator and obtained a result of 7%. On balance, these figures are acceptable.
Revenue Growth: Of late, Energy Transfer has seen the top line explode upwards. Rather than dwell on the 2-year, 6-fold revenue increase, I prefer to focus upon parallel 2-year increases in operating income and operating cash flow. Here we see uplifts of 25% and 76%, respectively. Bottom line: ETE is undoubtedly growing.
Debt-to-Equity: Master Limited Partnerships are typically heavily leveraged. Currently, ETE has a 139% long-term debt-to-equity ratio. Debt-to-capital is 58%. The interest coverage ratio is 1.27x, somewhat low. I'd prefer to see at least 1.5x. On balance, though, Energy Transfer's debt and repayment capability are in-line with many other MLPs.
Margins: Energy Transfer Equity has notably low margins. This is another case where understanding the numbers is more important than the figures themselves. Margin analysis isn't an especially useful gauge when evaluating ETE.
Instead, I prefer to digest another chart from the Analyst Day presentation that may highlight more useful data: past and prospective cash flow growth.
Price and Valuation
Valuing MLP units can be a bit different than valuing traditional C-Corp shares. In order to keep it simple, I have chosen to focus upon price-to-cash flow multiples. As noted earlier, ETE currently trades at about 10 times trailing cash flow, which I consider generally fair value.
However, going forward there are several strong catalysts to propel cash and the units higher.
First, the underlying MLPs fueling Energy Transfer Equity are doing well. Over the past 2 years, Energy Transfer Partners has invested an enormous amount of growth capital into its system. The capital is just beginning to reap the rewards of numerous on-time, on-budget expenditures and M&A activity. Meanwhile, Sunoco Logistics has consistently beat expectations. The company has a long runway ahead of it given this country's need for burgeoning energy transportation infrastructure to move oil, gas and products from wellhead to refinery to retailer. Regency Energy may be a step behind, but the long-term prognosis for natural gas and NGL gathering, processing and transmission remains decidedly positive.
Second, ETE has big stakes in several LNG (Liquefied Natural Gas) projects. The company has been a party to major initiatives involving pipeline conversion projects, gas fractionation management and NGL export facilities. Any or all of these may result in a "home runs" for Energy Transfer.
Finally, significant ownership of ETP and RGP units, coupled with IDR rights to Energy Transfer Partners, Regency and Sunoco Logistics leverage all of the foregoing scenarios. In 2015, a return to booking previously-relinquished IDRs will be a significant milestone.
Assuming just 10% compounded cash flows through 2015, and retaining the 10x multiple, I place a $52 target on the units. This is an upward revision to the price target as outlined in my November 2013 S.A. article entitled, "Energy Transfer Analyst Day: Explosive Performance Ahead."
Please note that I have excluded any benefit of a $1 billion unit repurchase plan ETE management announced in December 2013. The program has the potential to reduce the number of outstanding units by ~4%.
Indeed, despite an outstanding run-up in value, I suggest ETE units look good. Upon my earlier consideration to "maintain discipline when evaluating securities in a market that's run up 30%," I remain comfortable.
Energy Transfer Equity - Two-year price and volume (weekly)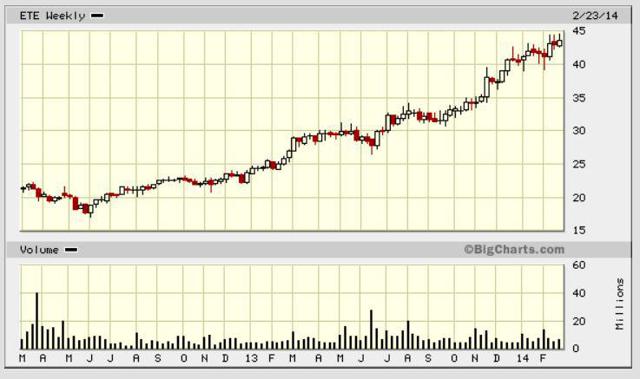 courtesy of bigcharts.com
Summary
Currently, Energy Transfer Equity is my favorite MLP and energy sector stock. The units are fairly valued today, but I believe they have tremendous growth opportunity to go along with a 3.1% cash distribution yield. I anticipate both the units and the distribution to rise significantly over the next two years.
Multiple positive catalysts lie ahead, including strong underlying MLP operations, direct interest in the common equity of aligned partnerships, IDR growth and income, and a unique arrangement whereas ETE will reap a windfall beginning mid-year 2015, when relinquished IDRs are reinstated.
Please do your own careful due diligence before making any investment. This article should be used for information purposes only. It is not a recommendation to buy or sell any securities. Good luck with all your 2014 investments.
Disclosure: I am long ETE, ETP. I wrote this article myself, and it expresses my own opinions. I am not receiving compensation for it (other than from Seeking Alpha). I have no business relationship with any company whose stock is mentioned in this article.