Many emerging market economies have so far failed to resume their pre-crisis GDP growth trajectories, increasingly causing increasing concern about the prospects of succumbing to the Middle Income trap. GDP per capita in emerging economies, which once seemed on an inexorable convergence path to developed economies, has stalled in many cases. Indeed, even some developed markets, for example in peripheral Europe, have seen lower rates of growth and declining income levels narrowing the gap further towards emerging markets.
We recognize that there are many factors driving GDP per capita, including objective factors such as commodity resources and trading relationships, as well as subjective factors such as geopolitics and domestic institutional and political structure. In this analysis, we focus on the capacity for innovation, meaning the ability of an economy to generate new ideas and to effectively translate these into businesses contributing to growth. Our objective is to identify factors firstly relating to the education and the environment for generating intellectual property, and secondly, factors relating to the effectiveness of the business environment and then to use these to construct an index of innovation. Our analysis led to the following innovation factors:
We considered other factors including: Ease of Doing Business Index, Spending on Education, Percent of Population with Secondary Education and Strength of Legal Rights, but these did not add meaningfully to the explanatory power of the analysis.
It is clear that rich developed countries should score more highly on each of the above factors than emerging market countries, and this is indeed the case. Our objective, however, is to highlight relative value, for example, to identify those countries that have relatively high levels of innovation that is not reflected in GDP per capita, and those countries that have relatively high levels of GDP per capita that is not supported by innovation.
We found that even constructing an innovation index using the above factors equally weighted resulted in a high correlation with GDP per capita, although we decided to take the analysis to the next logical step by optimizing the weight of each factor as illustrated in the chart below:
Innovation factor weights (scaled to sum to 10)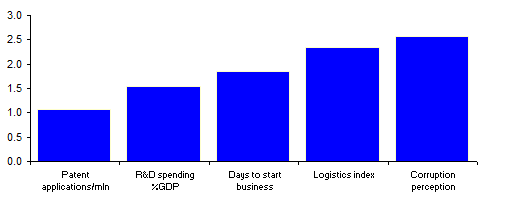 We considered a linear model and an exponential model for the relationship between the Innovation Index and GDP per capita, but settled on a quadratic model as providing the best fit. Indeed, a convex model would be consistent with the intuition that there could be increasing returns to innovation as a result of interaction and reinforcement between the various innovation measures. For example, an economy that scores well on both R&D Spending and Days to Start a Business might be expected to have more than twice as great a contribution to income as one that only scores well on one of those measures. (As a technical note: the least squares optimized innovation factor weights for the quadratic model had an R-squared of 0.89 compared with 0.85 for the linear and 0.83 for the exponential model).
The chart below shows GDP per capita versus our Innovation Index:
GDP per capita (PPP as % of US) versus Innovation Index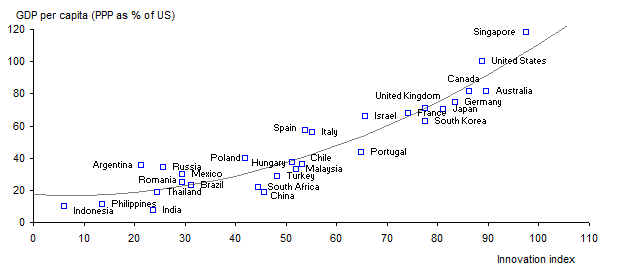 Other things being equal, we would overall be sellers of assets in countries above the line and buyers of those below the line, although there are several important caveats:
In many countries, there may be structural factors that drive either GDP per capita or the level of innovation away from average levels. For example, Spain and Italy benefit from eurozone membership, which may result in a higher than expected GDP per capita; China scores highly on R&D expenditure and patent applications as a result of the government's ability to focus on these areas.
There is no link to market prices, which may already be pricing in any discrepancy between GDP per capita and innovation.
We propose a possible future extension to this analysis below, which aims to address these caveats. Nevertheless, even as a static model presented here, we believe that the results are useful as one input to the country allocation process within the emerging market asset class. Intuitively, the level of innovation should be an important indicator as to whether an emerging economy can adapt to changing circumstances, avoid the middle income trap and continue to converge toward developed markets in terms of GDP per capita and also in terms of asset valuations. If an economy has a greater degree of innovation than is reflected in the current level of GDP per capita, then there is potential for catch up in GDP per capita, which should also benefit asset valuations. We therefore propose the following recommendations as a contribution to the country allocation process from this analysis:
Overweight
Neutral
Underweight
Chile

China

India

Indonesia

Malaysia

Philippines

South Africa

Turkey

Brazil

Hungary

Romania

Thailand

Argentina

Indonesia

Mexico

Poland

Russia
Actual GDP per capita minus level predicted from Innovation Index (i.e.,vertical distance from fitted line in the chart above):

Of course, this is only one of many possible inputs into the country allocation process and without a link to market prices, the issue of whether the level of innovation in an economy is already priced into asset valuations must be addressed subjectively. As an obvious extension to this analysis, we plan to link the analysis to market prices by considering changes in the innovation index over time and comparing to equity returns. A dynamic analysis should also address the first caveat above to the extent that structural factors will likely be more slowly moving than changes in the Innovation Index.
Data sources: IMF, World Bank, World Intellectual Property Organization, Transparency International, IFC, United Nations Development Program.
Disclosure: I have no positions in any stocks mentioned, and no plans to initiate any positions within the next 72 hours. I wrote this article myself, and it expresses my own opinions. I am not receiving compensation for it (other than from Seeking Alpha). I have no business relationship with any company whose stock is mentioned in this article.