Piqqem released its weekly sentiment for the week ending May 21, 2010, and it shows a surprisingly positive trend in overall sentiment. After a down week with increasing volatility in the US equity markets, sentiment for all major indices was up with the exception of the Dow Jones Industrial Average which was down for the week. Overall market sentiment is at 9.73 which remains relatively weak. A sentiment rating of 25 and above is considered positive. The piqqem sentiment index has been heading down for the entire year. The big question is whether sentiment will continue to trend positive in light of the European debt crisis. In a neutral signal for the week, there was 1 stock increasing in sentiment for every 1 stocks decreasing in sentiment.
This Week's Sentiment Winners & Losers
For individual stocks, the weekly winners included eBay (NASDAQ:EBAY) and Sony (NYSE:SNE), while the stocks dropping most in sentiment included Caterpillar (NYSE:CAT) and Protein Design Labs (NASDAQ:PDLI).
About the Piqqem Market Sentiment Index
Piqqem tracks sentiment on all securities including stocks, mutual funds, ETFs, and major market indices. The Piqqem sentiment scale runs from 100 on the high end to -100 on the low end. The actual Piqqem Market Sentiment Index is proprietary blend of multiple factors including sentiment specific to the four major indices: Dow Jones 30 (NYSEARCA:DIA), S&P 500 (SPX), Nasdaq 100 (QQQQ), Russell 2000 (NYSEARCA:IWM).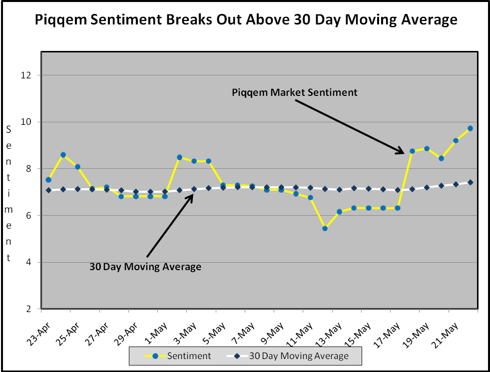 Disclosure: No positions