Most investors are puzzled when they hear the terms such as utilization rate and generation day rate. In fact, they are all very useful variables driving the revenue of offshore supply vessels providers. Today, I would like to present a simple model consisting of all the technical terms to help investors understand better the offshore supply vessels industry. I will also reveal a potential gem in this intricate industry, Hornbeck Offshore Services Inc (NYSE:HOS).
Company Description
HOS provides offshore supply vessels primarily in the U.S. Gulf of Mexico and Latin America. The company owns and operates a fleet of U.S.-flagged offshore supply vessels (OSVs) and multi-purpose support vessels (MPSVs) that support the deep-well, deepwater, and ultra-deepwater operations. It was founded in 1997 and is headquartered in Covington, Louisiana.
HOS is a top OSV operator globally and has a balanced approach with significant market share in multiple long-term growth markets.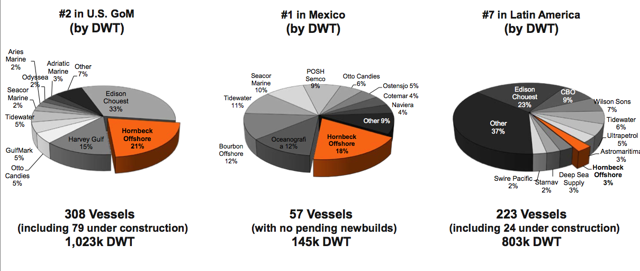 Source: Company presentation on February 2014
Being number one in Mexico by deadweight ton "DWT", HOS can take advantage of the Energy Reform legislation, which passed in December 2013 and allowed direct private investment in Mexico.
Another growth opportunity is related to deepwater Capex shown below: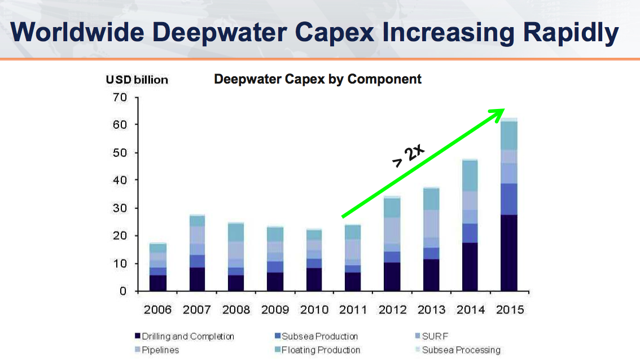 Source: Company presentation on February 2014
With the significant growth in deepwater Capex since 2011, HOS has already heavily invested in deepwater capacity by increasing its number of MPSVs from 4 fleets to 9.
Furthermore, HOS has recently closed the August 2013 sale of substantially all of the downstream segment to Genesis Marine and focused on its main core OSVs and MPSVs businesses. This all-cash transaction generated proceeds of $230 million and made a gain of $60 million for HOS. In the latest conference call, the CEO said they sold the downstream business for an attractive price and gave the shareholders an internal rate of return "IRR" in that business of approximately 20% since inception. This demonstrates the business discipline of the management team running HOS.
The Components of the Revenues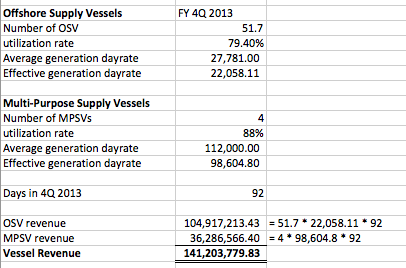 As shown by my simple model above, the vessel's revenues are calculated by multiplying NUMBER OF VESSELS x EFFECTIVE GENERATION DAY RATE x DAYS IN Q4 2013. Together with some minor additional revenues, investors can come up with the official $144.9 million revenues reported for the fourth quarter of 2013.
My projection in 2014 is shown below:
| | |
| --- | --- |
| Offshore Supply Vessels | FY 2014 |
| Number of OSVs | 67.7 |
| utilization rate | 79.40% |
| Average generation day rate | 27,781.00 |
| Effective generation day rate | 22,058.11 |
| | |
| Multi-Purpose Supply Vessels | |
| Number of MPSVs | 5.3 |
| utilization rate | 88% |
| Average generation day rate | 112,000.00 |
| Effective generation day rate | 98,604.80 |
| | |
| Days in FY 2014 | 365 |
| | |
| OSV revenue | 545,067,026.00 |
| MPSV revenue | 190,750,985.60 |
| Vessel Revenue | 735,818,011.60 |
By changing the number of OSVs, the number of MPSVs and the number of days, I can forecast that the expected revenues in 2014 will be approximately $735.8 million.
Valuation
The following shows the EV/EBITDA valuation of HOS competitors:
| | | |
| --- | --- | --- |
| | | EV/EBITDA |
| Tidewater Inc | TDW | 9.1 |
| SEACOR Holding | CKH | 8.53 |
| Gulfmark Offshore Inc | GLF | 7.53 |
| | Average | 8.39 |
Source: Yahoo Finance
In addition, HOS has proven its capability to grow its EBITDA by 40% CAGR since 1998 as shown below: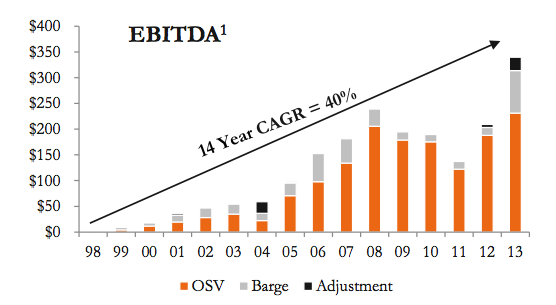 Source: Company presentation on February 2014
With my assumption of a 50% EBITDA margin, EBITDA will be approximately $367.9 million in 2014. Together with my conservative valuation of 7x EV/EBITDA, the Enterprise Value of HOS will be about $2.575 billion. This values HOS at $55 per share and provides shareholders with potential upside of 30%.
In regards to the pro-forma EBITDA projection provided by HOS, my estimated EBITDA is at the low end of the projection presented by HOS. Furthermore, management team has reiterated that they did not see a deterioration in demand for drilling and associated activities in the Gulf of Mexico, but they did see deliveries of rigs being pushed further into the second half of 2014 or the beginning of 2015. If management's expectation on the rig deliveries is correct, the more bullish HOS EBITDA projection may materialize in the near future.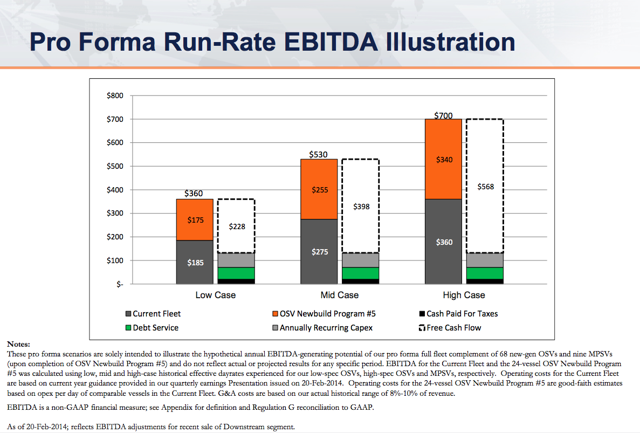 Source: Company presentation on February 2014
Risks
The key risks of investing in HOS include new government regulation, excessive OSVs and MPSVs construction, offshore drilling slowdown, and commodity price pressures.
Conclusion
Part of my research is to find out whether any prominent institutional investors might have acquired any stocks of my targeted companies. I found that Columbia Wanger Asset Management held 2,392,146 shares on December 31, 2013 as reported by its schedule 13G filing. Combining this with my own research on HOS, I believe that the presence of a large institutional investor will provide a catalyst for HOS, generating a potential 30% upside with limited downside exposure.
Disclosure: I have no positions in any stocks mentioned, but may initiate a long position in HOS over the next 72 hours. I wrote this article myself, and it expresses my own opinions. I am not receiving compensation for it (other than from Seeking Alpha). I have no business relationship with any company whose stock is mentioned in this article.