The overall Rural Mainstreet Index (RMI) expanded to 54.3 this month, according to Creighton University's May survey of bank CEOs in a 10-state region. The RMI is at the highest level since January 2008. The farm equipment sales index continued to be above growth neutral 50.0 for the second consecutive month at 50.9. The farmland price index decreased to 52.7, but remained above 50.0 for the fourth consecutive month. The confidence index, which provides an economic outlook six months from now, increased to 63.0 which is the highest it has been in nearly three years. All but one of the ten indexes was above 50.0. Only the retail sales index, at 49.2, was below 50.0.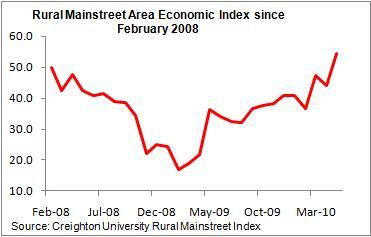 The farmland price index decreased to 52.7, but still continued its stretch above 50.0 for the fourth month in a row. Ernie Goss, an economist at Creighton University and co-founder of the RMI said,
In addition to an expanding rural economy, we are tracking significant improvements in farm and ranch land prices and farm equipment sales. I expect both of the factors to remain healthy in the months ahead.
North Dakota, Minnesota, and Iowa had the highest Individual farmland price indexes of the states surveyed.


The farm equipment sales index decreased to 50.9, but remained above growth neutral for the second consecutive month as equipment sales grew at a slower pace. The farm equipment and farmland price indexes had both been slipping prior to February of this year, but have since made strong rallies.


The confidence index increased to 63.0 this month, marking the highest the index has been since June of 2007. Banker confidence is increasing as the overall rural economy is growing. All of the banking indexes were healthy for the third consecutive month. The loan volumes index decreased to 54.4 from 61.1 in April, the checking-deposit index increased to 67.0 from April's 62.7, and the certificates of deposits index decreased to 50.0 from 52.5 last month.

This month bank CEOs were asked to compare May 2009 cash rents on cropland to today's cash rents. Roughly 15% of bankers have seen an increase of over 5% in rental prices, while 23% indicated increases of 1-4%. 56% are seeing unchanged rents.


Bankers were also asked, in terms of crop planting, how far along are farmers in your area? Over 25% of bankers felt that farmers were more than 75% complete in their area, while 11% indicated that farmers are less than 25% complete. 72% of farmers have over 50% of their planting finished, according to the survey.

Outlook


The overall RMI increased to above 50.0 for the first time in over two years. This surge in the RMI is great news as the Mainstreet economy is starting to gain strength again. Nearly every index was in a growth positive stage.


Even though the farmland price index decreased, it remained above 50.0. By holding above 50.0, the index still indicates increasing farmland prices across the Midwest. If the index decreases, yet remains above growth neutral, like it did in May, farmland prices are increasing, but at a slower rate. An index above 50.0 indicates growth in the sector, and growth is all rural Mainstreet can ask for after a harsh couple year history, shown by the indexes.

Disclosure: No positions