Executive summary:
Leveraged ETFs provide an exaggerated expression of market concerns.
Market-making volume transaction facilitators have extensive, timely intelligence-gathering resources.
Big-money funds employ Market-Makers regularly among an array of transaction-accomplishing assistances.
Market-maker hedging of their firm's required at-risk capital exposures tells just how far it seems likely prices are to get pushed, both up and down.
_________________________________
An excellent discussion of stock market reaction to various surprises and political disruptions in this article raises the question of how much opportunity may be present now, arising from the grab of (at least) Crimea by Russia.
Indicated in the summary above, we survey market-maker hedging actions daily on over 2500 stocks, ETFs, and market indexes to determine an informed impression of likely near-term price change limits. Those impressions are accentuated in certain leveraged ETFs by their structure and holdings.
The following map plots their views of upside price change prospects in such ETFs, as evidenced by a willingness to pay for protection against their own otherwise potential operating losses while doing every-day market-making for their most important clientele.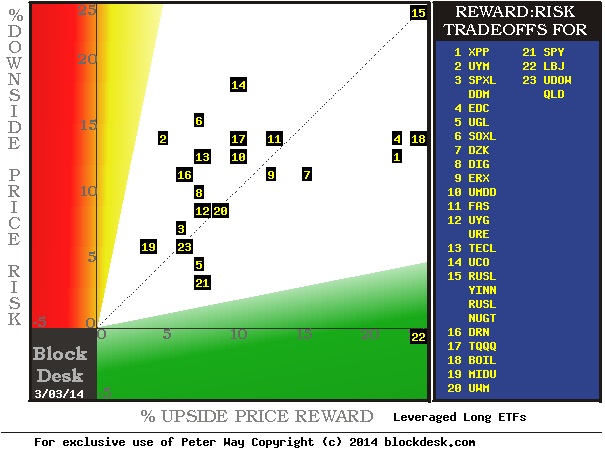 (used with permission)
The horizontal axis here reflects the Market-Makers' [MMs] impressions of what their clients upside appetites are capable of. The vertical axis (note its inverted scale) is a record of typical worst-case price drawdowns below forecast-day market quotes. Those experiences are taken from the 3 months following each forecast of the past 5 years having an upside-to-downside balance like the current one.
The more attractive [long] investments from tradeoffs between these metrics are down and to the right, like in the green area, and the least attractive are toward the upper left yellow-to-red sections. The dotted diagonal is where future prospects seen are at an equal level with past experience stresses endured.
Viewed as a baseball diamond, the players in the infield offer the least reward or risk, while those in the outfield have the greatest ground to cover. Ones at the outfield fences or along the foul lines may either have very limited experience samples to draw from, or are momentarily subject to some input data aberration. All those at points [15], [18], and [22] are so impaired.
The market-average proxy, SPDR S&P500 (NYSEARCA:SPY) at [21] shows one of the best, albeit most defensive, tradeoffs currently between risk and reward viewed this way. It has no leverage in its makeup, so the comparison is not entirely fair, but does give a sense of a readily available alternative to everything else pictured here.
The ProShares Ultra Gold (2x) levered ETF (NYSEARCA:UGL) also reflects the defensive nature of its holdings. Being a leveraged ETF it holds financial instruments rather than physical gold bullion, but tracks changes in the London gold fixings as they occur. It has AUM of over $100 million and a trading history of over 5 years, at realistic bid-ask spreads.
ProShares Ultra Pro (3x) Dow 30 (NYSEARCA:UDOW) is a triple-strength leverage on the index price changes in the 30 Dow-Jones Industrials index, and has repeatedly demonstrated the MM community's insights into its profitability opportunities. Right now, it is perceived to be at an uninteresting balance between R and R.
Not pictured above is an ETF that behaves much like the Leveraged Long ETF set, but is neither structurally leveraged, nor structurally long. Its behavior is due to its holdings of futures contracts tracking the implied volatility of the S&P500 market index, which move in an inverse manner to that index, and are extremely sensitive to changes in investor apprehensions over equity market prospects.
This ProShares Short VIX Short-Term Futures ETF (NYSEARCA:SVXY) is structured to react inversely to its holdings behaviors, which are in turn reacting inversely to the market index's price changes. So in terms of market actions it belongs to this group. Here is how its implied price range forecasts have trended over the past 6 months, and where it is now - apparently favorably priced.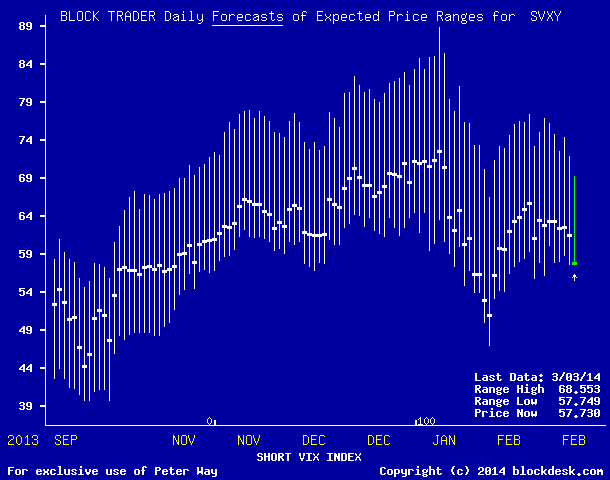 (used with permission)
The vertical lines in this picture are day-by-day forecasts of what may be coming as the range of possible likely prices in the next few weeks and months. The heavy dot in each line is the actual market quote at the time of the forecast. In short, this is a picture of forward-looking, anticipative interest, not the typical backward-in-time-looking historical "charts" so often offered in "technical analysis."
The balance between upside and downside prospects produced by the location of the contemporary market quote in each forecast range has been shown to be helpful in identifying opportune points of time for taking investment actions. The picture above suggests, along with data in the following table, that this may be such a time.
Finally, the Direxion Daily Russia Bull 3x Shares (NYSEARCA:RUSL) found in the Reward : Risk Tradeoffs map above at location [15] in the upper-right corner, tests the map's plotting limits. There may indeed be great potential here for price recovery in this ETF as events in the Ukraine settle out. But that is not likely to evolve without further international bellicosity and perhaps some pushing and shoving from time to time. Not a trivial pastime for the rent money, but big-boy entertainment galore with suitable expendable-proportionate resources. Here's its recent MM forecast history picture: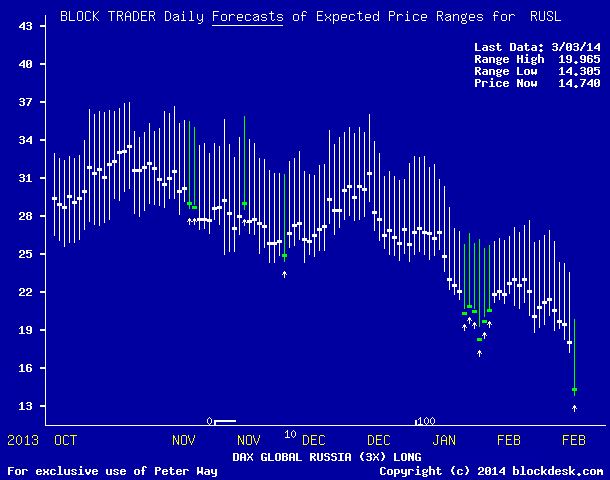 The odds here of successful timing in RUSL buys in prior forecast experiences like the present have produced gains in our standardized next 3-months performance test only 60% of the time, and we have only 15 prior opportunities, drawn from a daily history only a bit longer than two years. Not real encouraging in comparison with alternatives like SVXY.
Here is what the details of prior experiences for the set of Leveraged Long ETFs provide for comparison purposes. No guarantees are implied, only some perspectives to add to the investor's current decision support resources.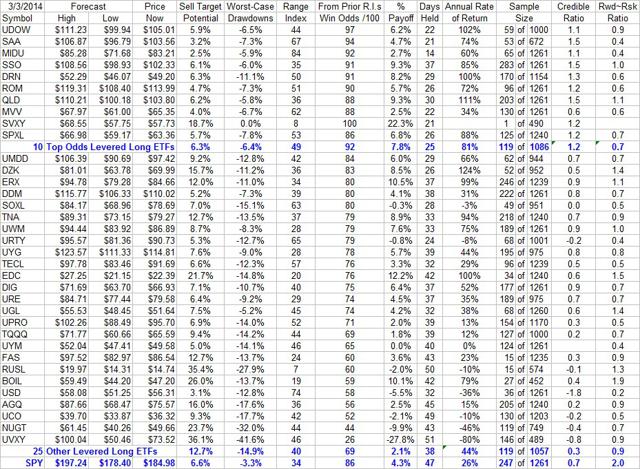 Disclosure: I have no positions in any stocks mentioned, and no plans to initiate any positions within the next 72 hours. I wrote this article myself, and it expresses my own opinions. I am not receiving compensation for it (other than from Seeking Alpha). I have no business relationship with any company whose stock is mentioned in this article.