Analysts had set extremely high expectations for Yandex's (NASDAQ:YNDX) 4Q and full year results. With average revenues growing at 38% the last four quarters, analysts had good reasons to expect another breakthrough quarter. As seen from the company's drop in share price though, Yandex, failed to meet these lofty expectations. Is this cause for alarm? I think not. If anything, this presents a buying opportunity.
You Gotta Give to Get
The primary reason Yandex failed to meet expectations, specifically bottom line, was because total costs grew by 17.1% from the previous quarter. This growth in expenses mainly occurred from rise in Traffic Acquisition Costs (TAC), up 25.6% QoQ. The substantial increase in TAC, in turn, led to the deteriorating effect on Yandex's profitability. According to CFO Shulgin, the high TAC was vital and occurred mainly due to investment and expansion in Turkish search market. It is very likely that current expenses will be offset by the revenue growth in this region. After all, with a growth company like Yandex, seeing costs of sales swell indicates that the company is seeking further expansion opportunities.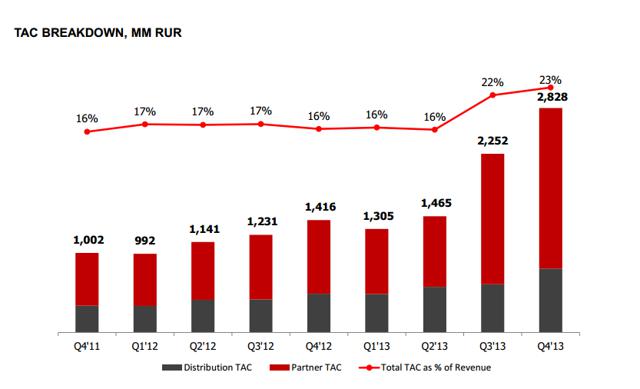 Home Turf Dominance
Yandex is continuing its dominance in the Russian search market with 61.9% market share. As a result, Yandex is the #1 destination for online searching with over 55MM unique visitors per month, more than doubling second place Google (NASDAQ:GOOG). In neighboring regions Belarus and Ukraine, Yandex has grown to become either the number 1 or 2 engine. The company enjoys a 44% market share in Belarus, overtaking Google as number one. In Ukraine, Yandex has about a 30% market share, which is runner up to Google. Defending home turf from global competitors like Google and Baidu (NASDAQ:BIDU), while expanding in nearby regions has been the strategy for Yandex. As the above numbers indicate, the company has been successful thus far, but must continue to evolve especially with the emergence of mobile platforms.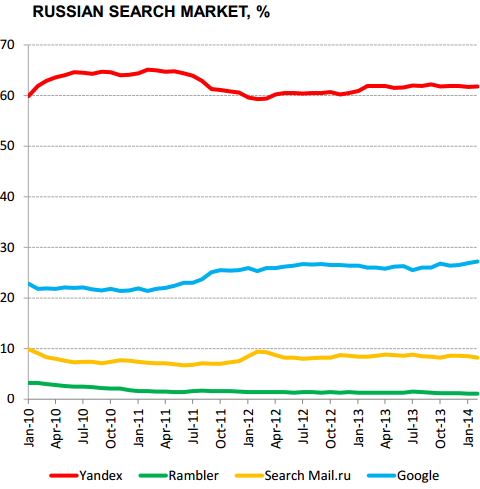 Trend towards Mobile
Russian online advertising is expected to grow at a 25% compound annual growth rate until 2015. Much of this growth will be a result of mobile traffic as the trend continues to exceed traditional online web surfing. Just as mobile has been key for Google's recent growth, Internet access via mobile devices will be what drives advertising for Yandex in the coming year. This movement has already started to surface as 16% of Yandex searches (and 12% of revenue) were derived from mobile. Growing market share on mobile platform and, to a lesser extent, desktop platform will be the key drivers for dominating online searches.
Smartphone penetration, significant indicator for mobile advertising, could be used to analyze the potential opportunities for growth. When compared to Google (in the US) and Baidu (in China), Russia's Yandex has a lot of growth potential remaining. Russia has about half of China's smartphone penetration and a third of that in the US. Obviously, there is significant room for growth in the Russian mobile industry as technology develops in the BRIC nation, which Yandex would be a direct beneficiary of.
| | | |
| --- | --- | --- |
| Country | Smartphone Penetration | Source |
| USA | 65% | |
| China | 40% | |
| Russia | 20% | |
Yandex has already experienced the growth mobile devices could offer as the search share on Android grew from 42% in December 2012 to 52% in December 2013 while search share on iOS grew from 35% in December 2012 to approximately 43% in December 2013. It is promising to see that a large number of Russian mobile users are initiating Yandex to be the prime search platform. This provides a tremendous opportunity for Yandex to continue flourishing in the current market.
Yandex.Market: A unified Marketplace
In Late 2013, Yandex transformed Yandex.Market into a marketplace platform by introducing a cost direct model and unified shopping basket to its services. This transformation provides the ability for customers to complete their purchases directly on the site without leaving Yandex.Market. This is a vital makeover as it is taking advantage of the e-commerce boom that Russia is experiencing. eBay CEO John Donahoe branded Russia as first among emerging markets in e-commerce growth. With foreign competition eager to enter the Russian e-commerce market, Yandex is using its already established brand awareness to gain an edge. The company plans to further improve this service by introducing multi-shop integration, a checkout system, client guarantee and recommendation system to attract and engage customers. Currently, Yandex.Market is situated as the #1 Comparison Shopping Destination in Russia, however Yandex has more in plan than being just a comparison site. I believe that the current market position provides Yandex a seamless transition from being #1 Comparison Shopping Destination in Russia to #1 Online Retailer. With this implementation, investors can view Yandex as bringing the best features of Google and Amazon.
Turkish Market Penetration
Turkey is one of the largest and fastest-growing online markets in the world with an online advertisement market around $234 Mil. This is projected to grow to $441 Mil by 2015, a compounded annual growth rate of about 24% per year. In addition to the exponential growth that Turkey presents, it is also the first country where Russian is not the major language. This is significant for Yandex because so far, the company has thrived in a Cyrillic system. This language difference has been utilized by Yandex as a barrier to entry in its home market, but now has presented a challenge when expanding internationally. Though Yandex only boasts a 4% market share in Turkey, this is four fold greater than its figure a year ago.
According ComScore, there is a 400% increase in average number of visitors compared to year ago clocking in 1.4MM visitors daily. Mehmet Ali Yalçindağ, chairman of the board of Yandex Turkey, believes that the company will able to secure at least 25 and possibly 30% of the market within the next 3 to 5 years. If Yandex can successfully position itself as the number two engine in Turkey, it will show that such expansion is possible in other international locations, thus providing the company with further growth potential.
Financial Stability
Yandex has 1.48B in their cash balance, which the company plans to return to shareholders through a Share Repurchase Program. The Board of Directors has given the authorization to repurchase up to 15 million shares in open market transactions. As part of the previously announced share repurchase program, the company repurchased 10 million shares, returning shareholders approximately $260 million worth of value in 2013. This further confirms management's beliefs on positive future prospects of Yandex and the need to continually add to shareholders' value. The company has favored the use of share repurchase program instead of paying dividends to appease shareholders. In my opinion, this represents a more efficient means of returning to shareholders since it voids the need to pay dividend tax. In any case, a competent and shareholder friendly management team is definitely a bonus that favors Yandex as an investment.
Valuation
In comparison to other leading search engine companies like Google and Baidu , Yandex trades at a very reasonable price. Not only does Yandex boast a lower P/E, but its EPS growth is much higher than Baidu and Google while revenue growth has kept up with that of competitors. Though management expects top line growth to slow from the high 30% range, guidance came in at 25-30% growth for 2014. This outlook should tell investors that Yandex will continue to be a growth story for at least the next 12 months.
| | | | | | |
| --- | --- | --- | --- | --- | --- |
| | P/E | P/S | EV/EBITDA | Rev Growth | EPS Growth |
| YNDX | 30.48x | 10.08x | 19.03x | 37.00% | 26.00% |
| Google | 33.85x | 6.85x | 13.85x | 19.23% | 13.20% |
| Baidu | 34.91x | 16.35x | 19.53x | 43.20% | 17.60% |
Caught in the Crossfire of Geopolitical Tension
It will be interesting to see how the growing tensions in Eastern Europe affect Yandex's price and operations moving forward. Russia and Ukraine are Yandex's two largest markets, so any political impairment will undoubtedly spill over to Yandex. Theoretically though, as the spotlight is focused on Eastern Europe, Yandex should see more search hits and increased online activity. So, from an operational point of view, the tension in Russia/Ukraine could promote Yandex. However, as we saw, the financial market selloff shaved over 10% of Yandex's value in one day. Real downside risk is present especially in case of further sanctions. Investors must be willing to accept the economic hazards Russian companies will face if tensions escalate.
The effects these events have had on the Russian economy could be seen as a method of stabilizing tensions. The Moscow Exchange's Micex index tanked nearly 11% as investors sucked capital out of the market. The ruble sank to an all-time low vs. the dollar. Russia's central bank was forced to announce the largest hike in its main interest rate since 1998, to 7% from 5.5%. As a result, Putin eased on his stance by calling off 150,000 troops back to Russian bases and stating military force would be the last resort.
Ultimately, the financial markets conveyed the consequences Russia will face. Playing hardball will lead to only more economic losses for Russia. Though Putin may be greedy, he isn't dumb. Due to this, I think a contrarian approach could payoff for Yandex investors. The Russian/Ukrainian tensions may drag on, but in my view, are not thesis changing events. After all is said and done, this could present an even more attractive Yandex buying opportunity.
Conclusion
One of the primary reasons Yandex failed to meet analyst expectations was due to total costs associated with expansion efforts in the Turkish Market. Taking a longer-term view, I believe that this was the correct move by Yandex as Turkey is one of the largest and fastest-growing online markets in the world. Seeking aggressive expansion into this market will only pay future dividends for Yandex. In the meantime, Yandex continues to show its dominance in the Russian search market while also planning to broaden this supremacy to upcoming trends like the mobile shift and e-commerce boom. Not only is Yandex an attractive investment from a value perspective, but it continues to give back to its shareholders through its stable financial position. Barring any military outbursts in the Eastern European region, Yandex presents a solid investment for us across the pond.
Disclosure: I am long YNDX. I wrote this article myself, and it expresses my own opinions. I am not receiving compensation for it (other than from Seeking Alpha). I have no business relationship with any company whose stock is mentioned in this article.