Executive summary
Warren Buffett's Berkshire Hathaway underperformed the S&P 500 over the past 5 years.
Warren's portfolio has many stocks some would consider politically incorrect holdings.
Berkshire Hathaway is basically a poorly designed, highly concentrated financial sector fund.
Berkshire Harthaway holds "Big Oil," "Big Banks," "Big Soda," "Big Box Store Retail" and "Big old school technology."
Berkshire Hathaway looks like a portfolio built while looking in a rear view mirror, and has no vision of the future.
_____________________________________
When I started to write this article I was going to design a portfolio to beat Warren Buffett's Berkshire Hathaway (NYSE:BRK.A). As the analysis proceeded a totally different story developed. I started to go back and rewrite the article so that the title, introduction and conclusion matched, but the progression of the analysis provided far better reading. Therefore I left the article untouched, and that way the reader can understand how this article got the title that it did. Be aware, the end of this article is very different from the start.
I used to work as a portfolio manager, but most of my work was building fund of fund portfolios. We would build our portfolios out of the top mutual funds and ETFs. We eventually diversified into building stock portfolios and our first assignment was a high dividend yield portfolio. Because I was familiar with the top high yield dividend mutual funds, my first step was to simply not re-invent the wheel. Instead of trying to find the best high dividend stocks myself, I simply downloaded the portfolios of the top high dividend yield mutual funds and looked for the common denominators. Those common denominators became a defacto index. 80% of the assets would be invested in the common denominators to ensure we stayed within the ball park of the competition, and 20% was portfolio manager's choice.
Because Warren Buffett is such an icon in the financial world, I thought it might be fun to apply that approach using Berkshire Hathaway's (NYSE:BRK.B) portfolio as the benchmark.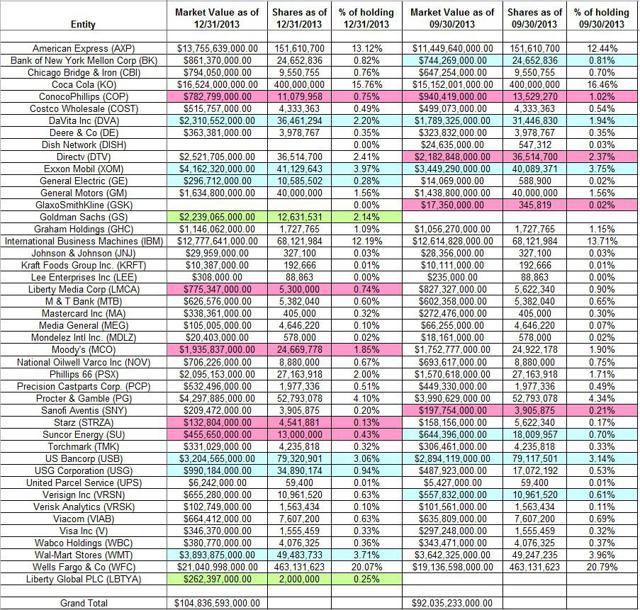 To keep it simple, I will define the benchmark as the top 15 holdings that represent the bulk of the portfolio.
My first thought was, "why waste my time, just buy the Dow?" This is the first time I've ever really studied Warren's portfolio, but I wasn't that impressed. Sure enough, over the last 5 years, Warren has basically given an index return and he reinvested earnings and doesn't pay a dividend. To be honest, with all the advantages, with all the resources, with all the connections, if all Warren Buffett can do over the last 5 years is match the Dow's price index, that is pretty pathetic to be honest. Matching the Dow doesn't make you an Oracle, it makes you an indexer with no vision at all. If I had the US Treasury Secretary calling me with inside information about the 2008 banking crisis and all I could do was match the Dow, I would be embarrassed.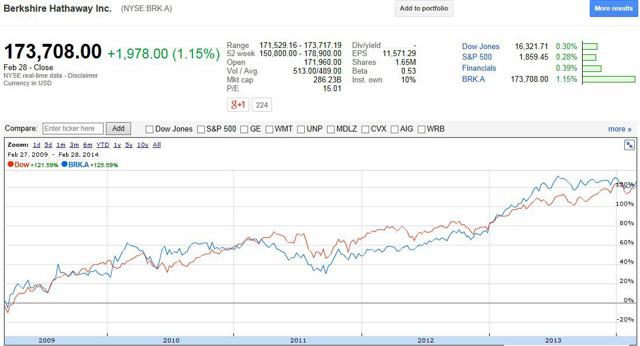 It also appeared to me that the size of some of his holdings creates an opportunity. BRK.A is a rather unbalanced and undiversified blue chip portfolio, most likely not by intent. Some of the larger holdings are so large, it is likely that selling them would greatly impact the BRK.A stock price, so Warren most likely holds them not because he wants to, but because he has to.
BRK.A's largest holding, 23%, is Wells Fargo (NYSE:WFC), and it has been a huge success for BRK.A over the last 5 years. Warren bet big, and he bet right on this one. I just watched "Too Big To Fail" the other night that covers Warren's roll in stabilizing the 2008 crisis, and having that kind of access to information is a big bonus when it comes to managing money during a crisis. Note the bulk of WFC's gains are made in 2009. In the movie WFC was portrayed as the only bank that didn't have any real problems, and was going to likely survive the 2008 crisis basically unscathed.
In the model portfolio WFC will remain, but with a lesser weighting.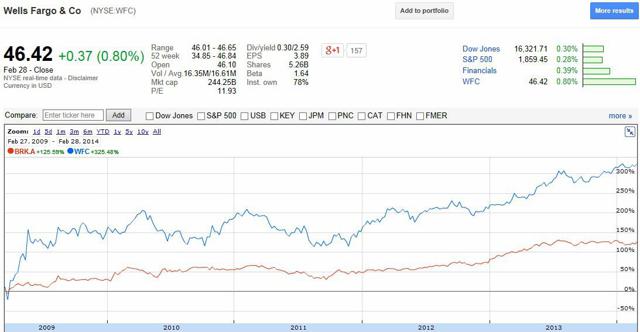 The next largest holding, 17%, is Coca Cola (NYSE:KO). This stock has added nothing to BRK.A's returns over the past 5 years. Due to its size in the portfolio it is unlikely that it can be totally removed and still maintain the 80/20 rule, but it will likely be cut back and some of its assets invested in Yum Brands (NYSE:YUM). I thought KO was an odd holding and inconsistent with Warren's public political persona. The leaders of the Nanny State have been trying to ban high fructose soda's for years. Just recently the high visability efforts in NY City failed. Soda has been blamed for contributing to childhood diabetes and the obesity epidemic, it is basically being treated as the equivalent of tobacco by the Nannies. Because of this apparent hypocrisy, I found it an odd holding for a portfolio manager that works so hard to maintain a public persona of being so "socially conscious."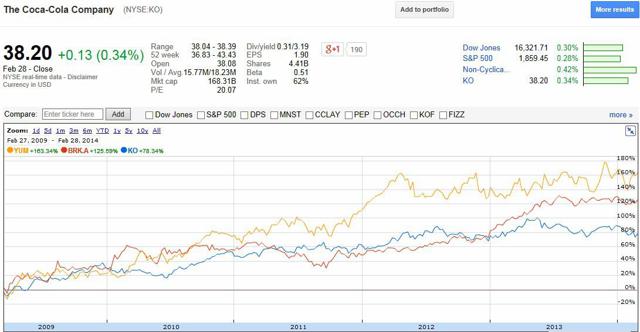 Next largest holding, 15%, is American Express (NYSE:AXP). AXP was another big winner for Warren, but in the model portfolio its weight will likely be cut back and stocks like Mastercard (NYSE:MA) and Visa (NYSE:V) added.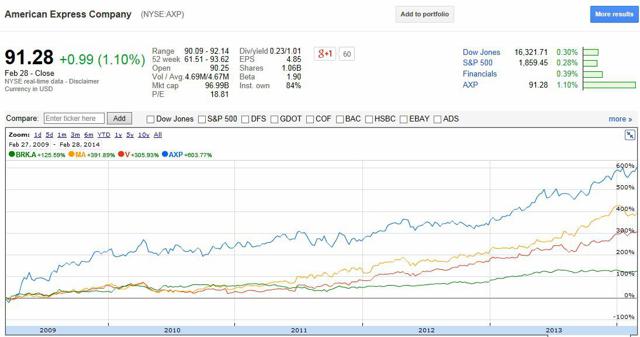 Next largest holding, 14%, in International Business Machines (NYSE:IBM). I may have to change the 80/20 rule. I would ditch 100% of IBM and replace it with Google (NASDAQ:GOOG), Amazon (NASDAQ:AMZN), Yahoo (YHOO) until the Alibaba IPO, and/or Apple (NASDAQ:AAPL). Holding old school IBM in this tecnology revolution pretty much proves Warren is making investments while looking in the rear view mirror throught a telescope. Having IBM as the only technology stock clearly demonstrates Warren has little vision, and clearly doesn't understand what will drive America's growth in the 21st century.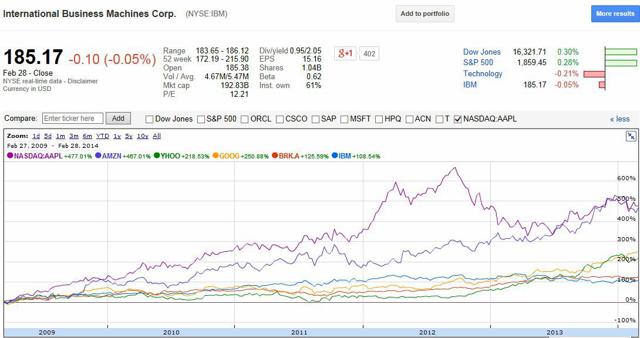 Next largest holding, 5%, is Proctor and Gamble (NYSE:PG). PG will likely be eliminated and replaced the Colgate-Palmolive (NYSE:CL), Unilever (NYSE:UN), 3M (NYSE:MMM) and/or DuPont (DD).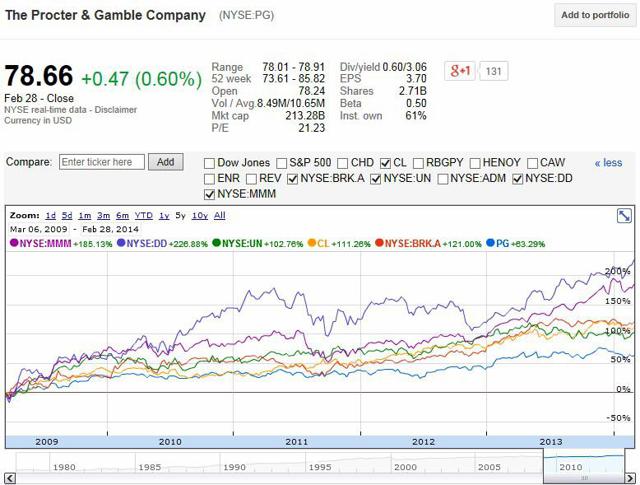 Next largest holding, 4%, is Exxon/Mobil (NYSE:XOM). I can't pass up the opportunity to highlight that Warren doesn't hold any Wind and Solar companies in his top 15. He sticks heavily with "Big Oil." XOM however has been a drag on BRK.A, and I would will likely cut it back and/or replace it with Schlumberger (NYSE:SLB), Halliburton (NYSE:HAL), Chevron (NYSE:CVX) and/or Chesapeake (NYSE:CHK). While Warren doesn't have a vision as far as technology, Warren clearly knows where America's future lies with energy. He does however stick with old school energy and avoids the promising natural gas and fracking companies. Ironically, Warren sticks with the less environomentally friendly oil over the cleaner natural gas.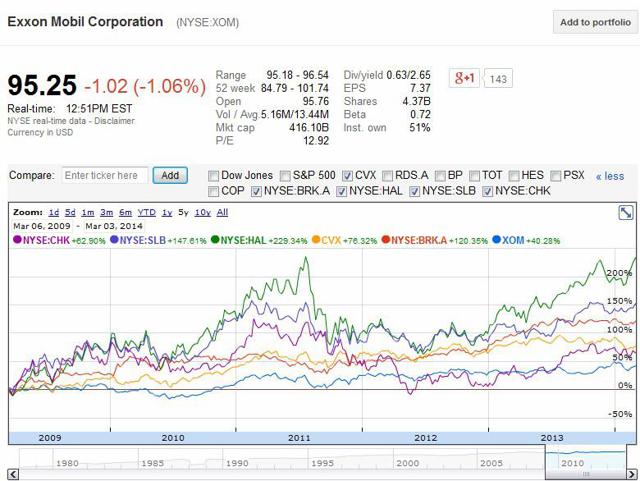 Next largest holding, 4%, is Walmart (NYSE:WMT). Warren seems to prefer politically incorrect stocks when he is dealing with his own money. WMT however has been a drag on performance, and would likely be reduced or eliminated and replaced with Alibaba when it goes IPO, United Parcel (NYSE:UPS), FedEx (NYSE:FDX), Home Depot (NYSE:HD) and/or Lowes (NYSE:LOW). Most ironic is that Warren is making the news today calling for a higher minimum wage, talk about fense sitting. He quietly invests in WMT, and then publically calls for a higher minimum wage, something WMT used to oppose. Times however are changing, and WMT's opposition to the higher minimum wage may be softening. Being an economist however I'm very sceptical. If WMT is for a higher minimum wage it is most likely because they understand it will be far more damaging to the smaller mom and pop retail stores than WMT. A higher minimum wage is a great tool to destroy the marginal competition. By the way, the low income WMT shoppers will be the ones paying for that higher minimum wage. Once the competition is eliminated, WMT will just pass the cost increase on to consumers. I'm pretty sure items sold at WMTs in areas with higher minimum wages, taxes and expenses cost more than items at WMTs with less expenses and fewer regulations.
What's interesting about this difference to someone not familiar with Sacramento is that prices are higher in the relatively poorer neighborhoods, and just a bit lower in the affluent suburb of Folsom.
To be fair to Warren, I stumbled upon this article after I wrote the above parapraph. Warren is very skeptical of the Bitcoin, as am I, but the important part of the article is that Warren believes that the expansion of the earned income tax credit is superior to raising the minimum wage. He even thinks raising the minimum wage will cost jobs. Unfortunatly only those what watch CNBC and read Yahoo Finace will get that insight. On this issue, Warren should be the one making the phone calls to Washington. They don't seem to have gotten the memo. By the way Warren, the best way to reduce income inequality is to put people to work. The best way to do that is to start supporting candidates that are more focused about creating jobs and wealth instead of redistributing it.
Buffett said increasing the minimum wage is likely to reduce the number of jobs somewhat. He said expanding the earned income tax credit would be a more effective way to reduce income inequality.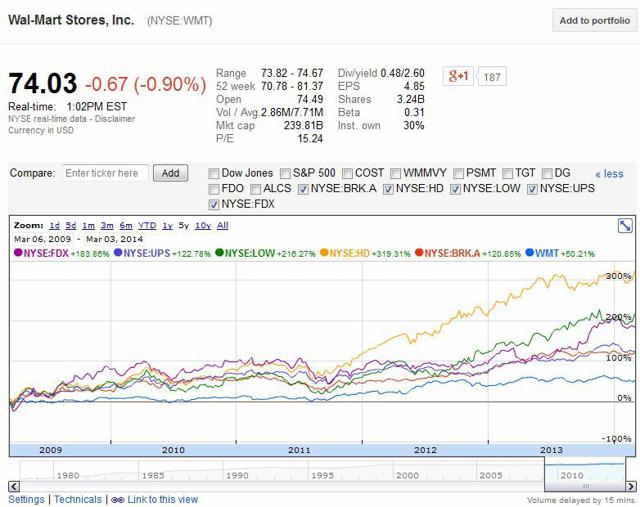 Next largest holding, 4%, is US Bancorp (NYSE:USB). USB has added value to BRK.A over the last 5 years, but has underperformed PNC Bank (NYSE:PNC) and even the iShares DJ US Financial Index (NYSEARCA:IYF).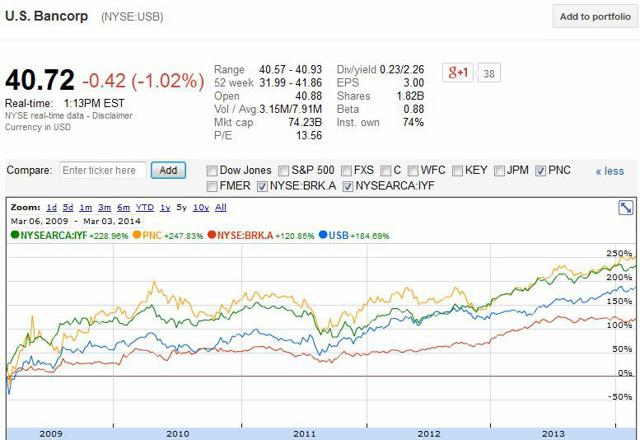 Next largest holding, 3%, is DirectTV a private company. I would replace DirectTV with Dish Network (NASDAQ:DISH) and Disney (NYSE:DIS).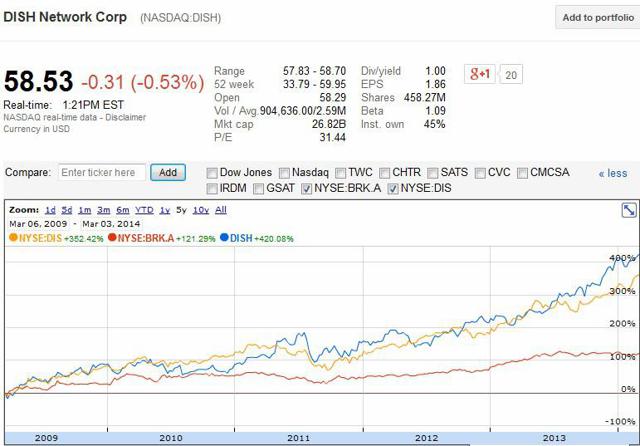 Next largest holding, 3%, is DiVita HC (NYSE:DVA). It is a rather volatile holding, and picked by one of BRK.A's possible replacements for Warren. I would cut it back the weight of DVA and add Stericycle (NASDAQ:SRCL) and Omnicare (NYSE:OCR).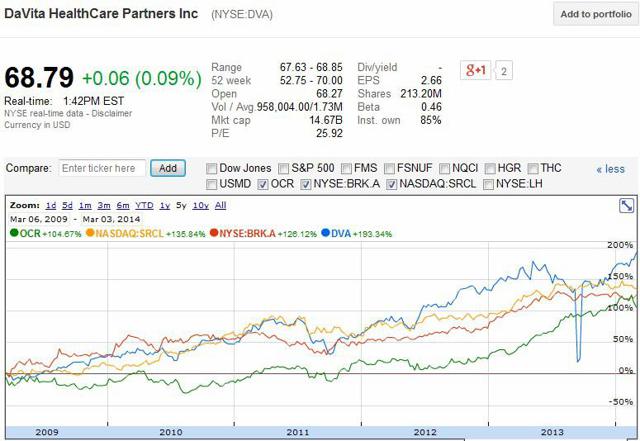 Next largest holding, 2%, is Goldman Sacs (NYSE:GS). Big Oil, Big Banks, Big Soda and Big Retail dominate the politically incorrect portfolio of Warren Buffett's BRK.A. It doesn't look like all the Washington contacts and inside information helped Warren with his GS pick. It has been a drag on the BRK.A portfolio over the last 5 years. I would replace GS with holdings already identified above when I analyzed the other banks.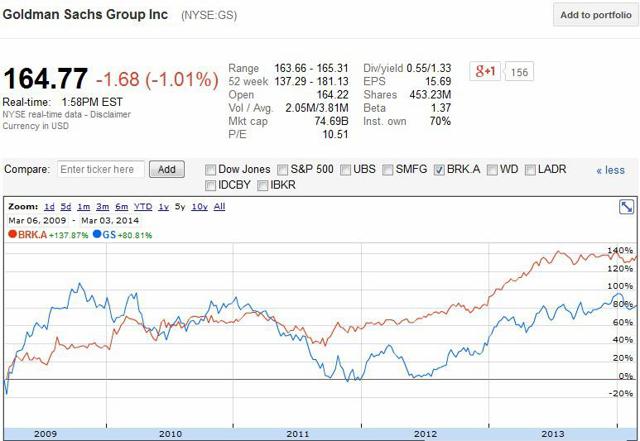 The next largest holding, 2%, is another "Big Oil" holding, Phillips 66 (NYSE:PSX). PSX has a rather short price history, but controls some oil pipelines like the Keystone XL that President Obama has been blocking. I would most likely keep PSX and add Valero (NYSE:VLO).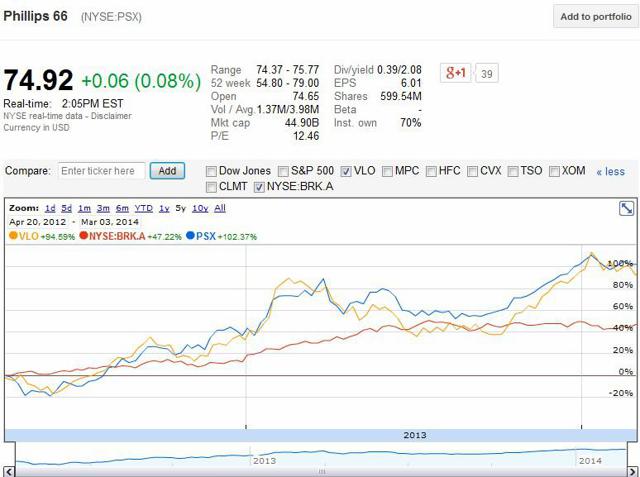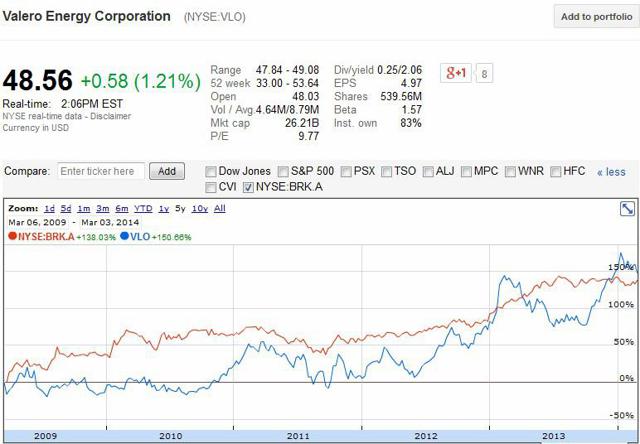 The next largest holding, 2%, is Moody's (NYSE:MCO). Moody's in another one of those politically incorrect companies. MCO's poor ability to properly rate corporate bonds has been partially blamed for events that ultimately resulted in the 2008 financial crisis. Moody's had Lehman Brothers rated A1 going into the crisis, and Fannie Mae was rated Aaa. I would ditch MCO and replace it with McGraw Hill Financial (MHFI) the owner of S&P, the only bond rating company honest and brave enough to downgrade the debt of the United States. The Government then treated S&P like a Tea Party member and had the SEC investigate them. That gets them a double weighting in the portfolio from me :)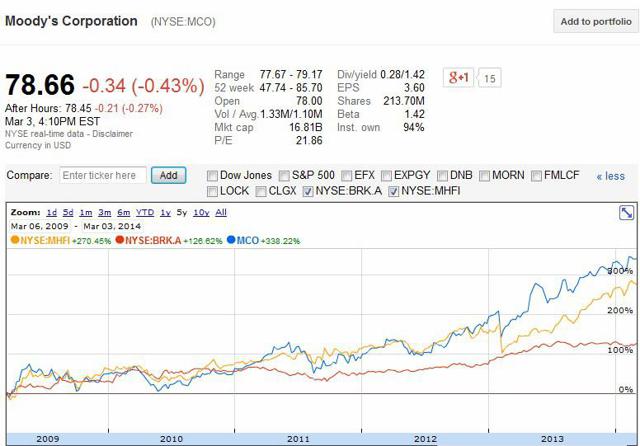 The next largest holding, 2%, is General Moters (NYSE:GM). Now out of all the holdings of BRK.A, Government Moters makes sense given the public persona of Warren Buffett as the chief Obamanomics cheerleader. The GM bankrupcy and reorganization was the poster child of Obamanomics, and the only major part of TARP that lost tax payer's money. I of course have to replace 100% of GM with Ford (NYSE:F) simply on principle. F refused to take the bailout money, and remained true to the capitalist principles that have made it such a great company. I would also add Volkswagen (OTCPK:VLKAY) and Boeing (NYSE:BA). BA because it was a target of the NLRB, and VLKAY because of its workers voting to retain their right to work as free individuals.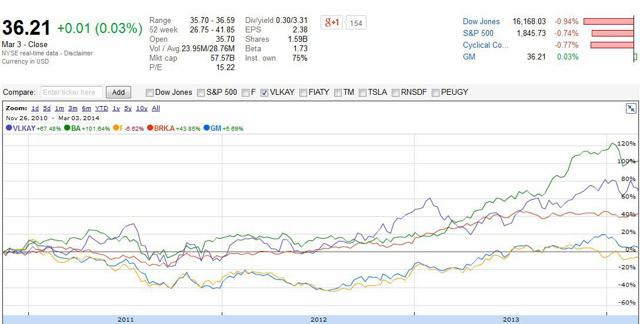 The last of the holding to be analyzed represents 1% of the portfolio and is USG Corp (NYSE:USG). I don't have any comments about this holding, and would leave it as is.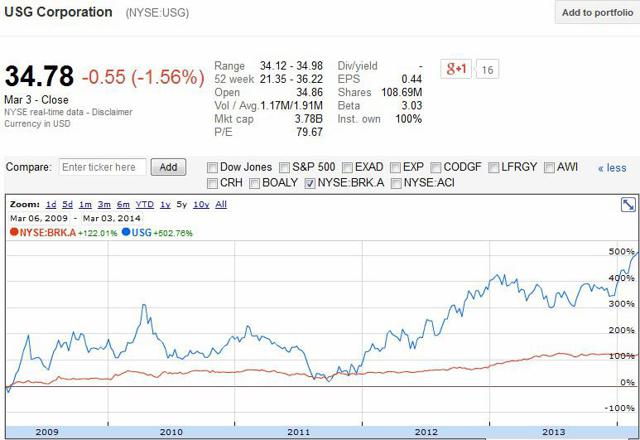 In reality, BRK.A is basically a financial sector Fund with almost 50% of the assets of its top 15 holdings invested in financial stocks. Almost all of the stocks that added value to BRK.A over the past 5 years were financial stocks (assuming they were held for the past 5 years), and the financial index IYF outperformed BRK.A over the last 5 years.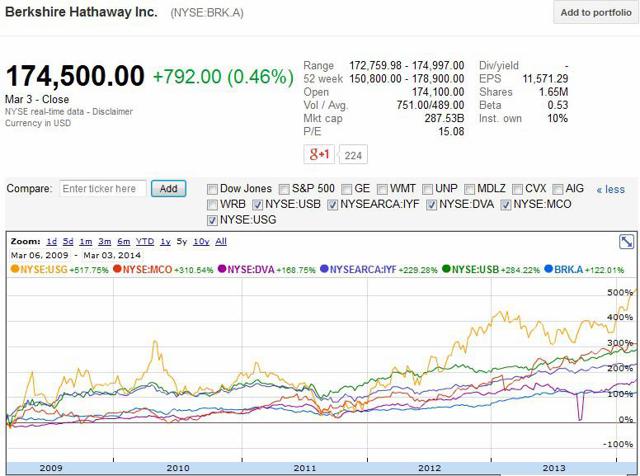 When Warren stepped outside of the financial sector his record was awful. Most of the non-financial picks underperformed BRK.A. WMT, KO, IBM and PG all detracted from the performance of BRK.A.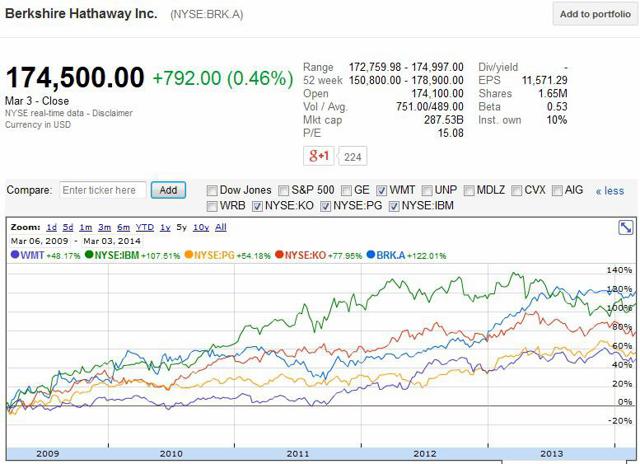 Given that BRK.A doesn't pay a dividend, and the fact that BRK.A barely beat the price of the S&P 500 and Dow Jones 30 over the past 10 years, and underperformed the S&P 500 over the past 5 years, Warren's performance isn't impressive at all. Especially considering the concentrated risks he takes, and all the resources and connections he has. I never got a phone call from Hank Paulson, there is no public transcript of those phone calls or transcripts of the closed door meetings highlighted in the movie "Too Big To Fail," but I'm pretty sure if I had that kind of information I would have been able to do more with it than underperform the S&P 500 price index. I also find it unfortunate that S&P gets investigated by the SEC after the SEC and others had ignored so many things that resulted in the crisis in the first place. Just listen to Warren in the above linked video about how Congress had given Fannie and Freddie clean bills of health just prior to the collapse. S&P is one of the honest heroes of this story, just like the honest tax paying Tea Party members, but they are the ones that get vilified, audited and investigated.
10 Year Performance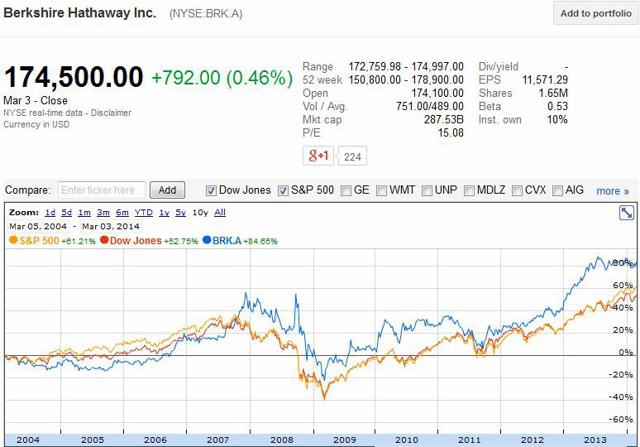 5 year performance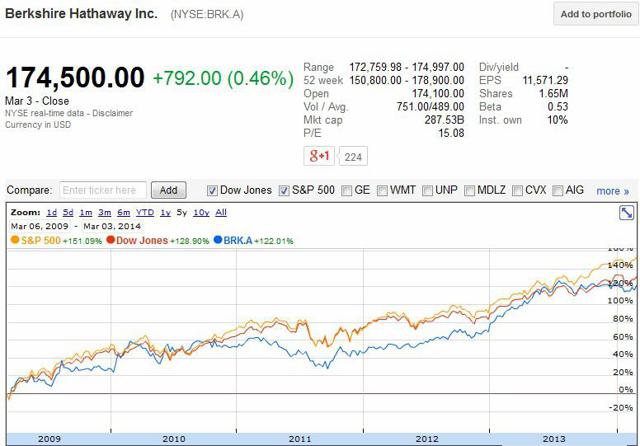 When I started this article I wanted to develop an 80/20 portfolio that would beat BRK.A. Now that I've finished analyzing Warren's highly politically incorrect portfolio I've decided to take a different approach to beating BRK.A. I mentioned above how BRK.A was really a financial index fund, but after further analysis, I think a better description of BRK.A is that it is a "vice" fund. BRK.A has companies that pay the minimum wage and export jobs to China, companies that make high fructose soda that contributes to childhood diabetes and the obesity epidemic, environmentally unfriendly companies that are claimed to contribute to "climate change" and the production of the global warming "pollutant" CO2 and Wall Street Banks whose "banksters" cater to the "greedy 1%" and contribute greatly to "income inequality." Warren himself contributes greatly towards the concentration of wealth at the top, he is the forth wealthiest man in the world.
My final portfolio then stays with the "vice" fund concept and improves upon BRK.A's portfolio by adding cigarette makers Altria (NYSE:MO) and Lorillard (NYSE:LO), casino owner MGM Resorts (NYSE:MGM), Whiskey maker Jim Beam (NYSE:BEAM) and adult entertainment provider News Corp (NASDAQ:NWSA), owner of Fox News :) I will then equal weight all the holdings, and I bet my vice portfolio will beat Warren's vice portfolio. I'll write a follow up article in a year.
The Final "Vice" Portfolio is:
Here is the portfolio built using a hypothetical $100,000 investment and using closing prices on 03/03/2014.
| | | | |
| --- | --- | --- | --- |
| | Vice | | 3/3/2014 |
| Symbol | Weight | Dollars | Shares |
| USG | 2.86% | $2,857.14 | 82.15 |
| GM | | | |
| MCO | | | |
| PSX | 2.86% | $2,857.14 | 38.17 |
| GS | | | |
| DVA | 2.86% | $2,857.14 | 41.79 |
| DTV | | | |
| USB | 2.86% | $2,857.14 | 70.29 |
| WMT | | | |
| XOM | | | |
| PG | | | |
| IBM | | | |
| AXP | 2.86% | $2,857.14 | 31.76 |
| KO | | | |
| WFC | 2.86% | $2,857.14 | 61.91 |
| BA | 2.86% | $2,857.14 | 22.28 |
| BEAM | 2.86% | $2,857.14 | 34.38 |
| CHK | 2.86% | $2,857.14 | 111.61 |
| CVX | 2.86% | $2,857.14 | 24.88 |
| CL | 2.86% | $2,857.14 | 45.92 |
| DD | 2.86% | $2,857.14 | 43.36 |
| DIS | 2.86% | $2,857.14 | 35.96 |
| DISH | 2.86% | $2,857.14 | 48.52 |
| F | 2.86% | $2,857.14 | 187.97 |
| FDX | 2.86% | $2,857.14 | 21.42 |
| HAL | 2.86% | $2,857.14 | 50.68 |
| HD | 2.86% | $2,857.14 | 34.84 |
| LO | 2.86% | $2,857.14 | 53.29 |
| LOW | 2.86% | $2,857.14 | 56.93 |
| MA | 2.86% | $2,857.14 | 37.24 |
| MGM | 2.86% | $2,857.14 | 103.52 |
| MHFI | 2.86% | $2,857.14 | 36.45 |
| MMM | 2.86% | $2,857.14 | 21.61 |
| MO | 2.86% | $2,857.14 | 78.39 |
| NWSA | 2.86% | $2,857.14 | 157.68 |
| PNC | 2.86% | $2,857.14 | 35.28 |
| SLB | 2.86% | $2,857.14 | 31.31 |
| UN | 2.86% | $2,857.14 | 74.10 |
| UPS | 2.86% | $2,857.14 | 29.83 |
| V | 2.86% | $2,857.14 | 12.90 |
| VLKAY | 2.86% | $2,857.14 | 57.59 |
| VLO | 2.86% | $2,857.14 | 59.09 |
| YHOO | 2.86% | $2,857.14 | 74.70 |
| YUM | 2.86% | $2,857.14 | 38.81 |
Disclaimer: This article is not an investment recommendation or solicitation. Any analysis presented in this article is illustrative in nature, is based on an incomplete set of information and has limitations to its accuracy, and is not meant to be relied upon for investment decisions. Please consult a qualified investment advisor. The information upon which this material is based was obtained from sources believed to be reliable, but has not been independently verified. Therefore, the author cannot guarantee its accuracy. Any opinions or estimates constitute the author's best judgment as of the date of publication, and are subject to change without notice. Past performance is no guarantee of future results. For my full disclaimer and disclosure, click here.
Disclosure: I have no positions in any stocks mentioned, and no plans to initiate any positions within the next 72 hours. I wrote this article myself, and it expresses my own opinions. I am not receiving compensation for it (other than from Seeking Alpha). I have no business relationship with any company whose stock is mentioned in this article.