INTRODUCTION
On February 20th, 2014, Wal-Mart (NYSE:WMT) released its quarterly earnings report (found here). Analysts' expectations were not high particularly after WMT issued some guidance warnings suggesting earnings would fall below expectations. The fourth quarter results in the end were mixed. The EPS for the quarter was $1.60, which beat the estimates by $0.01. Compared to the previous fourth quarter EPS of $1.67, the EPS decreased 4.19% year over year. The fiscal 2014 EPS was $4.85 a decrease of 3.33%. Revenues for WMT's fourth quarter were $129.7B (+2.0% Y/Y) which missed estimates by $740M. The consolidated net sales increased from the previous year however, the consolidated operating income and the consolidated net income both decreased from the previous year. Overall, WMT's results came in as expected by most... lower.
In a separate press release, WMT made an announcement regarding its dividend, which read as follows:
"The Board of Directors of Wal-Mart Stores, Inc. approved an annual cash dividend for fiscal year 2015 of $1.92 per share, an increase of two percent from the $1.88 per share paid during fiscal year 2014." (Source: Press Release)
A two percent increase? I was surprised. I thought I read it wrong. After referring to several sources, I found that this statement is accurate. WMT increased its dividend for this year (fiscal year 2015) by 2%, nothing more than what AT&T (NYSE:T) has done over the years, but with a much lower dividend yield in comparison. Is this a red flag to investors and in particular to dividend growth investors? As I currently hold a position in WMT, the purpose of this article is to determine whether this is the beginning of a new trend, merely a strategic move in order to have funds available for projects that will increase future growth prospects, or if this is a one off event.
ANALYSIS
Some may say, "You are merely expecting the company to continue to raise the dividend at such a pace that may not be foreseeably reasonable." Perhaps. But this article will show you why it is not such an unreasonable expectation. Others may be asking, "Why is it a big deal? Aren't you happy that there was a dividend increase?" My short answer is yes. My long answer is no. I recently saw a report on CBC.ca (one of Canada's news agencies) which stated that Canada's inflation rate was 1.50%. Yes the dividend increase is above this reported inflation rate, but not by much.
My biggest reason for being surprised by this minimal increase is represented in the following graphs.

(Source: Gurufocus.com)
The first graph shows that this is the smallest increase in WMT's dividend in the last 10 years. In fact, according to a recent article by Tradevestor, this is the lowest dividend increase in at least 30 years. From the graph we see that even during the financial crisis, WMT increased its dividend by 7.95% in 2009, which is nearly four times the current dividend increase. Are the economic conditions worse today than during the financial crisis? I don't believe so. However, it may be that WMT is experiencing some underlying difficulties because with this latest announcement, it means that there are now three dividend increases below 10% since 2009. Why is this important? Because as Tradevestor pointed out, there have only been 5 times in the past 32 years where WMT's dividend increase has been below 10%. Following these lower dividend increases WMT has generally had a large increase the following year. This much can be seen with the dividend growth rates [DGR]. Prior to this latest dividend announcement, according to David Fish's CCC list, WMT's 3-year DGR was 15.3%, 5-year DGR was 14.2% and 10-year DGR was 18.0%. These are all very respectful percentages however, when taking all of these historical factors into consideration, this small increase certainly raises a red flag.
What concerns me further is how the CEO presented the dividend announcement. From the transcript:
"We are pleased to continue our long history of dividend increases for Walmart shareholders," said Doug McMillon, president and chief executive officer. "In fact, this is the 41st consecutive year that we have raised our annual dividend. This consistency of returns to shareholders is a testament to the strength of our global portfolio in generating solid free cash flow. During fiscal year 2014, we returned $12.8 billion to shareholders in the form of dividends and share repurchases." (Source: Press Release)
Yes the dividend was increased, but there was no explanation why it has deviated so much from prior increases. It seemed more important that an increase occur so that the streak is maintained because dividend paying companies know what happens if they cut or freeze a dividend...dividend investors tend to sell and the stock price plummets. I question the "strength of [their] global portfolio in generating solid free cash flow." If they were generating solid free cash flow, should not investors have expected a larger dividend increase since the dividend is paid from the free cash flow? According to David Fish's CCC list and prior to this dividend announcement, the earnings payout ratio was 36.15% and the free cash flow payout ratio was 171.56%. Could it be that the free cash flow payout ratio was overextended and in order to ensure that the dividend was raised for the 41st consecutive year, WMT increased it by only 2%? Here is a chart demonstrating WMT's free cash flow over the past 10 years.

(Source: Gurufocus.com)
Free cash flow was $10.1B for the fiscal year 2014, compared to $12.7B in the prior year. According to WMT, "[t]iming of tax payments, as well as slightly higher capital expenditures, were the primary drivers of the reduction." (Source: Press Release) WMT's average free cash flow over a 10-year period is $8.325B. The 10-year history shows an inconsistent free cash flow. It was increasing from 2005 to 2010 and has since stagnated. In fact from 2010 to 2014 the free cash flow proportional average is actually -1.05% per year. In other words, it is in a decreasing trend. WMT has had a free cash flow above $10B since 2009 and it has not had a negative free cash flow for a very long time. From these numbers it appears as though WMT has the room to increase the dividend more than 2%.
According to statements made during the conference call: "During fiscal 2014, the company repurchased approximately 89 million shares for $6.7 billion. In addition, the company paid $6.1 billion in dividends. In total, the company returned $12.8 billion to shareholders through share repurchases and dividends." (Source: Press Release) Based on that statement it appears that the free cash flow of fiscal year 2014 is insufficient to cover these returns since approximately $10.1B was generated in free cash flow.
When looking at the proportional change year over year in cash flow for dividends, there is a distinct pattern that has emerged since 2009. The following graph demonstrates what I am going to explain.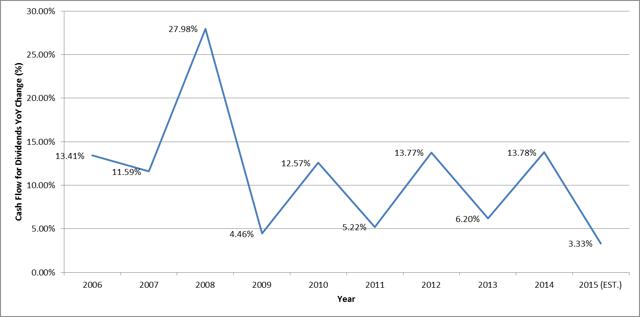 (Source: Gurufocus.com)
This graph shows a different perspective from the dividend growth rate graph above. In this graph there is a consistent increase and decrease, which has occurred since 2009. 2008 appears to be an anomaly given that there was a consistent range between 4% and 14%. Given the 2% dividend increase for fiscal year 2015 which equates to $1.92 per share and 3.283B shares currently outstanding, this would suggest (assuming no additional shares are repurchased over the course of the fiscal year) that the cash flow for dividends would equal $6.303B or an estimated difference of 3.33% in cash flow for dividends from 2014. Although this does fall outside of the usual range, it is almost not as extreme as the dividend growth rate graph. In this particular graph there is also the distinct indication that a 12% to 14% increase in cash flow for dividends could possibly occur. Assuming that no additional shares are repurchased and multiplying the 2015 estimated cash flow for dividends at $6.303B by 12% and 14% would suggest that in 2016 $7.059B-$7.185B would be distributed to shareholders in dividend payments. If no additional shares are repurchased, this could mean the 2016 annual dividend could be between $2.15 and $2.19, which would return WMT's dividend growth rate back within a range that investors have become accustomed to. I should reiterate that there are a lot of ifs in the above estimates.
WMT could also be matching the dividend increases with EPS. The following graph shows the proportional change year over year in the EPS.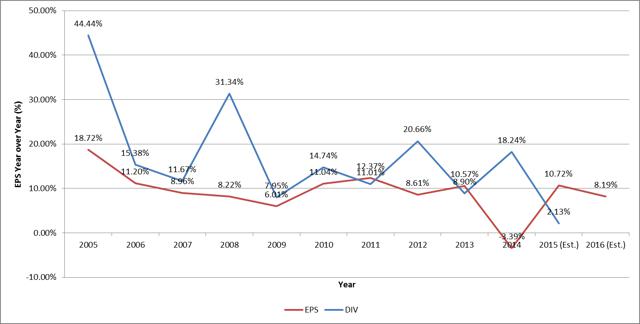 (Source: MSN Money; Gurufocus.com)
This is the first time in 10 years that WMT's EPS was below the previous years. This also shows that WMT's EPS although growing, had begun to grow more slowly between 2005 and 2009. It wasn't until the financial crisis where people were looking to save money and turned to WMT, thus helping turn this slide. The two years where the dividend increase was below 10% were in 2009 and 2013. In this graph, we see that the EPS growth had dropped to a 5-year low in 2009 at 6.01% (dividend increase of 7.95% that year). In 2013, the EPS had improved to 10.57% from the previous year (dividend increase of 8.90%). 2014 presented an EPS that was lower than 2013 and investors were offered a 2% dividend increase. Using an Unpaired T-test to determine if the EPS and dividend proportional increase are statistically different, the results show that they are (t = 7.58, df = 19, SED = 0.343, p > 0.0001). This could suggest that WMT is increasing the dividend based on projected earnings for the following year. It is complicated given that the dividend is announced for the coming year (in this case fiscal year 2015) without the 2015 fiscal year EPS being reported (and which won't occur until 2015). This is particularly evident in the graph above when the dividend increase of 18.24% for 2014 was announced back in February 2013 and the EPS was reported in February 2014. If WMT was aware that the EPS would be lower than the previous year, it's logical to assume that WMT would not have raised the dividend so high.
If WMT is using the projected EPS for the following year as its benchmark for the dividend increases, what are the estimates for the next few years? Based on information from Reuters.com, analysts are projecting an EPS between $5.15 and $5.64 (mean of $5.37) for 2015 and an EPS between $5.60 and $6.16 (mean of $5.81) for 2016. In the conference call WMT expects the EPS to range between $5.10 and $5.45 for 2015. If the analyst's estimates are realized (and which are shown in the graph above also), this would mean that the EPS would increase in 2015 by 10.72% and in 2016 by 8.19% (using analyst's averages). Based on the median of WMT's estimated range ($5.25), the EPS would increase 8.25%. This could allow WMT to increase their dividend more than by 2% in the coming year and if the graph above is accurate, it is likely to be the case. However, WMT must address the declining EPS and flat free cash flows.
Thankfully, WMT has outlined its priorities for the coming year. From the conference call, investors heard the following points:
"Walmart U.S. will increase capital expenditures for fiscal 2015 to accelerate the rollout of small format stores, both Neighborhood Market and Walmart Express." "In October, we announced our plan to grow our U.S. store base with large and small formats," said Bill Simon, Walmart U.S. president and CEO. "Today, we are expanding on our original plans with additional small stores. We will maintain our projection for supercenter growth with approximately 115 new stores.
"Neighborhood Markets continued to deliver consistent solid comp sales growth, and customers appreciate the convenience of our small stores. They are a proven model," added Simon. "Were also pleased with how well the 20 Express stores are doing, and were expanding our pilot beyond the initial three markets. These small formats are digitally connected and provide customers convenient access to a broad assortment, including fresh, pharmacy and fuel. We will now open between 270 and 300 small format units this year, which will nearly double our fleet and fuel growth as we enter the next generation of retail."
The result of this program enhancement is an increase of $600 million to the company's total fiscal year 2015 forecast for capital expenditures. The updated range is $12.4 to $13.4 billion versus the October forecast of $11.8 to $12.8 billion.
"Improved operating results and better management of working capital, including inventory efficiency, will drive stronger cash flow," ... "We are working hard across the organization on these opportunities in order to maximize free cash flow this year."
"Comp sales improvement is a key priority, and we'll focus on being even stronger item and category merchants, delivering value and improving our service levels," McMillon said. "Well remain focused on our expense structure, and innovate to improve productivity and aid our ability to deliver everyday low prices. Our EDLP approach earns trust with customers and helps us keep our cost structure low.
"We'll invest aggressively in e-commerce and increase our small store rollout in the U.S., as we've done in several other countries, to deliver value and convenience. Today, we are announcing an increased capital allocation, above our previous forecast, to accelerate small store growth in the U.S.," McMillon added. "The combination of supercenters and smaller formats closer to customers' homes, along with e-commerce and mobile commerce, will enable us to increase our relevance for the Walmart brand around the world."
(Source: Press Release)
There are a number of positives coming from these statements. There is a focus to address lagging sales by increasing their e-commerce and increasing the small store format, which has been quite successful. Both of these priorities no doubt are targeted at addressing competition from Amazon (NASDAQ:AMZN) and dollar stores. With these priorities comes an associated price tag, which may help to explain where the money investors such as myself were expecting with the coming year's dividend increase is now going. These investments are targeted at increasing revenues. If these priorities are well implemented, it could very well mean a larger dividend increase in the coming years from improved free cash flows.
CONCLUSION
WMT's 2% dividend increase for the coming year was quite a surprise. There is pressure on the company due to less in store traffic, slowing growth, increased competition resulting in lower sales. WMT does need to address competition and a new mentality. In this article I read recently, despite a recovering economy in Europe, Europeans are persisting in the recession habits. These habits include being prudent with their money and making every dollar (or euro in this case) count. Europeans continue to shop at dollar stores. And because this has become a habit in the post-recession period, dollar stores continue to flourish. One can only imagine that a similar mentality developed and may persist among American shoppers (and Canadian shoppers). If this is the case, WMT may need to market heavily, increase discounts on certain items and continue to price match in order to make it the "one stop shop" among consumers.
If a similar mentality takes hold in the US then dollar stores may increasingly affect WMT's sales. It is suggested in this analysis that the future EPS is linked to the dividend increase. Lower sales may lead to lower dividend increases. However, based on the conference call transcript, WMT does appear to be aware of the issues and has been implementing a strategy, which will now be expanded upon in order to address those issues. This was very apparent in Canada in particular. WMT renovated most of the stores that were not supercenters into supercenters when Target (NYSE:TGT) entered the Canadian market. Wherever there was a TGT opening, a supercenter could be found and in most cases where there wasn't one before. This is a prime example of the company attempting to maintain its advantage and set itself apart since most TGT's don't have a large grocery section.
Concerning the dividend, there are several indicators to suggest that the dividend will increase the next year more than this coming year's. However, there is evidence to suggest that the dividend increases have been lower over the last few years than previously before. Based on a review of the free cash flow for WMT, it appears that the dividend has been overextended on a free cash flow payout ratio basis. However, WMT has generated a significant amount of free cash flow over the years, which could have carried over to help increase this year's dividend. We should also never discount the fact that WMT could pay a special dividend.
This may also be an opportune time for WMT to reset expectations on future dividend increases from double digits to single digits. This would allow WMT to have cash on hand to deal with future issues particularly if the current priorities fail to address the impact competition and other factors have had on EPS. Investors who have held shares of WMT for many years will probably be able to ride out this coming year's dividend increase and have the opportunity to monitor WMT's future dividend trend. Investors considering buying WMT may want to wait to see what the next dividend increase will bring in order to put this year's increase into perspective. There are other stocks that may be more attractive such as Coca-Cola (NYSE:KO) who raised their dividend 8.9%, Genuine Parts Company (NYSE:GPC) who raised their dividend 7% or PepsiCo. (NYSE:PEP) who raised their dividend 15% this year.
As for myself, I am strongly considering selling a small position of WMT but I may also hold on to the position I have without adding anymore. I say this because YTD WMT is down 5%, is only up 2% over a one-year period and is up 55% over a 5-year period. I could very easily take that money out and put it somewhere else but a part of me says hang on since it is WMT and with the amount of people who go in and out of my local store, I can't see people changing their habits of seeking after "everyday low prices."
Disclosure: I am long WMT. I wrote this article myself, and it expresses my own opinions. I am not receiving compensation for it (other than from Seeking Alpha). I have no business relationship with any company whose stock is mentioned in this article.