First Quarter Flashback

Leading unlimited wireless carrier MetroPCS Communications (PCS) reported first-quarter 2010 earnings per share of 6 cents matching the Zacks Consensus Estimate. However, net income plunged 48% year-over-year to $22.7 million on account of a 30% year-over-year increase in operating expenses (attributable to high handset subsidies and costs related to the new rate plans), which offset the healthy revenue growth.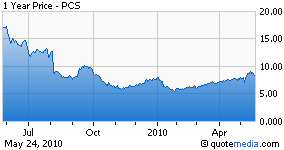 Revenues soared 22% year-over-year on the back of healthy subscriber accretion and a 17.4% annualized increase in service revenue. ARPU (average revenue per user) fell year-over-year, hit by aggressive price promotions. However, churn declined significantly due to healthy customer adoption of the carrier's new "Wireless for All" service plan and higher spending on handset subsidies to retain customers.

We have discussed the quarterly results at length here: MetroPCS Meets, Net Slides

Agreement of Analysts

Estimates for MetroPCS have been trending upward since the first-quarter results, showing a clear directional agreement. Out of a total of 26 analysts currently covering the stock, 16 have raised their estimates for 2010 over the last 30 days (with 2 increases in the last week) while 3 analysts made negative revisions. A similar trend applies to the estimates for 2011.

The upswing in estimate revisions can be attributed to the favorable trends in the US prepaid market, better-than-expected revenues, lower churn and record subscriber accretion in the first quarter boosted by the new service plan. MetroPCS revamped its prepaid wireless service plans in January 2010 to counter stiff competition in the low-cost unlimited prepaid segment. The revised service plans, which start at $40 per month, include all taxes and regulatory fees.

MetroPCS is expected to benefit from customer migration from contract based plans to prepaid (driven by tariff rate reductions), representing the key impetus for upward estimate revisions. However, concerns over falling ARPU, increased competition, higher customer retention costs and margin pressure have led to few negative analyst opinions.

Magnitude of Estimate Revisions

A plethora of upward estimate revisions accompanied by a sheer directional agreement has led to a rise in annual forecasts for MetroPCS. Estimates for 2010 and 2011 have gone up by 6 cents and 11 cents over the past 30 days; they have increased by a cent each over the past 7 days. The current Zacks Consensus Estimate for 2010 is 48 cents, reflecting a 10.23% year-over-year decline.

Neutral on MetroPCS

MetroPCS remains a leading low-cost service provider in the unlimited prepaid market. The company is increasingly focused on strengthening its position in this market by broadening its portfolio of discounted service plans. Moreover, the carrier continues to expand its footprint in the lucrative Northeastern US markets. MetroPCS is also exploring the possibility of buying its rival Leap Wireless (LEAP).

MetroPCS plans to launch its 4G Long-Term Evolution (LTE) service and several dual-mode smartphones across its metropolitan markets in the second-half 2010. The ultra-high bandwidth multimedia data applications supported by the 4G LTE network will boost revenue per user through increased minutes of use.

However, MetroPCS is facing intense competition from Tier-1 national carriers such as AT&T (NYSE:T), Verizon (NYSE:VZ) and Sprint Nextel (NYSE:S) which continue to attract customers with better product/service offerings. The carrier faces a fresh challenge from Sprint's new "Beyond Talk" prepaid plan that starts at $25 and targets the lucrative youth segment.

While expansion into Northeastern markets and network upgrade to 4G LTE may drive future growth, we feel that associated expenditures will strain the balance sheet. Although MetroPCS will benefit from the improving fundamentals of the U.S. prepaid market, higher promotional expenses for rolling out new service plans will dilute margins in the upcoming reporting periods. We currently have a Neutral recommendation on MetroPCS, which is supported by a Zacks #3 Rank (Hold).