Lowe's Companies Inc. (NYSE:LOW), the second largest U.S. home maintenance, improvement, and hardware retailer recently announced its Q4 FY 2013 results. The company's sales for the last quarter of FY 2013 rose 5.6% to $11.7 billion, closely beating the Zacks consensus estimate of $11.6 billion. The company's Q4 FY 2013 comparable-store sales were up 3.9%. The company's FY 2013 sales grew by 5.7% to $53.4 billion with comparable store sales rising 4.8% for fiscal year as shown in the chart below.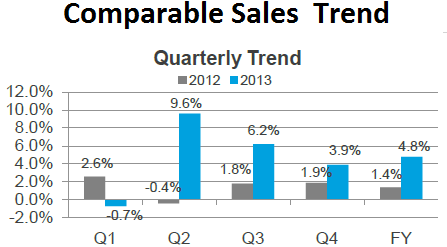 Source: LOW Q4 2013 Earnings Call
This top-line growth was primarily driven by the company's effective capitalization on the recovering domestic housing market. The following chart illustrates the company's targeted annual comp sales growth until FY 2015.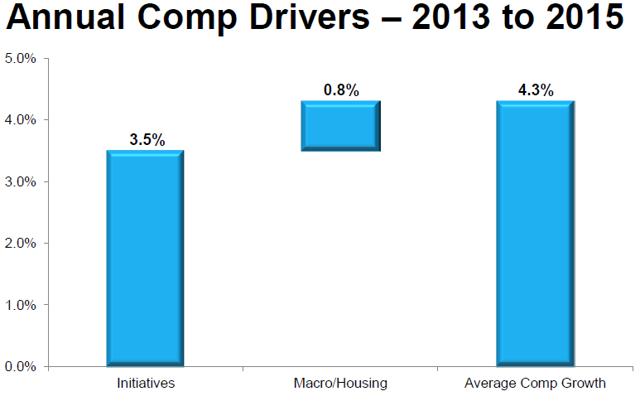 Source: LOW 2012 Analyst and Investor Conference
The chart above shows that the company aims to achieve 4.3% growth in annual comp sales by the end of FY 2015. More of this growth will be achieved by the company's initiatives to improve its sales and 0.8% growth is anticipated to come from macro-economic factors and housing industry. In this article, I will discuss the initiatives undertaken by the company and the industry forecasts to determine the company's top-line outlook.
Let us begin discussing the strategic moves initiated by the company that will drive the company's growth in the coming years.
Strategic Initiatives
Orchard's Acquisition
The company acquired 72 Orchard Supply Hardware stores on August 30, 2013 financed by operating cash flows. Orchard's stores have an average of 36,000 square feet of selling space and offer a product selection concentrated on paint, repair, and backyard categories. Orchard's stores have more transactions per square foot but have fewer transactions per store and a lesser average ticket than a customary Lowe's store. This acquisition supported the company and allowed it to increase its footprint in California and stake in California's economic recovery in the coming years.
For Q4 FY 2013 Orchard added around 100 basis points to the total sales growth of the company and added approximately 260 basis points to the company's total transaction growth. The total company average ticket growth was adversely affected and fell by almost 150 basis points. Overall, Orchard added 210 basis points to Lowe's total sales in the last quarter of FY 2013. The transaction is expected to bring more growth for the company when the two organizations completely merge in the coming years.
Strategies to Enhance Customer Experience
Since 2012, the company has turned its focus on two key initiatives: value improvement and product differentiation. The value improvement initiative is designed to boost the company's ability to offer innovative products and value. The product differentiation initiative is intended to help the company drive customer awareness in its stores by emphasizing innovative products through better display techniques. These strategic initiatives will add to Lowe's core strengths and are anticipated to deliver better transaction growth and greater inventory productivity by localizing a variety of products. The key initiatives drove a 40 basis point increase in sales during FY 2012.
As part of these ongoing strategies, the company endeavors to improve its product offerings by localizing its range of products to improve close rates through added labor in the company's stores. The company has added around 150 hours per store per week to the staffing model for around two-thirds of its stores to cut the gap between the company's weekends versus weekday close rate. The company's objective is to close more sales during peak weekday hours by having more assistance available in the aisles. The added labor hours and greater in-stock service levels will allow the company to take advantage of customer traffic during the week and this will improve close rates.
Furthermore, the company will continue to see strength in its Pro Services business.
Now let us take a look at the industry outlook for the coming years.
U.S. Home Improvement Industry Forecasts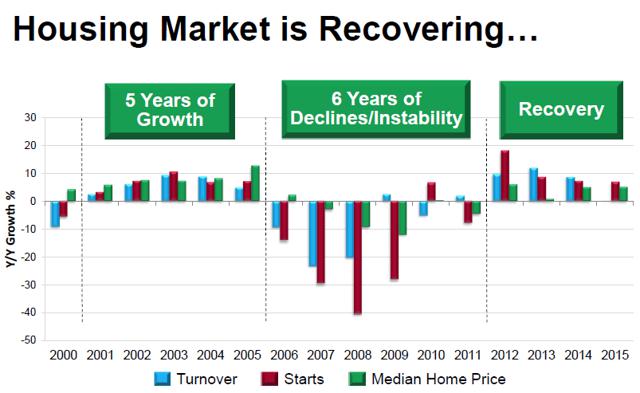 Source: LOW 2012 Analyst and Investor Conference
The chart above shows that the housing market has entered its recovery phase after 6 years of declines and instability. New home sales rose 9.6% in January 2014 to a seasonally-adjusted rate of 468,000 from a revised 427,000 in December 2014. The January sales were well above the 401,000 figure economists were expecting.
Market observers forecast that home prices will rise in 2014 but at a sluggish pace compared to historical movements. Redfin and Zillow are predicting that home prices will rise between 3% and 5% during 2014 but home value gains will deteriorate significantly because of higher mortgage rates, costly home prices, and increased home supply produced by new construction projects. The existing home sales are forecasted to increase by 9.3% during 2014 while housing starts are expected to be up 30% in 2014.
Overall the economic outlook will also support the Industry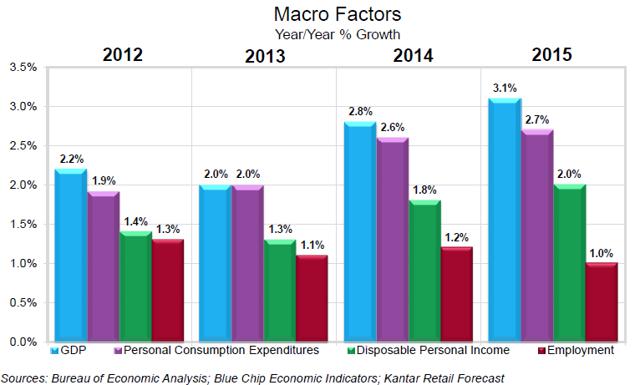 Source: LOW 2012 Analyst and Investor Conference
The chart above shows that 2014 will be a year of improvement with respect to GDP growth, personal consumption expenditure, disposable personal income, and employment. A 2.5% increase in real consumer spending is forecasted for 2014 and 2.7% in 2015.
As a result of these factors, the U.S. home improvement market is likely to be positively impacted. The HIRI/IHS Global Insight forecasts a growth of home improvement sales of 6.8% during 2014-2015. The industry will pick up receiving support from GDP growth of around 2.8% in 2014 and 3.1% in 2015.
Home improvement stores are expected to recover as consumers invest in renovations and remodeling. The year-over-year increase in the market growth rate for the home improvement market is forecasted to continue until 2015 as shown in the table below.

Source: HIRI
Return to Shareholders and Concluding Remarks
The company has $1.3 billion remaining in its existing buyback program and has announced a plan for a $5 billion stock buyback program around 10% of the company's market cap. During Q4 FY 2013, the company bought back $958 million worth of its shares totaling $3.7 billion. Additionally, the company paid $189 million in dividends in Q4 FY 2013 and $733 million for the year.
TheStreet Quant Ratings rates Lowe's Companies as a buy. The company has a guidance of 5% and 4% rise in its net sales and comparable sales, respectively, for FY 2014. As per my analysis, the company's strategic initiatives to expand its operations and enhancing its existing services will benefit the company in the coming years. The company and its investors will take advantage of the growth in the home improvement market that will receive support from the overall economic recovery.
Disclosure: I have no positions in any stocks mentioned, and no plans to initiate any positions within the next 72 hours.
Business relationship disclosure: The article has been written by a Blackstone Equity Research research analyst. Blackstone Equity Research is not receiving compensation for it (other than from Seeking Alpha). Blackstone Equity Research has no business relationship with any company whose stock is mentioned in this article.