I find Whirlpool Corp. (NYSE:WHR) stock to be a rare combination of value and growth dividend stock. The year of 2013 had been remarkably successful for the company, and it achieved record earnings and free cash flow. The prospects for 2014 are also very good. In this article, I will explain why, in my opinion, WHR stock is a remarkably promising long term investment.
The Company
Whirlpool Corporation is the world's leading global manufacturer and marketer of major home appliances. The company's principal products include laundry appliances, refrigerators and freezers, cooking appliances, dishwashers, mixers, and other portable household appliances. Whirlpool manufactures products in 11 countries and markets products in nearly every country around the world. The company was founded in 1898 and is headquartered in Benton Harbor, Michigan.
Valuation Metrics
The table below presents the valuation metrics of WHR, the data were taken from Yahoo Finance and finviz.com.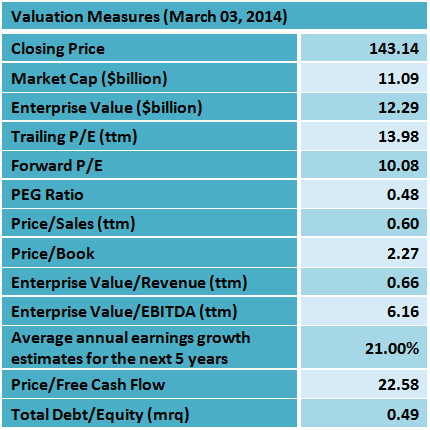 Whirlpool's valuation metrics are extremely advantageous; the enterprise value-to-revenue ratio is very low at 0.66 and the enterprise value-to-EBITDA ratio is also very low at 6.16. According to Yahoo Finance, WHR's next financial year forward P/E is very low at 10.08 and the average annual earnings growth estimates for the next 5 years is very high at 21%. These give an exceptionally low PEG ratio of 0.48, one of the lowest among S&P 500 companies. The PEG Ratio - price/earnings to growth ratio is a widely used indicator of a stock's potential value. It is favored by many investors over the P/E ratio because it also accounts for growth. A lower PEG means that the stock is more undervalued.
Latest Quarter Results
On January 30, Whirlpool Corp. reported its fourth-quarter and full-year 2013 financial results, which missed EPS expectations by $0.06 (2.00%). The company reported fourth-quarter GAAP net earnings of $181 million, or $2.26 per diluted share, compared to net earnings of $122 million, or $1.52 per diluted share, reported for the same prior-year period. Adjusted diluted earnings per share improved to $2.97, compared to $2.29 in the prior year, mainly driven by higher sales, ongoing cost productivity and the benefit of cost and capacity-reduction initiatives. Sales in the quarter were $5.1 billion compared to $4.8 billion during the same prior-year period. Excluding the impact of foreign currency and Brazilian tax credits, sales increased approximately 7 percent led by strong growth in North America and Latin America.
In the report, Jeff M. Fettig, chairman and chief executive officer of Whirlpool Corporation said:
The strong execution of our plans resulted in a record year of earnings. We continue to grow revenue, expand margins and increase our investment capacity, positioning us well as we enter 2014. We will continue to invest in our long-term growth strategy. We expect continued revenue growth and margin expansion, and are on track to deliver our shareholder value creation targets.
The company gave an outlook for 2014; Whirlpool expects to report full-year diluted earnings per share of $11.05 to $11.55. The company expects to report full-year adjusted diluted earnings per share of $12.00 to $12.50.
Major Development
The year of 2013 had been remarkably successful for the company, it achieved a record earnings; GAAP EPS grew by 102.3% from $5.06 in 2012 to $10.24 in 2013, and ongoing business operations EPS grew by 42.1% from $7.05 in 2012 to $10.02 in 2013. Furthermore, its free cash flow increased by 200% from $0.2 billion in 2012 to $0.7 billion in 2013. Whirlpool also had launched innovative new products during the year.
On August 13, 2013, Whirlpool announced that it has entered into agreements to become a majority shareholder (51 percent) in Hefei Rongshida Sanyo Electric Co. Ltd., a leading home appliances manufacturer based in Hefei, China. Through this transaction, a Whirlpool Corporation subsidiary will acquire all shares currently owned by Sanyo Electric Co. Ltd. and Sanyo Electric Co. (CHINA) Ltd., and purchase new Hefei Sanyo shares via a private placement. The transaction is subject to customary conditions, certain termination rights, Chinese regulatory approval, and Hefei Sanyo shareholders' approval. After the transaction is approved, Whirlpool will acquire a majority stake in Hefei Sanyo for approximately RMB 3.4 billion/USD 552 million cash, based on the exchange rate as of August 9, 2013. The transaction is expected to close by the end of 2014. Whirlpool expects that this transaction will be accretive in the first full year of integration.
Hefei Sanyo has an established nationwide distribution platform, a scaled manufacturing presence with opportunity for growth, and is ideally located in Hefei, a recognized appliance hub in China. Hefei Sanyo is a well-managed, profitable business with great prospects, led by an experienced and capable executive team with a track record of delivering strong performance.
Dividend
Whirlpool has been paying uninterrupted dividends since 1983. The forward annual dividend yield is at 1.75% and the payout ratio only 24.4%. The annual rate of dividend growth over the past three years was quite high at 13.23% and over the past five years was at 7.76%. I consider that besides dividend yield, the consistency and the rate of raising dividend payments are the most crucial factors for dividend-seeking investors, and WHR's performance has been quite good in this respect.
Whirlpool's dividend is paid every quarter, as shown in the charts below.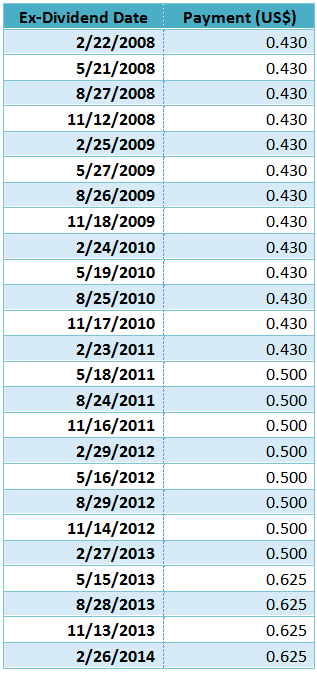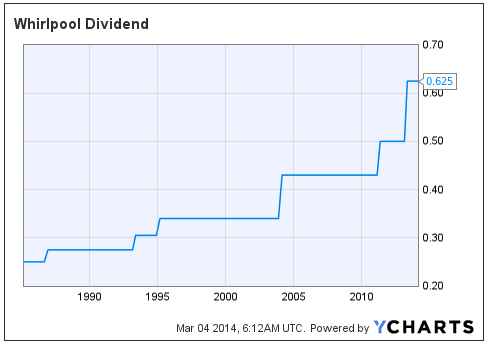 Competitors and Group Comparison
A comparison of key fundamental data between Whirlpool and its main competitors is shown in the table below.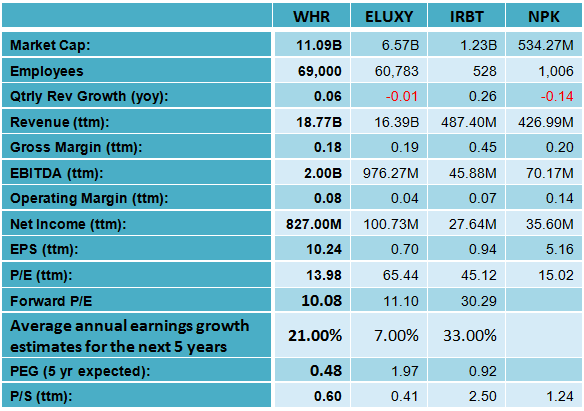 Source: Yahoo Finance
Whirlpool's valuation metrics look better than those of its main competitors. Whirlpool has the lowest forward P/E ratio, and by far the lowest PEG ratio among the group.
Technical Analysis
Personally I am using only fundamental analysis for my investment decisions. After many years of experience, and after having tried all kinds of decisions making including technical analysis, I have reached the conclusion that relying on fundamental information is giving me the highest return. Nevertheless, some investors are successfully using technical analysis to find the proper moment to start an investment (I am not talking about traders, my analysis is only for investors). The charts below give some technical analysis information.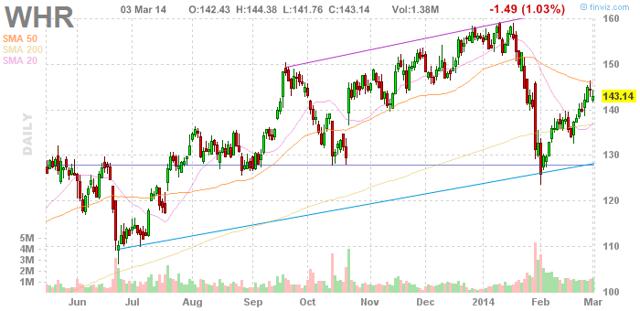 Chart: finviz.com
The WHR stock price is 4.77% above its 20-day simple moving average, 2.12% below its 50-day simple moving average and 4.55% above its 200-day simple moving average. That indicates a short-term and a long-term uptrend.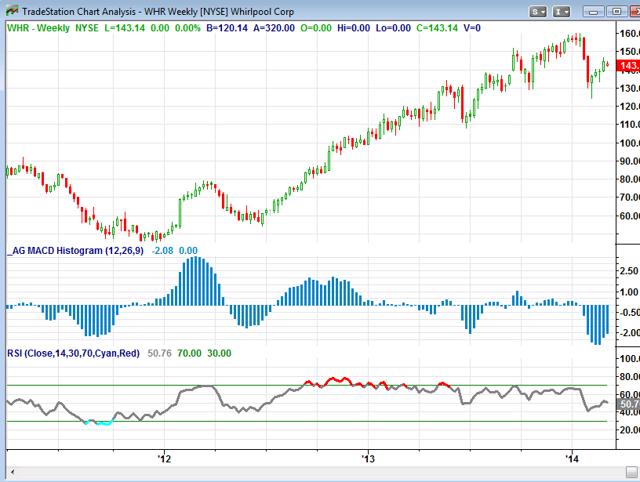 Chart: TradeStation Group, Inc.
The weekly MACD histogram, a particularly valuable indicator by technicians, is negative at 2.08 and ascending, which is neutral signal (a rising MACD histogram and crossing the zero line from below is considered an extremely bullish signal). The RSI oscillator is at 50.76 which do not indicate oversold or overbought conditions.
Analyst Opinion
Analysts' opinion is divided. Among the eight analysts covering the stock, one rates it as a strong buy, three rate it as a buy, three rate it as a hold and one analyst rates it as an underperform.
Megan McGrath, an analyst at MKM Partners (A five star rated analysts according to TipRanks) recommended the stock with a buy rating.
My Take
I think that Whirlpool's decision to become a majority shareholder of the Chinese leading home appliances manufacturer Hefei Sanyo is a smart move. According to Whirlpool, it has a strong presence in China's higher tier segments and this acquisition allows the company to build on, complement, and grow its position in the emerging Chinese market and to leverage its global enterprise for greater efficiencies.
In my opinion, the rebound in the U.S. housing market will benefit Whirlpool and stronger revenues are expected in 2014 and 2015. Furthermore, the recovery of Europe from a long recession will increase demand for home appliances. In addition, the ongoing cost productivity programs of the company and the additional cost and capacity reduction initiatives are expected to improve Whirlpool's results even more.
Risk
Whirlpool sells significant amount of products to some big customers. The loss of, or substantial decline in volume of, sales to Lowe's, Sears, Home Depot, hhgregg, Best Buy, GPA - Grupo Pão De Açúcar, Ikea, Alno, Suning, major buying groups or builders, or any other trade could adversely affect its financial performance. Additionally, the loss of market share or financial difficulties, including bankruptcy and financial restructuring, by these trade customers could have a material adverse effect on Whirlpool's liquidity, financial position and results of operations.
Conclusion
Whirlpool has compelling valuation metrics and very strong earnings growth prospects, its PEG ratio is extremely low at 0.48, one of the lowest among S&P 500 companies. Furthermore, its valuation metrics are much better than those of its main competitors; its enterprise value-to-revenue ratio is exceptionally low at 0.66 and the enterprise value-to-EBITDA ratio is also remarkably low at 6.16. Furthermore, according to Portfolio123, its two years Sharpe ratio, which measures the ratio of reward to risk, is high at 1.364, much better than the industry median of 0.663 and S&P 500 median of 1.034.
All these factors lead me to the conclusion that WHR stock still has room to go up. Furthermore, the solid growing dividend represents a gratifying income.
Disclosure: I have no positions in any stocks mentioned, but may initiate a long position in WHR over the next 72 hours. I wrote this article myself, and it expresses my own opinions. I am not receiving compensation for it (other than from Seeking Alpha). I have no business relationship with any company whose stock is mentioned in this article.