The giant tobacco company Altria Group (NYSE:MO) has remained a promising investment opportunity and delivered excellent returns to its shareholders. This is because of its historically steady growth in profitability and its reinvested dividends have created wealth for investors. The revenues of cigarette manufacturers were impacted because consumers shifted from premium brands towards cheaper brands due to the economic downturn. Now Altria is facing a slightly uncertain situation due to the declining smoking rate and increasing public awareness regarding the hazards of smoking. To respond to these changing consumer preferences tobacco companies are searching for the growth opportunities to maintain their profitability and also to hold on to their market positions.
In the given situation the e-cigarette market seems to be quite attractive and to grow in this segment of the tobacco market Altria recently introduced the MarkTen brand of e-cigarettes. Initially the company launched MarkTen in two states, Indiana and Arizona. According to Altria MarkTen showed good results and captured 48% of the e-cigarette market share in Arizona in just a few weeks. Considering its popularity, Altria is now going to make MarkTen a national e-cigarette brand. Altria packs a powerful one-two punch with a discount e-cigarette and a premium e-cigarette. MarkTen is a disposable e-cigarette that operates at the lower end of the market. The starter pack will sell for $9.50; consumers will have to pay extra for refill cartridges. Hopefully Altria's strong brand recognition will support the MarkTen brand's growth. Since Altria holds half of the $100 billion U.S. tobacco market the company is targeting roughly $1 billion of the e-cigarette market.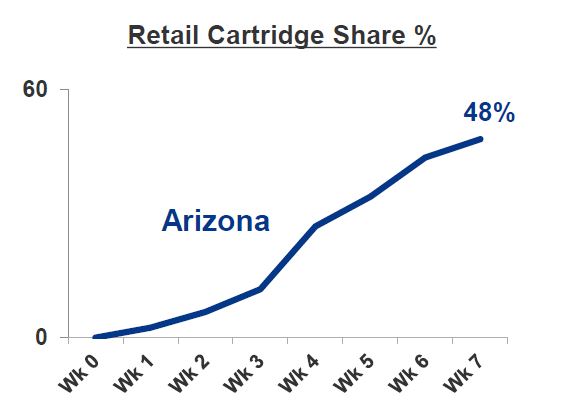 Source: earnings presentation
The general developing perception amongst consumers concerning e-cigarettes is that it is less harmful than traditional cigarette and a growing number of smokers are switching to e-cigarettes. According to a report from statisticbrain.com, 2.7% of U.S. adults have tried e-cigs and some 2.5 million U.S. adults are habitual e-cigarette smokers.
The e-cigarette market reached approximately $1.5 billion in 2013 compared to $10 million in 2007 with essentially a double-digit growth rate and it is expected that in ten years the e-cigarette industry will be as big as the traditional tobacco industry. According to Wells Fargo (NYSE:WFC) e-cigarette sales will exceed $10 billion by the end of 2017 and Bloomberg Industries projects that the sales will exceed traditional cigarettes by 2047.
The following graph shows the e-cigarette total sales year by year.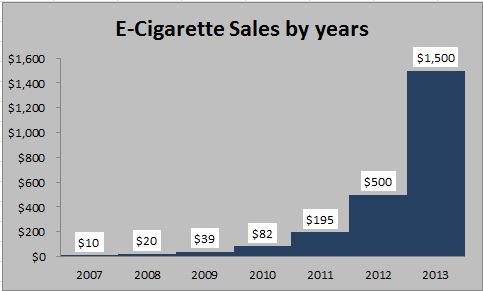 Source: statisticbrain
Altria is comparatively late in the e-cigarette market as Lorillard (NYSE:LO) was the first mover when the company acquired Blu e-cigarettes in 2012 and currently holds roughly 45% of the U.S e-cigarette market. However, Altria is aggressively taking steps to expand its e-cigarette market share in the U.S. and I expect that Altria will eventually succeed in capturing a significant market share after launching MarkTen on a national level. The world-class distribution channels and strong grip on the traditional tobacco market is also a distinctive advantage for Altria to compete successfully in this emerging e-cigarette market.
Altria group's acquisition of an electronic-vapor business Green Smoke Inc. for $110 million and additional $20 million as incentive, combined with its own Nu Mark e-cigarette will bring new insight in the newly developing e-cigarette market. Green Smoke has operations in the United States and Israel. The company has sold e-vapor products since 2009 and its revenues for 2013 were approximately $40 million. Its product lines, sold under the Green Smoke e-vapor brand, include rechargeable and disposable versions. Green smoke sells premium e-cigarettes at prices ranging from $30 to $170, with the most popular pack costing $100 and a majority of its sales in the U.S. are online. Green Smoke's retail sales in c-stores for the 52 weeks ended Dec. 21, 2013 were $3.9 million, accounting for a 0.8% market share. Green Smoke's addition will provide an opportunity for Altria to develop a strong portfolio of e-cigarette brands along with its existing MarkTen products and using its supply chain Altria will have a competitive edge in this emerging industry segment. The benefits of this combination will flow to the company as the e-cigarette market flourishes.
The market for e-cigarettes is relatively new and only a few key players have introduced their products while other relatively small players have also put their products in the market. There a lot of potential for the growth and I think the ideal strategy for Altria to expand in the U.S. and globally will be to acquire small key players with good product lines for its top-line growth in the e-cigarette market.
The global e-cigarette market is two times larger than the U.S. market and also holds much potential for the growth. TechNavio forecasts that the global e-cigarette market will grow at a CAGR of 30.56 percent between 2013and 2018. To avail growth from this lucrative opportunity Altria has made a smart move to reach the international e-cigarette market through strategic partnership with Philip Morris International (NYSE:PM). According to this arrangement Altria is providing Philip Morris with an exclusive license to commercialize Altria's e-vapor products internationally and this agreement will enable Altria to boost its earnings and international market access for its e-cigarettes. The second aspect of this agreement is that Philip Morris is providing Altria, on an exclusive basis, two of PM's heated tobacco products for commercialization in the United States. Through this cross-licensing agreement both companies will take advantage from each other's distribution channels and strength to compete for their market share in the declining traditional cigarettes industry.
It is expected that the volume of traditional cigarettes sold in the U.S. will decline at a CAGR of 4% in the long run due to growing alternatives and rising excise taxes whereas smokeless tobacco consumption in the U.S. is expected to grow at a CAGR of 5% in the long run. Altria's leading position in this category has somewhat insulated it from consumers opting for chewing tobacco and snuff instead of cigarettes especially since its Copenhagen and Skoal brands have a more than 50% share of the U.S. smokeless tobacco market. In 2013, the company's smokeless tobacco sales grew by more than 5% year over year due to growth in the overall market and a higher retail share for Copenhagen.
Conclusion
Altria expects its earnings per share to be in the range of $2.52 to $2.59 with an approximate growth rate between 6% and 9% compared to the EPS of $2.38 for 2013. Altria is quite an attractive stock with an annual dividend per share of $1.92 and an annualized dividend yield of 5.1%. There is also the fact that the company has been increasing its dividend over the past 44 years. The company intends to continue delivering returns to shareholders in the future by maintaining a dividend payout ratio of approximately 80% and a repurchase of approximately $457 million is expected by the end of the third quarter of this year. Compared to its competitors Altria is currently trading at a relatively lower forward P/E ratio of 12.4X with an estimated earnings growth rate of 8%. Altria's aggressive expansion in the e-cigarette market combined with its more than half of holding in the traditional cigarette and smokeless cigarette market makes Altria an attractive investment option and investors should add this stock to their portfolio.
Disclosure: I have no positions in any stocks mentioned, and no plans to initiate any positions within the next 72 hours.
Business relationship disclosure: The article has been written by a Blackstone Equity Research research analyst. Blackstone Equity Research is not receiving compensation for it (other than from Seeking Alpha). Blackstone Equity Research has no business relationship with any company whose stock is mentioned in this article.