American Realty Capital Partners Inc. (ARCP) after Q4 2013 is the world's largest net lease real estate investment trust (REIT) that acquires, owns, and operates single-tenant and multi-tenant commercial real estate properties. Its tenants are primarily investment grade rated. They occupy properties located in town centers and in other well-trafficked, strategic locations. ARCP focuses on acquiring both mid-term and long-term leases. These provide for both monthly income generation and growth potential over the long term.
ARCP instantly became the largest publicly-traded net lease REIT business by closing its merger with Cole Real Estate Investments (NYSE:COLE) on February 7, 2014 -- an $11.2B acquisition/merger. In Q4 2013 ARCP improved its AFFO (adjusted funds from operations) available to common stockholders by 153% to $55.8 million. It increased AFFO per diluted share by 108% to $0.25. It generated proceeds of $690.0 million in convertible note offerings at an average cost of 3.4%. It grew its annualized monthly dividend in December to $0.94 with the closing of the CapLease Inc. deal. It increased the annual dividend again with the closing of the Cole Real Estate Investments deal to $1.00 per share. This last made ARCP 64% larger than the closest comparable net lease REIT. The guidance for FY2014 AFFO of $1.13 to $1.19 per share allows for possible further dividend increases. ARCP expects the Cole merger to allow for $70 million of annual expense synergies in the first year.
Some of ARCP's biggest recent actions are:
ARCP expanded its credit facility to $2.4B and again to $2.97B in line with these deals. Connected with the above ARCP also got debt rating upgrades to investment grade from Moody's (to Baa3) and from S&P (to BBB-). Part of this upgrade was due to size. Partly size and scale create operating and revenue efficiencies, including lower cost of capital and superior growth opportunities. Partly the rating agencies liked ARCP's 47% investment grade (and 83% rated) tenancy and its 99% occupancy rate. Partly the rating agencies liked the decline in net debt to EBITDA ratio from 9.1x to 7.7x by year end 2014. Including preferred securities the ratio declined from 11.2x to 8.7x. Partly ARCP gained from the acquisition of COLE's management team.
COLE shareholders did well in this deal. They got 1.0929 ARCP shares or $13.82 in cash. Most likely elected the stock swap. The implied consideration was $14.59 -- a 13.8% premium to COLE stockholders closing price on October 22, 2013. On top of the gain from the stock swap, COLE shareholders got a 51.8% increase in the annual dividend rate. If you liked COLE before the merger, why would you not want to own ARCP?
The following chart shows ARCP's new lease leadership in its industry (combine the ARCP and COLE sections) as of October 22, 2013.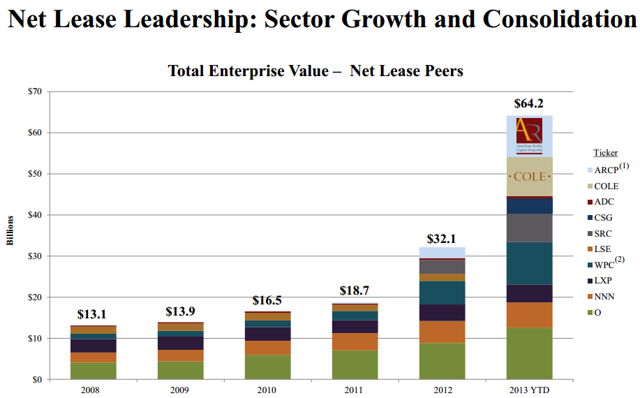 W.P. Carey Inc. (NYSE:WPC) and Realty Income Corp. (NYSE:O) are ARCP's biggest competitors; and each of them is only about half the size. ARCP should benefit from scale advantages.
The table below shows ARCP's top investment grade rated tenants.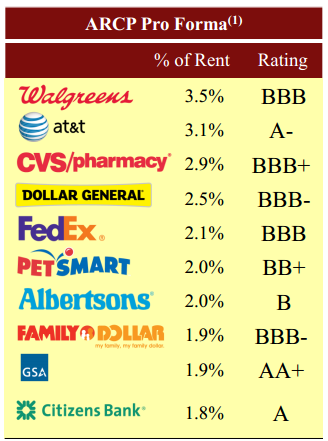 With tenants like these, ARCP should be able to survive well even in an economic downturn. That makes it a great stock to own in uncertain times.
On top of the tenant quality, ARCP has a very attractive lease portfolio maturity profile (see chart below).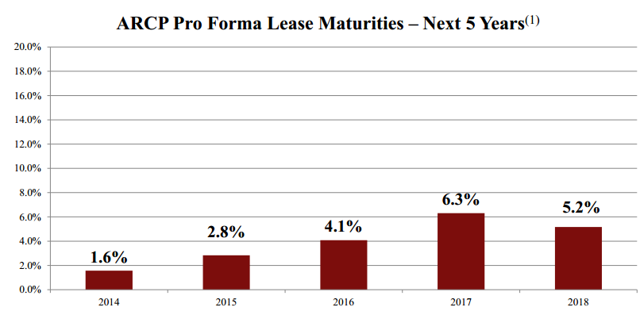 ARCP has an almost guaranteed income for the next 2 years. Its weighted average remaining lease term is about 11 years. This stability may be propitious given the recently weakening global economic profile. For instance, the US Q4 GDP was recently revised downward from 3.2% to 2.4%. The Chinese February HSBC PMI was 48.5 (contraction). There are many smaller countries such as the Ukraine, Argentina, Thailand, Turkey, etc. that are experiencing economic troubles or political troubles (or both). The recent flight to quality (US Treasuries) is testament enough to the seriousness of those problems. Since December 31, 2013 at which time the 10-year US Treasury Note yield was 3.03%, the yield has fallen to 2.69% as of this writing March 4, 2014; and it was at 2.60% on March 3, 2014.
ARCP is not resting on its laurels either. It has become internally managed; and it is showing its colors. It has already originated $1.0B in closed and under contract acquisitions in Q1 2014. These comprise 260 properties in 83 individual transactions at an average cap rate of 8.3% (8.0% cash cap rate). It has built to suit $120.0 million that have been completed to date; and it has approximately another $800.0 million of additional assets in this pipeline.
ARCP also acquired a private capital management business in the COLE deal -- Cole Capital. This business raised a record $3.7B in capital in 2013. It expects to raise approximately $950 million in Q1 2014, with $864.6 million raised already as of February 26, 2014. As of February 26, 2014, the managed funds owned 496 properties. These were comprised of 29 million square feet. They were occupied by 49% investment grade corporate tenants with a weighted average remaining lease term of 12.3 years. The properties consisted of $4.9B of gross real estate assets. This business can only benefit the now internal management of the other ARCP businesses.
In sum ARCP's new investment grade debt status and its new size put it squarely into the Blue Chip category for its subsector. It is a buy on fundamentals. It is a buy on its debt upgrades. When ARCP also pays a 6.72% annual dividend, it compares well in this way to its biggest competitors -- W.P. Carey Inc. and Realty Income Corp. . WPC pays an annual 5.41% dividend; and O pays a 4.94% annual dividend. ARCP easily outperforms its now smaller competitors.
The two year chart below of ARCP provides some technical direction.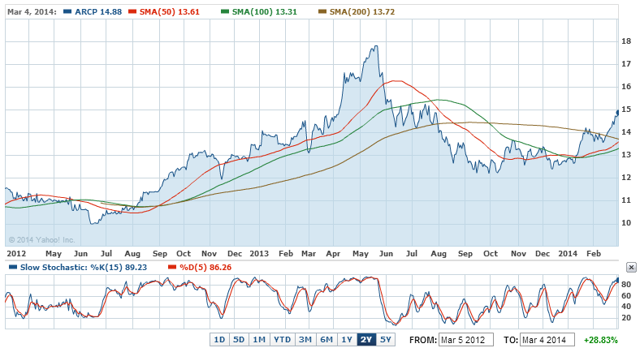 The slow stochastic sub chart shows that ARCP is at overbought levels. The main chart shows that ARCP has just begun a new uptrend in the last few months. This may keep going based on the recent fundamentals, especially when you consider that the AFFO may end up much higher than the current estimate without any 2014 acquisitions factored in. Since the company is now largely comprised of Cole Real Estate Investments Inc. assets and management, it seems appropriate to take a look at COLE's stock recent price performance. The one year chart of COLE below provides some technical direction based on the last year of COLE's stock price performance.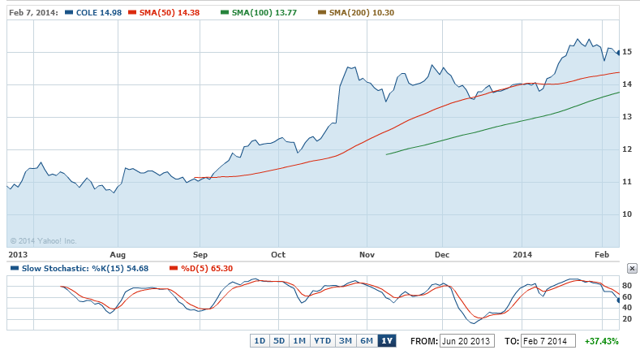 The COLE chart shows that it has maintained a strong uptrend over the last year. The 37.42% gain in the stock price testifies to the market's evaluation of COLE's stock price performance over that time (great).
With a higher dividend, the old ARCP, and a likely more troubled world economic environment, the stock performance of COLE merged with ARCP (the new ARCP) may fall off from COLE's most recent performance; but the new ARCP should still be a solid performer. It is a buy. It has an average analysts' recommendation of 2.0 (a buy) and a CAPS rating of four stars (a buy). Investors probably won't go very far wrong with this one. However, investors may still wish to average in over 2014. The market environment is very uncertain at this time; and ARCP would likely go down with a market fall. Plus ARCP is technically overbought at this time.
NOTE: Some of the above fundamental financial information is from Yahoo Finance.
Good Luck Trading.
Disclosure: I have no positions in any stocks mentioned, but may initiate a long position in ARCP over the next 72 hours. I wrote this article myself, and it expresses my own opinions. I am not receiving compensation for it (other than from Seeking Alpha). I have no business relationship with any company whose stock is mentioned in this article.