Executive summary:
Introduction to the 4% plan with its asset allocation strategy and major categories divided into equities, bonds, commodities and cash, with equities further divided into five subcategories.
Currency risk as a 2014 macro theme with rising rates review.
The 4% plan incorporated as a new, $1 million income portfolio that yields over 5% in the first year.
Review of the investment targets, allocations and equity portfolio allocations.
The pursuit of solid income and future trading strategy should provide a low-cost solution of both stable, growing income and long-term capital growth.
_______________________________________
In mid-2013 I began writing a series of articles focused on building a diversified income-based portfolio. The series is called The 4% Plan and is based on realizing a solution for the needs of current income, growing income and portfolio growth to last in perpetuum.
The first article in the series was intended to be stand-alone, however the interest and feedback was so strong that I began updating the plan several times.
The premise of the plan has worked well, however, without a particular portfolio in place there was no method of tracking performance. Through reader feedback requesting such a portfolio, I have created The 4% Plan Portfolio with a hypothetical $1 MM investment.
The Portfolio Allocations
To begin with the asset allocation strategy, the portfolio distribution is measured in two different ways. The initial distribution divides weightings between equities, bonds, commodities and cash.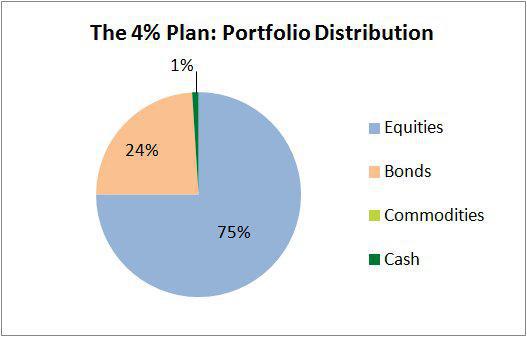 Second, the portfolio subdivides equities into five categories in order to preserve a lower risk profile through diversification. To recap from the The 4% Plan: March 2014 Allocation Update article, published February 28, 2014, the following portfolio targets were recommended: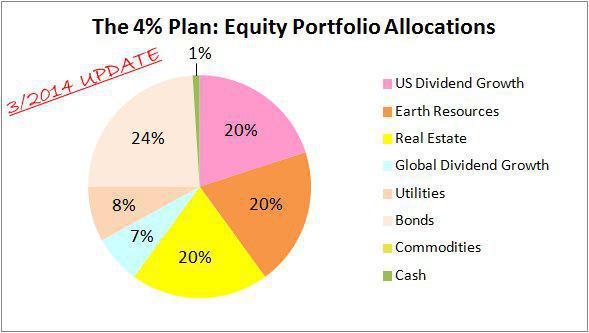 The five equity categories are U.S. dividend growth, earth resources, real estate, global dividend growth and utilities. In short, stocks and funds in the equity division are rated in these categories which may overlap, depending on the fund.
The three specific categories are earth resources, which includes natural resources such as energy, energy-related stocks and commodity producers; real estate, represented with the REIT stock vehicles and utilities, which is a broad definition to include regulated infrastructure plays including telecom, railways and ports.
These three categories may be represented by the U.S. as well as global corporations.
The other two equity allocation classes are U.S. dividend growth and global dividend growth, which may not be part of the above three classes (earth resources, real estate and utilities).
The dividend growth category is represented by companies and funds that aim to provide growing annual dividends. They are split into U.S. and ex-U.S. categories, dependent on the company headquarters as an effort to manage risk through diversification.
Managing Currency Risk: The New Macro Theme
While rising rates was the key macro theme last year that helped damage the REITs and throw bond investors for a loop, now that the Fed has started the taper rates have actually reversed and as such, the demand for the U.S. dollar has increased.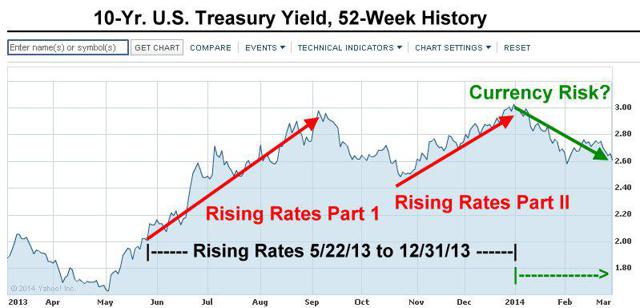 Chart source: YAHOO! Finance
This reversal of rates and new theme may be referred to as currency risk. This macro theme dictates that the demand for emerging markets and commodity-based nations' assets are reduced with the strengthening dollar. As such, EM and commodity nations are seeing a flight of capital as demand for currency and currency-based assets shifts to the non-Yen reserve currency nations, specifically the U.S., EU, Switzerland and the United Kingdom.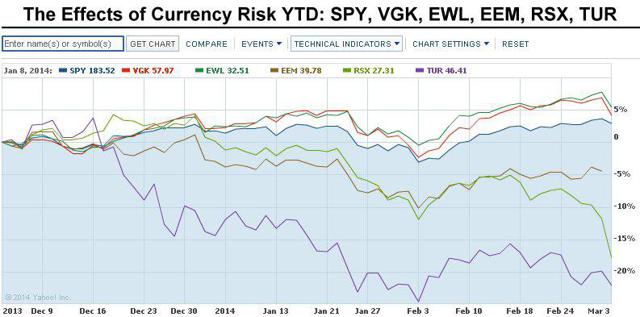 Chart source: YAHOO! Finance
Currency risk, as seen in the sample of index ETFs above, showcases an increase in demand for reserve currency stock markets as the U.S. S&P 500 (NYSEARCA:SPY), FTSE Developed Europe Index (NYSEARCA:VGK) and MSCI Switzerland 25/50 (NYSEARCA:EWL) are all positive on the year.
On the other hand, when looking at EM & commodity nations, the MSCI Emerging Markets (NYSEARCA:EEM), MSCI Turkey Market (NYSEARCA:TUR) and the Market Vectors Russia Index (NYSEARCA:RSX) are all negative for the year.
Managing Risk Through Macro Themes Works
While managing risk through diversification is a great strategy, using macro themes as an investment

thesis can help investors reduce risk. For example, last year when the Fed announced their taper target, a new macro theme was born called "rising rates."
The idea was that with a taper in place, long-term bond rates (based on the 10-year U.S. treasury benchmark yield) would rise as bond demand weakened. As such, rising rates would reduce the demand for income-producing securities and income-related investments, such as REITs and bonds. As the year wore on, rising rates became a self-fulfilling prophesy, especially in Part II (10/25/13 to 12/31/13).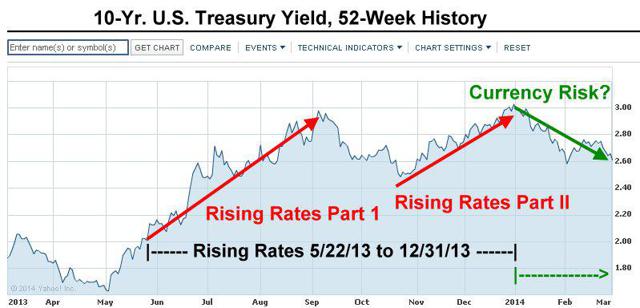 Chart source: YAHOO! Finance
The traditional U.S. equity REITs that own and lease or rent real property such as hotels, hospitals, storage facilities, retail stores and apartments are best represented by the Vanguard REIT Index ETF (NYSEARCA:VNQ).
Using the rising rates macro thesis, in 2013 investors may have sold REITs once this theme presented itself. Even though most investors are option-free and long-only, selling holdings and not owning the sector would have staved off massive capital destruction.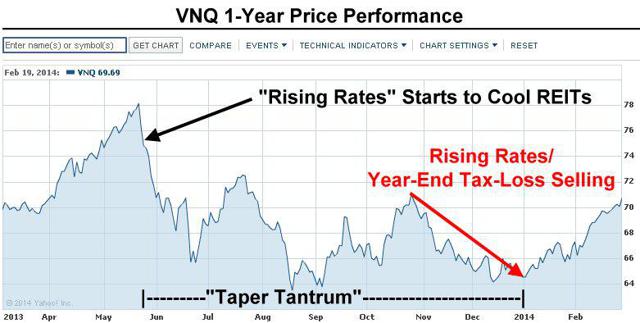 Chart source: YAHOO! Finance
Once the VNQ started turning up big in mid-October 2013, it appeared that rising rates were no longer in effect and investors bought REITs again (between Part I and Part II in 10-year U.S. Treasury chart above).
Although rates did move back down for about six weeks, the REITs were overbought and rising rates, tax-loss selling and fund manager harvesting all became a perfect storm to push the index back near its 52-week low.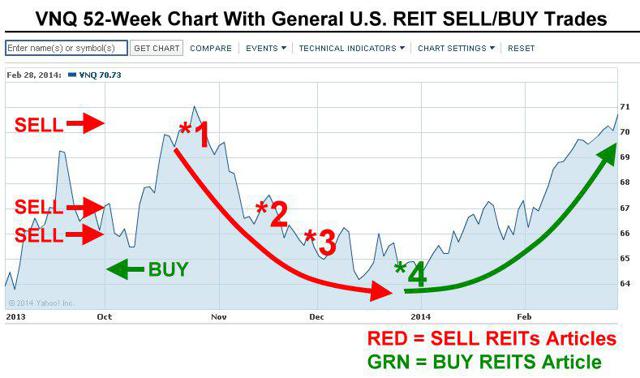 Chart source: YAHOO! Finance
While market-timing is not recommended and it's not always this easy, when investors want to take risk off the table and a great theme presents itself, risk can be managed through loss of potential upside minus the yield of cash.
In other words, risk is mitigated and the only loss is an opportunity cost, which of course may turn into a gain if the assets have lost value during the in-cash waiting period.
For reference, here is a list of the tagged articles from the REIT buy/sell signals chart above.
1. October 21, 2013: The U.S. REIT Market: IYR Is Ripe For A Pullback.
2. November 10, 2013: The REIT Sell-Off Trifecta: Further Weakness Ahead.
3. November 26, 2013: Don't Fight The Tape: U.S. REITs In Decline.
4. December 23, 2013: The Year-End REIT Clearance Sale Of 2013.
The $1 Million Income Portfolio Utilizing The 4% Plan
With the 4% plan as the asset allocation strategy and currency risk as the macro theme, this portfolio is put together using March 3, 2014 closing prices on stocks and funds.
There are no trading fees incurred on the initial portfolio and moving forward, all trading costs will be $9 per equity and fund trade and zero cost for mutual funds trades.
The portfolio will be referred to as the REVCO Perpetual Income Fund for future reference. Here is the fund card, with the relevant information to the fund as it begins its first day of trading.
As stated previously, the asset allocation mix will mirror the 4% plan. The assets are color-coded into eight categories for ease of reference.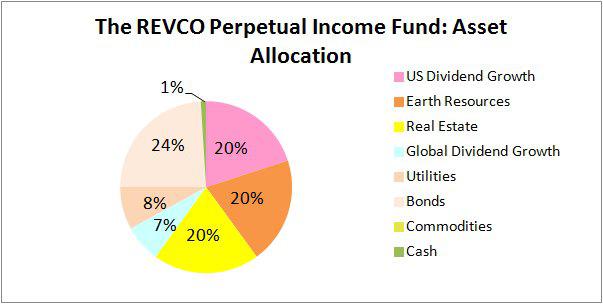 Each allocation category is subdivided into categories of their own, to determine weighting in that particular category as well as category yield impact. For funds holding more than one category, weightings are used and the funds are listed in each applicable category.
One exception is made, which is the Cohen & Steers Quality Income Fund (NYSE:RQI), which is leveraged to include preferred real estate shares. Although classified here as a bond holding, the preferred shares weight remains in the real estate category.
The first category is equity - U.S. dividend growth. The Health Care Select SPDR ETF (NYSEARCA:XLV) has a low yield with a five-year compound annual dividend growth of 7.75% and gives investors low-cost, index exposure to a sector that has a 5-year growth estimate of 12% (within the S&P 500).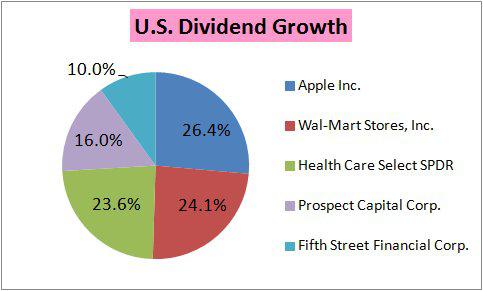 Apple Inc. (NASDAQ:AAPL), Wal-Mart Stores, Inc. (NYSE:WMT) and the XLV fund make up 74% of the portfolio. Apple is picked for its growing dividend and valuation (8.1% earnings yield), which is remarkably low for such a fast-growing company. Wal-Mart is picked due to valuation (7.2% earnings yield), safety, growing dividend and low foreign exposure (22% of earnings).
The list is rounded out with high-yielding BDCs Prospect Capital (NASDAQ:PSEC) and Fifth Street Finance (FSC), both yielding over 10% and trading at the lowest valuation of the BDC group. The total yield from this category is 4.5%.
Next, we have equity - earth resources, also at a 20% portfolio allocation.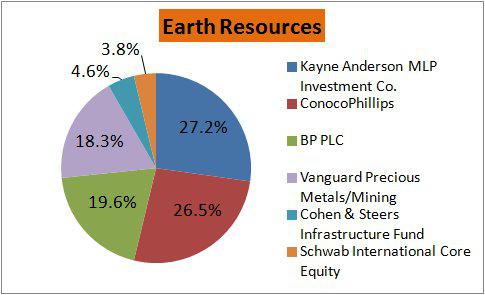 The portfolio is weighted most heavily to Kayne Anderson MLP Investment Co. (NYSE:KYN) for its MLP exposure. MLPs are a high-yielding, growing segment of the domestic economy which is based on energy infrastructure. For the ease of tax accounting, smaller investors may be better off owning MLP funds versus individual names.
The next two holdings are ConocoPhillips (NYSE:COP) and BP PLC (NYSE:BP), both with yields above 4% and earnings yields of 9.3% and 11%, respectively.
The Vanguard Precious Metals/Mining Fund (MUTF:VGPMX) position is used as a low-cost option to own the miners. This is a personal preference to hold exposure to the miners, however, investors are welcome to put an options strategy fund in place should they feel the market may trade sideways over the next year. The BlackRock Global Resources Trust (NYSE:BGR) is one recommended option here.
The next two weightings are from the Cohen & Steers Infrastructure Fund (NYSE:UTF) and the Schwab International Core Equity Fund (MUTF:SICNX). UTF holds 16% of its assets in energy while SICNX is weighted at ~15%.
Also with a 20% portfolio weight is the equity - real estate category, which owns traditional REITs. These companies are backed up by hard assets and use effective leverage to enhance results, however, are not overleveraged as to cause liquidity concerns in the event of an economic contraction.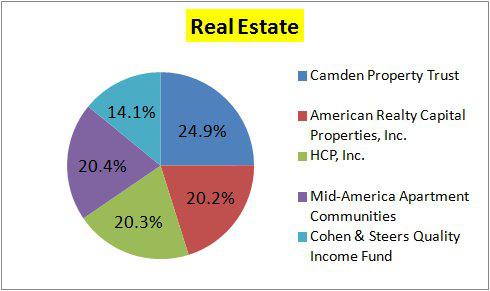 The REIT category holds well positioned industry leaders in three real estate segments, as well as a diversified fund that trades at a significant discount to NAV. All individual REIT selections happen to be U.S.-based companies; however, global REITs are welcome here as well.
The heaviest weighting of a REIT group is given to apartment community landlords Camden Property Trust (NYSE:CPT) and Mid-America Apartment Communities (NYSE:MAA). These are smaller REITs; however, they have excellent geographic distribution and are undervalued and have higher yields versus the larger U.S. apartment landlords.
American Realty Capital Properties (ARCP) is the largest net-lease retail REIT in the U.S., which is also undervalued and yields 6.8% with monthly distributions.
HCP Inc. (NYSE:HCP) is an undervalued healthcare REIT that currently yields 5.6%, the highest among peers. It also remains one of the largest healthcare REITs in the U.S., which further reduces risk.
Moving along, the next category is equity - global dividend growth, which sits at a 7% portfolio weighting.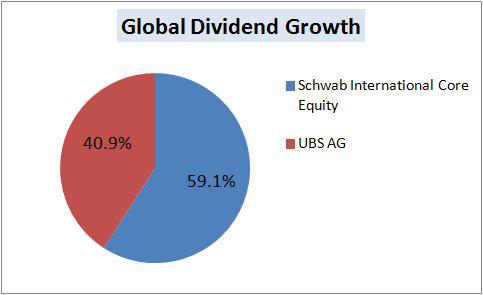 The global dividend growth portfolio is concentrated in developed European nations, which may benefit from currency risk. UBS AG (NYSE:UBS) is a Swiss money-center bank that is in a major uptrend and holds a ~41% weight in this category.
Charles Schwab (NYSE:SCHW) may be an overvalued stock but as an asset manager, their funds are growing and compete among the best in the industry both on cost and performance. Depending on advisors and transaction fees, another fund may benefit in this place.
SICNX is a managed European large-cap fund that is flexible enough to have the right to move into high cash levels when needed. It uses Schwab's proprietary investment-grading system to determine holdings and has outperformed the Vanguard FTSE Europe ETF over the past 5-year, 2-year and YTD periods.
Next we have the equity - utility segment of the portfolio, weighted at 8%, with major holdings in the developed world telecom sector.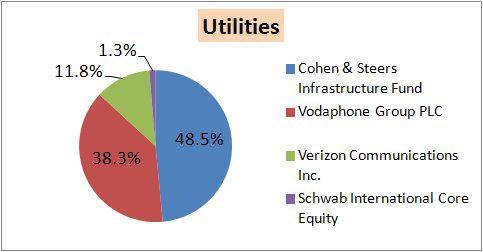 Leading the way is the Cohen & Steers Infrastructure Fund, which trades at a discount to NAV, yields 6% and is split about evenly between the U.S. and ex-U.S. companies. This fund is an excellent choice due to yield and broad access to utility sectors not covered in the U.S., such as airports, toll roads and seaports.
The fund is balanced with shares of Vodafone PLC (NASDAQ:VOD) and Verizon Communications Inc. (NYSE:VZ), both stable, solid dividend payers that well represent wireless telecom both at U.S. (Verizon) and Europe (Vodafone).
SICNX once again is represented here as a small slice of the fund is invested in the traditional utilities sector.
With 75% invested in these equity categories, 24% is left for bonds and a 1% is held in cash reserves to insure a constant three-month supply of monthly ~4% annualized equity distributions.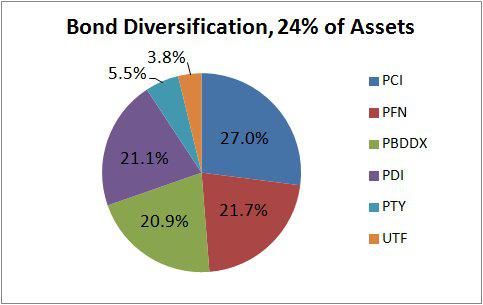 The bond portfolio is tilted with all bond funds managed by industry-leader PIMCO. While investors may prefer to spread this part of the portfolio among managers, others may agree that due to bond fund pricing, historical performance and leadership position that trusting PIMCO may be a well-recommended position.
The portfolio here is managed using several closed-end funds. By targeting funds that are trading below NAV, the overall portfolio position here is bought for -1.6% of NAV. In other words, this particular portfolio allocation owns bond funds for an average of $0.984 on the dollar.
Funds here include (NYSE:PCI), (NYSE:PFN), (MUTF:PBDDX), (NYSE:PDI) and (NYSE:PTY). UTF is weighted at 16% of UTF assets as the utility CEF has 11% of assets in bonds and 5% in preferred shares.
Portfolio Strategy Moving Forward
The primary strategy of the fund is to mimic the 4% plan that aims to provide perpetual, growing income at a rate equal to at least 4% of assets in the first year. Subsequent years should provide additional income above inflation at a rate of 3% or higher.
The portfolio should also grow over the long-term at a rate above inflation. A minimal trading, based on macro themes and infrequent category reallocations, aim keep trading cost low. Also, specific stocks should be owned when valuations make sense, if they fall out of line or competitors are priced favorably, trades may be placed as well.
The fund also aims to have a majority of the monthly investor distribution covered by monthly dividend players to lower the cash reserve base (as cash returns are basically nil). Investors could build a short-term CL ladder to increase cash returns here with about 1/2 of the cash position, however this will not be done as part of the current strategy to ease portfolio tracking.
With the initial portfolio yield coming in at 5.08%, a $3,400 per month investor distribution comes to a 4.08% yield on capital invested. The payout ratio, determined by investor distributions at 4.08% divided by the total portfolio yield is a healthy 80.4%. This leaves room for a distribution well above 3% for two years, regardless of dividend raises fielded by current holdings.
Valuation is also a concern and as such, the fund segment of the portfolio is targeted for purchase at a discount and the equity segment of the portfolio is targeted to have an earnings yield above the general market.
Representing 50.4% of the portfolio, the aggregate fund premium is -2.3% through ownership of closed-end funds in both equity and bond allocations. When accounting for the entire $1 MM portfolio, the aggregate portfolio premium is -1.16%.
In this regard, the NAV of portfolio holdings is $1,016,601.62, as aggregate assets here have been purchased at $0.984 on the dollar. While CEF premiums will always vary, this aspect of the portfolio reduces risk and translates to ownership of an additional ~$16,600 of assets on day 1.
Using the 2014 earnings yield of stock selections, a measurement of profitability on the stock portfolio can be used to stack against bond rates and the S&P 500 earnings yield. The current aggregate earnings yield of the selected stocks, including REITs as measured by FFO (funds from operations) in place of EPS, comes in at 8.45%.
At the S&P 500 March 3, 2014 closing price of 1845.73 and 2014 projected EPS of $122.29, the S&P 500 earnings yield is 6.63%. In this regard, individual stocks, as represented by 48.56% of this portfolio have an earning yield 182 basis points above the general market.
Conclusion
By focusing on reader interest and following through with this $1 MM portfolio based on the 4% plan, I hope to engage readers with trackable performance. I will update this portfolio as needed, in terms of trading, renewed asset allocations, year-end performance and of course any shifts in the macro strategy.
Also, I've always dreamed of owning my own hedge fund and asset management firm called REVCO, which stands for Return on Equity Venture Company. REVCO is inserted here just to title the $1 MM fund, which is called the REVCO Perpetual Income Fund.
There is currently no real REVCO Perpetual Income Fund. As stated previously, this fund is a response to reader feedback and is designed to track my investment strategy using the 4% plan.
Disclosure: I have no positions in any stocks mentioned, and no plans to initiate any positions within the next 72 hours. I wrote this article myself, and it expresses my own opinions. I am not receiving compensation for it (other than from Seeking Alpha). I have no business relationship with any company whose stock is mentioned in this article.