As many investors know, firms can often become cheap for good reasons. That is, they are not trading cheaply because of Mr. Market's irrational behavior, but instead are trading at depressed levels due to deteriorating underlying fundamental characteristics that actually justify its current share price, even if traditional valuation techniques (such as P/E multiple analysis) suggest the firm's shares are inexpensive. On a similar note, firms that boast high dividend yields may do so because the market has little confidence in the sustainability of its dividend and believes a cut may be just around the corner.
Though we fall short of saying that offshore deep-water drilling company Seadrill (NYSE:SDRL) will slash its dividend tomorrow, our dividend-cut predictive indicator - the Valuentum Dividend Cushion™ - indicates that the firm is at significant risk for a dividend cut in coming years (see the Dividend Cushion's track record here). Since management teams and their respective boards often try to use a dividend increase as a signal of optimism for future business prospects (even when prospects aren't good at all), it usually ends up as a surprise to investors when management teams 'rip off the Band Aid' and cut the dividend / distribution. We don't have to look too far to see how many investors were devastated by Boardwalk Pipeline's (NYSE:BWP) recent distribution cut.
In February, Seadrill reported fourth quarter 2013 results. Though operating profit expanded in the quarter thanks to new rigs entering service and continued solid operational performance, free cash flow faced significant pressure during 2013. Net cash provided by operating activities advanced to $1.7 billion from $1.6 billion last year, but cash outflows related to 'additions to newbuildings' and 'additions to rigs and equipment' both expanded significantly, pressuring free cash flow. We'd be less concerned about growth if Seadrill had a healthy balance sheet, but with cash (including restricted and marketable securities) of $1.3 billion standing down a mountain of long-term and short-term debt of $14.9 billion at year's end, it's hard to find comfort in Seadrill's financial standing.
If the incumbent credit agencies were to rate Seadrill as a corporate, in our view, its debt would almost certainly be classified as junk. Morningstar (NASDAQ:MORN) gives Seadrill a junk credit rating of B, which translates into a rating of 'high default risk.' Investors should be cognizant of the hierarchy of the capital structure. If a firm's debt is risky, and equity is subordinate to debt, dividend payments at Seadrill should be considered about as risky as it gets. The company's Valuentum Dividend Cushion score of -0.2 speaks to this heightened risk profile, which may not be fully embraced by holders of Seadrill's stock.
Yet, Seadrill's management added fuel to the fire when it raised its quarterly cash dividend another 3% in the quarterly release, to $0.98 per share (or $3.92 annually or an 11% annual yield). Management is just setting up investors for a huge disappointment in the years ahead, in our view. We think the board is just being stubborn in not recognizing these risks, but the market is far the wiser. Let's take a look at the recent share price performance of Seadrill. An 11% yield means little when the firm's equity trails the market 25% since its peak in 2013 (orange line is the performance of the S&P 500).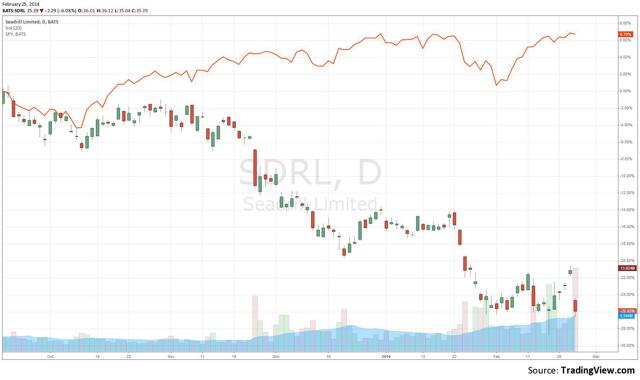 If this weren't enough for most investors to jump ship, the company was very cautious about the market environment in its fourth-quarter press release. Seadrill noted that the short-term outlook for floaters has been negatively influenced by slower growth in capex from major oil companies. The firm went on to say that it has "encountered numerous instances of oil majors reducing spending, especially in exploration and in certain high cost areas of production." The market for high specification jack-up units has been a distinct bright spot, and its premium ultra-deepwater floaters and high-specification jack-up fleet should handle the market well. However, weakening overall market fundamentals and high debt obligations may make sustaining the dividend increasingly more difficult in the years ahead.
Valuentum's Take
Seadrill is simply not a company that should be paying a dividend at all. The company's debt obligations are far too great to be an income idea, and its investments (cash outflows) are dwarfing operating cash-flow generation. The entity's finances are seriously mismanaged. It needs to decide whether it is a growth company or an income entity - it cannot be both and benefit equity holders. In any case, investors should be cognizant of the significant risk of the dividend.
Disclosure: I have no positions in any stocks mentioned, and no plans to initiate any positions within the next 72 hours. I wrote this article myself, and it expresses my own opinions. I am not receiving compensation for it (other than from Seeking Alpha). I have no business relationship with any company whose stock is mentioned in this article.