Exxon Mobil (NYSE:XOM) is the largest publicly traded energy company in the world and it has a successful history of profitability and dividend growth. Many investors get their exposure to the oil industry by adding this company to their portfolio and it is pretty rare to see a major mutual fund exclude this stock from their portfolio.
After peaking at just north of $500 billion right before the recession in 2008, Exxon Mobil's market cap fell to as low as $295 billion. Later on, the company's value recovered to about $420 billion, but the company's investors have been underperforming the market for the last couple of years. Many investors are unsure about whether Exxon Mobil can post further growth and there are others who think that the company is too big to grow and further.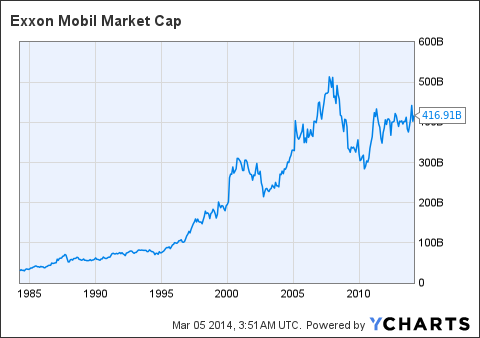 Over the years, Exxon's revenues and profits grew nicely, helping the company to become the most valuable energy company that is not owned by a government. In the last 12 months, Exxon Mobil generated nearly $439 billion in revenues and $32.60 billion in net profit. Notice that while in the short-term, the company's revenues and net income seem to trend downwards, the long-term trend looks solidly upwards.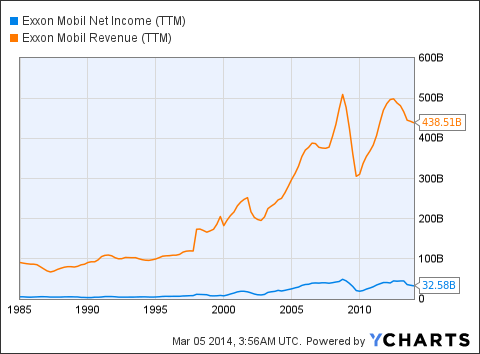 Over the years, Exxon Mobil became really good at managing its assets and maximizing its profits. As the first decade of the 21st century was coming to an end, Exxon Mobil's return on assets and free-cash-flow to assets reached nearly 20%. Currently, both metrics are down and the company's return on assets is right below 10% and its free-cash-flow to assets is just above 3%, but this is due to the heavy investments the company is making towards its future. Between 1990 and 2010, the company became increasingly better at turning its assets into profits and once the short-term troubles are over, we may be able to see this trend making a return in the long run. Exxon Mobil has one of the most conservative management teams in the world and the company is very careful about managing its liquid and non-liquid assets to maximize value for the shareholders.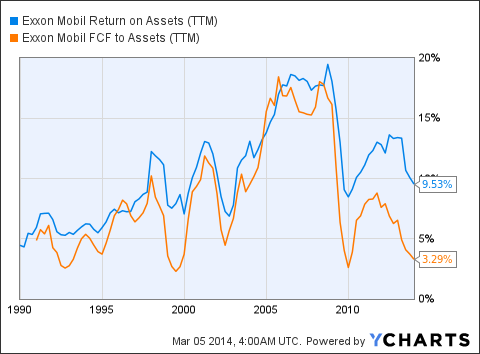 Speaking of maximizing value for the shareholders, much of Exxon Mobil's profits make their way to investors in one way or another. The chart below shows the relationship between Exxon Mobil's yearly free cash flow and its annual dividend payments. For example, in the last 12 months, the company's free cash flow was $2.55 per share and its dividend payment was $2.46 per share. The rate of payment looks dangerously high and many people may be concerned about the sustainability of such dividends; however, Exxon's long history of dividends give us plenty of comfort. After all, the best predictor of the future behavior is the past behavior.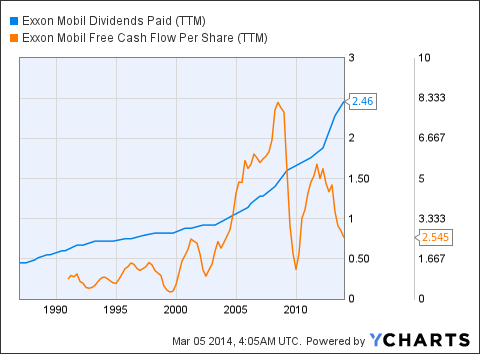 Exxon Mobil has also been busy with buying its shares back so that each share becomes more valuable. In the last 10 years, Exxon Mobil's average diluted share count fell from 6.5 billion to 4.36 billion, and if this trend is our guide, the share count will fall below 3 billion in another decade.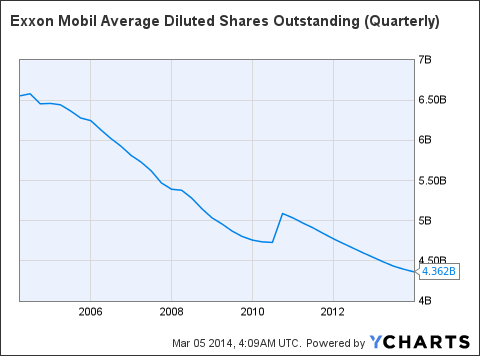 In the next 3 to 4 years, Exxon Mobil will be investing heavily in order to increase its production and the company is expected to increase its oil production by about 3 to 4 percent per year in the next few years. Exxon Mobil is scaling back on natural gas production and increasing oil production because the current prices of natural gas and oil dictate more oil production and less natural gas production for the increased profitability.
The ongoing projects of Exxon Mobil in Bakken Shale, Permian Basin and Kara Sea will continue to drive further production growth for the company; however, in the short term, these projects proved to be largely capital intensive. As I mentioned above, Exxon Mobil is good at managing its assets, and the company's refining costs are about 10% below its peers.
Of course, as with every oil company in the world (from the smallest to the largest) Exxon Mobil is also heavily dependent on high oil prices for profitability. The company has very little control over oil prices despite its massive size and it will have to watch out for its cost structure if the oil prices start showing volatility. I am also curious to find out how Exxon's partnership with Russia works out in the long term. The company's investments in Russia present big risks as well as opportunities. Most of the risks are related to the country's political structure and most of the opportunities are tied to the fact that Russia has a lot of untouched oil reserves and Exxon faces very little competition to seek and utilize these reserves due to its partnership with the Russian government.
Finally, if we look at Exxon's valuation, the company is currently enjoying a P/E ratio of 13, which is historically low. Typically, Exxon's P/E tends to be closer to 15-16; however, keep in mind that for the most part of its history, the company enjoyed faster growth rates than it does today.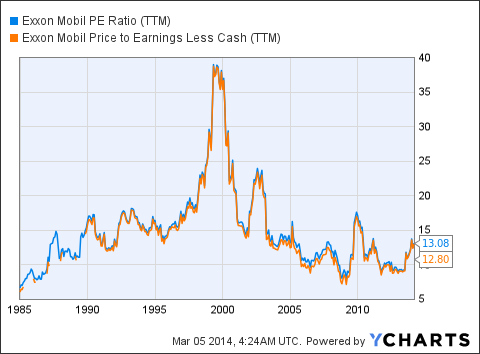 Analysts expect Exxon to see declining earnings for the next few years. This year, the company is expected to earn $7.78, followed by $7.65 in 2015, $7.00 in 2016 and $5.59 in 2017. Keep in mind that only 3 analysts have offered their prediction for 2016 and only one analyst have offered his prediction for 2017 so far, so these numbers are likely to change in the future.
If Exxon's heavy investments around the world pay off and the oil prices remain high, the company's stock price will be recovering. There is some risk around this company in the short term, however, Exxon's history suggests that the risk is usually minimal. Since the company has so many ongoing projects all over the world, it has the flexibility to reduce its exposure to certain geographic regions if things get hot in those regions. I don't expect Exxon's share price to move much in the next year; however, the company's dividend yield might be worth a try.
Disclosure: I have no positions in any stocks mentioned, and no plans to initiate any positions within the next 72 hours. I wrote this article myself, and it expresses my own opinions. I am not receiving compensation for it (other than from Seeking Alpha). I have no business relationship with any company whose stock is mentioned in this article.