As we enter 2014, Baidu (NASDAQ:BIDU) continues to own the largest share of China's search engine market. The company is growing mobile revenue and seeing strength in its growing business. Yet, the competition in China is becoming more and more fierce, as Qihoo 360 (NYSE:QIHU) and Sogou have cut Baidu's lead from 78.6% to 63%. Yet, the market is shifting rapidly to mobile, and Baidu has shown both great vision and concentration in this new battleground. Moving into 2014, we see a lot more upside in shares to hit at least $210, if not higher, pushing above our 2013 target of $180.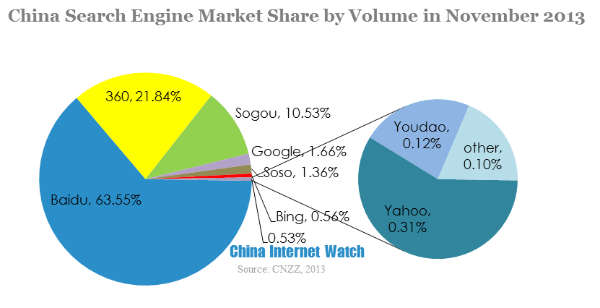 As we will present in this article, Baidu has great potential moving into 2014. The potential growth in mobile revenue is the main catalyst for the company in the following years, and success there will definitely define the movement of shares for the coming years. We will show you how the company has been devoting great efforts to develop and improve its mobile search experience for the customers, as well as discuss its advantages against other competitors.
In addition to its mobile search, Baidu has aggressively expanded into new businesses in mobile with the acquisition of APP distribution platform, 91 Wireless, and mobile operating system, Tizen. With all its strategies, combined with the rapidly growing mobile market in China, we can expect Baidu to thrive. The question, though, is whether or not the company's value is positive or not.
Industry Trends
The most exciting part of Baidu's strategy in the mobile search business is that it's part of a mobile market explosion that is happening right now in China. According to Digital Market Asia, "mobile search in China increased over 143% in 2012." With the explosive growth of mobile internet-connected (3G or WiFi) devices, this trend will only grow. It is expected that by 2015, the number of mobile searches in China will exceed PC desktop... In fact, right now, two out of three searches on Baidu are performed on a mobile device - either a smartphone or a tablet."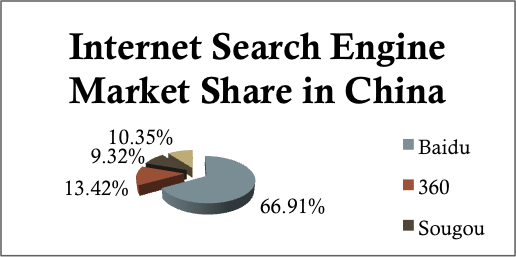 Main Catalyst
Compared to traditional PC search, mobile search is the real battle ground for search engines in the next few years. In China, mobile search traffic grew 94% from 2012 to 2013, while PC search traffic dropped 20% in the same time period. This is partly due to the 100% growth rate in smartphone subscription. The popularity of wireless networks and the improvement of high-speed LTE service are also major factors. Combined with the huge population, there is plenty of room for search engine companies, like Baidu, to expand their business and generate great revenue. The formula here is very simple. The more market share the company owns, the more investors would like to put their ads on your search engine. "Businesses had bigger budgets to run ads on Baidu's platform," noted Ricky Lai, an analyst at Guotai Junan International Holdings Ltd. in Hong Kong. Baidu's "strengthening mobile position also helps with traffic."
Baidu has attached great importance to its mobile business. Back in October 2012, the CEO of Baidu, Yanhong Li, told an audience at Stanford that mobile revenue represented less than 10 percent of the company's business, even though it had more than tripled over the year 2011. He also revealed that the company is putting 25 percent of its research and distribution efforts into mobile. By July 2013, mobile revenue hit a record high, accounting for more than 10 percent of total revenue. In this time period, the total revenue of Baidu grew at 38.58%, showing just how quickly mobile revenue was growing to take revenue share in a rapidly expanding business. According to Baidu's Chief Financial Officer, Jennifer Li, "Our investments in mobile are already beginning to bear fruit."
As of Q4 2013, mobile accounted for over 20% of its total revenue. Mobile revenue increased nearly $200 million, a remarkable 155.40% growth rate. If we continue to apply these trends for the first half of 2014, we will get $514.6 million for mobile and $1,428.3 million for the rest of the business, adding up to a total revenue of $ 1,942.9 million, which represents a 57.7% growth over 2013. Mobile is the key ingredient now to revenue growth and BIDU's future.
Based on the company's desktop dominance, Baidu has been one of the leaders in China's transition to the mobile market. Baidu officers claim that they own more than half of the mobile market share. Research firm, Maxim estimates that Baidu has now grabbed 57% of the mobile search market. The research firm also believes that Baidu has overwhelmingly large shares in browser-generated queries (69%) and mobile search app-generated queries (75%). Compared to its own data at past, the number is still exciting. According to the data collected by Baidu itself, over the past three years (2010-2013), traffic driven by mobile searches on Baidu has climbed 1000%. We can see this trend in the following chart: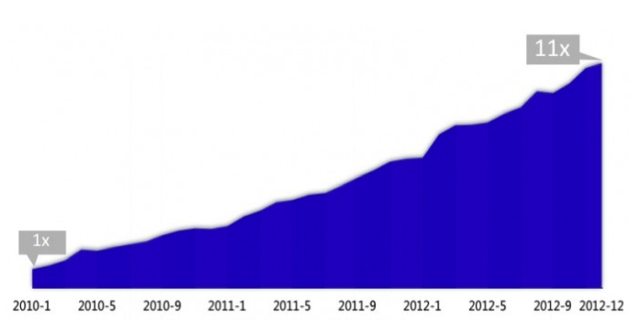 Baidu's strategy has been to invest into the development of a strong mobile application. The company saw search app installations rise 50 percent to 330M users by the end of September 2013 compared with three months before. That means seven out of ten mobile netizens have installed Baidu's app to their mobile devices. This percentage is persuasive to those companies who want to invest their money on advertisement in mobile.
Behind the dazzling numbers, there are still many problems and concerns in mobile search, and Baidu is taking affirmative measures to solve them. For example, at present, no matter what you are searching for with the Baidu mobile app, search results only present "desktop-only" websites on the results page. Consequently, Baidu is working to change this situation. After the possible modification, websites designed exclusively for mobile devices will be presented on front pages, while "desktop-only" web pages will be shown on the second or subsequent pages. This is just an example of how Baidu is focusing on improving the user experience. As long as it keeps concentrating on customers and providing the best search app, we will not be surprised if Baidu takes more market shares in the future.
In addition, under the process of transition to mobile, we can expect a better future for the company's margins after some short-term weakness. "With regard to operating expenses, we have our foot on the pedal to really push on sales and marketing, aggressively promoting our mobile product." According to Jennifer Li, CFO, "I'm not seeing that we are lessening our efforts in promoting our products and you should continue to see the step-up of SG&A expenses as a percent of revenue." Just like she said, total SG&A expenses for 2013 were RMB5.2 billion, a 107% increase from 2012, primarily due to an increase in promotional spend for mobile products. So, a decreasing operating margin is reasonable probably for the next 2 or 3 years, then we can expect it to rebound.
As we mentioned above, its investments in mobile are already beginning to bear fruit. The speed of expense growth will decrease as the market matures. In our model, we expect the operating margin to go back to the level between 40% and 50% after 2015.
Second Catalyst
Another catalyst for Baidu is its diversification in mobile market beyond the mobile search engine. Much like Google (NASDAQ:GOOG) and Apple (NASDAQ:AAPL), mobile will mean much more to BIDU than just ad dollars and search results. The acquisition of 91 Wireless for $1.9 billion, its biggest announced acquisition, is of great significance to the company. The deal gives Baidu control over China's most popular third-party store for smartphone apps as it tries to navigate the shift from desktop computing to mobile devices. With the combination of 91 Wireless and Baidu's mobile assistant app store and other distribution channels, Baidu becomes the #1 app distribution channel in China, distributing 80 million apps on a daily basis.
Baidu is not satisfied with the status quo. Robin Li, CEO of Baidu, said in the Q3FY13 earnings call, "We have laid out a clear plan for integrating 91 Wireless. We are looking to leverage the distribution power of the Baidu and 91 Wireless platforms to have them cross promote each other's products. We look forward to integrating the backend and bringing 91's developer base onto an integrated Baidu cloud platform." The acquisition seems just to be its first step.
According to an announcement from Tizen, an open source operating system based on Linux, Baidu is one of its 15 new partners, some of which include Sprint and SoftBank. As a competitor for Android, Tizen has drawn a lot of attention recently. At the 2014 Mobile Word Congress, Samsung put Tizen phones on display, showing that it will use the Tizen OS in new phones, along with Android. Since Sprint has joined the party, Samsung expects to launch its first Tizen phone in the U.S. Imagine that in the near future, Baidu brings its own Tizen phone to China's market and makes 91 Wireless as its "Apple Store", the only one offering apps for the new OS. The company can see unbelievable sources of revenue.
Yet, this catalyst is much more speculative for the company, but moves like this make us excited about the potential for BIDU to continue to remain very dominant, grow revenue, and see exceptional mobile success.
Pricing/Valuation
In our pricing model, we came up with a $210 price tag with our Oxen Group DCF analysis for 2014-2018. We believe the market still has plenty of room for Baidu to expand business and achieve better performance. Consequently, we give a lot of confidence for mobile in our projection.
Revenue - We use a 20% CAGR for revenues generated by channels other than mobile. And in this case, a 50% CAGR of mobile revenue is applied, which makes the business trend reasonable. The mobile revenue will count for over 30% in 2014 and over 40% in 2016. Finally, it will generate as much as the rest of the company in 2018.
| | | | | | |
| --- | --- | --- | --- | --- | --- |
| Year | 2014 | 2015 | 2016 | 2017 | 2018 |
| Mobile Revenue | 2058.4 | 3087.60 | 4631.40 | 6947.10 | 10420.65 |
| Other Revenue | 4723.00 | 5667.60 | 6801.12 | 8161.34 | 9793.61 |
| Revenue | 6,781 | 8,755 | 11,432 | 15,108 | 20,214 |
| Weight of Mobile Revenue | 30.35% | 35.27% | 40.51% | 45.98% | 51.55% |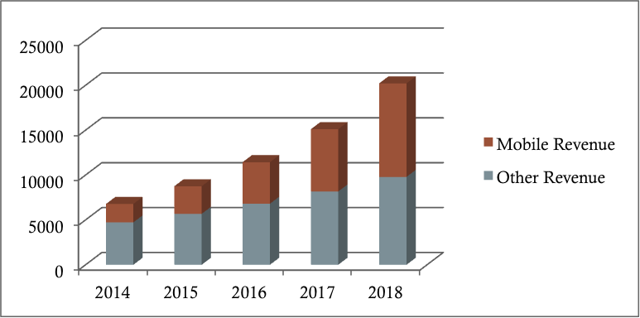 Gross/operating margins - The company is still making efforts in promoting its products and expanding new market. As we mentioned in the Main Catalyst part, a 25% of operating margin is applied to the first two years, and we estimate it will bounce to 40% by 2018.
Taxes - The tax rate is fluctuating around 15% in the past five years and recently goes over 16%. We apply 16% in our model.
Capex - The company expected its capital expenditures to increase substantially in the future as its business continues to grow. We expect the growth rate to decrease as the company moves forward, though, past this key investment phase. We have given the following estimates:
| | | | | | |
| --- | --- | --- | --- | --- | --- |
| Year | 2014 | 2015 | 2016 | 2017 | 2018 |
| Capex | $475 | $550 | $600 | $650 | $700 |
Shares outstanding - Without any news, shares will maintain at 350M.
After application of these data, we get a target price at $210.15. Compared to its current price, there is roughly 20%-25% potential growth. If we make the CAGR of mobile revenue to be 75%, which is still much lower than the 155% growth rate from Q2 2013 to Q4 2013, the target price is $311.40, presenting a 74.84% potential growth. On the other hand, if the situation is not as good as we expected and we change the mobile revenue CAGR to 40%, just as the growth rate of its total revenue in 2013, then the estimated price is $181.30, still a little higher than the current price. After all, if Baidu successfully integrates all the acquisitions it has made or will make in the future, and keeps building its mobile empire, the target price will be more promising. Even in a low-case scenario, BIDU has upside potential.
Risk/Variance
The major risk is coming from its competitors like Qihoo 360 and Tencent. They are all taking actions to try to shake the status of Baidu. The total market share of Baidu has already decreased from 78% in 2012 to 63% in 2013. Baidu will also meet new challengers as it moves to different kinds of mobile business. The effects of these companies will be very important to watch moving forward.
Conclusion
In conclusion, we believe Baidu is worth paying attention to in the following years, and we see solid growth. Shares are definitely pricing in a lot of mobile potential, but there is still more upside from mobile and new acquisitions. The potential upside is inspiring, and we will keep focusing on the company's movement and performance in mobile.
Disclosure: I have no positions in any stocks mentioned, and no plans to initiate any positions within the next 72 hours.
Business relationship disclosure: I have no business relationship with any company whose stock is mentioned in this article. The Oxen Group is a team of analysts. This article was written by David Ristau, one of our writers. We did not receive compensation for this article (other than from Seeking Alpha), and we have no business relationship with any company whose stock is mentioned in this article.