Impressive first quarter results and robust second quarter guidance resulted in overall positive sentiments for Weyerhaeuser Co. (NYSE:WY) following its earnings release on April 29, 2010. The company expects an increase in home closings, profits from wood products business, and an escalation in profits of cellulose fibers business.
Earnings Review
As reported by Weyerhaeuser, net loss in the first quarter of 2010 was $20.0 million, or 10 cents per share, compared with a net loss of $264.0 million or $1.25 per share in the year-ago quarter. Results also topped the Zacks Consensus Estimate of a loss of 24 cents per share.
Net sales increased roughly 11.3% year over year to $1.4 billion compared with $1.3 billion in the year-ago quarter. Revenue results increased in all business segments, reflecting better demand and improving market conditions, except for a 12.2% year-over-year decline in real estate business.
Agreement of Analysts
Analysts have unanimously increased their earnings estimates for the full fiscal year 2010 and 2011, following the earnings release. Of the 15 analysts covering the stock, 11 raised their estimates for 2010 and 9 raised their estimates for 2011 in the last 30 days, with none lowering them. The collective positive view stems from expectations of continued improvement in revenue and volumes, healthy margins, improved pricing, and lower cost structure.

Magnitude of Estimate Revisions
Analysts have handsomely revised their earnings estimate for full year 2010 and 2011. For 2010, estimates have gone up from a loss of 28 cents to a profit of 17 cents, and for 2011, from a profit of 81 cents to $1.17 per share. Reduced losses in the first quarter and the guidance of a profitable second quarter 2010 clearly justify the magnitude of earnings estimate revision.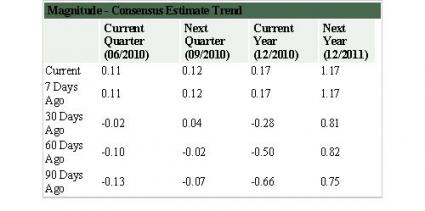 Neutral Reiterated
Weyerhaeuser remains one of the leading US forest product companies, primarily engaged in growing and harvesting timber; manufacture, distribution, and sale of forest products; and real estate development and construction. The company is also in the midst of its conversion into a real estate investment trust (REIT), likely to increase its competitiveness in managing timber portfolio. These along with effective cost control initiatives, solid balance sheet, and robust guidance justify the short-term Zacks# 2 Buy recommendation.
We stay Neutral on the stock (supported by the Zacks long-term Neutral recommendation), as the positives are offset by concerns over the industry's sensitiveness to macroeconomic conditions and its cyclical nature. Three of the company's five business segments are highly dependent on the US housing market, which is still at the early stages of recovery after plunging badly, following the recent economic crisis. Weyerhaeuser also faces stiff competition from Canfor, International Paper, and Louisiana-Pacific.