(Editor's note: Investors should note that trading in AMIGF is somewhat illiquid. Enhanced liquidity can be found in ADM.L on the London Stock Exchange.)
2013 - Really just a "baked potato" year?
Today Admiral Group plc (OTCPK:AMIGF) reported its 2013 full year results. CEO Henry Engelhardt commented:
2013 was the year of the baked potato. It was a good, solid year, something on the plate that is appreciated but doesn't really grab the spotlight. This is a comfort food set of results.
Doesn't sound very exciting, does it? - Nevertheless, Admiral managed to set yet another record, like each and every year, reporting EPS of £1.04 and announcing a dividend of £0.56, bringing the total payout for 2013 to £0.995.
Here is the impressive table of the past eight years' results:
| | | | | | | | | | |
| --- | --- | --- | --- | --- | --- | --- | --- | --- | --- |
| | CAGR | 2006 | 2007 | 2008 | 2009 | 2010 | 2011 | 2012 | 2013 |
| BV/share (£) | 12.19% | .84 | .90 | 1.04 | 1.13 | 1.31 | 1.45 | 1.68 | 1.88 |
| Dividend (£) | 14.72% | .36 | .44 | .53 | .58 | .68 | .76 | .91 | .94 |
| EPS (£) | 14.81% | .40 | .48 | .55 | .59 | .72 | .82 | .95 | 1.04 |
EPS and dividend grew at a CAGR of almost 15%, while book value per share grew at over 12%/year. Return on equity (at the beginning of the year) averaged 62%.
Admiral continues to be the low cost operator in the British car insurance market: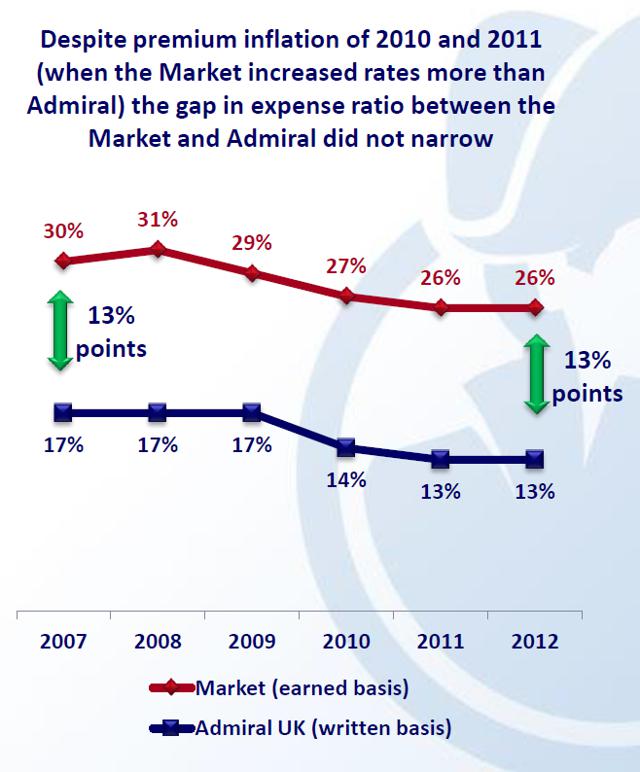 While 2013 results benefited from major reserve releases, this does not mean that Admiral will have insufficient reserves going forward: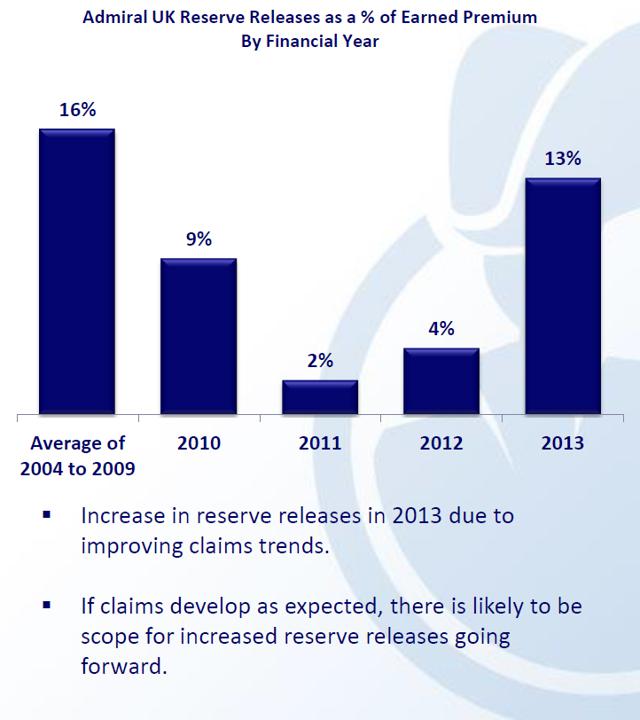 The graph shows that 2013 reserve releases were still below the company's long-term average releases and Admiral's results in the next few years will likely benefit from the overly cautious reserving in the period from 2010 to 2012. In 2010, Admiral had experienced a huge increase in vehicles insured and subsequently a rather uncommon increase in bodily injury claims. (This is the reason for the steep fall of the stock in 2011, when Mr. Market doubted about the company's reserves). But the increase turned out to be just an outlier and Admiral's reserves built over those years should be far more than sufficient to cover claims. That's why investors can expect growing reserve releases from Admiral without having to worry about future results.
Soft factors
As I have already pointed out in my first article on Admiral, there is a lot more to like about Admiral than just its financial performance. For example, in 2013, the company has been elected the second best place to work in the UK and in every single year from 2008 to 2012 more than 90% of the company's customers have provided a positive answer to the question: "Following a claim, would you renew with Admiral?"
So the company is clearly appreciated by both its clients and its employees. (I also presume that stockholders are happy, too.)
Valuation
Since I have written my first article on Admiral a few months ago, the stock has gone up by about 15%, but I believe it is still not expensive. Analysts have clearly underestimated the company's capabilities to grow EPS and dividends, as the following table of consensus estimates demonstrates: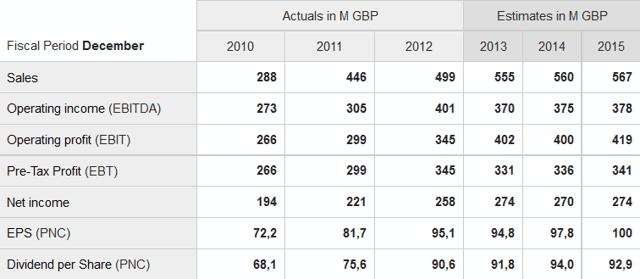 This table shows consensus estimates before the 2013 earnings release. Actual 2013 EPS came in 9.7% higher than consensus. It is highly likely that EPS estimates for 2014 and 2015 will rise over the next few weeks, as analysts incorporate the higher probability of reserve releases in those years into their forecasts.
If we project an EPS growth rate of about 10% over the next five years, which is far below the past average CAGR of almost 15%, in 2018 EPS would come in at £1.68 and the cumulative dividends collected along the way would be more than £6. Hence, over five years, the dividends alone would pay back in cash 40% of the investment (at the current share price of £15 per share), while the stock itself would likely be worth at least 13 times earnings (it currently trades at almost 15 times EPS), i.e. about £22, bringing the total five year return to £13 - on an investment of £15. That's why I believe that the stock is still clearly undervalued at this point.
Where to trade
In the USA, Admiral trades on the OTC segment with decent liquidity. Alternatively, you can buy the stock at the London Stock Exchange (ADM.L). As far as I know, the UK does not withhold any taxes on dividends (but please check your individual situation before investing).
Additional information:
Admiral plc - Investor relations
Analyst estimates and key ratios
Disclosure: I am long AMIGF. I wrote this article myself, and it expresses my own opinions. I am not receiving compensation for it (other than from Seeking Alpha). I have no business relationship with any company whose stock is mentioned in this article.