Editor's Note: This article covers a stock trading at less than $1 per share and/or with less than a $100 million market cap. Please be aware of the risks associated with these stocks.
"Ambition is a dream with a V8 engine." - Elvis Presley
Executive summary:
Risk is real and as such, diversification is key.
Income investors are recommended to own a basket of utility stocks for gradual income growth and managed risk.
Utilities are defined to include non-traditional, monopolistic, infrastructure-related sectors such as road & rails, telecom, airports, tower REITs and seaports.
A new, proprietary utility CEF report grades available funds through a ranking system.
An in-depth report with analysis to guide investors through the utility closed-end fund options.
_______________________________________
Watch Your Tail: Risk Is Real
When it comes to investing, everyone wants to win and hit the jackpot. Investors often have lofty ambitions, and for the most part, they believe in what they own.
For income investors, as well as astute individuals who wish to manage risk efficiently, investing most of one's portfolio into what may be the next Priceline.com Incorporated (PCLN), Apple Inc. (NASDAQ:AAPL) or Monster Beverage Corp. (NASDAQ:MNST), then following through with a sale at the top is nothing more than a pipe dream.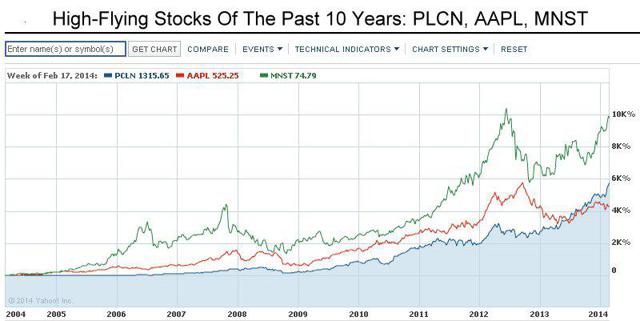 Not only is putting one's eggs mostly in one basket a high-risk move, the memories of the last decade make the reality of portfolio devastation all too real. From the dot-com bubble bursting, to the global banking crisis, recent events help us remember that diversification among sectors, as well as specific stocks and funds is key to managing risk.
The Baseline of Human Growth: Utilities & Infrastructure
In the board-game Monopoly, players can go a whole game without interacting with particular properties, such as Baltic Avenue or Park Place. The utility matrix in the game is much different and as such, the probability of a player landing on a utility property, at least once per game, must be very close to 1.
Monopoly game stats:
Utilities, including rails, own 15% of the board, plus chance/community chest cards move players there.
Individual properties own 2.5% of the board.
Chance cards also own 7.5% of the board, with a 18.75% probability of advancing to a utility or rail and 20.83% probability to advance to one of four "hot" properties.
Rolling doubles is a 16.67% probability.
Without going into a full statistical analysis using the dice/board matrix, the probability of landing on a utility is 16.41%, or just above one out of every six turns (without including the probability of doubles).
By contrast, the hottest single property of the game, other than jail, is Illinois Ave. at 3.17%, or one out of every ~33 dice rolls.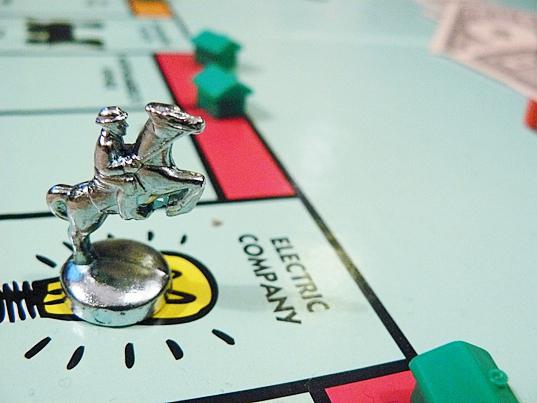 In the real-life application, whether people drive expensive cars and rent from Donald Trump, or live in suburbia and drive a Prius, they all pay for utilities. Both businesses and people are given very limited options, dependent on location, to whom they pay for electricity, gas and water.
Utilities Defined - A New, Modern Approach
The traditional utilities sector is defined as a set of companies that operate as integrated providers of electricity, gas and water. Each has a monopoly status, where customers have little option of looking elsewhere for such needs.
There are other utility plays that fall under the infrastructure category of human development. These non-traditional utilities are included in income and growth funds known as "utility" or "infrastructure" funds.
Examples include telecommunications firms such as Vodafone PLC (NASDAQ:VOD), railroads, tower REITs, toll roads, airports and marine ports. These infrastructure sub-sectors make sense as utility plays, as they operate in a monopolistic fashion (very few highly-regulated consumer options) and are each necessary components of the human web.
How do people all pay for these non-traditional utilities? Society communicates collectively through cell phones and the internet, which are regulated and supported via tower REITs, telecom and cable companies. Goods, energy and people travel through rails and roads, which are necessary for transportation. Goods, energy and people also travel through airports and marine ports.
Investors who are looking for growth, stable growing income and a relatively safe bastion in their equity allocation can find this sector to be very appealing. As part of the 4% plan, the recommended exposure of utilities is an 8% portfolio weighting.
The Utilities & Infrastructure CEF Guide: March 2014
One of the best resources in the CEF world today is CEFConnect.com, which gives investors free information regarding CEFs, management fees, distributions, NAV historical pricing, premium/discount histories and a fund's strategy and top holdings. They also have a fund screener to search for competing funds in alternate categories.
Based upon my research, out of the eight available utility CEFs that could be considered for a dividend growth portfolio, three score above 40 and as such, each of these funds is recommended as a starting point for further research.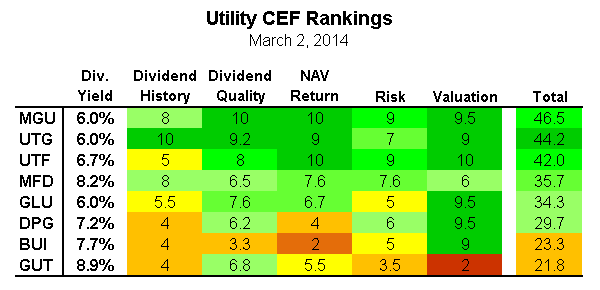 Source: Author
Ranking The Top 3 Funds
The guide below is geared toward income investors looking for income safety, capital safety, income growth and capital growth. The top three funds are listed in terms of total net assets under management.
1. Cohen & Steers Infrastructure Fund (NYSE:UTF)
Total Net Assets: $2.95B
Yield: 6.7%
Premium: -13.6%
Literature: Cohen & Steers Fund Webpage
Cohen & Steers Infrastructure Fund is globally diversified and is managed by one of the leading real estate & infrastructure asset managers in the world, Cohen & Steers (NYSE:CNS). The funds also has an excellent long-term track record as a top performer in the utility CEF space.
The fund was incorporated in 2004, has outperformed the S&P since inception and the market price has beaten its index in each of the below measured time periods.

As a global fund, UTF holds investments in areas that are very desirable but not easily available through most other funds or U.S. stock exchanges, which includes global operators of airports, toll roads and marine ports.
As seen from the fund card as of 12/31/13, exposure also includes key positions tower REITs, traditional utilities and railways, as well as diversification through 168 holdings.
UTF 12/31/13 Fund Card Facts & Top 10 Holdings

In looking at the sector and geographic diversification of the fund, UTF is split about evenly between the U.S. and the rest of the world, has a focus on developed nations in its ex-U.S. exposure and is well-diversified within the utility and infrastructure sub-sectors. In viewing the sub-sector weightings, it can be said the fund is void of concentration risk, as the largest positions are integrated electric and toll road stocks, each at a 13% weighting.
UTF 12/31/13 Sector & Geographic Diversification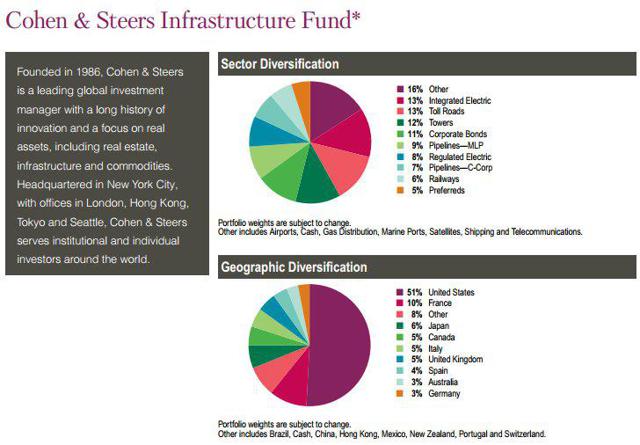 For the complete breakdown of sectors, the annual report showcases the fund's extended utility range.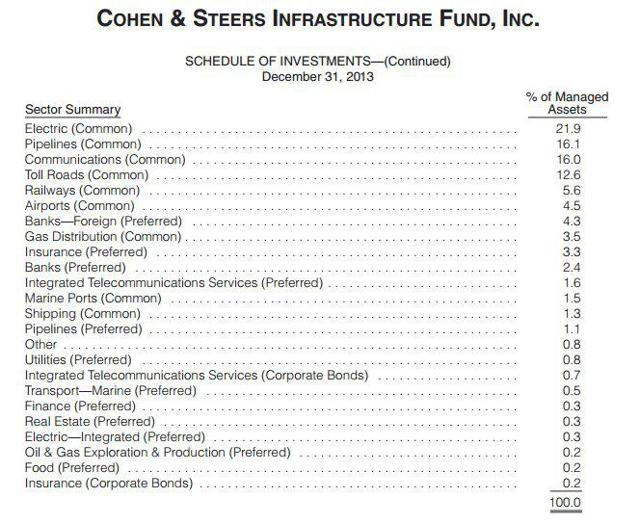 The current discount to NAV of UTF is 13.6%, which is well below the 3-year and 6-month averages, as seen in the chart below.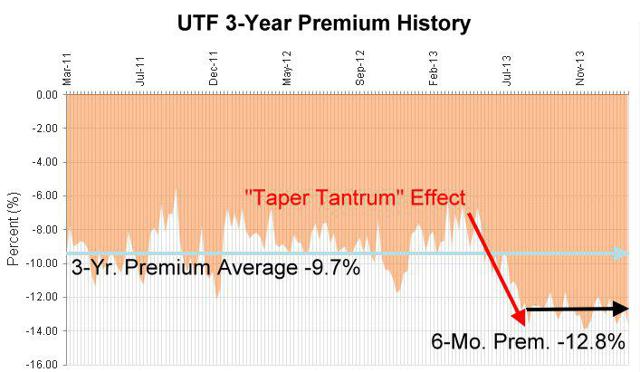 Prior to the "taper tantrum" effect that began in late-May 2013, UTF was trading at a short-term discount average of ~7%. After the summer trading season was over, UTF established a new discount average closer to -13%.
Buying funds with a discount is helpful to reduce risk and increase yield on price. Also, the purchase of a fund below the average premium/discount rate lowers risk even further. In this regard, UTF is most attractive in terms of current market prices versus historical pricing levels.
In summarizing the holdings of UTF, the fund can be divided into ~64% utilities, ~16% earth resources (energy infrastructure, such as pipelines/MLPs) and ~16% income (preferred shares & bonds) when classifying it under the 4% plan asset allocation structure.
With a great management team, dominant fund size, excellent historical returns, an above-average discount to NAV, a 6.7% yield on price, diversification in developed countries and ownership in multiple utility and infrastructure sectors, it would appear that UTF is an excellent choice for utility income investors. In addition, valuation levels at market price increase the fund's current appeal, as the discount is above the recent historical trend.
While it can be stated UTF is a top choice, there are relevant concerns that investors may have that, if solved, would likely reverse the premium erosion by increasing demand for the fund. Such concerns are as follows:
Over the most recent three-quarter period, 19.1% of the quarterly dividends were classified as return of capital.
Taking out ROC, the yield on price is only 5.4%.
The distribution has not increased since 2010.
The distributions are quarterly, which is not a major investor concern, however, income investors prefer monthly distributions when the option presents itself (as it does elsewhere in the space).
The fund has a buyback in place of 10% of assets per year, which is a positive, however, CNS does not fully execute on this plan.
Income investor and well-known bond fund manager, Bill Gross openly owns and recommends a smaller, non-PIMCO competing utility closed-end fund that has a smaller discount and provides monthly dividends.
For starters, ROC is detrimental to long-term capital growth. It defeats the purpose of "dividend growth investing." The positive is that with remarkable NAV growth, UTF has still proven to be able to provide returns, even with ROC lowering the investment base.

As seen above, ROC has been constant at about 19.1% of the distribution over the past three quarters. In addition, the fund replaced monthly distributions with quarterly payouts in 2009. Most investors would prefer continual monthly payouts, which would also increase demand for the fund and put pressure on the current discount.
The fund has a share repurchase agreement in place, which allows the company to buy back up to 10% of its shares per year when they trade at a discount to NAV. In 2013, UTF bought back only $5.6MM of its shares, which accounted for a paltry $0.01 NAV gain. $5.6MM on a $2.2 billion fund is really peanuts, and a one-penny gain on a ~$21 stock is not much to brag about.
Management fees are based on AUM, however, so in a sense, it is a conflict of interest for CNS to buy back shares in UTF. It seems this policy is set in place to help put a floor in the discount, however, with such a small implementation last year, the performance of the fund hardly benefited.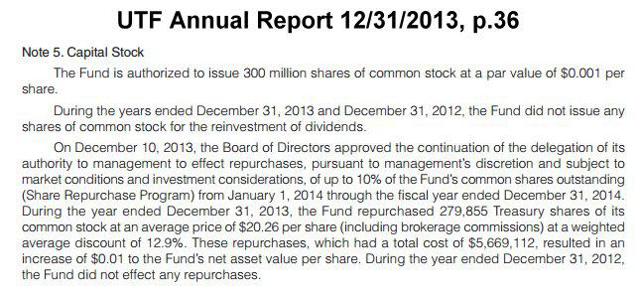 Overall, UTF is one of the top funds to own in the utility space, so long as investors are comfortable holding a percentage of energy-related infrastructure holdings, as well as income-related plays that include preferred shares and bond ownership.
Since UTF uses leverage, which accounts for 27% of the holdings, it could be said that most of the leverage buys more stable, higher-income producing securities (as 16% weight is in bonds & preferreds). This is seen as a net positive, as the leverage risk profile is lowered.
2. Reaves Utility Income Fund (NYSEMKT:UTG), $27.56
Total Net Assets: $1.13B
Yield: 6.0%
Premium: -4.37%
Literature: Reaves Utility Income Fund Webpage
Versus UTF, UTG has underperformed over the past two-year time period, with a lower stock return.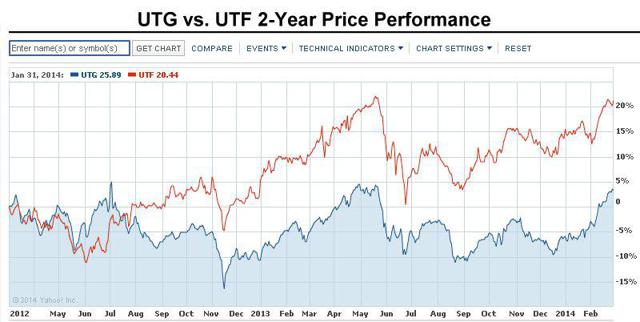 This is likely due to premium erosion, which started two years ago. The share price went from a ~10% premium to a ~10% discount in this time frame, which can account for the lack of share price appreciation versus UTF.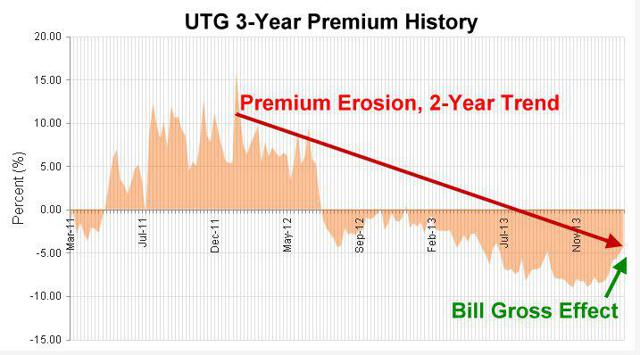 In late January, Bill Gross picked UTG as one of his 2014 Barron's Magazine Roundtable discussion top recommendations and publicized his ownership of the fund. A quick review of Gross' selections, with a brief analysis on each, is available here.
As such, the discount came under pressure as demand increased for the stock. Today, the discount is 4.37%, which is very close to the 52-week average discount of ~6%.
The excellent NAV return record showcases comparable results to UTF.

The top holdings of UTG are mostly concentrated in telecoms and traditional utilities.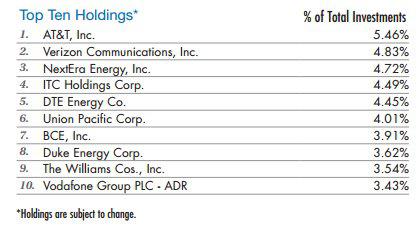 The fund does not invest much in corporate debt or high-yielding preferred shares. Instead, the 25% of the fund that is leveraged owns common stock related to the general fund purpose. Also, it would be expected with higher stock levels versus UTF that the fund would outperform on the NAV basis, however, as it did not (even with higher risk profile), one could argue that over the past two years, UTF management and diversification is superior to UTG.
UTG is concentrated much higher in traditional utilities, with ~56.4% of assets in electric, gas and water utilities, versus 21% at UTF. In this regard, UTG is less diversified and much more subject to traditional utility performance.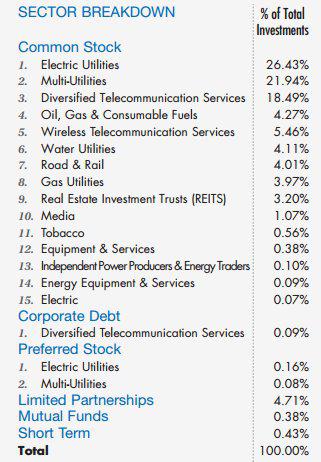 The fund is ~78% invested in the U.S. and holds 71 positions as of 12/31/2013. A chief concern is that the fund does not adequately provide country-by-country weightings in an easy-to-read geographic breakdown chart, as most all other global funds do.
Another concern at UTG is concentration risk. With ~78% invested in the U.S. and nearly 70% invested in traditional utilities and telecoms, any hit to these areas could be risky for the fund.
As with the entire CEF category, leverage enhances results both to the upside and to the downside. Funds that are less diversified are therefore at a higher concentration risk than other CEFs, which may be able to withstand particular sub-sector pressures better.
3. Macquarie Global Infrastructure Total Return Fund (NYSE:MGU)
Total Net Assets: $437MM
Yield: 6.0%
Premium: -11.2%
Literature: MGU January Report
For the Macquarie Global Infrastructure Total Return Fund, 2009 marked a year of reduced distributions, where the fund reduced its quarterly dividend from $0.40 to $0.16 per share. Since 2009, however, MGU has shown consistent annual dividend growth to $0.35 per quarter today, an improvement 17% compounded annually, which is the highest rate of the three selected top funds here.
MGU also has the least amount of holdings, with 56 total positions as of 1/31/2014.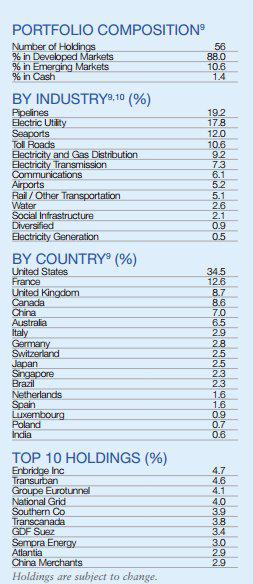 While UTG has mostly traditional utilities and telecoms, MGU is similar to UTF in that the fund holds major road, rail, seaport and airport exposure.
UTF has about 6% total airport and seaport holdings, while MGU is much more aggressive here at 17.2%.
What MGU lacks, however, are the U.S. tower REITs, which account for only about 3.7% of the fund, where UTF positions three of its top 10 holdings (including the top two) in the tower REITs.
Another note of appreciation is the smaller position in China that MGU has taken over the past three months. In November, the fund had a 10.6% weight, by January it was at 7% (see left), which is quite an aggressive withdrawal.
When taking into consideration currency risk, the China infrastructure overbuild, real China growth threats and the weakening Yuan, investors may want to avoid investments there completely.
Regarding valuation, MGU has traded at a solid ~12% discount over the past three years.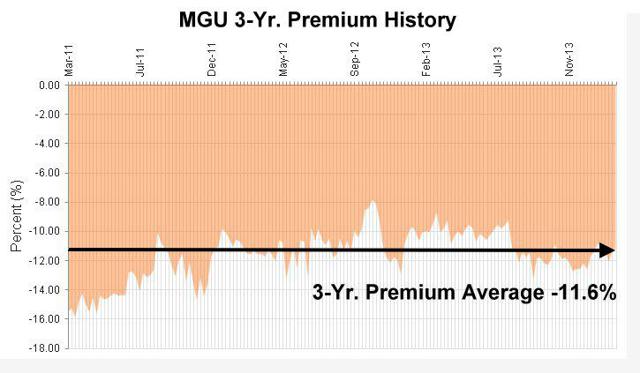 At -11.2% to NAV, the fund is currently trading in its recent historical range. Due to premium stability (unlike UTG), the fund has done well over the past 2 years and has the leading share appreciation performance versus peers.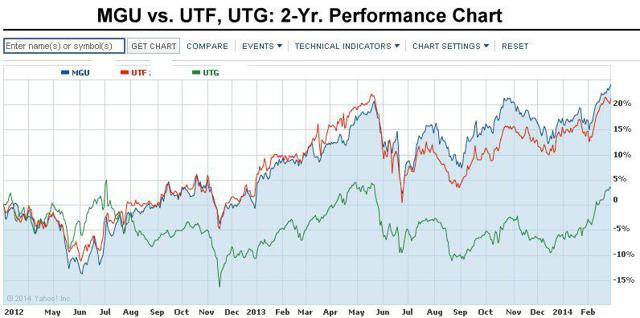 As price performance is no guarantee of continued performance, it's important to look at the difference between these funds to determine which may be the best current investment.
Breaking It Down: MGU vs. UTG vs. UTF
In reviewing all three funds, it can be stated they are all "original" funds focused on the utility + infrastructure theme, with each dating back to 2004-2005. They each have a valuable reason to be owned, whether for the portfolio, valuation or dividend.

As seen in the chart above, MGU has the only non-ROC yield and top dividend growth rate over the past five years. UTG is a safer on the yield historically, as it's always maintained its dividend level, albeit at a slower pace over the past five years.
With a non-ROC yield and the leading dividend CAGR at 17% over the past 5-year time period, MGU appears to be a top choice.
Regarding sector diversity, MGU has a larger allocation to pipelines, which falls into the earth resources category (not utilities) of the 4% plan, as it is an energy-related sector. Keeping in mind utilities include telecom, road & rails, airports, seaports and electricity/gas/water stocks, UTG is the most pure-play, with 90% utility exposure and a 9.6% concentration in energy.
UTF is more tower-REIT friendly, however, while MGU is more focused on the global air and seaport plays.
UTF does have a risk edge regarding the use of leverage as a safety play. As the UTF leveraged assets include a majority of bonds (corporate bonds, preferred shares), the yield is enhanced at a lower risk profile.
Portfolio Asset Allocation In 4% Plan Categories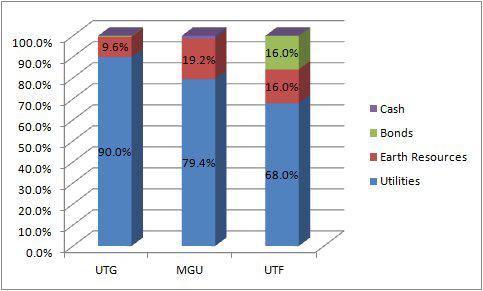 For those looking for more global exposure, MGU leads the pack at 65.5%, while UTF is closer to half of the managed assets. UTG has the least ex-U.S. exposure at only ~23%.
For U.S. income investors, it would appear that with lower global exposure, the risks would be lower, as less non-dollar assets are owned. It could just as easily be said that more global exposure could be advantageous, as managers search the globe for the best utility plays and own a higher portion of non-U.S. available industries, such as toll roads, seaports and airports.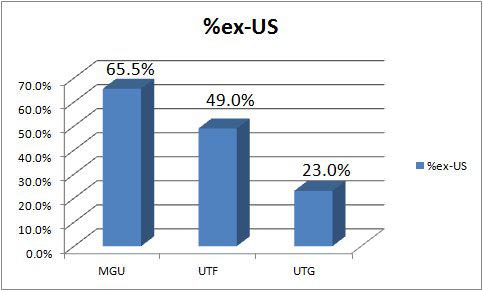 For investors concerned with currency risk, another area to look at is the percentage of non-Yen reserve currency (dollar, euro, GB pound, Swiss franc) corporate exposure it holds. Declines in EM, Yen and commodity nation (Australia & Canada) currency may halt portfolio gains under the strong dollar theme.
For The Complete Recap: 5 Less-Attractive Funds
A few funds just didn't score high enough to warrant investment with the high-scoring CEFs mentioned above. Here are short reviews to outline why they did not make this cut.
Duff & Phelps Global Utility Income Fund Inc. (NYSE:DPG)
AUM: $1.1 Billion, DPG Website
This fund is starts off with a poor ranking with the dividend. The fund has not raised the dividend since inception, the payouts are quarterly and ~38% of the payouts are a return of capital. This leads to share price erosion over the years, and is not recommended.
Of the 7.2% yield, only 4.5% is actually from earned income. The fund also showcases a small loss over the past two years, versus a ~20% gain for UTF. The fund is highly concentrated as well, with about a third of holdings each in energy, traditional utilities and telecoms.
The only thing attractive about this fund is the discount of 12.2%, which loses luster when compared to UTF's 13.6% discount. It's a great deal, but for a lousy fund that happens to be more expensive on a premium basis versus a top competitor.
BlackRock Utility & Infrastructure Fund (NYSE:BUI)
Regardless of AUM, this fund lost money since inception ~2 years ago. Distributions are quarterly, however, about 66% is ROC. In other words, the appealing 7.7% yield is really only 5.1% when accounting for ROC.
The fund is built to have a high yield by using an options-writing strategy, however, with such a high ROC and lack of fund performance, it doesn't appear to be working. The fund uses no leverage and holds ~$360MM in AUM.
Gabelli Utility Trust (NYSE:GUT)
GUT trades at a 10.4% premium to NAV, likely due to its above-average yield of 8.9%. Investors are cautioned to stay away from this fund, as ROC turns the 8.9% yield into a 6.1% yield, which at NAV, comes out to 6.7%.
When MGU is shooting off a ROC-free yield of 6% at a large discount to NAV, GUT's 6.1% yield loses its luster.
Another highlight of GUT, other than capital destruction, is the fact the fund is already trading in the $6 range. Investors looking to limit risk are generally cautioned to avoid sub-$10 stocks as a rule of thumb. In this case, investors are enjoying an easily replaceable ~6% yield while watching their shares slide downhill.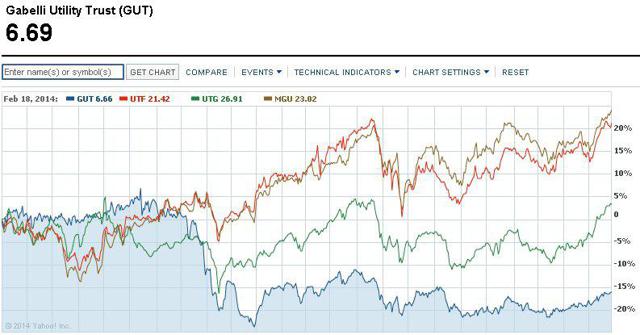 It is difficult to understand why a managed ROC fund with a comparable yield to these peers is trading at a premium. As noted in the 5-year performance chart, GUT has suffered a 4-year investment loss, while eking out a 20% gain since the bull run started.
A 20% upside and high yield over 5 years may sound nice for a utility fund, however, when compared to peers yielding no ROC or limited ROC, the results are not so pretty.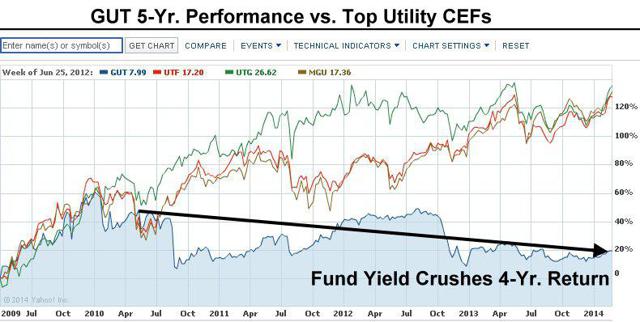 Gabelli Global Utility & Income Trust (NYSEMKT:GLU)
A much better performer than sister fund GUT, GLU is still a problem child of the utility CEF world. 24% of the 6% yield is ROC, dropping the non-ROC yield down to 4.6%.
For their efforts, GLU managers have been hit with premium erosion that put a once-favored utility fund in the sale bin. Currently, GLU is trading at -11.9% to NAV.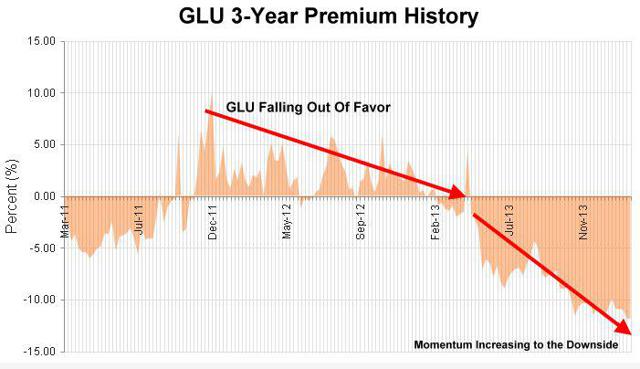 As a leveraged-utility CEF with a majority of leveraged purchases, the safer bond investment UTF is a good baseline to measure GLU with.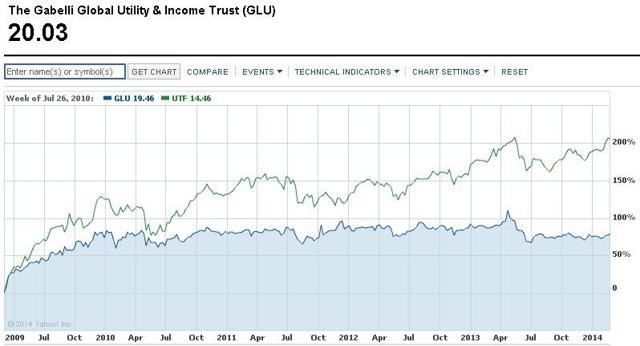 With a history of underperformance and lackluster sister fund bringing no kudos to the asset manager, Gabelli, investors are recommended to move on (as so many have already).
Macquarie/First Trust Global Inf./Utilities Div. & Income Fund (NYSE:MFD)
This fund uses loans to build a majority of its leverage base, and holds a high income of 8.2%. Unfortunately, the income includes ROC, which leaves a non-ROC income of 6.2%. At current pricing, MFD trades at a -2.23% premium, which is a slightly smaller discount than the -4.3% 52-week average.
The country exposure looks healthy, with mostly reserve currency nation stocks, including a 49.8% U.S. concentration. The allocations are a little different that peers, as they include correctional facility and hospital operators.
The fund returned ~15% each year in 2012 and 2013, however, this was less than peers UTG, UTF and MGU. Also, investors may not want to dive into the loan portfolio to realize what MFD is doing and how the structure works, especially when there are plenty of dedicated fixed income funds that are yielding over 8% with no ROC.
Also, those who already own REITs may not feel like paying management expenses to own healthcare and correctional facilities operators.
While MFD did score higher than the other non-recommended utility CEF funds, the dividend quality and valuation metrics push the fund below 40 points. As such, the fund is seen as less appealing than the higher-scoring alternatives.
Special Note: Wells Fargo Utility Fund Ineligible For Ranking
Wells Fargo Advantage Utility & High Income Fund (NYSEMKT:ERH)
Although this fund shows up in the CEFConnect.com "utility" sector CEF search, it holds a large allocation of assets in junk bonds and as such, does not qualify for an income growth investment and is not ranked.
Conclusion
Three funds scored above 40 on the first Utility CEF Rankings, which are modeled to provide investors insight into which funds may be the best for their particular needs.
Chart sources: YAHOO! Finance, CEFConnect.com.
Disclosure: I have no positions in any stocks mentioned, and no plans to initiate any positions within the next 72 hours. I wrote this article myself, and it expresses my own opinions. I am not receiving compensation for it (other than from Seeking Alpha). I have no business relationship with any company whose stock is mentioned in this article.