Clearfield, Inc. (NASDAQ: CLFD), formerly APA Enterprises, Inc., is a Minnesota based corporation. Founded in 1979, the company specializes in broadband/wireless deployment for rural and hard-to-service areas. Due to the Stimulus Bill Clearfield experienced a wave of growth that sent shares up over 300% in the last 52 weeks. Today, I'll share my thoughts on why I think this growth will continue in 2014.
Clearfield Products: Major Brands and Competition
Clearfield sells "highly configurable" fiber management and connectivity products to service providers under the brands Clearfield®, Clearview®, FieldSmart®, FieldShield, and CraftSmart®. These products include fiber distribution systems and Fiber-to-the-Premises (FTTP) solutions. Competitors to FieldStart include Corning Cabling Systems (NYSE: GLW), OFS, AFL Telecommunications, Fujikura Ltd, Alcatel, Inc. (NYSE: ALU), and TE Electronics, (NYSE: TEL), formerly Tyco Electronics. Competitors to CraftSmart include Emerson Network Power, and Charles Industries; and, competitors to FieldShield include Arnco Duraline and M2FX.
Business Performance
Clearfield ended its fiscal year on Sept. 30. Net sales increased 42% to $53.4 million and 90% of those sales were to commercial data networks and broadband service providers.
It'll be hard to beat last year's performance, but if Q1 '14 is any indication it's a distinct possibility -- sales grew 57% over Q1 '13. As you can see from the quarterly chart below, sales and earnings tend to increase toward the back half of the fiscal year (April - Sept), which reinforces the possibility that this year will beat last year's performance.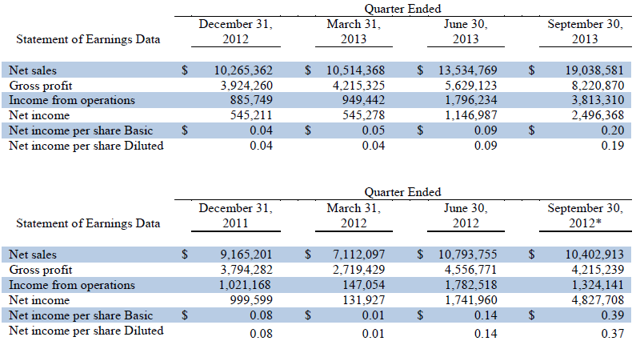 * Sept 30 2012 includes $0.28 per diluted share for the period for non-cash expense related to writing off a deferred asset.
EPS for the first quarter of this year was $.15, beating estimates by $.01.
Strong balance sheet
Clearfield is an investment banker's dream. With a market cap of only $360 million, and $46 million in assets, the company has a strong balance sheet with no long-term debt. The principal source of liquidity is cash and cash equivalents which stood at $21 million at the end of the first quarter, up from $16 million at the end of FY 2013, and $15 million in FY 2012. Investments are primarily made in CDs at several institutions to ensure FDIC backing. There's no hidden financing, no factoring, no lease-buy backs -- this is one of the most conservative companies I've ever seen.
The Catalyst For Growth: Government Spending
The American Recovery and Reinvestment Act (ARRA), also known as the Stimulus Bill, allocated $7.2 billion to broadband/wireless initiatives for rural and under-served areas of the country. The last of those funds were paid out prior to Sept. 30, 2012.
The Next Wave of Growth: More Government Spending
In 2011, the government unveiled a plan for overhauling the Universal Service Fund (USF) which is an $8 billion fund that subsidizes phone services in rural and hard to reach areas -- it's a surcharge on your phone bill managed by the FCC. The overhaul redirected the money to broadband expansion and it was renamed the Connect America Fund, or CAF. The annual budget is "set at no more than $4.5 billion" over the next 3-6 years. Click here for an interactive map that provides an overview of current funding as awarded by Phase 1 of CAF. The ultimate goal of the fund is to connect 19 million under-served Americans by 2020.
The CAF is split into two funding opportunities, and there are two phases within each opportunity. The first phase of both opportunities provides $600 million in immediate support to providers, which is partially detailed in the map.
The second phase will distribute $2.3 billion annually for support in areas with no subsidized broadband/wireless competitor. According to the CAF website, disbursement ramped up in 2013 and will continue until 2017.
That still leaves approximately $1.5 billion on the table for the FCC to distribute and they're looking for ways to spend that money now.
AT&T and Verizon were offered $47.8 million and $19.7 million, respectively, to help with the build-out, but rejected it. According to Benjamin Lennett, a policy director at the New America Foundation, "It would likely take a much larger government subsidy to change their minds". As a result, in January the FCC voted to allow smaller rural providers to bid for the funding AT&T and Verizon turned down and released the Technology Transitions Order, which, among other things, invites any entity, regardless of size, to express interest in CAF funding.
On March 19, the FCC will facilitate The Rural Broadband Workshop to help understand the challenges of rural deployment, brainstorm solutions, and provide support for small rural providers bidding for funds. The workshop will be streamed live at fcc.gov. I'll provide an update to this article on attendance and any other relevant information regarding funding.
Bottomline -- we are in the early stages of a long-term commitment by the FCC to fund broadband/wireless deployment and support in rural and hard to reach areas, but there are challenges. Some large providers aren't interested in subsidies on the basis that these accounts will be unprofitable to service in the long-term. Those that are interested find rural and un-served areas to be a technical challenge and need help with the build-out. Clearfield is in a position to benefit from this growing trend.
Primary Risk - Growing Pains
A recent Seeking Alpha article on Clearfield entitled Clearfield: Examining Whether Share Price Regression Or Progression Is In Store suggests the current valuation may be a bubble, but Clearfield isn't selling tulips and the government's interest in this project is very real. More importantly, as the author notes, earnings are in line with price growth.
Another Seeking Alpha contributor, Simple Insights, makes a good short case for Clearfield in the article Clearfield: Nice Company, But About 1/3 As Nice As Investors Think, but his logic is flawed.
Even though Clearfield's ROE is 13% compared to an industry average of 8%, much of Simple Insights' argument is based on the premise that Clearfield has a low ROE for a growth company because the business model doesn't support growth -- I disagree.
Just because a company has a higher ROE doesn't mean it's a better company. ROE has three levers: profit margin, ROA, and financial leverage -- Clearfield has no debt and that's not a bad thing. In fact, it's an indication of the company's growth potential. Growing debt and stock buybacks funded with cash can prop up ROE even through declining operational profitability, something Corning is admittedly trying to do with its recent $1.5 billion ASR. Additionally, ROE only looks at return and not what risks the company had to take in order to get that return.
Simple Insights goes on to suggest that the company's flagship product is little more than a mold that can be easily duplicated and is remarkably similar to Corning's technology. Admittedly, Corning is a venerable competitor in general, but their specialty is complexity within systems configuration, especially hospital systems that require extensive network security, not challenging terrain that requires, "durable, crush and tension resistant, UV stabilized solution protecting fiber from exposed outdoor environments," as referenced in a Wall Street Journal article published today about a Clearfield deployment.
Clearfield's expertise or unique selling point is a tacit knowledge that addresses the specific fiber management needs of rural and hard to reach areas, which is exactly what the FCC is looking for. This knowledge expands with each deployment. Let's take a further look at what the Wall Street Journal had to say about the Country Cablevision deployment:
Country Cablevision, located in the rural mountains of western North Carolina, is building a FTTH network to every home and business in a two county region. Mount Mitchell is the highest point east of the Mississippi River in this region, so the terrain creates many challenges.
The article goes on to describe why the project manager selected Clearfield:
Dean Russell, project manager for Country Cablevision, looked to Clearfield for help. "Long Span aerial microduct allows us to go to 500 foot spans between poles, and we can either push or pull the Clearfield FieldShield Optical Fiber all the way to my drop point," said Russell. "I have been able to do a mid-duct entry when using Clearfield's multi-count fiber and this duct will support a small count closure. This allows us to feed two and three homes using only one duct."
Incidentally, Country Cablevision services Mitchell and Yancy counties of North Carolina, both of which have been designated as areas that are eligible for CAF Phase II funding due to the "high-cost" nature of the build. In order to receive funding from the FCC providers must be able to deliver a certain level of performance so a deployment partner that can deliver is imperative. "I can tell you", said Russell, "that we have completed several installations of this product, and it has held up extremely well to our harsh Appalachian Mountain winter snow and ice storms."
"Bringing fiber to environments that weren't previously possible is our goal at Clearfield," said Johnny Hill, COO of Clearfield, in response to the project's success.
As the build-out of the nation progresses, the need for this expertise will only increase. Furthermore, Simple Insights doesn't mention the 160% increase in sales from international markets.
The only aspect of Simple Insights' argument that I agree with is that scaling Clearfield for the kind of growth it will see over the next four years may be difficult, not because of operating costs, but because the talent needed to facilitate and build customized solutions is a skill-set that's hard to find.
Another concern for Simple Insights is customer concentration. "The absurd valuation is not the only thing Clearfield investors should fear," he says, citing an increase in customer concentration. Here's an excerpt from the 10Q:
Customers A and B comprised approximately 48% and 11% of net sales, respectively, for the three months ended December 31, 2013. Customer B comprised approximately 23% of net sales for the three months ended December 31, 2012.
Normally, this would be a good point, but it's irrelevant in this situation, which is admittedly unique. If fact, I wouldn't be surprised if Clearfield has turned away customers. What is relevant, due to the nature of funding, is the percentage of sales from the largest customer in accounts receivable. The percentage was 57% at the end of FY '12, but dropped to 13% in FY '13.
Another Seeking Alpha contributor believes one of these large customers is Google, and he may be right -- I give him a nod for originally sharing this stock in 2011 when it was trading at $5. That said, I believe Clearfield's largest customer is one of the providers awarded funds from the CAF auctions. The list below shows some of the providers that won bids from phase 1: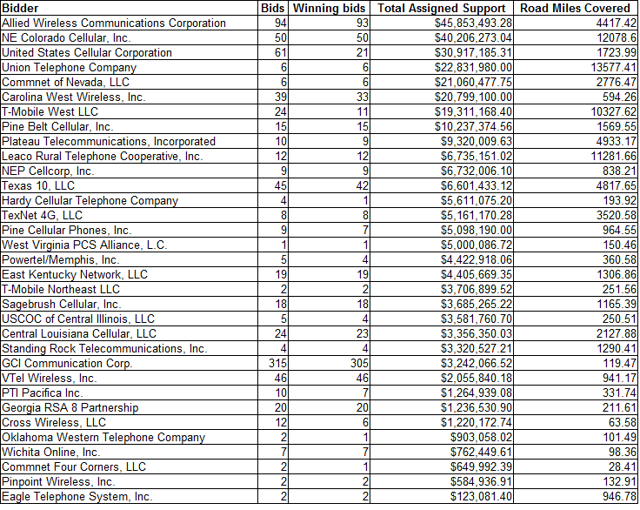 Each provider must find a company like Clearfield to assist with deployment or handle the deployment in-house, but not every company has an expertise in deploying fiber in hard to reach areas, especially with extreme weather conditions. That's why Clearfield sales to providers nearly doubled in Q1 and why Clearfield reported a backlog of $8.6 million at the end of the year, compared to $2.6 million in the previous year.
Google Fiber is focused on overbuild and providing faster speeds to urban areas, whereas the FCC is focused on rural or hard to reach areas, which is Clearfield's specialty. Each city must also give Google full access before agreeing to service the area which may hinder the project. Meanwhile, CAF has already awarded $600 million in funds to providers across the nation.
What's the point -- Google Fiber, in terms of funding and support, is more precarious than the FCC and I can see why a high customer concentration from Google Fiber might worry some investors, but, Clearfield isn't in jeopardy of losing customers. To the contrary, they're in high demand and the depth of their economic moat will only increase over the next four years.
I believe Clearfield's only credible risk is its size and whether or not it can accommodate the coming growth. As of Sept 30, the Company had only 179 full-time employees.
Final thoughts
There are several factors that suggest last year's growth is not an anomaly:
Government funding for CAF and the Mobility Fund is still in early stages, and a commitment has been made until at least 2017.
Clearfield's product line is specifically designed to protect fiber in rural/under- and un-served areas, which is the FCC's target market for aid.
Clearfield has a backlog which illustrates high demand and mitigates concerns about customer concentration.
International sales grew 160% in Q1; faster than domestic sales.
Additionally, due to the American Healthcare Act, telemedicine and electronic medical records have grown in importance especially in rural and hard to reach areas.
In 2014, the CEO of Clearfield, Cheri Beranek, will make 30 stops at different vendor shows and conferences around the world. This is a slide from that presentation on growth -- it provides a forecast by the FTTH Council and Render Vanderslice on overbuild and greenfield activity through 2017.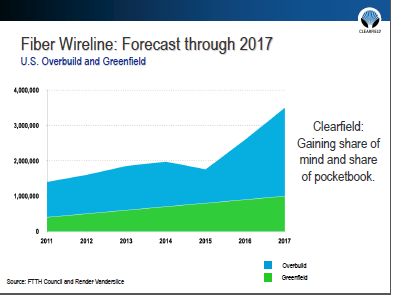 Clearly, the industry is on a growth trajectory and Clearfield is focused on "gaining share of mind and share of pocketbook" of that growth.
The graph below shows how Clearfield's price increased last year against quarterly earnings.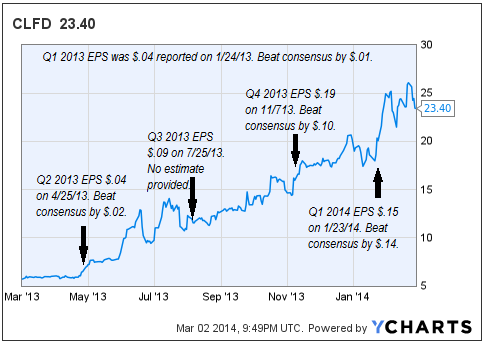 Consensus estimates for Q2, Q3, and Q4 are $.11, $.20, and $.21, respectively -- that's $.67 for the full year. It's worth noting that consensus estimates are currently the consensus of one analyst. Still, based on this conservative estimate, and an industry PE of 40-50x, the stock should be trading at $26 - $33 today.
From a growth perspective, Clearfield has established a trend of superior returns. If that trend is applied across the back half of the year, the stock should be trading at $56 - $69 by the end of Sept. -- at a minimum.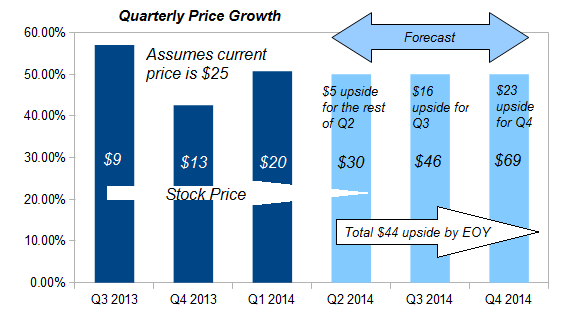 We'll have to wait until the second quarter earnings announcement, tentatively scheduled for May 15, to know if the growth trend continues on in Q2, but if insiders are any indication, 2014 will be another great year. Director Charles N. Hayssen, bought 8,000 shares at $22.50 on Feb. 7. Roth Ronald, Chairman of the Board, purchased 5,000 shares at $21.82 on Feb. 11, and then another 5,000 at $23.36 on Feb. 27.
Disclosure: I have no positions in any stocks mentioned, and no plans to initiate any positions within the next 72 hours. I wrote this article myself, and it expresses my own opinions. I am not receiving compensation for it (other than from Seeking Alpha). I have no business relationship with any company whose stock is mentioned in this article.