Executive summary:
A solid Q3 FY 2014 earnings beat and bullish guidance provides runway for growth at AeroVironment (NASDAQ:AVAV).
Business contains two unique, but disparate operating businesses: (1) electronic vehicle charging stations and (2) unmanned aircraft systems.
Recent deal with large defense contractor Lockheed Martin (NYSE:LMT) validates AeroVironment, and could make it an acquisition target.
______________________
AeroVironment ("Aero") is a "market share leader in unmanned aircraft systems ("UAS") and industrial electronic vehicle ("EV") charging systems." Both are attractive, niche and growing industries where Aero has considerable experience and first mover advantage.
But what a difference a year makes in terms of valuation in the mercurial markets.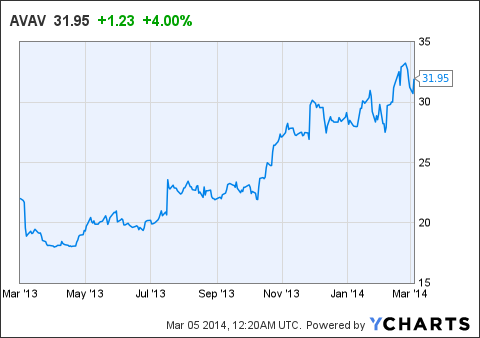 One year ago, shares of Aero were pummeled after announcing earnings and guidance that disappointed Wall Street. The company insisted that the miss was on account of delayed, but not lost, customer orders for its unmanned aircraft systems. CEO Tim Conver explained:
Today, I'll focus my comments on 3 key points. First, delays on the government procurements we expected during the quarter, that were the primary cost of realizing only about half of the revenue that we planned for Q3. At this point, we expect most of that revenue to be realized over the next few quarters.
Second, over the last few months, delays in most of our government acquisitions have exceeded even our most conservative estimates. And we have reset our order plans and our expectations for fiscal '13 to adjust to these extended timelines.
Despite these significant delays, we believe that we have not lost these expected awards, and we believe our customers still expect these contract actions to proceed, albeit at a slower pace than we originally planned.
Third, our new opportunities in multiple defense and non-defense applications appear to be on track to drive long-term growth. Although they remain subject to uncertainty and adoption timing.
In the world of ultra short-term equity analysis, lumpy is not the sort of revenue stream that creates smooth share price performance. But that is good for investors, who can use the volatility to their advantage.
To that end, saved in the corners of the Seeking Alpha transcript universe, I left time stamped comments after the March 6, 2013 transcript: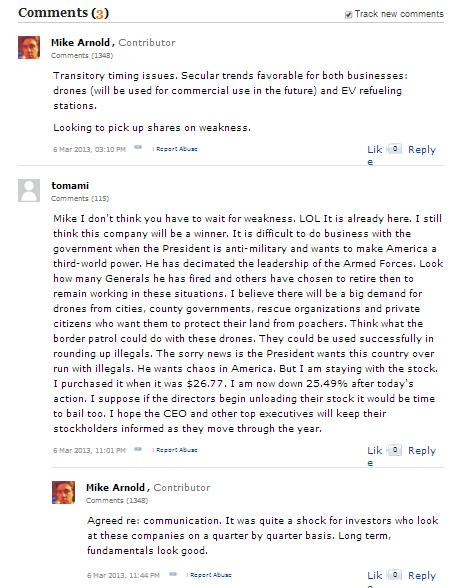 I never invested in AVAV shares. I wish I would have taken my own advice. Opportunistic investing with a long-term time horizon generally leads to solid risk-adjusted returns.
Fast forward one year and shares of Aero are flying high.
While FY 2013 numbers were down significantly year-over-year, Aero handily beat low expectations in Q3 FY 2014 and reiterated its full year FY 2014 guidance of between $230 and $250 million and EPS between $0.35 and $0.50. If we annualize last quarter's earnings ($0.49), Aero is generating a $2/share earnings run rate, pricing the business at 17x annualized earnings. That is a very reasonable multiple given the growth implicit in Aero's core markets, which include military and commercial UAS and the EV recharging market.
So while lumpy revenue streams can cause significant earnings "misses" on a quarterly basis, they can also set a business up for huge "beats" on a year-over-year comparable basis. Remember how bad Q3 FY 2013 was? Q4 FY 2014 was a smashing success compared to the prior year, with revenue up sales up 47% y/y. These are the sorts of anomalies that are fairly predictable from a human behavior perspective (i.e., tail winds from easily beatable comps), making it easier to place opportunistic bets.
Lockheed Deal
Another recent event that should highlight the value in Aero is its recent joint venture announcement with defense contractor, Lockheed Martin. The agreement is for the exploration of certain applications for border surveillance and communications, among other options to drive customer value. In my view, the deal will asymmetrically benefit Aero given it now has a very well capitalized partner with deep industry connections. Moreover, the relative value of Aero ($720 million) relative to Lockheed ($53 billion), indicates the potential upside in the arrangement, and could point to one of the bigger defense contracts looking to buy Aero.
Takeover Target?
Both markets that Aero serves appears to be ripe for consolidation. We know that Tesla (NASDAQ:TSLA) has announced rather ambitious plans to roll out EV charging stations across the country. Realizing their is some proprietary IP in the Tesla products, could it make sense to buyout Aero for its EV charging station business and related IP? It could help Tesla keep a strangle hold on the electric car market.
What about drones? Today it was announced that Facebook (NASDAQ:FB) bought Titan Aerospace for $60 million. We know that Amazon (NASDAQ:AMZN) is testing a drone delivery service. Could Aero make a good acquisition target for Amazon given its UAS business? It is not out of the question.
Finally, what about the big defense contractors like Lockheed Martin? Rather then engage in joint ventures, Aero would make a bite size acquisition for the bigger defense contract players and provide them a pure play on the next wave in defense tactics, unmanned aircraft.
Putting it together, Aero has an interesting position in a number of attractive industries where big, strategic buyers are starting to allocate capital. I would not be surprise to see Aero taken private.
Conclusion
My comments from the March 6, 2013 transcript remain true today.
Long-term, fundamentals look good.
While the shares have appreciated significantly since that time (+62%), I still think these shares have room to run and could be subject to a takeover offer.
That said, the business remains susceptible to lumpy revenue and therefore could experience a large, transitory pull back in the future. I'm going to sit on the sidelines for now, waiting for the mercurial market to get too short-term oriented on Aero again. When that happens, investors will likely be provided another nice entry point.
I just hope Amazon, Tesla, Lockheed or another industrialist doesn't beat me to the punch.
Disclosure: I have no positions in any stocks mentioned, but may initiate a long position in AVAV over the next 72 hours. I wrote this article myself, and it expresses my own opinions. I am not receiving compensation for it (other than from Seeking Alpha). I have no business relationship with any company whose stock is mentioned in this article.