(Editor's Note: This article covers a stock trading at less than $1 per share and/or with less than a $100 million market cap. Please be aware of the risks associated with these stocks.)
The pharmaceutical business is a $350 billion market that faces unprecedented challenges. According to IMS Health, drug companies spend over $6 billion per year promoting their drugs to physicians only to lose ground to low-cost generics. With doctors barring drug reps and shifting their business to e-Prescribing, pharmaceutical companies face the daunting task of reaching the physician's workflow. At the center of all this is OptimizeRx (OTCQB:OPRX), a tiny company with a novel solution.
Business
OptimizeRx, through its SampleMD software, provides a platform that allows doctors to print and electronically distribute sample vouchers and co-pay coupons for prescriptions. Launched only in 2008, SampleMD has already been integrated into 350 electronic health record (EHR) systems and supports a portfolio of over 65 leading drugs from the likes of Pfizer, Lilly, and Sanofi-Aventis. These drug companies pay OPRX $4-5 every time a coupon is printed from their platform, making the model massively scalable.
SampleMD has a value proposition that appeals to all parties in the prescribing process:
Pharmaceutical companies - SampleMD offers a solution to replace the pharmaceutical industry's legacy system of maintaining a drug rep staff to deliver coupons and promote drugs to doctors. These drug reps were expensive, each averaging $200K/yr, and have increasingly become viewed as a nuisance by doctors. It should come as no surprise then that the industry has been downsizing their sales force, to 75,000 reps in 2012 from a peak of 105,000 in 2007.
The SampleMD platform also allows pharmaceutical companies to better gauge their return on promotional spending, which has become critical as competition from generics has intensified. The platform allows drug companies to know their coupons are actually reaching patients and not collecting dust in a doctor's drawer. Drug companies can also use the platform to target their promotions to a demographic and communicate product information in real-time, right within the doctor's workflow.
Patients/Doctors - Patients receive the benefit of co-pay savings, which can be upwards of 80% for a typical $20 voucher on a $25 co-pay. These savings increase the likelihood patients will adhere to their medication regimen and thus lead to better treatment outcomes. The link between co-pay price and drug adherence was demonstrated by a recent study, which found that patients who received a $35 voucher on a $60 co-pay adhered to their regimen 35% longer than those that did not receive a coupon. Better outcomes are also becoming a key focus for doctors in response to new incentive systems outlined under ObamaCare.
EHRs - To entice EHRs to integrate SampleMD into their system, OptimzeRx offers the EHR a share of their coupon revenue, typically 40-50%. By integrating SampleMD, EHRs solidify their product while gaining a high-margin revenue stream. OptimizeRx has made much progress on this front, forging partnerships with some of the country's largest EHRs - Allscripts, DrFirst, and Nexgen to name a few.
In addition to scalability, OptimizeRx's business is recurring in nature - once a physician becomes familiar with the platform and benefits of e-couponing, it is very likely it will become a core part of his/her practice. The platform also benefits from high switching costs afforded by the time and effort required for integration onto EHRs.
Financials
Since launching SampleMD in 2008, OPRX has experienced exponential revenue growth: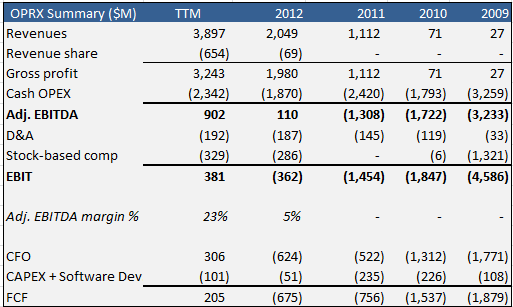 Note: A recent change in accounting policy will require OPRX to show revenue share as it is accrued rather than when it is paid. This change will likely have them showing a GAAP loss over the most recent period.
As expected, the company has not required additional infrastructure for growth and operating expenses have remained stable. This has allowed the business to scale and reach an inflection point this year, achieving positive cash flow for the first time.
To appreciate the acceleration of OPRX's business, we can get a more granular view from the company's quarterly financials: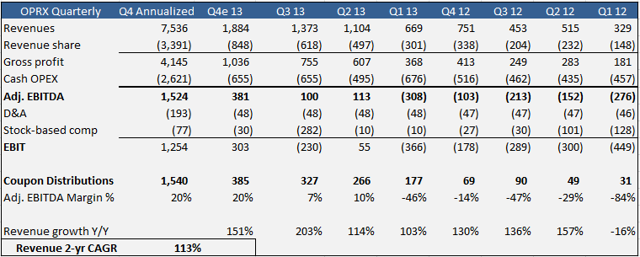 Note: The Q4 annualized figures reflect the recent accounting change whereas the historical quarterly results do not.
The key driver for OPRX's revenue is the number of coupon distributions, which has increased in each of the last 7 quarters and driven triple-digit revenue growth. Most importantly, the company became comfortably profitable in the fourth quarter even after considering the revenue share accounting change. Given the recurring nature of the business, we can annualize the fourth quarter numbers to get a feel for OPRX's run-rate operating income.
Examining OPRX's valuation is a bit complicated due to a large number of preferred shares and warrants held by an early investor in the company, Vicis Capital. Vicis has been winding down their operations and has in place a securities redemption agreement with the company, which gives OPRX until March 31st of this year to raise $6M for the buyout. The firm has been accommodative, recently extending the deadline and lowering the redemption price from $9M, but the lack of a fundraising plan has caused distress in the investor community. To work up a fully diluted share count, we will assume they issue 4.5M shares @ $1.60 and have to issue 2.25M warrants @ $2.40. Our valuation then looks like this: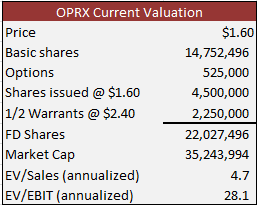 At the current run-rate, OPRX has a valuation of nearly 5X sales and 30X EBIT - rich by any standards. However, once considering the operating leverage inherent in OPRX's business model and the catalysts set to drive distributions higher, it becomes clear this company remains deeply undervalued.
Modeling / Valuation
Modeling OPRX is challenging and is sensitive to two key inputs: the number of users on the platform and the average distribution frequency of each user. Fortunately, management has provided us a starting point by setting the goal of achieving a 1M quarterly distribution run-rate by 3Q 2014. By haircutting this goal and assuming it takes until the end of 2014 to achieve, we can get a glimpse of what the next few years should look like for OPRX: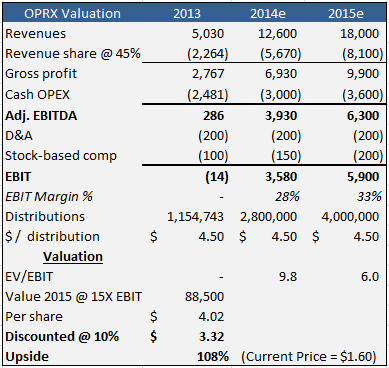 The business model requires little additional overhead to scale, but I have erred on the conservative side, considering the company will be hiring a full-time CEO in the near future. Using an average pay-out of $4.50 per coupon, we find this business would do $18M in revenues and nearly $6M in EBIT under this scenario.
And a fair multiple for a scalable, recurring-revenue business growing at triple-digit rates? At the absolute minimum, I'd argue for 15X, but realistically 20-25X would not be out of the question. Taking our low-end valuation and discounting back, we arrive at a valuation around $3.30, over double the current price.
Now all this begs the question: is management's goal realistic? For a sense check, we can look to a revenue sensitivity analysis across the two key drivers, number of users and frequency:

SampleMD averaged around 100K users over the last quarter, which means that each user distributed a coupon once per three weeks on average. Following a number of key integrations currently taking place, notably with Nexgen and Allscripts, OPRX will have a base of approximately 150K users. This means achieving management's goal will require each user's frequency to increase to once every other week - hardly a stretch considering the secular trends in e-prescribing.
The sensitivity analysis can also be used to demonstrate the potential of OPRX's business. There are roughly 700K prescribers in the United States, and I believe the company could eventually reach a 50% penetration rate through further EHR partnerships. It is also possible that with growth in e-prescribing, the platform's user frequency could reach twice per week, which would still be a small percentage of the 15 prescriptions an average doctor writes per day. Put these potential scenarios together, and this is a business that could do $150+M in revenues and be worth 10-20X the current price.
Insiders
OptimizeRx is a closely held company with founder Dave Harrell holding nearly 16% of the shares outstanding on a diluted basis. Mr. Harrell was an ex-drug rep himself and started the company in 2006 as a portal for consumers to learn more about available drug coupons. Supporting Mr. Harrell are David Lester, COO, and Terry Hamilton, VP of Sales, both of whom have extensive pharmaceutical and marketing experience. All executives' interests are well aligned with shareholders, with Mr. Hamilton and Mr. Lester owning 4% and 2% of the company, respectively.
Risks
While OptimizeRx's business model makes for a compelling thesis, there are a number of risks that have weighted on the stock recently.
Financing - As discussed above, the company will need to raise $6M in next two months to buy out Vicis Capital. This will require the company to issue a significant amount of equity and holds them hostage to their stock price in the near term. The stock has found itself in limbo whereby not communicating options for the raise, the stock has languished, which only reduces the company's leverage in negotiating a deal.
Management Execution - In March 2013, the company brought on Shad Shastney, the founder of Vicis Capital, to serve as CEO and presumably craft a buyout deal from his old fund. Uncertainty caused by Mr. Shastney's indictment with the SEC for securities fraud and resignation from the company sent the stock tumbling, even though such issues long pre-dated his involvement with the company. Founder Dave Harrell stepped in as CEO, and although he has excelled at building the business, he has limited experience in managing a public company. The company is searching for an industry veteran to take the helm, but the question of who will be leading this company going forward is a major concern for investors.
Catalysts
OptimizeRx stands to benefit substantially from secular trends in the e-Prescribing industry:
1) EHR Integration/Future Partnerships - SampleMD is currently being integrated into the Nexgen and Allscripts platform, which itself has over 100,000 users and a dominant share of the e-prescribing market. The company also recently announced a partnership with Physicians Desk Reference (PDR) to bring SampleMD to PDR's extensive network of EHRs. Considering SampleMD will reach only 20% of the country's prescriber base following these integrations, more partnerships could be on the horizon in 2014.
2) New Drug Additions to the Platform - SampleMD currently features 65 leading drug brands (up from 46 at the end of 2011), having recently added blockbusters like Viagra. Given the enticing ROI SampleMD offers drug companies on their promotions, the company could soon be given entire portfolios of drugs to support on their platform.
3) Growth in the e-Prescribing Industry - According to Surescripts, the leading U.S health information network, e-Prescribing has been growing at a rapid pace, increasing from 326M to 570M prescriptions over 2011 alone. Driven by government incentives and desire for operational efficiencies, the total number of e-Prescriptions is predicted to reach 2 billion in 2016 (of which ~30% will be branded drugs). To put this market opportunity in perspective, OPRX has less than 0.25% share of their projected addressable market at current run-rate levels.
Beyond these, resolution of the Vicis Capital buyout, revenue growth from consulting services, and OPRX's potential as an acquisition target could all serve as catalysts to drive the business in 2014. The company's acquisition potential should not be underestimated as Merck recently bought a controlling stake in OPRX's lone competitor, Physicians Interactive, in a deal that valued PI at a rumored $100M (per ex-CEO Shad Shastney on the 2Q13 conference call).
Conclusion
OptimizeRx is in the sweet-spot of its industry with an offering that enables drug companies to market their products while helping patients and doctors realize better outcomes. The market's concern over near-term fixable issues have created an opportunity for investors willing to look past these uncertainties and focus on OPRX's accelerating business. Conservative assumptions around platform adoption point to a valuation over twice the current price and potentially far higher given the market opportunity the company has before it.
Disclosure: I am long OPRX. I wrote this article myself, and it expresses my own opinions. I am not receiving compensation for it. I have no business relationship with any company whose stock is mentioned in this article.