Looking for strong value plays in a market going into its 5th year run is difficult. This often leads to out of favor stocks and regions. As the developed markets continue their ascent from last year, many are shunning emerging markets as a whole and Russia specifically. I am a fan of emerging markets over the long run as many of the markets are getting negative biases towards them. There are factors that cause concern; rising debt loads, deficits, and a heavy election year. In the investors' mindset, they are going to wherever the returns are promising and that is the developed markets as of late. This makes the Emerging space seem an outcast because their growth has come down from spectacular to realistic, but with the S&P hitting new highs and talks of a market melt-up, who has time for realistic expectations.
I would like to discuss the riskiest of the emerging market plays, Russia, as volatility in the coming days and weeks could potentially provide opportunities for investment. With geopolitical risk on the front pages of the paper daily, it is hard to imagine that this would make for a good investment choice, but this is exactly when opportunities present themselves for a patient investor. I am not saying that Russian shares are a screaming buy today; I am simply looking at their depressed levels as a potential opportunity to start a position.
It seemed Russia was looking for an excuse to put more military pressure on Ukraine and potentially move out of Crimea and into Ukraine proper. This has caused Russian stocks to drop over 10%, oil to spike 3%, and markets around the world to take notice. What caught my eye was the raising of the interest rates in Russia to the highest levels since 1998 to stem the currency slide. Then Putin said that the use of troops in Ukraine does not seem imminent and will only be used in extreme cases. Coupled with the international community giving Russia room to scale down the tensions without losing face and remaining firm on action in the event of an escalation, the Russian government isn't completely oblivious to the need for foreign capital and free flow of goods and seems to be holding back.
This helps alleviate concerns that Russia will push the escalation to the point of sanctions by the US and Europe. On these assumptions I would look at building small positions in some of the oil and gas companies and banks. The oil and gas companies could benefit from the perceived hedge that they have supplying much of Europe with energy. As tensions escalate fears of oil cutoffs, it raises the price of Brent crude and in effect raises the price of Russia's largest export.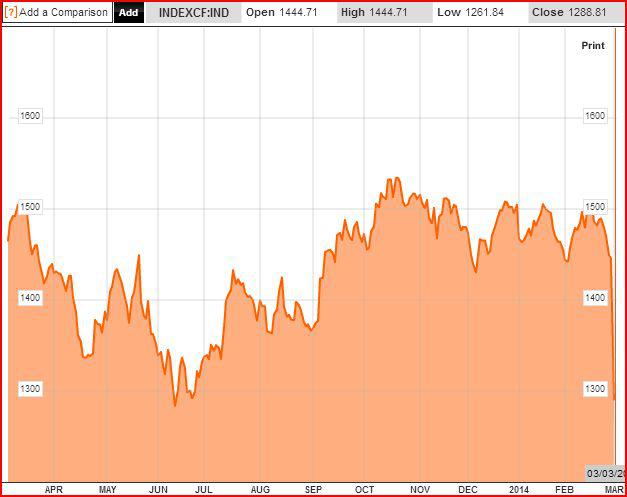 Source: Bloomberg
While you can play individual stocks I feel it is easier when building a position to look for a broad ETF or fund to get exposure across the market. In this case the iShares MSCI Russia Capped ETF (NYSEARCA:ERUS) or Market Vectors Russia ETF (NYSEARCA:RSX) could be good plays. With P/E multiples down around 5 for the Russian index and most emerging markets double that the value play speaks for itself. Given the inelasticity of Russian exports (oil and gas) I feel the current situation is priced in. Though a risky prospect, it shouldn't hurt for an investor to take some of the returns from the current run up in equities and apply them to emerging markets in general, and Russia as the ultimate turnaround story.
When investing in this environment (down 11% one day, up 5% the next) you have to keep an eye on the longer term and stomach the shorter-term moves. There are many extreme scenarios that are displayed in the news, the reality is going to be somewhere in the middle. As of now it seems that Russia is looking to hold off on more aggressive policies and most likely looking for a way to back off as the winner in this situation. When investing you can pick up some of the higher yields in Russian stocks while waiting for normalcy to return, but also know where the red line in the investments are. This premise is based on the fact that there are no further escalations from Russia that may prompt sanctions from the US and Europe, should this occur you should look to get out of positions regardless of gain/loss. If conditions slowly go back to normal, buying more positions over time could provide a portfolio with higher than normal yields and potential for upside in the medium term.
Disclosure: I have no positions in any stocks mentioned, and no plans to initiate any positions within the next 72 hours. I wrote this article myself, and it expresses my own opinions. I am not receiving compensation for it (other than from Seeking Alpha). I have no business relationship with any company whose stock is mentioned in this article.