Author: Tim Gaumer, Global Director of Fundamental Research at Thomson Reuters
Sturm, Ruger & Co. (NYSE:RGR) presented a good example last week of why it's helpful to monitor multiple data sources for potential shocks. Shares of gun and ammo manufacturers Sturm, Ruger and Smith & Wesson Holding Corp. (SWHC) both posted strong gains over the past several years, as fears about tighter gun restrictions boosted demand. We analyze their prospects using several StarMine models, including Insider Filings.
Shares of Sturm, Ruger peaked at $84.94 in mid-January 2014, up from $15.11 at the beginning of 2011 - a 462% return over three years. However, it has given back 25% since Jan. 16, including a decline of 7.9% on Feb. 26, following an earnings release that came up a nickel short of the Thomson Reuters I/B/E/S mean of $1.38.

Source: Thomson Reuters Eikon, StarMine
Short Sellers have Targeted Gun Manufacturers
Notice from the collection of Thomson Reuters StarMine Alpha Models above that if you were merely looking at things such as valuation or analyst activity, you wouldn't have detected any problems brewing at RGR. But looking at the StarMine Short Interest model, you can see that short sellers have targeted this stock. This is also true of Smith & Wesson, where 31.2% of all shares outstanding have been sold short (compared to 26.5% of RGR's), giving it a Short Interest model rank of 1 out of 100, where low scores are the most bearish. We include short sellers in our models that track the "smart money." But, while they often get the fundamentals right, they are sometimes too early.
It's been a couple of painful years for those shorting RGR or SWHC. Shorts have the stocks of these gun companies in their sights on the theory that nervous gun enthusiasts feared tighter ownership regulations under an Obama administration. Those concerns were perhaps amplified after the tragic shootings at schools in Colorado and Newtown, Conn. The bear case was that this pulled forward a great deal of demand that would soon be satisfied. The annual revenue chart below shows the rapid acceleration in sales, following several years of lackluster growth.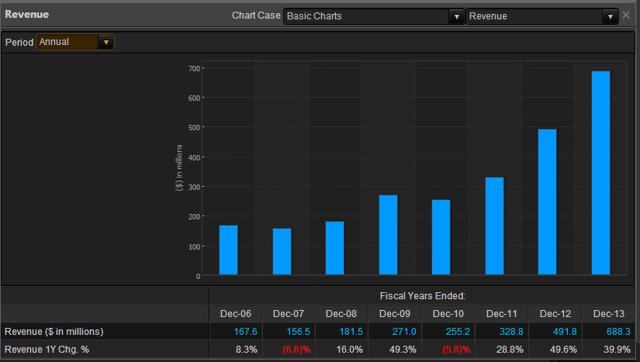 Source: Thomson Reuters Eikon, Reuters Fundamentals
Applications for Background Checks Decelerating
Other evidence may suggest that either demand is becoming satisfied, or fears are abating that a deadlocked Congress will take action in opposition to the NRA and powerful gun lobbyists. The FBI's National Instant Criminal Background Check System, or NICS, reported total background checks fell 33% in January to 1,660,355 compared to the same month during the prior year, worse than the 27% decline in December.
Following StarMine Insider Filings Model US
StarMine has developed a stock ranking system based on the trades and holdings of company insiders. This model exploits the information advantage of insiders to predict future stock performance, while maintaining a low correlation to standard quantitative factors. The StarMine Insider Filings Model US collects and interprets all the complicated insider filings and delivers one simple interpretation. In the case of RGR, it concludes that one would have been better off following the lead of these insiders.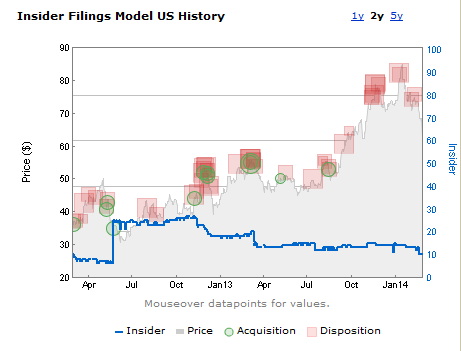 Source: DataStream Professional, StarMine
Inside buyers disappearing
The blue line shows the StarMine Insider Filings score, which is on a scale of 1-100 (100 = most bullish). Notice how the score dropped steadily during 2013. It now stands at 10.
Highlighted in the chart are green circles corresponding to insider acquisitions and pink squares for dispositions. As the green circles on the left of this chart show, in 2012, insiders at RGR did a lot of buying. Subsequently, the stock price roughly doubled. As the stock rose toward its peak in January 2014, insiders continued selling, but buyers disappeared.
The StarMine Insider Filings Model examines buying and selling behavior across two dimensions, Breadth and Depth. Breadth looks at the Net Buyer Ratio. Considering all transactions, it considers more buyers than sellers to be bullish, and the reverse, bearish. In the case of RGR, of the 16 insiders, the 13 who were sellers over the last 24 months vastly overwhelm the one buyer. This results in a rank of 1 on a 1-100 scale.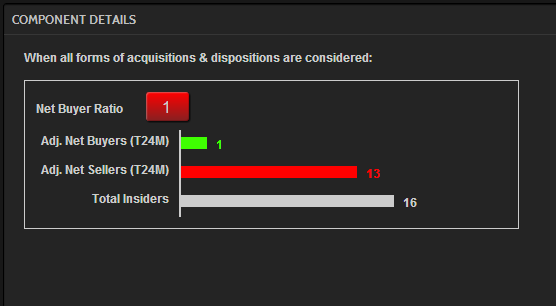 Source: Thomson Reuters Eikon, StarMine
The other input to the StarMine Insider Filings Model looks at actual purchases and sales from the perspective of how many dollars are being committed to purchases and what percentage of their total holdings are being disposed of. The data for RGR is shown in this Eikon screenshot below.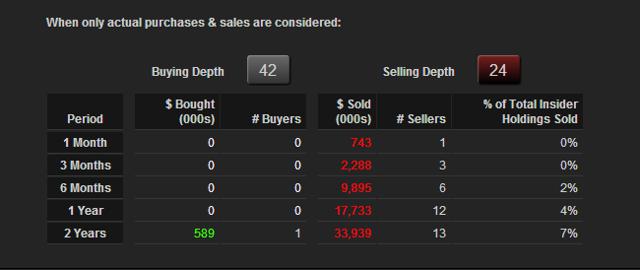 Source: Thomson Reuters Eikon, StarMine
Next up, Smith & Wesson
Sturm, Ruger is not alone in being both targeted by short sellers and experiencing greater recent insider selling than buying. Smith & Wesson has a Short Interest score of 1 and an Insider Filings score of 20. Its stock began 2011 at $3.73 and also peaked out in mid-January at $14.99. Similar to RGR, it has fallen back (to a recent $11.77). Surprisingly, we've observed no estimate cuts from Wall Street analysts in spite of the RGR and Cabela's disappointments. Now, perhaps because Smith & Wesson's product line addresses the military and police markets in addition to individuals, it will dodge this bullet, but if the recent news really represents a change in consumer behavior, it too may offer up some less-than-bullish news when it reports earnings after the close on March 4.
Disclosure: I have no positions in any stocks mentioned, and no plans to initiate any positions within the next 72 hours. I wrote this article myself, and it expresses my own opinions. I am not receiving compensation for it. I have no business relationship with any company whose stock is mentioned in this article.