The 25-day SEC-enforced quiet period on underwriter research related to Talmer Bancorp Inc (NASDAQ:TLMR)'s February 11 IPO will conclude on March 8, likely causing an increase in the price of TLMR as the IPO underwriters begin to release positive research reports on the Midwestern bank holding company.
TLMR priced at $13.00 per share on the eleventh, within the expected range of $12.50-$14.50, and saw a modest 6% first day return. Share prices have been stagnant ever since, fluctuating between $13.20 and $14.15 per share; TLMR closed at $13.75 per share on March 4th.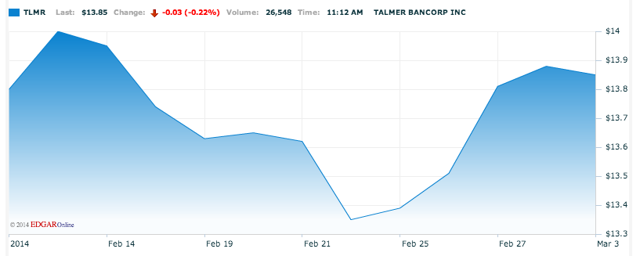 (Source: Nasdaq.com)
TLMR's underwriters, including J.P. Morgan Securities LLC, Keefe Bruyette & Woods Inc, Raymond James and Associates Inc, RBC Capital Markets LLC, Sandler O'Neill and Partners LP, Sterne Agee, and Leach Inc will attempt to push the stock towards improved performance by publishing positive information on TLMR beginning on the eighth.
Data from recent academic studies and the results of our past two years of research have led to empirical evidence of a correlation between the quantity and reputation of an IPO's underwriters and gains in the price of shares at the expiration of the quiet period.
This price increase generally begins to appear several days before the quiet period has expired as aggressive investors purchase shares in the hopes that the positive underwriter research releases will generate improved prices. These early buys place upward pressure on prices even before the underwriters are able to publish their positive research pieces.
Business
Talmer is a bank holding firm, currently in the process of creating a Midwestern United States banking franchise, through both organic growth strategies and the acquisition of existing banks. TLMR made five bank acquisitions totaling $5.0 billion in assets and $4.9 billion in liabilities, between April 30, 2010 and December 31, 2013.
In January 2014, TLMR also acquired Michigan Commerce Bank, which has been renamed Talmer West Bank. TLMR now owns three subsidiary banks, including Michigan state-chartered Talmer Bank and Trust and Talmer West Bank and federal savings association First Place Bank. These banks operate 94 branches and 14 lending offices, mostly in the Midwest. TLMR's competitors include other regional banks, such as Fifth Third Bancorp (NASDAQ:FITB) Huntington Bancshares (NASDAQ:HBAN), as well as national banks like JPMorgan Chase (NYSE:JPM) and Bank of America (NYSE:BAC).
Management
David Provost has served as the President and CEO of TLMR since 2009 and was also appointed CEO of Talmer Bank in early 2008. He previously served as Chairman and CEO of The PrivateBank-Michigan, as President and CEO of Bloomfield Hills Bancorp, and as the Chairman and CEO of The Private Bank. Mr. Provost serves as a board member for Plastipak Holdings, Inc.
Potential Opportunity For Investors
Despite its rapid growth and profitability, TLMR has failed to make a quick splash in the market thus far.
The quiet period expiration may offer aggressive investors a solid long opportunity as the underwriters issue detailed positive reports to their retail and institutional clients.
Disclosure: I am long TLMR. I wrote this article myself, and it expresses my own opinions. I am not receiving compensation for it (other than from Seeking Alpha). I have no business relationship with any company whose stock is mentioned in this article.