Shares of Eagle Rock Energy Partners L.P. (NASDAQ:EROC) have taken a hit recently over a few issues; however, the concerns appear to be either unrelated to this company (such as market volatility) or overblown (such as the closing date of a major transaction). The recent pullback in this stock has created a buying opportunity for income and deep value investors. Eagle Rock Energy Partners is a limited partnership that develops and operates oil and natural gas projects and processing facilities. Let's take a look at the chart below, as well as why it could be poised to provide a high yield for long-term investors and even rebound in the near-term: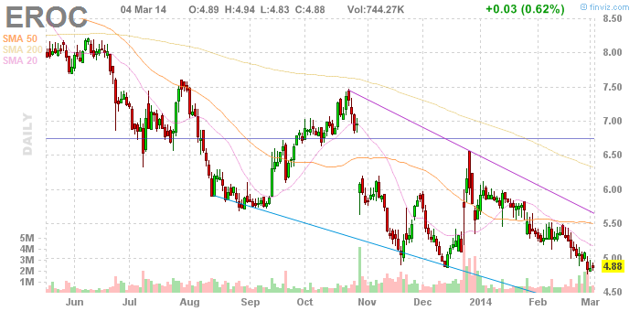 As the chart above shows, there has been some volatility in the share price, and more recently a pullback. The shares are now at oversold levels with a Relative Strength Index or "RSI" of about 31. That means it could be due for a rebound sometime soon. Here are 4 major reasons why the recent pullback is a buying opportunity:
Reason #1: This stock appears undervalued when considering the yield of over 12%, especially since it appears sustainable. Investors should normally be concerned about a very high yield since it could imply that a dividend cut is coming. However, the downside risk of a dividend cut is out of the way because it was already reduced in late 2013, and it now appears sustainable at 15 cents per quarter. Management has made these positive comments regarding the new distribution policy: "Distribution coverage was approximately 1.05x for the third quarter of 2013, and management expects coverage to increase over the next several quarters."
Reason # 2: The market does not seem to be pricing in the very significant increase in natural gas prices. A surge of roughly 40% in the price of natural gas (since November 2013), is bound to significantly improve cash flow and profit margins for Eagle Rock Energy Partners. Just take a look at the chart below for the United States Natural Gas ETF (NYSEARCA:UNG) and it becomes clear that natural gas producers are now seeing better days. Eagle Rock Energy Partner's upstream properties are comprised of: 559 gross operated producing wells, 1,249 gross non-operated wells and it has proved reserves of 350 Bcfe. With a composition breakdown of about 56% natural gas, 22% crude oil, and 22% natural gas liquids, the surge in the value of natural gas can significantly boost the value of its reserves as well as future financial results.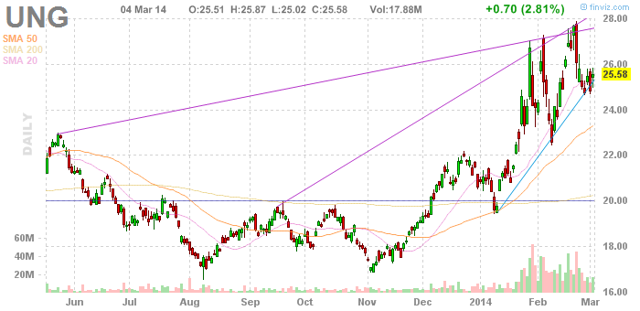 Reason # 3: Eagle Rock Energy Partners has signed a deal to sell its midstream assets for about $1.3 billion to Regency Energy (NYSE:RGP). This deal is expected to close in the second quarter of 2014 and it will allow Eagle Rock Energy Partners to focus on its upstream operations. This transaction will also give it more flexibility and the financial strength to pay down debt. On February 28, 2014, it was announced that the Federal Trade Commission requested additional information and documents relating to this transaction. The Federal Trade Commission reviews deals to make sure antitrust laws are followed. Eagle Rock Energy Partners said that it would provide the needed information and this request appears to be routine. Some investors might be concerned the deal will be delayed, however, a delay (if any) will be probably be minimal since the transaction can close 30 days after getting approval. I believe the approval will come soon, and that the shares of Eagle Rock Energy Partners will rally on this news.
Reason #4: It's just too cheap: With a dividend cut out of the way and the company still offering a generous and sustainable payout, the downside risks appear minimal at these levels. When you factor in the huge rise in natural gas prices, this stock appears very undervalued. The pending transaction with Regency Energy is likely to close in the second quarter and this will add significant financial strength. It also looks too cheap when considering a November 16, 2013 report from S&P analysts that sets a 12-month price target of $8 per share. With the shares trading for just around $5 now, this implies a potential gain of 60%. With a yield of over 12%, investors will be rewarded with a generous dividend, while waiting for a higher share price.
Here are some key points for Eagle Rock Energy Partners:
Current share price: $4.94
The 52 week range is $4.78 to $10.52
Annual dividend: 60 cents per share, which yields about 12.4%
Data is sourced from Yahoo Finance. No guarantees or representations
are made. Hawkinvest is not a registered investment advisor and does
not provide specific investment advice. The information is for
informational purposes only. You should always consult a financial
advisor.
Disclosure: I am long EROC. I wrote this article myself, and it expresses my own opinions. I am not receiving compensation for it (other than from Seeking Alpha). I have no business relationship with any company whose stock is mentioned in this article.