The news this morning was that estimates for the big banks were taken down from several analysts across the board - mostly on fears of trading revenue slowdowns, lofty guidance, and questionable expenses.
Seeking Alpha reported this morning:
Atlantic Equities' Richard Staite cuts his Q1 EPS estimate for Citigroup (C +1.9%) to $1.14 from $1.40 and his full-year estimate to $4.59 from $4.96, while expressing doubt about the bank's ability to hit its 2015 ROE target of 15%. He continues to have a Hold rating on the name, with a $55 price target
The move comes after CFO John Gerspach - speaking at an institutional investor conference on Monday - said markets' revenues this quarter were off by a high mid-teens percentage, investment banking revenue was tracking lower, and expenses headed higher.
Credit Suisse's Moshe Orenbuch cut his Q1 forecast to $1.21 from $1.41 and FY14 to $5 from $5.25. He still rates the stock an Outperform, with a $65 price target.
JPMorgan (JPM +0.9%) - at its investor day last week - was the first of the big banks to signal the greater-than-expected trading revenue slowdown, and KBW's Chris Mutascio lowered his Q1 EPS estimate to $1.38 from $1.43 and FY14 to $5.90 from $5.95. He's got an Outperform and a $63 price target on the shares.
Bank of America (BAC +1.8%) swims in the same waters, and Orenbuch lowered his Q1 numbers to $0.19 from $0.24 and FY14 to $1.30 from $1.35.
Interestingly enough, this comes on a day where Bank of America is showing one of its strongest days in a while, up 2.8% midway through the trading day on Wednesday. By 10:45 CST, the bank had already traded more than its 100-day volume, so it's been a healthy bullish sentiment behind the bank today.
However, we've seen the bank slow down its epic 2013 run this year.
From a technical perspective, traders are going to be looking at the resistance around $17.20-$17.25. If the stock can confidently break through this level, which would represent about a 3.1% trading gain on Wednesday, it'll be considered one of the more bullish signs for the bank, which has been bouncing between $16 and $17 in 2014 thus far.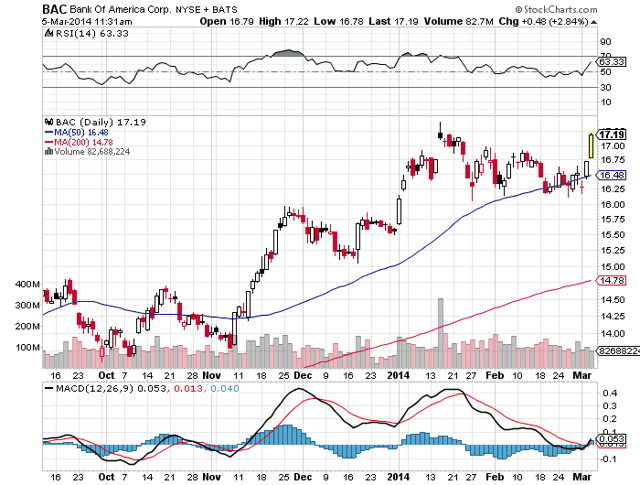 (Source: StockCharts)
While it certainly doesn't appear that people are letting this news move them out of the stock - again, BAC is trading up nearly 3%, while the DJIA is off 34 points - here's three more reasons I think Bank of America remains a "buy", in the midst of that analysis.
1. Cost-Cutting
One of the main points of the analyst estimate cuts is that revenues are pulling back and costs are going up. While that may remain a risk with other banks, CEO Brian Moynihan has proved that he has a firm grasp on expenses, cutting where he can to steady the bank's bottom line. Revenue hasn't been the catalyst for the bank - it's been all about net income growth through cost reduction. Moynihan's track record so far is impeccable.
2. The Dividends are Coming
There were a couple of stocks that I predicted would institute dividends this year. Ford (NYSE:F), GM (NYSE:GM), and Bank of America, namely. The bank remains the only name on this list that is not yielding well through a dividend, but I'm expecting that to change after the non-event that will be the bank's coming stress test.
3. Warren Buffett
I'm not a "ride the coattails" of Buffett trader, but when Warren shows serious confidence in a name that I'm long, it's a little nudge of good news. Buffett has recently re-upped his stake in Bank of America for another 5 years - if he's happy with what he sees, I am too. I think Warren has the right idea here, and it's generally not a bad thing to be on the same side of the trade as him.
--
While risk certainly does remain with the bank with regard to its litigation costs rising, these are one-time problems that have a very small chance of having a massive long-term effect on the bank - which continues to get bigger and stronger every quarter.
Moynihan has shown that slowly and steadily, he's knocking out the legacy issues related to the housing crisis. When the bank gets over its coming major hurdles, it's going to be smooth sailing, and I expect the bank's multiple to increase commensurate with a company that just wiped a lot of risk off the table.
My price target on Bank of America is $25, long term.
Disclosure: I am long BAC, F, GM. I wrote this article myself, and it expresses my own opinions. I am not receiving compensation for it (other than from Seeking Alpha). I have no business relationship with any company whose stock is mentioned in this article.