The global vehicle market is intensely competitive and no segment more so than the luxury segment where brands like Mercedes, BMW, Audi (OTCPK:AUDVF), Lexus, Lincoln, Cadillac and more recently, Tesla (NASDAQ:TSLA) fight for share.
Tesla entered the market with its all-electric roadster only a few years ago, and the limited-edition, high-performance roadster immediately made car buffs take notice. With a range of over 200 miles and a zero-to-60 time of 3.7 seconds, the vehicle was a performance car by any measure. People lucky enough to have one should keep it for years, since it is sure to be a collector's item.
Sports cars are not a big enough segment to make a real meal, and attempts to found a company based on a sports car alone saw John DeLorean and Malcolm Bricklin lose a lot of investor money and create vehicles that today are solely collector's items. That was not to be Tesla's destiny by a long shot.
Instead, Tesla developed its sleek and functional Model S sedan to show its stuff. The vehicle was an immediate hit, and in 2013, sold over 20,000 units.
Tesla knows the luxury market is competitive, and set its sights on the world market rather than solely the North American market. It just raised $2 billion as a down payment for its planned "Gigafactory" intended to ensure batteries do not become a bottleneck or an unmanageable cost for its expansion to hundreds of thousands of vehicles annually, with the Model S sedan to be followed by an SUV called the Model X and a mid-tier vehicle it calls the Model E. My guess is we will not see much of the Model E in the next few years.
Investors have signed on and bid the stock up to north of $250 a share, from less than $50 not much more than a year ago.
I wrote a recent article ballparking the economics of Tesla if it were to reach annual volumes of 500,000 vehicles. The article drew a lot of criticism from some readers, including high-powered analyst and SA reader, Chris Umiastowski - one of the best minds on Bay Street, who made a lot of excellent calls during his career at TD Securities and now has his own blog. I made money over the years based on Chris' reports, so I thought I should up my game a bit and do a better job on Tesla. As an aside, Chris is a Tesla bull and his thoughts on Tesla are worth a read.
As far as the outlook for Tesla goes, I thought I would start with a few basics.
Tesla fits squarely into the luxury car category. The size of the luxury car market is a lot smaller than most people think it is, and it is pretty crowded. In North America, the small-to-medium sized luxury car market, only one base model sold more than 100,000 vehicles, the BMW 3 and 4-Series, with 119,521 units moved. The numbers fall off sharply thereafter, with Mercedes C-Class at 88,251 vehicles and the Lexus ES model at 72,581.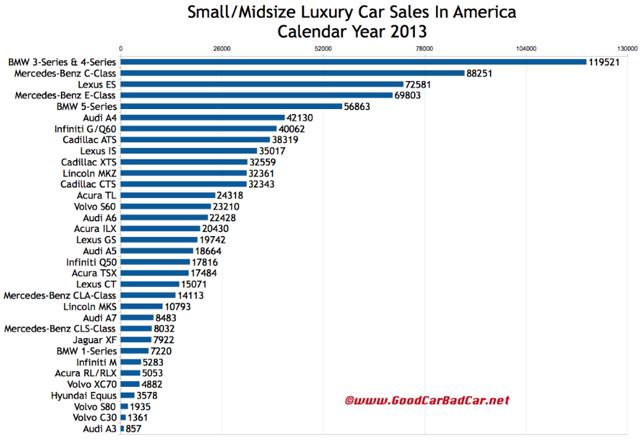 Source: GoodCarBadCar.net
Tesla will have its work cut out to sell 100,000 vehicles annually in this segment in North America. Of course, Tesla is selling its cars globally as well, and I would expect the company to do well in Europe, where fuel costs are much higher than in North America, and in China, where pollution is a serious issue around big cities and cars are big contributors to pollution. It may be a stretch, but I can see Tesla getting to annual sales of its flagship sedan in the 300,000 range by 2019 as its brand continues to win customers and its technology steadily improves.
Tesla's next vehicle - the Model X - is targeted at the mid-sized luxury SUV market, which is smaller but no less competitive. The Lexus RX is the leading model, with 103,920 units sold last year, followed by models from Cadillac, Acura, Mercedes and BMW.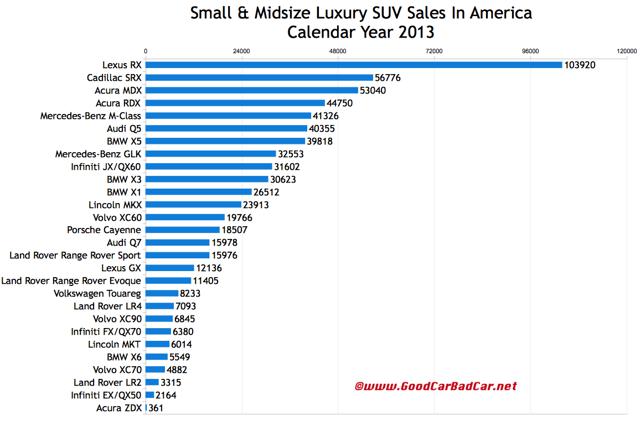 If the Tesla Model X is priced at $90,000, it will find few buyers in this segment. Even a flagship SUV like the full-sized Mercedes GL (not in the small-to-medium SUV segment, but in the large SUV segment) can be had with a diesel engine and loaded with options for a price in the mid-$75,000 range. To move any volume, Tesla needs to price not too far from the top of the segment. A loaded Cadillac SRX retails for about $56,000.
The mainstream mid-sized SUV market is also quite large. Leaders are the Ford (NYSE:F) Explorer, with 192,397 vehicles sold in 2013; Jeep Grand Cherokee and Jeep Wrangler, each selling over 150,000 units; and the Ford Edge, selling 129,109 last year.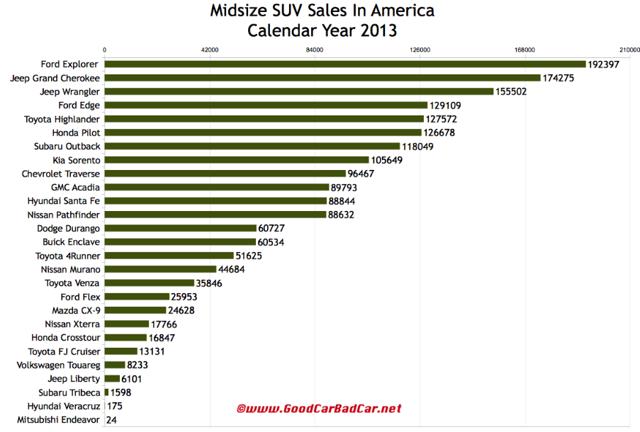 A fully-loaded Explorer or Jeep Grand Cherokee - both excellent vehicles - sells for about $55,000 to $60,000. I paid about $56,000 for my Explorer, with all the trimmings.
My view is that Tesla will sell its premium Model X at a price of about $85,000 and its base model X at about $65,000, with many consumers able to reduce that price with a government grant of $7,500, where available. At those prices, I believe Tesla has a shot at selling as many as 200,000 Model X units worldwide, with almost half of them purchased in North America.
With those assumptions, I have updated my Tesla model and made it a bit more complete, using a realized revenues per Model S (or its successor) of $90,000 per vehicle and per Model X at $75,000 per vehicle. In my judgment, these are high prices for the volumes targeted. Elon Musk indicated his current thinking was to offer the Model X solely in an AWD configuration, and expected the price to be a bit higher than the Model S base price. The Model S base price listed on its web site is $62,400, with $7,500 Federal Tax Credit. Fully loaded with options, that price rises to $89,720, and given it is new, exciting and popular as a "status symbol" kind of purchase, I am assuming most of its sales were fully-loaded vehicles sold to buyers who typically drive luxury sedans.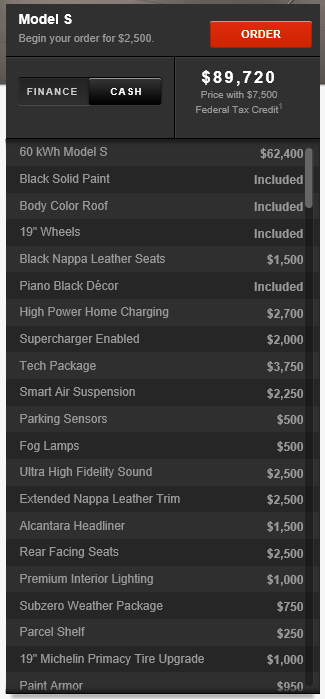 The SUV market is a different kettle of fish than luxury sedans.
While the "status symbol" aura will help Tesla, with fully-loaded and very attractive competing SUVs priced in the $55,000 to $60,000 range, and the SUV buyer more often than not drivers with small families who choose an SUV for its function as much as its form, I think Tesla realizing $75,000 per vehicle is an aggressive assumption, and for real volume it will need to price closer to $65,000, with buyers pocketing the Federal Tax Credit in both cases.
Notwithstanding, I have modeled Tesla economics based on Model X at $75,000 to Tesla and Model S at $90,000, with aggressive expansion, including the Gigafactory onstream by January 2018 and two-shift production beginning in the summer of 2017.
The economics are robust enough to make the current price of about $250 a share still attractive if you believe the volumes will materialize and Tesla management can cope with the challenges posed by rapid growth.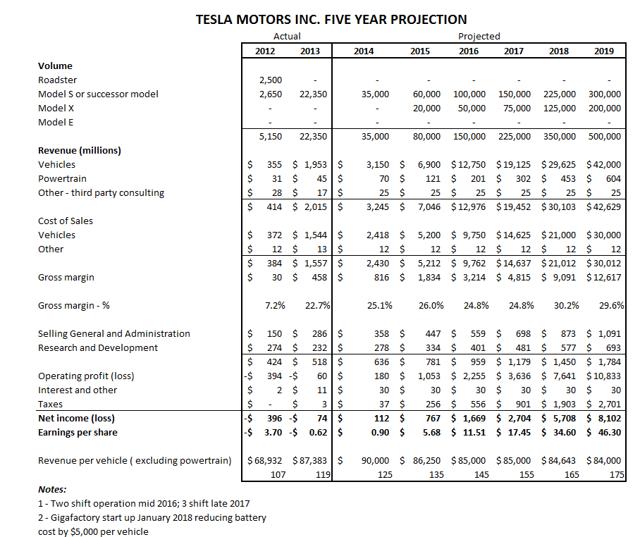 I have modeled a steadily increasing share count to reflect both management compensation and some conversion of bonds, but since the interest and other charges below the operating line are nominal, I have left them at a constant $30 million rather than do a lot of detailed analysis where the differences won't matter much. The model includes 25% annual growth in SG&A and 20% annual growth in R&D, but you can readily replace those values with ones you prefer.
You will note that I have assumed the Gigafactory reduces battery costs by $5,000 per vehicle. That is more than enough to make a $5-billion factory investment worthwhile, and I have no idea whether that is a robust number, or even close. The cost to replace an 85kw battery is $12,000, according to a Tesla web site forum, so a reduction of $5,000 gives Tesla the benefit of the doubt and actual savings could be somewhat less.
I think my updated model is an upside case in terms of what Tesla might be capable of over the next five years. It is a risky stock. If everything went extremely well, investors might make out. But in the real world, and in particular in the automotive world, thing rarely do go extremely well. Car companies defend their market with price, features, deals, financing and sometimes for extended periods by running their massive companies at a loss. General Motors did not need a bailout because of the sub-prime crisis - that was just the trigger. It needed a bailout because it was no longer able to compete profitably.
In my mind, the real risk facing Tesla is competition and its effect on volumes and pricing. Tesla has established that it can produce an excellent vehicle. The question is whether it can scale up to be a big enough player in one of the world's toughest industries. Instinct tells me it can, but that might take a lot longer than the five years I have modeled, and Tesla may find its prices and margins will come under a lot of pressure from competitors who have played this game for a long time.
The recent rise in auto sales has been, in part, fueled by low interest rates and longer loan terms reducing monthly payments, with average car loans now having six-year terms.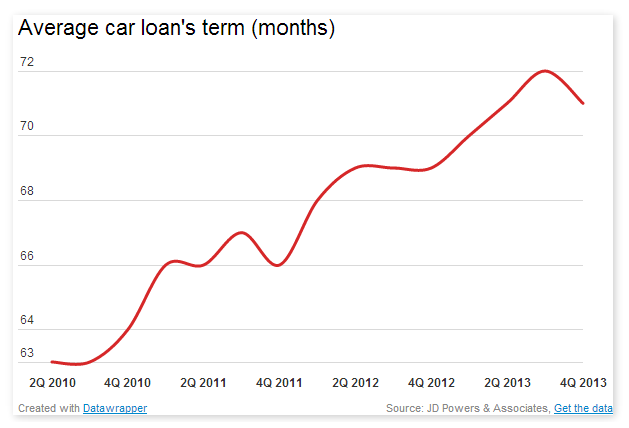 With the end of Quantitative Easing in sight and the economy expanding, the prospect is a return to a more normal level of interest rates. At the same time, buyers who have borrowed on five or six-year terms are unlikely to re-enter the market until their loan has matured, and may find it less attractive to pay up for a new vehicle if monthly payments rise.
About 40% of premium and mid-range luxury car buyers leased their vehicles in 2012 ,which will boost sales when their cars come off lease in 2015 and 2016.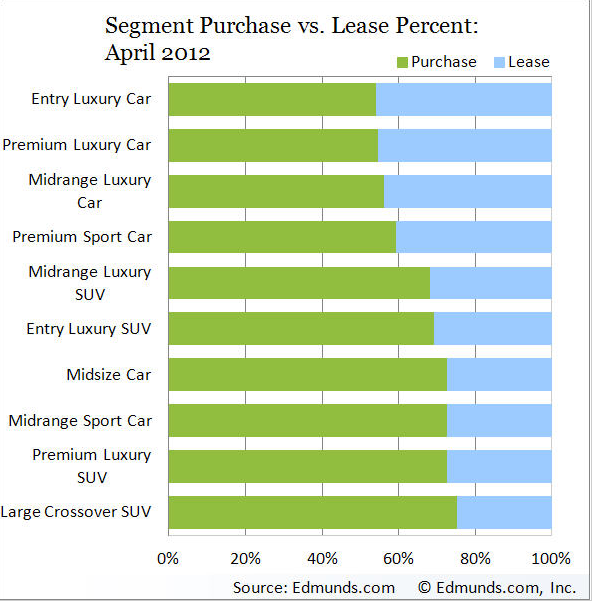 Total car purchases per licensed driver are recovering to their pre-crisis peak, with the trend suggesting that ratio will plateau about 2016.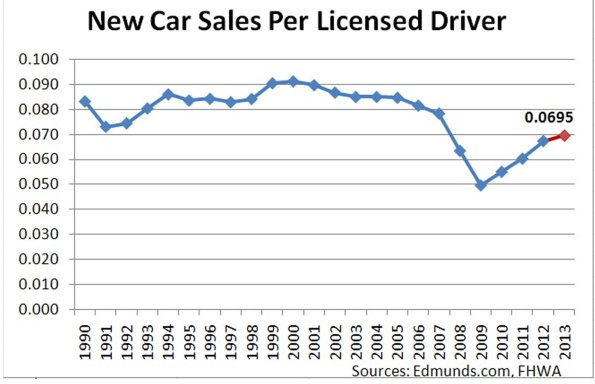 Similarly, North American auto sales are almost back to their pre-recession annual rate.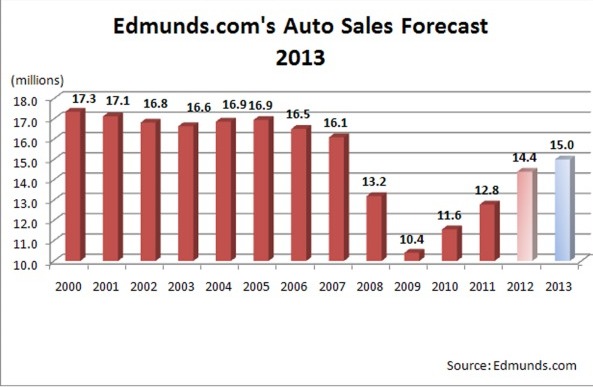 The automotive cycle looks very likely to peak in the next two or three years. Higher rates, more leased cars, longer loan terms suggest a cyclical peak in demand by 2016. If history is any guide, such a peak is followed by a few years of decline. During those periods of decline, loathe to shut production when it costs as much as $10 million a day to idle an assembly plant, the major OEMs have historically discounted vehicles to sustain production. As CEO of a parts supplier, I witnessed that phenomenon in many business cycles.
In that environment, a small niche player selling 30,000 or 40,000 specialty vehicles a year can skate through without real damage, but a company that aspires to move hundreds of thousands of vehicles annually is going to find the going rough.
As a result, while I do believe the company will show sustained growth in sales and profits for years to come, the benefit is already in the stock price and the risks weigh to the downside.
I am going to avoid the stock.
I wish everyone well on their investments.
Disclosure: I have no positions in any stocks mentioned, and no plans to initiate any positions within the next 72 hours. I wrote this article myself, and it expresses my own opinions. I am not receiving compensation for it (other than from Seeking Alpha). I have no business relationship with any company whose stock is mentioned in this article.
Additional disclosure: I would be a buyer of Tesla stock below $180 a share