With the situation in Eastern Europe appearing to have calmed down, commodity prices are weakening as well. Natural gas is falling as temperatures in the United States continue to rise in most of the country and oil is weaker after the inventory numbers today.
With the weak economic data today it is nice to see the markets holding up strongly, but we are left to wonder whether this is due to these weak numbers already being factored in or because the shorts have already taken a beating this week. Although the weather has played a big role in economic activity lately, further weak economic numbers, in our opinion, should open the door for the bears to attempt to push the market lower after the recent rise. It would seem to us that a pullback in the 3-5% range would be healthy for the market as we hear more and more of nontraditional market participants "playing the market" these days.
Chart of the Day:
Since the beginning of the year coffee has been in an unrelenting uptrend, with the news out of Brazil really lighting the fire and propelling the commodity to multi-year highs. We were admittedly hesitant to get in, setting strict guidelines for an entry point, and also quick to call a level to begin to sell down positions. Right now the $200 level appears to be the key level on the chart, having provided resistance numerous times back in 2012.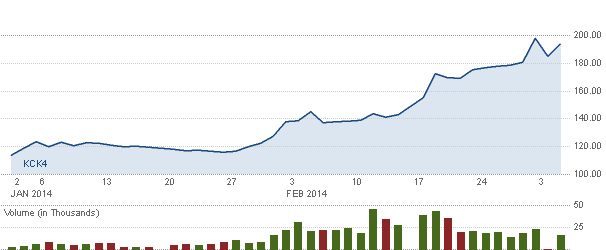 Source: CNBC
Commodity prices this morning are as follows:
Gold: $1,339.40/ounce, up by $1.50/ounce
Silver: $21.275/ounce, up by $0.053/ounce
Oil: $102.11/barrel, down by $1.22/barrel
RBOB Gas: $2.9615/gallon, down by $0.0238/gallon
Natural Gas: $4.592/MMbtu, down by $0.075/MMbtu
Copper: $3.205/pound, down by $0.0095/pound
Platinum: $1,482.70/ounce, up by $18.60/ounce
Fuel Cell Stocks
For those who follow the fuel cell manufacturers you already know what a strong move these names have had over the last few trading sessions. Plug Power (NASDAQ:PLUG) has been the catalyst, however other names have also participated in the move higher as speculators sought other ways to gain exposure to the sector. Also rising strongly were Ballard Power Systems (NASDAQ:BLDP) and FuelCell Energy (NASDAQ:FCEL) after Plug Power announced that they would be supplying Wal-Mart with fuel cells to power 1,738 industrial forklifts.
Shares of Plug Power have been solid performers over the past few months, but we think that it is time to take some money off of the table at these levels.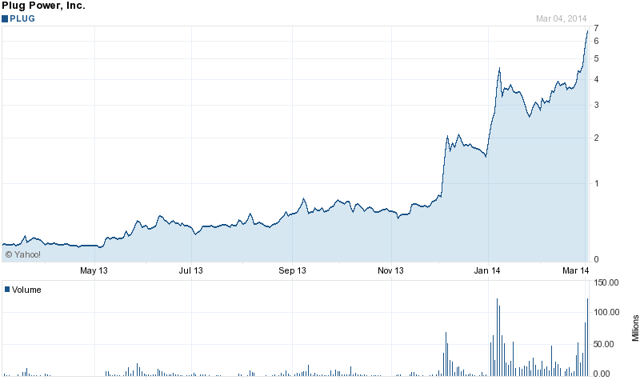 Source: Yahoo Finance
Fuel cells have long been in development, however it has taken time to get to the level of power output and reliability that the systems are now at. Our take on the sector is that there will ultimately be a few winners out of the long list of companies currently in the industry, but the vast majority of names will disappear in the future - mostly due to going out of business as opposed to be bought out. Volatility will be high in the sector, most likely resembling the pattern that solar companies have experienced over the years as boom and bust cycles take place.
So to answer the questions we have received from a few readers regarding these names, we would play a conservative hand if we had gains in these companies. Our move would be to cash out now, however we could see the logic in simply pulling out the initial investment and letting the gains ride so long as one is willing to stomach the volatility that lies ahead.
Pipelines In America
TransCanada's (NYSE:TRP) CEO is once again hitting the media circuit to make his case for the company's Keystone XL Pipeline project which continues to work its way through government red tape. We are proponents of pipelines as they can move large amounts of resources both cheaply and safely while keeping other means of transportation free of flammables (such as railways and roads).
It is not very often that one see's a company's CEO take such a vocal stance on an issue, but we do applaud Mr. Girling for continuing to place his shareholders' and customers' interests front and center. This has become a political issue when it should not have been, but with mid-term elections not that far off one has to wonder how the political parties will treat this issue moving forward.
Domestic vs. Foreign Oil
The flare up in Eastern Europe has once again taught many a lesson in international commodity markets. It has also served as a one day lesson for those with exposure to Russian equities of the importance of diversification. Although we like the domestic oil and natural gas drillers such as EOG Resources (NYSE:EOG), we recognize the need to have some international exposure to spread out the risk.
The latest move higher has made EOG a darling of Wall Street once again, but expensive as a takeover target. We do think that names such as EOG will be bought out in the next few years by "Big Oil" as they seek to diversify the production bases and minimize their risks.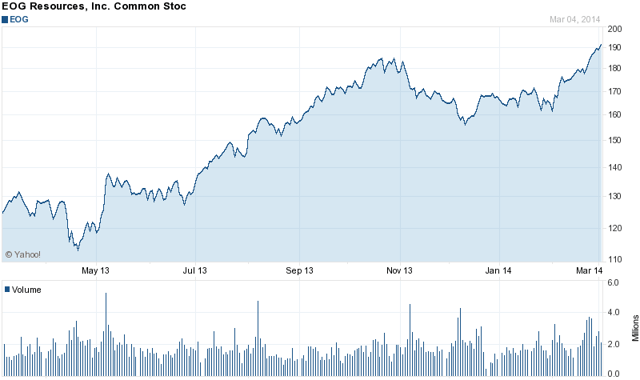 Source: Yahoo Finance
Some readers asked us our opinion on the mid-sized to "Big Oil" names with significant exposure to certain geographical regions and there really is no right answer in trying to guess which hot spot will flare up next. Instead, investors should focus on using diversification, both domestically and internationally, to spread out the various types of risks over a basket of solid companies. Political events are going to happen in this business, the only way to come out of these situations relatively unscathed is to minimize one's exposure to a certain geographical area or type of exploration.
With that said, based on recent events, as well as continuing events in areas such as Africa and South America, we would not be surprised to see "Big Oil" start to look at domestic producers like EOG Resources as potential takeover targets, even though the prices for such names have recently increased.
Disclosure: I have no positions in any stocks mentioned, and no plans to initiate any positions within the next 72 hours. I wrote this article myself, and it expresses my own opinions. I am not receiving compensation for it (other than from Seeking Alpha). I have no business relationship with any company whose stock is mentioned in this article.