Yandex (NASDAQ:YNDX)-the Russian Google-is one of my favorite companies as a long-term investment. It is the market leader in Russia's search engine market, it is managed by founder and CEO Arkady Volozh-whom I think is comparable to Larry Page of Google (NASDAQ:GOOG)-and it has a lot of growth opportunities in online advertising.
Interestingly, Yandex has become undervalued after the stock plunged nearly 14% on Monday (March 3) after Russian troops unexpectedly invaded Ukraine for the purpose of;
"protecting its Russian civilians and military there" (source: BBC News).
While I do not know Russia's true intentions, one thing I know is that many Russian stocks have become undervalued as a result of Russia's military intervention in Ukraine (see image below). This can be a great opportunity for investors who want to buy undervalued Russian stocks that are traded in the U.S. In this case, I will suggest Yandex-one of the few companies in the world that can compete with Google in the local search engine market.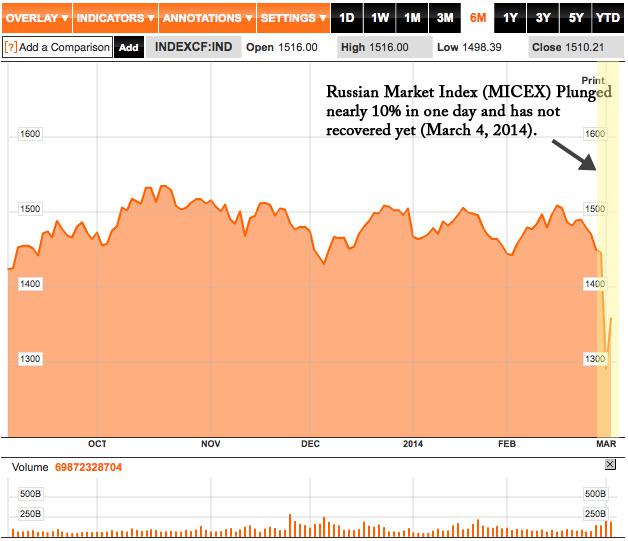 Source: Bloomberg
Yandex's Market Dominance
Yandex is the most popular internet search engine in Russia with a market share of 61.9% in Q4 2013 according to Liveinternet.ru. In comparison, Google had 26.6% and Mail.ru (Russia's leading internet company and email service) had 8.5% in the same quarter. Yandex has been the market leader in the search market in Russia for many years (see image below).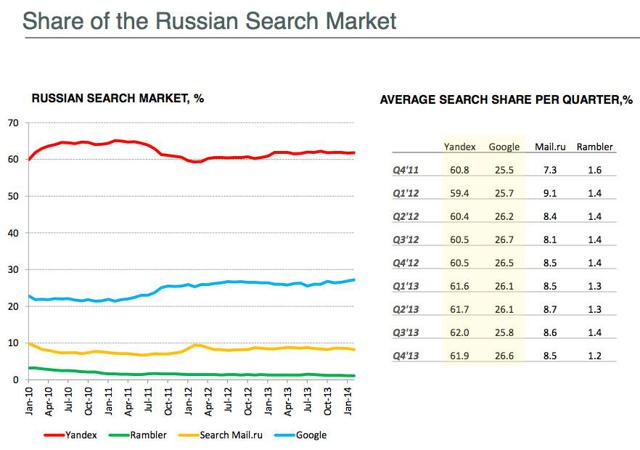 Source: Yandex Quarterly Supplementary Materials
What makes Yandex exceptionally competitive is that it has one of the best search technologies that may even surpass Google in Russia. The Yandex search engine often produces the best search results for user queries. Moreover, its search technology excels in understanding the Russian language-including its semantics, syntax and morphology-which is more complex than English. Most people use Yandex in Russia because of its brand popularity, its ease of use and its search accuracy.
Yandex' Valuation and Growth Prospects
At the time of writing this, Yandex is traded at 11.10 Billion USD in market cap; its P/E is at 26.43 and its PEG (5 years expected) is at 0.87, according to Yahoo Finance. If we compare its valuations (market cap, PE and PEG) with Google and Baidu's (NASDAQ:BIDU), its current stock price is relatively undervalued (see image below).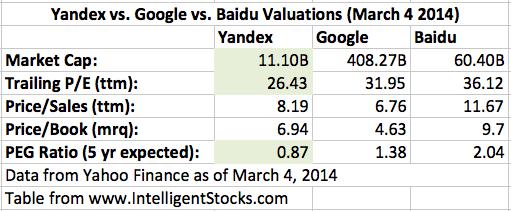 One question you may ask is, "Does Yandex have the growth prospects to support its current valuation?" To answer this question, we have to understand that Russia's internet marketing industry is still at an early stage compared with the U.S. The Internet penetration rate in Russia is also lower than the U.S. This means Yandex is likely going to grow at a faster pace than Google as more people in Russia gain access to the internet-either through mobile devices or traditional computers-and as more companies start using online advertising in Russia. Yandex's management also gave the following guidance for 2014, which indicates the company's current revenue growth rates:
Outlook for 2014: On a like-for-like basis, excluding the revenue associated with Yandex.Money from 2013 results, Yandex expects to achieve full year ruble-based revenue growth of 25% to 30% in 2014.
The Bottom Line
Yandex is one of the best companies for long-term investing because it is the market leader in Russia's search market, it has a lot of growth opportunities in online advertising, and it is undervalued relative to Google and Baidu of China. The Russian market is likely going to be volatile for a while due to Russia's intervention in Ukraine. If you can handle the volatility and are willing to invest for the long-term, you may consider investing in Yandex.
Source: Yandex Q4 2013 Financial Release, Liveinternet.ru, Yahoo Finance, Bloomberg and BBC News.
About the author: Victor Liang is a co-founder of Intelligent Stocks, a stock recommendation service that is dedicated to helping investors outperform the market.
Disclosure: I am long YNDX, GOOG, BIDU. I wrote this article myself, and it expresses my own opinions. I am not receiving compensation for it (other than from Seeking Alpha). I have no business relationship with any company whose stock is mentioned in this article.