Chart Industries (NASDAQ:GTLS) is a $2.5 billion global engineering company that specializes in equipment primarily used in energy processing applications such as liquefied natural gas (LNG) and in the purification and storage of industrial gases for medical fields.
After the company's 3rd-quarter earnings report on October 31, I first wrote about it for the Bear of the Day. That report included a miss and guide lower, leaving investors and the stock completely out of fuel as shares dropped over 27% in the last three weeks.
As the stock slipped back to a Zacks #5 Rank last week, I thought it would be good to revisit the story and see where things might be headed. The news is not getting any better since their most recent report and analyst earnings estimates have taken another nose dive.
Chart Industries, which was seen on the forefront of systems required to support trucks that run on LNG, operates in three segments: Energy and Chemicals, Distribution and Storage, and Biomedical. The latter segment wasn't the problem area last quarter.
The Chart for Chart
The stock and its Zacks Rank tell a story that any investor caught with a "miss and lower" quarter -- as opposed to "beat and raise" -- can relate to.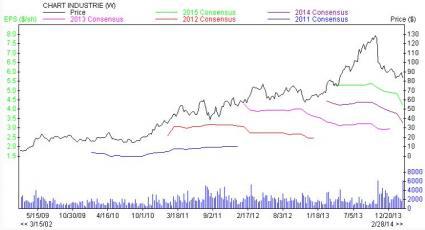 The LNG Frontier
In the past two years, I have invested in two other companies involved in using LNG for truck fuel. Westport Innovations (NASDAQ:WPRT) caught my eye in 2012 as a maker of engine conversion kits, and not least because their "big brother" in the business was Cummins (NYSE:CMI).
While some companies like UPS (NYSE:UPS) and FedEx (NYSE:FDX) already run expanding portions of their fleets with natural gas engines, the idea for all of America's trucks to run on nat gas was popularized by infamous energy tycoon T. Boone Pickens.
The billionaire oil man has spent several years lobbying Congress to pass what is commonly known as the Natural Gas Act. His plan for American energy independence and economic/environmental stability was to have the government subsidize the conversion of 18-wheelers from diesel to nat gas.
WPRT fortunes may have been tied to much to these big expectations about government subsidies for truck engine conversions and the stock has fallen to 3-year lows as those "nat gas dreams" have not materialized.
Clean Energy Fuels (NASDAQ:CLNE), one of the leading LNG gas station operators (in part financed by Pickens) hasn't had a much better time of it, with the stock dropping out of a long $12-14 range to levels not seen since July of 2009. They remain unprofitable with EPS estimates still trending downward.
Cheniere Energy (NYSEMKT:LNG) is the other nat gas stock I traded last year. They are the only company approved by the Department of Energy to export LNG and CNG (compressed natural gas) products. They are building the export facilities in Louisiana and shares are up over 100% in the past year.
The Future for Chart
Given this mixed landscape for LNG-centered businesses, it is no surprise what Global Hunter Securities had to say about Chart Industries last fall..
"The market realized the issues that led to our downgrade several months ago: that the LNG space is highly competitive, large projects have a tendency to slip and costs are often underestimated. We continue to believe that the macro story is very strong and that GTLS will participate, but we feel that is currently priced into the stock, thus we are not moving off of our Neutral rating."
That was their view on November 4 when they lowered EPS estimates for Q4 and the full year 2014. They also lowered their price target on shares then to $107 from $115. On February 26, the firm lowered earning estimates again and their price target to $80.
While GTLS may have superior technology that will be in high demand when the trend of nat gas trucks accelerates, right now the earnings revisions trends are saying to find another ride.