When a potential investor looks to establish a long-term position in the oil and gas utilities sector, a firm's ability to make key moves toward regulatory approval for its large-scale projects is certainly something to consider. With that said, I not only wanted to examine TransCanada's (NYSE:TRP) most recent development with regard to the proposed Energy East pipeline, but also highlight a number of reasons why I'm staying fairly bullish on shares of this particular pipeline play that offers investors a moderately-yielding stream of quarterly income.
Company Overview
Headquartered in Calgary, Alberta, TransCanada Corp operates as an energy infrastructure company in North America. The company operates in three segments: Natural Gas Pipelines, Oil Pipelines and Energy.
The Natural Gas Pipelines segment owns and operates energy infrastructure, the Oil Pipelines segment owns and operates the Keystone crude oil pipeline system and the Energy segment engages in the acquisition development, construction, ownership and operation of electrical power generation plants; purchase and marketing of electricity; provision of electricity account services to energy and industrial customers; and development, construction, ownership, and operation of natural gas storage in Alberta, Canada.
Regulatory Developments Regarding The Energy East Pipeline
On Tuesday, TransCanada took a key step toward obtaining regulatory approval for its proposed $12B Energy East oil pipeline, as it filed a preliminary project description with the National Energy Board. The pipeline would connect 1.1M bbl/day of crude from western Canada to refineries and export terminals in Quebec and New Brunswick.
Investors should note that the project involves converting part of TRP's existing natural gas mainline to oil service between Alberta and Quebec and then laying new pipe the rest of the way. As of right now, TransCanada is expected to file a full regulatory application sometime this summer and if approved, the pipeline timeline is calling for the project to be completed by 2018.
Since TransCanada's Keystone XL project has been met with opposition including from the judge who struck down a law that would allow the project to run through the state of Nebraska, the Energy East project looks a bit more favorable.
Why? Well for one, it wouldn't be running through the United States but rather laterally across Canada, and two, TransCanada has already signed a number of key customers that are looking to transport up to 900,000 barrels of oil a day through its pipeline. I strongly believe that if all project-related milestones are met and operations are initiated as projected (estimations are calling for op) there's a very good chance the company's long-term revenues could increase considerably.
Recent Performance And Trend Behavior
On Tuesday, shares of TRP, which currently possess a market cap of $31.37 billion, a forward P/E ratio of 18.99, and an annual dividend yield of 3.90% ($1.73), settled at a price of $44.37/share. Based on its closing price of $44.37/share, shares of TRP are trading 0.21% above their 20-day simple moving average, 0.12% above their 50-day simple moving average, and 0.72% above their 200-day simple moving average.
It should be noted that these numbers indicate a slight short-term as well as a very moderate mid-to-long-term uptrend for the stock, which generally translates into a moderate buying mode for most near-term traders and most long-term investors. The company's recent trend behavior a could improve as further developments with regard to the Energy East project occur.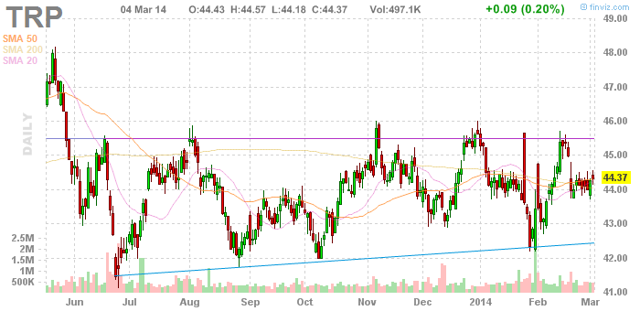 Even though the above referenced numbers indicate a long-term uptrend for the stock, I actually think the company's current share price of $44.37/share offers investors a considerable point of entry, especially since shares are trading at a much better forward P/E ratio than a number of its sector-based peers.
For example, TRP's forward P/E ratio was 18.99 based on its Mar. 4 close, whereas the forward P/E ratios of Enbridge (NYSE:ENB) (forward P/E ratio of 21.36 as of 3/4) and Plains All-American (NYSE:PAA) (forward P/E ratio of 20.31 as of 3/4) were both considerably higher.
Conclusion
For those of you who may be considering a position in TransCanada, there are a number of things I'd keep a close eye on over the next several months. For example, I strongly recommend keeping a close eye on the company's near-term trend behavior as well as any further developments with regard to its Keystone XL pipeline projects as any further hurdles could cause larger-than-expected delays in the progression of that particular project.
I also suggest that potential investors not only keep an eye on any further developments with regard to the Energy East project, but also note the number of customers this particular project goes on to attract, as those customers could translate into significant long-term revenues once the project begins its operations in 2018.
Disclosure: I am long PAA. I wrote this article myself, and it expresses my own opinions. I am not receiving compensation for it (other than from Seeking Alpha). I have no business relationship with any company whose stock is mentioned in this article.