Mattel's (NASDAQ:MAT) stock price suffered a big setback after reporting 4Q earnings the end of January that missed analysts estimates by over 10%. The resulting price drop from the low 40s to mid 30s was a punch in the gut to shareholders looking for capital appreciation, but it was also viewed as a buying opportunity for income investors, as the sell-off resulted in a 4% dividend yield.
So was this tumble in price a blessing for income investors, or should they be worried about the safety of Mattel's dividend payment? Using our Dividend Safety scoring system, let's take a look at some key metrics regarding Mattel's current dividend.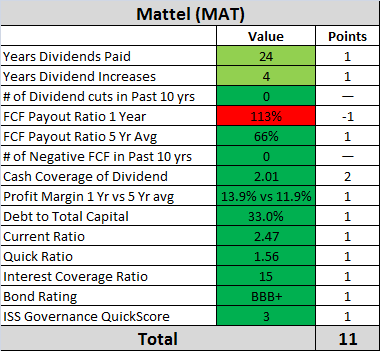 Despite the poor fourth quarter results, Mattel appears to be in strong financial shape, and its current dividend should be viewed as safe. The one red flag that needs to be looked into further is its high free cash flow payout for 2013. The dividend payment for 2013 exceeded the free cash flow generated by Mattel. This is normally a major warning sign that a company may not be able to sustain its dividend payment in the future. Looking deeper into the FY2013 10-K though, we see that the decrease in cash flows from operating activities in 2013 was primarily due to one-time events including higher working capital usage and a payment of a litigation charge of approximately $138 million.
Mattel may need some time to produce meaningful growth in the near-term as it works to improve sales of its key brands domestically, but income investors should feel safe sitting back and collecting a 4% dividend yield while management works hard to improve the top and bottom lines.
Disclosure: I have no positions in any stocks mentioned, and no plans to initiate any positions within the next 72 hours. I wrote this article myself, and it expresses my own opinions. I am not receiving compensation for it. I have no business relationship with any company whose stock is mentioned in this article.
Additional disclosure: The 4% Portfolio Retirement Service has made no recommendations on MAT but currently has it on its Watch List.