Since summer of 2013, I have spent considerable amounts of column space highlighting the evolving trends in shale oil, specifically in the Permian Basin. All of the public firms, small and large, are working their acreage, finding efficiencies and leveraging their strengths. Apache (NYSE:APA) is no exception. The Spraberry/Wolfcamp Shale of the Midland Basin is thought to contain 50 billion barrels of oil equivalent (BOE), and estimates could rise to 100 billion in time. Recent geopolitical turmoil from the Ukrainian-Russian power play reminds investors how volatile oil markets can be. It's a good thing E&P firms are several years into U.S. shale oil play development. In spite of Brent price spikes as expected, it could have been worse, with prices slowly coming back to earth.
The most active driller in the Permian Basin, $31-billion cap Apache recently held an investors day with a full-court press about its "North American powerhouse" messaging. The firm rolled out its North American total resource estimate of 14 billion boe across its Permian, Central and Canadian Shale assets. Earlier, in like fashion, Pioneer (NYSE:PXD) increased its reserves estimates - the largest Permian-focused reserves in the Midland/Permian-wide area wherein 900,000 acres will provide 9.6 billion boe of net recoverable resource potential in 2014, up 2.3 billion from 2013.
Apache has committed significant capital to the Permian Basin, given that the resources it intends to recover come largely from the Permian. Of the $5.4 billion to be spent in 2014, nearly half goes toward the Permian assets.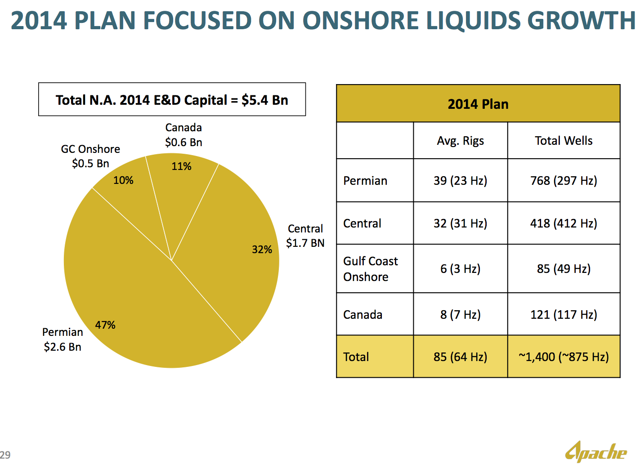 Source: Apache's investor day presentation.
Apache's Permian resource estimate is 4.8 billion across 1.7 million net acres - nearly 3 billion from the Midland Basin; 1.275 billion from the Central Platform plus North/Northwest Shelf, and approximately 600 million from the Delaware Basin. In comparison, in the Permian Basin, Occidental Petroleum (NYSE:OXY) projects more than 2.5 billion boe in reserves and potential resources, making up 15+ years of development and growth opportunities.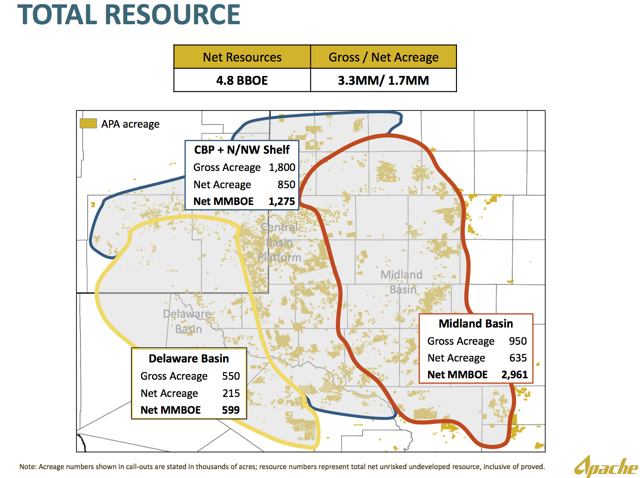 Source: Apache's investor day presentation.
Apache's liquids mix in the Permian continues to grow, and it's also from where the majority of its liquids growth and production is derived. Noteworthy is the evolution from 69% liquids in 2011 to 75% liquids in 2013 in the Permian. Apache cites organic production replacement of 230% at $17 boe from North American assets.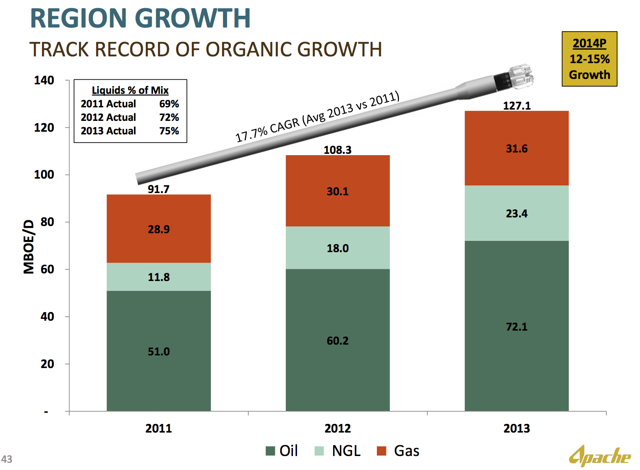 Source: Apache's investor day presentation.
Apache is closer to a Pioneer than an OXY in terms of being in manufacturing mode. Apache also started horizontal drilling more heavily in the Permian Basin in 2012, from 104 wells to a planned 297 in 2014. Pioneer is a vertically integrated firm, skilled in horizontal well practices, and leverages efficiencies in this manner. Its supply chain is a well-oiled machine, even acquiring a major sand company in March 2012. Apache is doing all the right things relative to manufacturing mode - increasing pad drilling, optimizing frac stimulations, increasing resource recoveries, and managing the supply chain, which includes, importantly, water. It is a leader in recycling water, and this is an important sustainability factor moving forward.
In terms of portfolio diversification, it is more like an OXY (minus a chemicals company and midstream assets), which includes assets in the Middle East/North Africa (MENA) region. However, it is mainly Egypt-focused, whereas OXY has more holdings in the region from its long history there. Internationally, Apache has held production for oil and gas steady in Egypt despite political upheaval. It is the number one oil producer in Egypt. In Australia, its Wheatstone LNG project will bear fruit over time. Liquefied natural gas (LNG) demand is growing in Asia, from China, Japan and other LNG-importing countries. This project monetizes ~11 trillion cubic feet (tcf), with 13% going to Apache. Chevron (NYSE:CVX) is a partner in the project. The Canadian Kitimat project monetizes ~50 trillion cubic feet of natural gas, with a 50% share to Apache. Apache was considered a first mover in the Canadian LNG space, but has plans to sell some Kitimat interests as costs to develop swell.
Apache's stock has been on a bumpy ride over the last several months, but so have other E&P firms. OXY's stock took off after announcing the splitting of the company into California- and Texas-based operations. (Note the divergence between APA and OXY after February 14th.) Apache has more to prove with its shale oil efforts spanning North America, but also upside opportunity inherent in the relative risk.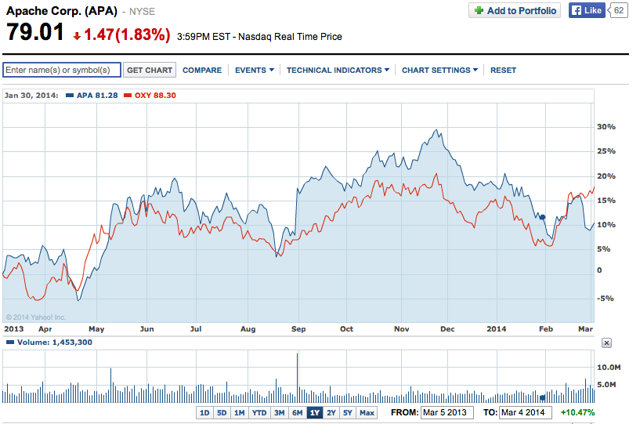 Oil markets responded to Russia's Ukrainian incursion with higher prices. The implications of Russia's gas/oil hammer-and-sickle part two seems to be in play. Investors may well like Apache after this geopolitical episode passes (hopefully) soon, with its gassier bits, like a Noble Energy (NYSE:NBL). While Apache's asset base appears more far-flung and diverse, during a time of retrenchment and rationalization for indie firms, it is taking the right steps, one step at a time. Fortunes can change quickly.
Disclosure: I have no positions in any stocks mentioned, and no plans to initiate any positions within the next 72 hours. I wrote this article myself, and it expresses my own opinions. I am not receiving compensation for it (other than from Seeking Alpha). I have no business relationship with any company whose stock is mentioned in this article.