Facebook (NASDAQ:FB) is on a roll, reaching all-time highs. The stock is trading at $71.40 as of this writing and is up 30% in 2014. As written in the summary, Stifel upgraded the stock this morning with a price target of $82. While that represents an upside of a 15%, is it worth the risk buying now? Let us evaluate as the article presents some red points for investors to consider.
The Growth Story: Facebook is expected to grow earnings at 30% per year over the next five years. The table below shows the projected earnings per share if (and that is a BIG IF) Facebook manages that scorching growth.
While valuations do not seem to matter to investors in these high flyers, it would take somewhere between 5 and 6 years of such EPS growth and no share price movement for Facebook's PE to match the market average. The key words in that sentence are "no share price movement." Obviously the price will keep rocketing if earnings even match the expectations and that would keep the premium high for a long time. As price keeps increasing beyond a reasonable extent, the value goes the other way for investors.

(Source: 2014 EPS and expected growth rate data from Yahoo Finance)
While price targets might be pushed up further in the coming days, as of this writing Facebook's current price is above the price target on Yahoo Finance, Marketwatch and Trefis.com.
Di-worsification or Diversification?
Facebook's recent acquisition of WhatsApp has raised quite a few eyebrows. More than the $19 billion cost, what should worry Facebook investors is that this has sparked comparisons with AOL and the dreaded tech bubble. The comparison does not just end there. AOL was known for throwing out plenty of dollars for acquiring anything and everything in search of growth.
Facebook is no stranger to this same thing. Since going public less than two years ago in May 2012, Facebook has made a total of 18 acquisitions ranging from undisclosed amounts to millions to billions (Lightbox.com, Facebook Gifts, Face.Com, Spool, Acrylic Software, Threadsy, Atlas, Osmeta, Hot Studio, Spaceport, Parse, Monoidics, Jibbigo, Onavo, SportStream, Little Eye Labs, Branch and WhatsApp). While it is too early to say whether these acquisitions will help or hurt Facebook, investors are almost always better off with their companies having organic growth. Things did not end well for AOL or for Cisco Systems (NASDAQ:CSCO) when they tried to grow through acquisitions.
Advertisements: According to Trefis.com, ads constitute about 83% of the company's stock price. Transactions on Virtual Goods make up 6%, social commerce commands 3%, and cash makes up the remaining 8% of the pie. Needless to say, there is an over dependence on advertising revenue. But at this report indicates, there are growing questions about the effectiveness and more over the authenticity of clicks on advertisements.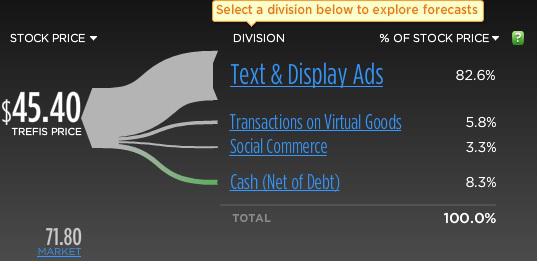 (Source: Trefis.Com)
While click through rates are still soaring, reports like the one linked above and questions about whether Facebook ads are effective are too glaring to ignore. And Facebook hasn't yet cracked the professional side of social media, something that LinkedIn (LNKD) dominates extensively. On the surface that might not seem like a valid criticism of Facebook. But it is to drive home the point that the company is way too dependent on advertisements and does not have the (recurring) paid subscriptions that LinkedIn does.
Insiders: Granted, not too many companies tend to have insiders buying the company's shares these days. Facebook is no exception but the fact that there has been only one insider buy (Reed Hastings, Director, in August 2012 for about $47,000.) since the May 2012 IPO says something.
If you do not believe that, take a look at this link. There are 27 pages and go through each one and you won't find any FB insider (except director Hastings) buying the shares with their own money. According to Yahoo Finance, 9.5 million shares have been sold in the last 6 months.
Technical Indicator: Let us be frank here. Facebook attracts a lot of momentum traders. And chartists and technical traders welcome stocks with a high Relative Strength Index (RSI) as that shows the stock has a lot of positive momentum with it. This is exactly the opposite of what long-term investors might want to see.
RSI of 70 and above indicates the stock is getting overbought and Facebook is breaching into the 80s as shown in the chart below. When the momentum traders and institutions start selling, retail investors will be caught napping.

(Source: Nasdaq.Com)
Conclusion: So, do you believe the stock is worth buying here just on the backing of the recent upgrade? Or you think the risk/reward is not favorable on the long side and that the easy money has been made already on the run up from $22 to $71? We believe the latter to be true at this moment.
Disclosure: I have no positions in any stocks mentioned, and no plans to initiate any positions within the next 72 hours. I wrote this article myself, and it expresses my own opinions. I am not receiving compensation for it (other than from Seeking Alpha). I have no business relationship with any company whose stock is mentioned in this article.