ConocoPhillips (NYSE:COP) is the world's leading independent exploration and production company. The company's primary focus is on conducting global exploration programs, growing its North American unconventional, conventional and oil sands businesses in addition to operating its producing assets worldwide.
The company maintains a large portfolio of globally diversified assets. Its operations are divided under six major geographical regions: Alaska, Lower 48 and Latin America, Canada, Europe, Asia Pacific and Middle East, and Other International.
Production Outlook
ConocoPhillips is the second largest public company out of Houston based on revenues and prides itself on its strong production set to achieve a CAGR of 3-5% (volume and margin growth) between 2012 and 2017. The company met its 2013 production targets and is all set for success in 2014. Its normalized production from continuing operations after dispositions (including the shutdown in Libya) was 1488 MBOED (thousand barrels of oil equivalent per day) while its 2013 production grew to 1502 MBOED. Growth clearly outpaced the downtimes and field declines that resulted in restricted production.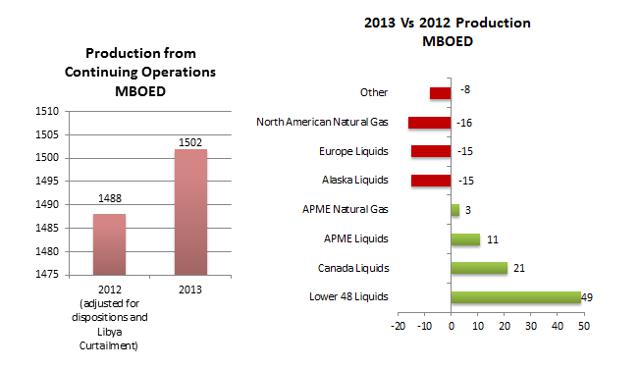 Source: 4th quarter 2013 Conference call
Growth in higher margin production
An improvement in the production mix ensured the strong performance of the company in 2013. The growth came from higher margin areas with most increases observed in the North American Liquids segment. The decreases in production in Alaska, Europe liquids and North American natural gas were significant and mainly attributed to the normal field declines.

Source: 4th quarter 2013 Conference call
Adjusted earnings grew by 5% in FY 2013 from $MM 6734 (million) in 2012 to $MM 7061 in 2013. This increased the adjusted earnings per share from $5.37 in 2012 to $5.70 in 2013.The improved mix has resulted in higher gross profit margins that grew from 48% in 2012 to 49% in 2013 showing encouraging signs for the subsequent year also. Furthermore, a shift towards favorable tax regime areas (Middle East and Asia Pacific) also helped improve the income after tax margin and this enabled the company to increase its net earnings. Full year earnings for 2013 were $9.2 billion while 2012 earnings were $8.4 billion.
In 2013, the company generated $15.8 billion in cash, received $10.2 billion through asset dispositions and paid $3.3 billion in dividends.
The company funded a $16.3 billion capital program showing consistency in its increasing capital expenditures year on year. It also fully prepaid a $2.8 billion joint venture acquisition for a 50% share in the FCCL business venture that shows the company's focus on its future expansion endeavors.
Reliance on Hefty Reserves

Source: Annual Report, 4th quarter 2013 Conference call
The company boasts of its vast reserves making further improvement during the year. Proven reserves stood at 8.6 BBOE (billion barrels of oil equivalent) in 2012 and went up by 3% to 8.9 BBOE in 2013. The company exhibited a healthy organic reserve replacement ratio (NYSE:RRR) of 179% while the total reserve replacement stood at 147%. This was due to asset sales during the year that reduced reserves by 188 MMBOE reflecting sale of interest in Kashagan in the Caspian Sea, properties in the Cedar Creek Anticline in Lower 48 and the Algeria business. Out of the total reserve additions ~75% came from liquids -priced products reflecting a move towards a higher margin mix for the future.
Future Prospects by Region
Alaska
Production during the 4th quarter 2013 was 205 MBOED reflecting a decline of 17 MBOED from last year due to normal field decline. However the company is increasing its development activities with the addition of a second rig at Kuparuk in Jan 2014. Construction continued at Alpine West CD5 Project with its first production expected in 2015.
Lower 48 and Latin America
Fourth quarter production was 497 MBOED reflecting an increase of 22 MBOED from the previous year. The year saw a peak production rate of 141 MBOED in Eagle Ford, 43 MBOED in Bakken and this growth will continue in the coming year. The company is also increasing its unconventional activity in Permian, Niobrara and Columbia. Deepwater GOM success at Coronado, Gila and Shenandoah also show signs of promising results in the next year.
Canada
Quarterly production was 276 MBOED reflecting a decrease of 5MBOED from previous year. This was due to normal field decline and turnaround at Foster Creek. However strong bitumen production in Christina Lake showed encouraging signs and production rose by 12% to 119 MBOED. More production is expected by FCCL as Christina Lake reaches its full capacity and foster Creek Phase F achieves its first production expected in the 3rd quarter of 2014.
Europe
Fourth quarter production was 197 MBOED reflecting a decrease of 19MBOED from last year. This was again due to normal field decline partially offset by improved performance in Norway. The 4th quarter saw the first production from the Ekofisk South Platform in October and Jasmine Field in November. We will continue to see increased production as these areas reach their full scale expected late 1st quarter of 2014. First production is also expected at Britannia Long-Term Compression during the 3rd quarter of 2014 and Eldfisk II in early 2015.
Asia Pacific and Middle East
Quarterly production was 292 MBOED reflecting a decrease of 30 MBOED from last year mainly due to field decline and Qatar Gas 3 turnaround partially offset by growth in China through new wells. In Malaysia first oil production is expected in the 1st quarter of 2014 from Siakap North-Petai and Gumusut. KBB is set to achieve first production in late 2014. Construction will continue at the Australia Pacific LNG project that is currenty is 60% complete and all set for first LNG expected in mid-2015.
Other International
Quarterly production was at 6 MBOED reflecting a decrease of 44MBOE from the previous year due to Libya curtailment as Es Sider Terminal was completely shut down. The company also sold its interests in Kashagan and the Algeria business. The company has shifted its interest in its American operations and towards other favorable tax regime countries such as the Middle East and the Pacific.
Where is ConocoPhillips headed?
ConocoPhillips looks all set to achieve its production targets for 2014. Though normal risks such as normal field declines still haunt skeptics I believe the company has adequate reserves to compensate for these hurdles.
There is also a certain degree of risk due to commodity price movement. With the balance between demand and supply being disrupted with excessive supply of oil there is a certain level of vulnerability in oil prices. The average realized prices for the company have declined from $67.45 in 2012 to $65.41 in 2013 and may experience a slight fall in the coming year yet ConocoPhillips has managed to increase its earnings and is focused on achieving it again this year in 2014.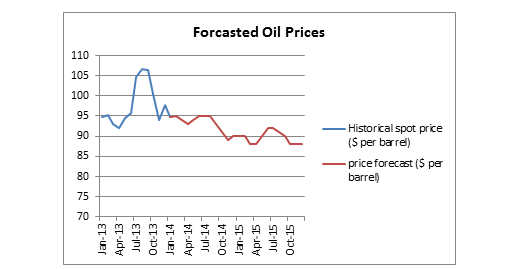 Source: US Energy Information Administration
The stock also offers attractive yields with a dividend yield as high as ~4.1% that is considerably above its peers. The industry average stands at a mere 2% and that makes ConocoPhillips a safe bet for value investors.
We cannot expect marvels from this stock in the near future but its steady production outlook, strong balance sheet, regular expansion plans and continued portfolio shift towards higher margin areas give it a positive outlook and present it as an alluring investment opportunity for investors in the long run.
Disclosure: I have no positions in any stocks mentioned, and no plans to initiate any positions within the next 72 hours.
Business relationship disclosure: The article has been written by a Blackstone Equity Research research analyst. Blackstone Equity Research is not receiving compensation for it (other than from Seeking Alpha). Blackstone Equity Research has no business relationship with any company whose stock is mentioned in this article.