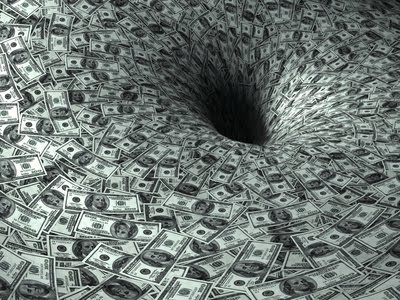 Imagine what $2 billion would buy. How many college tuitions would that pay for? How many gas tanks would that fill? Not to mention things like clothes and groceries.
Between 9:30 a.m. and 4 p.m. on Thursday, May 20, two billion dollars vanished from a pension fund.
After the Dow closed down 376 points on that day, the chief investment officer of a major state pension fund talked with CNBC. After, the interviewer noted the fund had assets of $204 billion, the manager replied:
You said $204 in the intro ... It's $202 now, so $2 billion in a day. It's a hard day. It's a hard day.
He went on to mention:
We're just under 2% cash ... we're overweight still a little bit in global equity and fixed income.
"Under 2% cash" is not that uncommon these days. In a new report mutual funds are showing an average of 3.5% cash. This figure matches the all-time low, which occurred in July 2007, the month when the Dow Industrials plus the transports combination made its all-time high.
The 2007-2009 stock market crash was bad enough for pension funds; then, making matters worse, some "doubled-down" in risky assets only to see the market crater. Of course, it failed, which is partly why public pensions are in such tough shape now. The effort to grab for yield yet again, especially after such spectacular losses just over a year ago, suggests an even worse result this time.
A May 19th, PRNewswire report provides a sobering glimpse of the overall picture for pension funds:
... several state pension funds will not last the decade, a situation that will place tremendous pressure on the federal government to bail out financially insolvent states at a price tag likely to match or exceed the recent bailout of the US financial system. An April report from the American Enterprise Institute adds that, "State pension funds are underfunded by $3 trillion."
Translation: Retirement dreams of Hawaiian beaches, Paris cafes, or "RVing" across long stretches of beautiful landscapes could be in jeopardy in the years ahead for millions.
This is not a risk-free world. Whether you entrust your retirement to a fund, the government, or try and take control of it yourself, good results are not guaranteed. Yet an independent perspective on the markets has already proved invaluable for many future retirees.
Disclosure: No positions