By far, the most surprising story so far this year to me is ethanol. Last year, the EPA blinked and cut for the first time the ethanol mandate called the renewable volume obligation, or RVO, in its renewable fuels standard 2 or RFS2 program. 2013 had an effective RVO of 13.8 billion gallons, and the 2014 RVO was cut to slightly over 13 billion gallons. The negative reactions were predictable:
"Ethanol and the RFS have been a great success story. Now, the EPA is sending a terrible message that we no longer have a long-term energy policy for biofuels, which was the original intent of this forward-thinking legislation. The Administration has clearly backed away from their commitment to renewable energy and this proposal blatantly contradicts the President's Climate Action Plan," Barbre said. "The goal of the RFS is to reduce our dependence on imported oil to make our country more energy independent and more secure. It has done that while also revitalizing rural America."
The ironic thing, however, is that ethanol economics have greatly improved since the EPA's rule. Facts are, the ethanol industry doesn't need the EPA's RFS2 mandate at current market prices. Ethanol economics stand on their own. Right now, all the RFS2 is doing is boosting already healthy margins. Higher ethanol, higher "RBOB" or gasoline prices, lower corn prices and higher renewable identification number of RIN prices have all combined to deliver a very solid economic climate. Just recently, Pacific Ethanol (NASDAQ:PEIX) released very solid numbers for Q4 2013, and the margins have remained strong into Q1 2014. Green Plains Renewable Energy (NASDAQ:GPRE) has also been having very solid performance and is up 45% year to date.
The reason ethanol has been doing so well is multi-fold:
1) Ethanol competes with gasoline or "RBOB." As the price of gasoline increases, the more competitive ethanol becomes.
2) Ethanol is made out of corn. As corn prices drop, ethanol margins increase.
3) Ethanol comes with what is called a D6 RIN embedded in it. D6 RINs prices usually trade near $0.05, but because of an issue called the "blend wall" have been trading over $0.50.
All the above factors have been working in ethanol's favor. 1 bushel of corn will produce 2.8 gallons of ethanol and 17 lbs of basically animal feed called dry distillers grain and solubles or DDGS.
Right now, April ethanol trades for $2.2940/gal, so one bushel of corn can produce $6.42 of ethanol. Corn costs around $4.75/bushel, so the ethanol easily covers the cost of corn. That calculation, however, doesn't take into account the DDGS, so the net cost of corn per gallon of ethanol is around $0.93, so the ethanol margin over net corn is $1.36/gal. Other operating expenses are about $0.46/gal and fixed costs are about $0.25/gal, so the net margin for ethanol right now is around $0.65/gal. Those are very solid margins.
Those margins, however, are supported by the embedded D6 RIN, which currently trades at $0.54. Without the EPA's RFS2 mandate, margins could be a lot lower, at least theoretically. Without the D6 RINs, ethanol would theoretically trade at $2.2940-$0.54=$1.754/gal. RBOB trades at $2.940/gal, and ethanol has 2/3rds the energy content of RBOB, so the theoretical price of ethanol would be $2.940*(2/3)=$1.96, so it is doubtful that ethanol would fall all the way to $1.754/gal. Even if it did, ethanol producers would still have positive margins.
This graphic highlights how the price of ethanol and RBOB tend to trend together and maintain a spread. It also shows the current D6 RIN prices.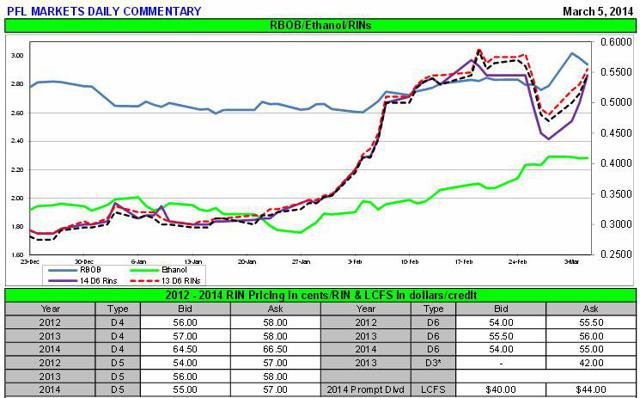 This graphic features what is called the "crush spread" and demonstrates how the low corn prices and high ethanol prices have driven it higher.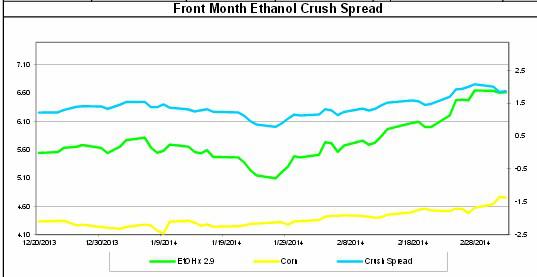 Looking forward, Brazil is experiencing a drought, and sugar prices are increasing. This may reduce ethanol exports to the US, the opposite of what happened when the US was in drought. The D6 2013/2014 tug-o-war that is happening right now as "obligated parties" try to settle up their 2013 regulatory obligations and buy "blend wall" insurance for 2014 is likely to end soon. That may send D6 RIN prices tumbling, and take ethanol margins down with them. If the EPA further cuts the ethanol RVO, margins would likely suffer as well. For the time being, however, if corn prices stay low, and RBOB prices stay relatively high, the future for ethanol is burning bright.
Disclaimer: This article is not an investment recommendation or solicitation. Any analysis presented in this article is illustrative in nature, is based on an incomplete set of information and has limitations to its accuracy, and is not meant to be relied upon for investment decisions. Please consult a qualified investment advisor. The information upon which this material is based was obtained from sources believed to be reliable, but has not been independently verified. Therefore, the author cannot guarantee its accuracy. Any opinions or estimates constitute the author's best judgment as of the date of publication, and are subject to change without notice. Past performance is no guarantee of future results. For my full disclaimer and disclosure, click here.
Disclosure: I have no positions in any stocks mentioned, and no plans to initiate any positions within the next 72 hours. I wrote this article myself, and it expresses my own opinions. I am not receiving compensation for it (other than from Seeking Alpha). I have no business relationship with any company whose stock is mentioned in this article.