When a company considers the sale of an underperforming asset or project, potential investors tend to become a bit more interested as to what may be going on with that particular company. In this article, I not only wanted to examine Randgold Resource's (NASDAQ:GOLD) recent announcement regarding its Massawa Project in Senegal, but also highlight several of the reasons behind my decision to remain long on this particular gold mining play.
Recent Performance & Trend Behavior
On Wednesday, shares of GOLD, which currently possess a market cap of $7.77 billion, a forward P/E ratio of 19.04, and an annual dividend yield of 0.57% ($0.48), settled at a price of $84.30/share. Based on its closing price of $84.30/share, shares of GOLD are trading 8.24% above their 20-day simple moving average, 20.45% above their 50-day simple moving average, and 17.94% above their 200-day simple moving average. It should be noted that these numbers indicate both a short term as well as a very strong mid-to-long-term uptrend for the stock, which generally translates into a moderate buying for most near-term traders and most long-term investors.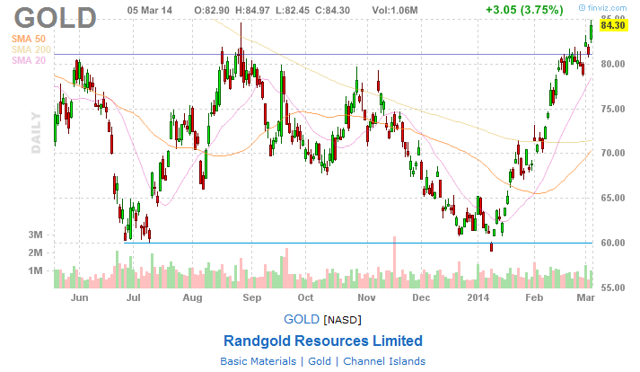 Comparative Ratios Set Randgold Apart From Several Of Its Peers
Even though the above referenced numbers indicate a long-term uptrend for the stock, I actually think the company's current share price of $84.30/share offers investors a considerable point of entry, especially since shares are trading at a much better forward P/E ratio than a number of its sector-based peers.
For example, GOLD's forward P/E ratio was 19.04 based on its Mar. 5 close, whereas the forward P/E ratios of Yamana Gold (NYSE:AUY) (forward P/E ratio of 23.98 as of 3/5) and Eldorado Gold (NYSE:EGO) (forward P/E ratio of 25.85 as of 3/5) were both considerably higher.
Recent Dividend Behavior
Since February 24, 2010, the company has increased its annual dividend three times in the last four years, with the most recent increase having taken place in May of 2013. The company's forward yield of 0.57% ($0.48) coupled with its ability to maintain its quarterly distribution over last four years make this particular gold mining play a highly considerable option, especially for those who may be in the market for a conservative stream of annual income.
Randgold Could Consider A Sale Of Its Senegalese Gold Project
On Wednesday, Randgold Resources CEO Mark Bristow noted that the miner has been approached by several groups interested in its stalled Massawa project in Senegal and would consider a sale. With regard to the potential transaction, Mr. Bristow was quoted as saying, "There's a lot of sort of 'senior-juniors' that are looking to grow their business. This project constitutes a significant asset and we've had a few approaches recently from the industry and our comment is that we would consider selling it, provided we can get value for it."
Although Randgold isn't actively pursuing a potential sale of its Senegalese-based Massawa project, the fact of the matter is that it simply isn't as attractive as it once was, and may be better suited for a junior miner.
Why? Randgold is currently seeking projects that have a higher set of developmental requirements that include at least 3 million ounces of gold reserves with an assumed price of $1,000/oz. and an internal rate of return of at least 20%. If Randgold can get the right price for these particular assets, not only will the company rid itself of an underperforming asset, it will now have more time focus on some of its better performing projects such as its Loulo-Gounkoto gold mining complex, which recently surpassed its 2013 full-year production estimates by a margin of 20,000 ounces.
Conclusion
For those of you who may be considering a position in Randgold Resources, I strongly recommend keeping a close eye on the company's near-term trend performance, long-term dividend behavior and the potential sale of its Senegalese-based assets, as each of these factors could play a role in the company's mid-to-long-term growth.
Disclosure: I am long GOLD. I wrote this article myself, and it expresses my own opinions. I am not receiving compensation for it (other than from Seeking Alpha). I have no business relationship with any company whose stock is mentioned in this article.